Silicon Power 64GB eSATA / USB Portable SSD
DVNation sent over a great piece of kit. We look at the Silicon Power eSATA/USB SSD which provides more flexibility and speed than usual USB drives.
Published Fri, Jun 12 2009 2:35 AM CDT
|
Updated Tue, Nov 3 2020 7:03 PM CST
Introduction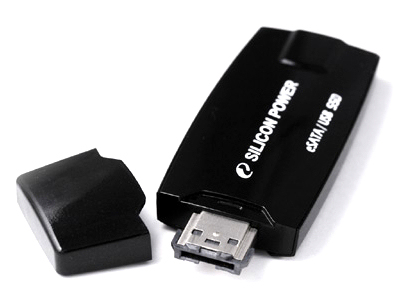 Without question eSATA is a superior way to connect external storage devices to a PC when compared to USB or even FireWire. eSATA is basically a fancy term used to say external SATA interface, the same thing that we use to connect our modern hard drives internally today. eSATA offers the same speeds as SATA and most modern computer cases and systems sold today have an eSATA port already installed.
What happens when you combine the extreme speed of eSATA with a light weight, small portable flash drive and throw in solid state technology? That is what we are here to find out today because Silicon Power has whipped up a batch with all three of these ingredients and delivered them to DVNation.com, a leading provider of SSD products here in the US. DVNation recently contacted us to see if we would like a go around with the new Silicon Power eSATA Portable SSD; how could we say no?
On the surface the Silicon Power eSATA Portable SSD looks like any other flash drive. Once you remove the cap the eSATA plug stands out and after a quick glance on the other side the mini USB port (used for power) is evident as well. Let's have a look at the specifications.
Specifications, Availability and Pricing
The Silicon Power eSATA Portable SSD is a 4 channel controller that is able to use both USB and eSATA interfaces for connectivity. This works out really well if you are using on a daily basis a mix between old and newer PCs where some systems may have eSATA and others do not.
Silicon Power is making the portable SSD in 8, 16, 32 and 64GB capacities. DVNation lists the 64GB version that we are reviewing here today
for 211.00 USD
. Newegg
currently sells
the Super Talent Luxio 64GB drive
we reviewed
back in March for 149.00 USD, so there is a little more than a 25% increase in cost added to get the eSATA feature.
When it comes to speed eSATA clearly outperforms USB with data transfers up to 90 MB/s with the Silicon Power eSATA Portable SSD. The most I have ever achieved with USB is around 32 MB/s and that was under ideal conditions with a really fast Kingston HyperX flash drive.
The Packaging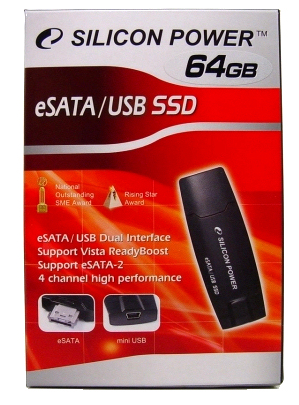 Silicon Power launched the Portable SSD in a full retail package that shows the product features right on the front of the package.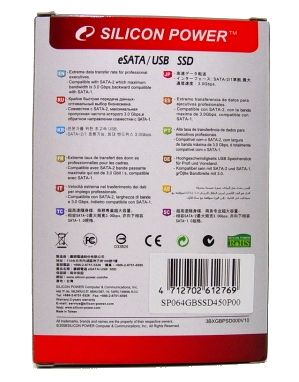 The back side of the package gives us a little more information.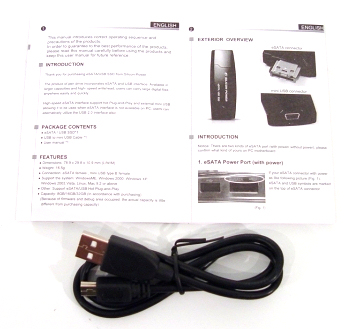 Once opened, we found the accessories and product documentation. The drive comes with a USB cable and a full manual.
The Silicon Power eSATA/USB SSD II Portable Drive
The Silicon Power eSATA/USB SSD II Portable Drive]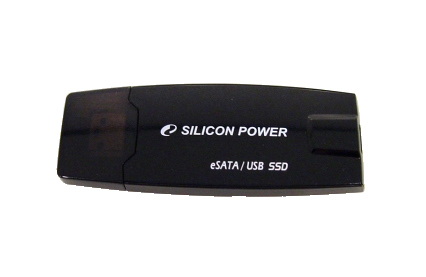 As previously stated, the outside of the drive looks like any other portable flash drive.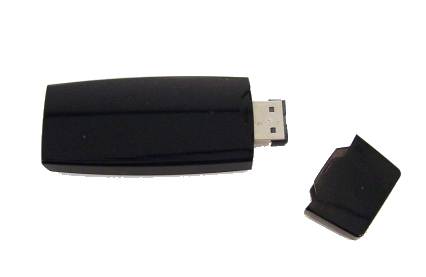 With the cap removed we start to see that the Silicon Power eSATA/USB portable SSD is special. Here we see the eSATA connector.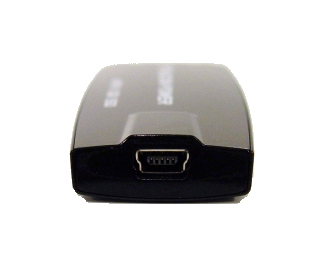 On the other side is where the USB port is located; you will need this to power your drive when using eSATA. To connect the drive to a USB port for data you will need to use the included cable.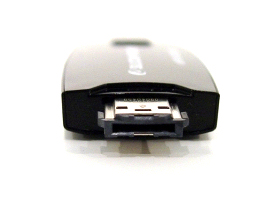 Here we see the eSATA connector.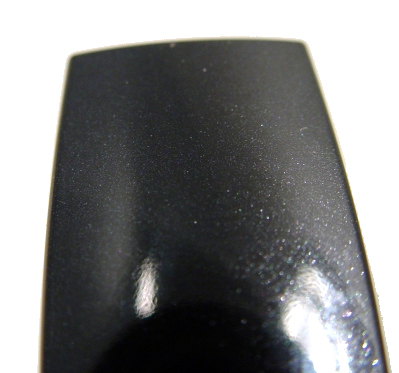 It is difficult to see without getting up close, but the drive is painted with a metallic flake paint that looks really good when the light hits it just right.
Test System Setup and ATTO Test
Test System and ATTO Test
Processors
: AMD Opteron 2356 (2.3GHz Quad-Core) x2
Motherboard
: Tyan S2915-E (Supplied by
Tyan
)
Memory
: Kingston KVR667D2S4P5/2G x4 (Supplied by
Kingston
)
Graphics Card
: XFX 8800 GTX (Supplied by
XFX USA
)
Enclosure
: Lian Li V2000
Cooling
: Noctua NH-U12DO (Supplied by
Noctua
)
SATA Controller
: Areca ARC-1231ML (Supplied by
Areca
)
SAS Controller
: Areca ARC-1680i (Supplied by
Areca
)
Operating System
: Microsoft Windows Vista Ultimate X64
Today we are using our standard HDD test system to test the new Silicon Power eSATA/USB Portable SSD.
ATTO
Version and / or Patch Used:
2.34
ATTO is used by many disk manufacturers to determine the read and write speeds that will be presented to customers. We use it to do the same and show the maximum performance a drive is capable of.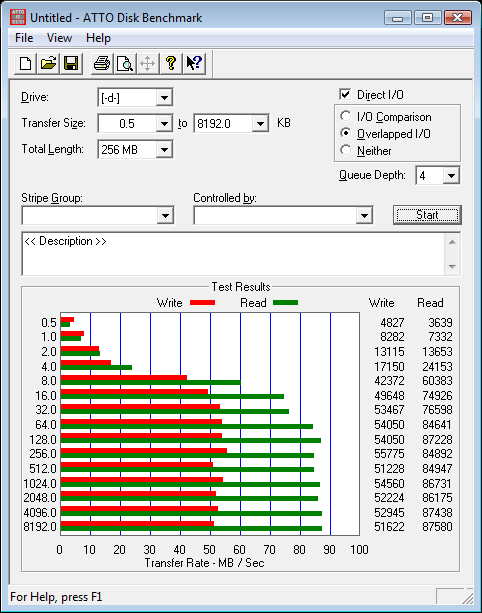 Here we see the claims from Silicon Power are accurate; the drive is capable of achieving nearly 90 MB/s read and over 50 MB/s write.
Benchmarks - HD Tune Pro
HD Tune ProVersion and / or Patch Used:
3.00
Developer Homepage:
http://www.efdsoftware.com
Product Homepage:
http://www.hdtune.com
HD Tune is a Hard Disk utility which has the following functions:
- Benchmark: measures the performance
- Info: shows detailed information
- Health: checks the health status by using SMART
- Error Scan: scans the surface for errors
- Temperature display
HD Tune Pro gives us accurate read, write and access time results and for the last couple of years has been gaining popularity amongst reviewers. It is now considered a must have application for storage device testing.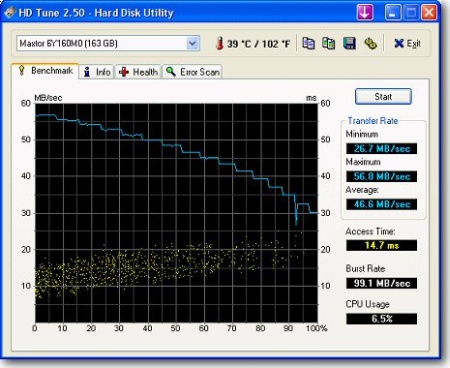 Read Tests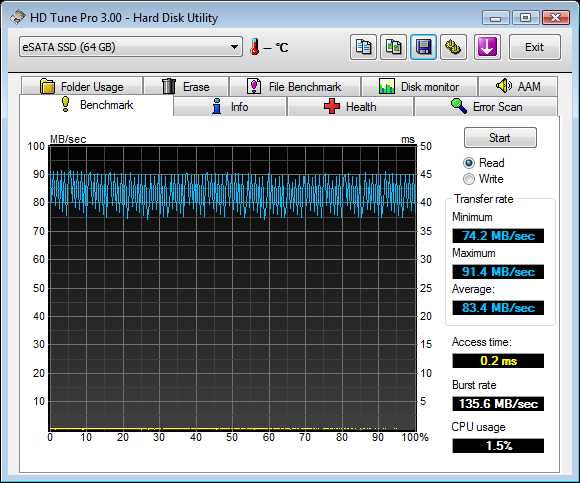 The data access pattern shown in HD Tune Pro shows that the drive is very fast at reading data.
Write Tests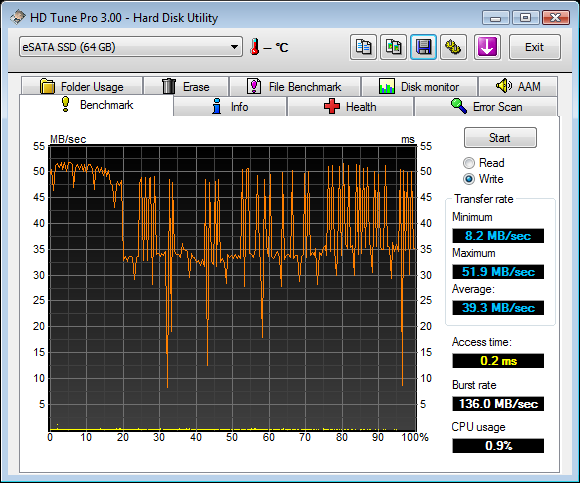 Here we see the drive showing the same results that we were getting from 2.5" MLC SSDs 6 months ago. These are very good results for a portable drive when compared to standard USB thumb drives.
Benchmarks - EVEREST Random Access Time
EVEREST Random Access TimeVersion and / or Patch Used:
4.60
Developer Homepage:
http://www.lavalys.com
Product Homepage:
http://www.lavalys.com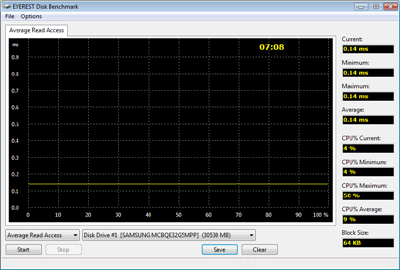 Everest Ultimate and Corporate Edition offer several different benchmarks for testing and optimizing your system or network. The Random Access test is one of very few if not only that will measure hard drives random access times in hundredths of milliseconds as oppose to tens of milliseconds.
Read Tests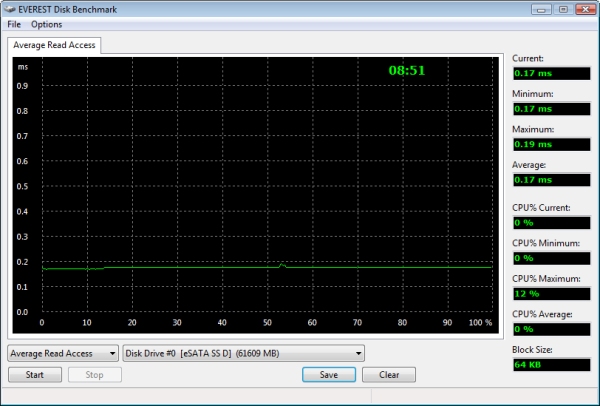 The average read access times of the Silicon Power eSATA/USB Portable SSD shows that the drive retains its SSD nature and is able to read data back to the computer very quickly.
Write Tests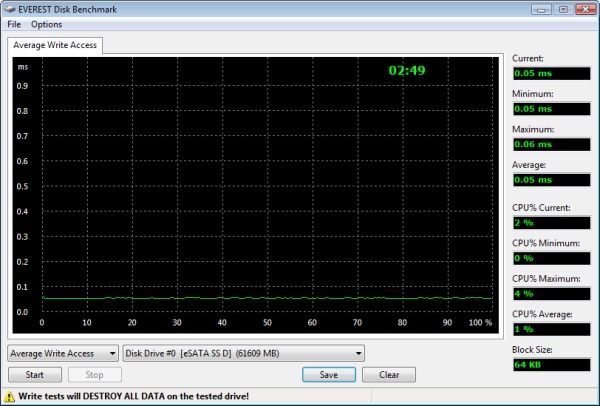 The write access time shows the same results, the drive is able to write data quickly to the drive since it does not have to wait for platters to move into position.
Let's see how all of these synthetic benchmarks relate to real world applications.
Benchmarks - PCMark Vantage Hard Disk Tests
PCMark Vantage - Hard Disk TestsVersion and / or Patch Used:
1.0.0
Developer Homepage:
http://www.futuremark.com
Product Homepage:
http://www.futuremark.com/benchmarks/pcmark-vantage/
Buy It Here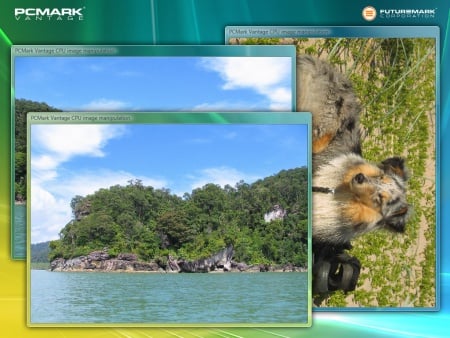 PCMark Vantage is the first objective hardware performance benchmark for PCs running 32 and 64 bit versions of Microsoft Windows Vista. PCMark Vantage is perfectly suited for benchmarking any type of Microsoft Windows Vista PC from multimedia home entertainment systems and laptops to dedicated workstations and high-end gaming rigs. Regardless of whether the benchmarker is an artist or an IT Professional, PCMark Vantage shows the user where their system soars or falls flat, and how to get the most performance possible out of their hardware. PCMark Vantage is easy enough for even the most casual enthusiast to use yet supports in-depth, professional industry grade testing.
FutureMark has developed a good set of hard disk tests for their PCMark Vantage Suite. These tests are based on real world applications that many of us use daily.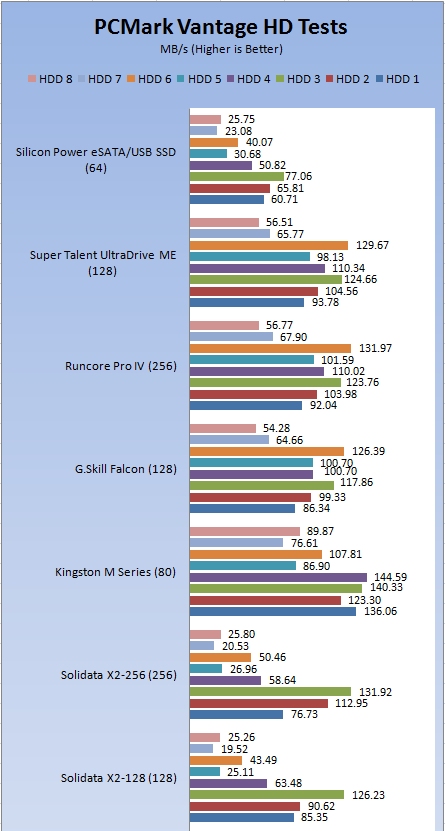 HDD1 - Windows Defender
HDD2 - Gaming
HDD3 - Windows Photo Gallery
HDD4 - Vista Startup
HDD5 - Windows Movie Maker
HDD6 - Windows Media Center
HDD7 - Windows Media Player
HDD8 - Application Loading
Here we see that the Silicon Power eSATA/USB portable SSD is almost as fast as some of the SSDs we reviewed just a few months ago. As you can see, the drive is no match for the latest and greatest barefoot controller drives, but it is portable; something that the 2.5-inch drives are not. The Silicon Power drive is actually fast enough to run Windows on if you are looking for another option for dual booting a PC.
Final Thoughts
Silicon Power has taken three great storage innovations and wrapped them into one sleek package. The eSATA and solid state technology provide the speed and putting both of these in a portable package is nothing short of brilliant! The dual interface allows users to easily migrate from one system to another regardless of computer age. My only complaint is the USB cable that you will have to use to power the drive, since power over eSATA hasn't been adapted by many component manufacturers yet. It would have been nice to see a retractable cable, but that would have added to the size of the drive and who is to say what the ideal cable length would be. The longer the cable the larger the drive if everything was integrated together.
When it comes to price you are going to pay more to have the eSATA feature, but DVNation was able to keep the drive well below the 300 Dollars you would expect to pay for the Silicon Power eSATA/USB Portable SSD. At this time DVNation has the drive
for 211.00 USD
, a value to those who count their time as money since sending large files over USB is nerve racking due to the amount of time it takes to transfer the data.
I wouldn't go as far as to say that the Silicon Power eSATA/USB Portable SSD is perfect, but at this price we can pretty much all agree that the drive delivers nearly every feature you could ask for. Over time Silicon Power will refine the drive and come up with new revisions that will lead to a perfect product. All things considered, we are left with a great product that will allow us to get the most out of eSATA and be backwards compatible with USB. Just don't forget to grab your USB cable when leaving with the drive or you will be left with a drive that is unusable.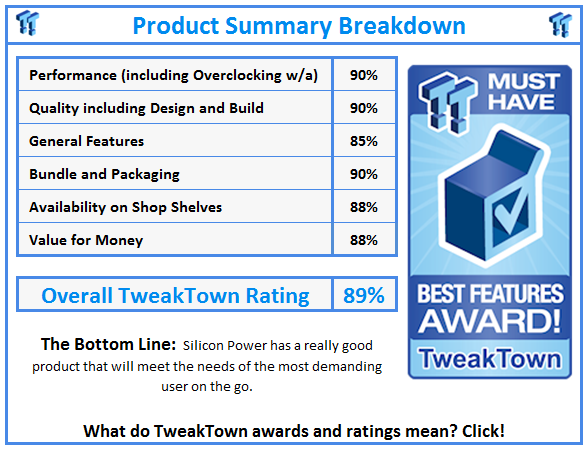 PRICING: You can find products similar to this one for sale below.

United States: Find other tech and computer products like this over at Amazon.com

United Kingdom: Find other tech and computer products like this over at Amazon.co.uk

Australia: Find other tech and computer products like this over at Amazon.com.au

Canada: Find other tech and computer products like this over at Amazon.ca

Deutschland: Finde andere Technik- und Computerprodukte wie dieses auf Amazon.de
We openly invite the companies who provide us with review samples / who are mentioned or discussed to express their opinion. If any company representative wishes to respond, we will publish the response here. Please contact us if you wish to respond.