Introduction
It seems of late Intel has stolen the spotlight well away from AMD and with the performance results of not only the Core 2 Duo and Quads based on the Penryn cores, but also the new Core i7, this has really put AMD on the back foot. This however hasn't stopped them from pushing forward and while Phenom II isn't all that we'd hoped for, it certainly does have its place, namely in the low cost PC/HTPC and cheaper gaming station markets.
Boards are still coming out for the new AM3 based CPUs and since they now support DDR2 and DDR3 on the same CPU, AMD hasn't cut its nose despite its face like they did with the transition from Socket 939 to AM2. The older generation of AMD users are still being catered for this time around.
Today ASUS has sent us their newest AM3 board based on AMD's top of the line 790FX chipset paired with the AMD 750SB, the latest controller hub with all the bells and whistles. Coming in at
just under 200 USD
from Newegg, this board looks like it could be a winner. Let's have a look and see.
The Box and What's Inside
Package and Contents
First off we start with the package and the contents. For the base boards that are part of the ROG series, ASUS has a simple way for you to identify them on the shelves. All Intel boards use a base blue for the boxes and AMD use green; pretty simple since Intel's business colour is blue and AMD's is green. On the front there is very little info apart from the company logo and the board model number.
On the back, however, ASUS does a good job to complete the picture. ASUS puts marketing info on some of the board's primary features along with a spec sheet that is available on the website and a colour photo on the top right.
Moving along, it's time to look at the user manual. ASUS colours the manual in the same scheme as the box. The user manual is the same usual manual that ASUS provides with its high-end boards, rather large with a lot of info on the board and the included software on the included DVD.
ASUS provides five SATA data and one IDE data cable in its cable bundle. There are no power splitters included so your PSU will need to be up to scratch or you will need to buy them separate.
Lastly on the included accessories list we have two Crossfire data cables for two or four GPU operations as well as a PCI expansion cover with two USB and one FireWire port.
The Motherboard
The Board
Now we focus our attention on the board itself. ASUS uses the same black PCB that is used on quite a lot of their high-end boards. The M4A79T Deluxe uses a full size 6 layer ATX PCB to support all of the additional features.
The layout of the board is extremely well designed. The 24-pin ATX power connector resides behind the DDR3 memory slots. The 4/8 pin EPS power connector is located at the top left of the board behind the PS2/USB tower, just above the heatpipe assembly that cools the system.
The CPU socket is extremely clean of any high rise components, which are all solid state; no more electrolyte capacitors, it's all copper. The CPU is powered by an 8x2 power regulation system; eight phases are used to power the CPU core and the final two are used to power the internal Northbridge and memory controller on the CPU die itself. The AMD 790FX Northbridge and the AMD SB750 are all cooled by an all-in-one heatpipe assembly that cools the Mosfets for the voltage regulation system. ASUS has decided to remove the older SB700 and 600 series and use the newer 750 with more SATA ports and upgraded PCIe 2.0 interconnects.
On the lower right side of the board ASUS places the six SATA data connectors that are powered off the SB750. Just above this is the single IDE port that is also run off the SB750. Unlike Intel, AMD still integrates IDE into its Southbridges.
Moving along to the rear I/O panel, ASUS puts a lot of work into this area. This one contains both keyboard and mouse PS/2 ports, FireWire, eSATA, HD Audio and digital audio connectors.
Last on the list are the expansion slots; there are a total of four PCI Express x16 slots, two blue and two black. Being based on the 790FX chipset, this board supports two PCI Express x16 slots at full speed, which are the blue ones. However, if you want to run four graphics cards, eight lanes from the first x16 slot are diverted to the first black slot and a similar process with the second set of slots to give an 8/8/8/8 configuration. For additional expansion there are two legacy PCI slots.
BIOS and Overclocking
BIOS
ASUS continues to use its grey tab BIOS setup that we have seen on all of their current boards and a lot of their past boards, too. The overclocking and tweaking setup is spread amongst the AI Tweaker Menu and the Advanced menu.
The AI Tweaker menu is what ASUS uses for its mainstream boards, where Extreme Tweaker is used on the enthusiast boards. While it's not as refined as the Extreme Tweaker, we see that this board has a lot of tweaking and overclocking options nonetheless.
Under the Advanced menu we have access to the CPU Features page which allows you to set up a few of the additional features of the CPU including Cool&Quiet, C1E and various other tweaks.
Overclocking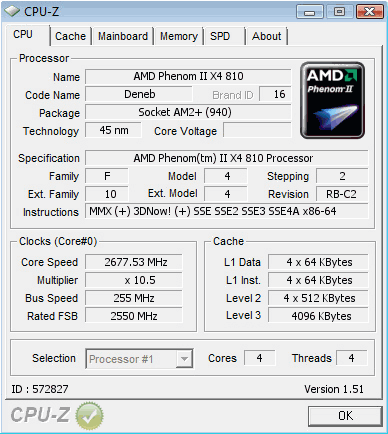 AMD overclocking is not as refined as Intel's overclocking; even Core i7 has a better turn out than AMD. However, we managed to get a healthy 255MHz FSB; lowering the CPU ratio allowed us to get some extra juice out of the board itself.
Important Editor Note: Our maximum overclocking result is the best result we managed in our limited time of testing the motherboard. Due to time constraints we weren't able to tweak the motherboard to the absolute maximum and find the highest possible FSB, as this could take days to find properly. We do however spend at least a few hours overclocking every motherboard to try and find the highest possible overclock in that time frame. You may or may not be able to overclock higher if you spend more time tweaking, or as new BIOS updates are released. "Burn-in" time might also come into play if you believe in that.
Test System Setup and Memory Performance
Test System
Processor
: AMD Phenom II x4 810 (13x 200MHz)
Memory
: 2x 2GB DDR3-1600 Corsair Dominator (Supplied by
Corsair
)
Hard Disk
: Intel X25-M 80GB SSD (Supplied by
Intel
)
Graphics Card
: GIGABYTE 9800GX2 1GB (Supplied by
GIGABYTE
)
Cooling
: GIGABYTE 3D Galaxy II Water cooling
Operating System
: Microsoft Windows Vista X64 SP1
Drivers
: Intel INF 9.0.0.1008, Forceware 180.24
On to testing and today we have the ASUS 790FX based board against the Sapphire 790GX board, the younger sibling of the AMD 7 series chipset with IGP.
EVEREST Ultimate EditionVersion and / or Patch Used:
2006
Developer Homepage:
http://www.lavalys.com
Product Homepage:
http://www.lavalys.com
Buy It Here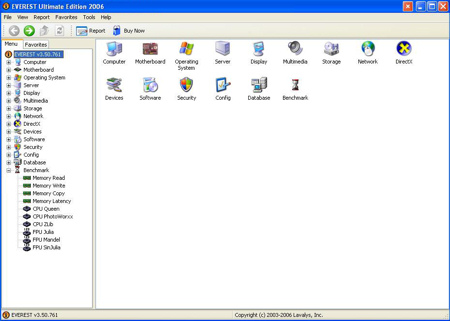 EVEREST Ultimate Edition is an industry leading system diagnostics and benchmarking solution for enthusiasts PC users, based on the award-winning EVEREST Technology. During system optimizations and tweaking it provides essential system and overclock information, advanced hardware monitoring and diagnostics capabilities to check the effects of the applied settings. CPU, FPU and memory benchmarks are available to measure the actual system performance and compare it to previous states or other systems.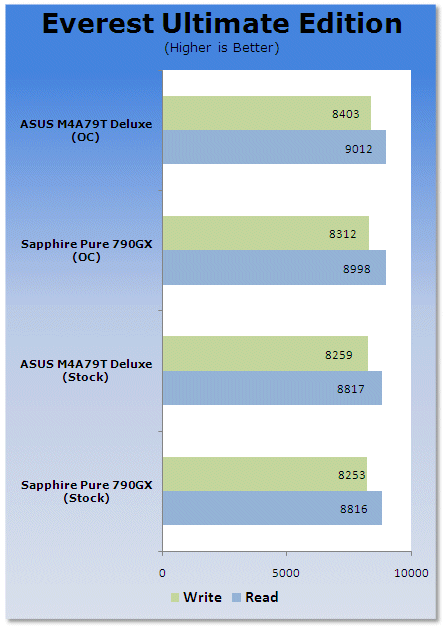 First off we see that the platforms remain equal across stock tests, but when we overclock ASUS manages to pull ahead with a higher bus and memory clock.
Benchmarks - PCMark Vantage
PCMark VantageVersion and / or Patch Used:
Unpatched
Developer Homepage:
http://www.futuremark.com
Product Homepage:
http://www.futuremark.com/benchmarks/pcmark-vantage//
Buy It Here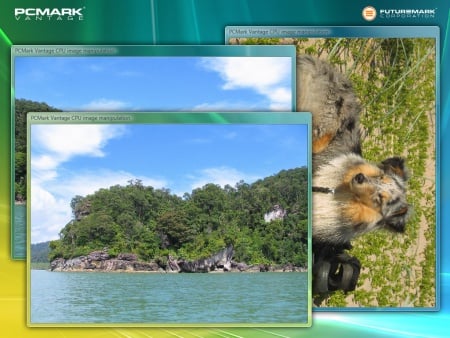 PCMark Vantage is the first objective hardware performance benchmark for PCs running 32 and 64 bit versions of Microsoft Windows Vista. PCMark Vantage is perfectly suited for benchmarking any type of Microsoft Windows Vista PC from multimedia home entertainment systems and laptops to dedicated workstations and high-end gaming rigs. Regardless of whether the benchmarker is an artist or an IT Professional, PCMark Vantage shows the user where their system soars or falls flat, and how to get the most performance possible out of their hardware. PCMark Vantage is easy enough for even the most casual enthusiast to use yet supports in-depth, professional industry grade testing.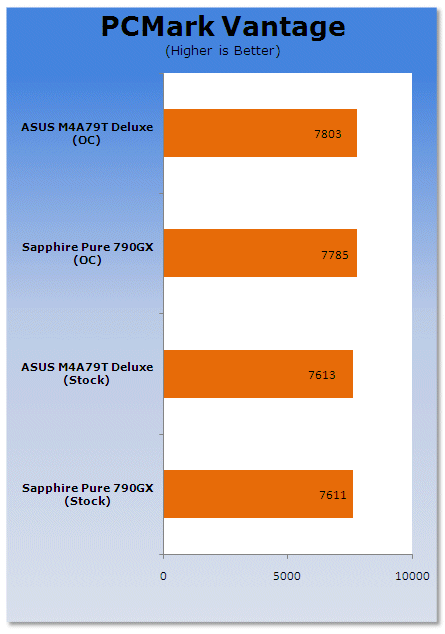 Moving along to the synthetic tests, we see that the ASUS and Sapphire boards are equal at stock, but ASUS manages to pull ahead at the overclocked level.
Benchmarks - SYSmark 2007 Preview
SYSmark 2007Version and / or Patch Used:
1.04
Developer Homepage:
http://www.bapco.com/
Product Homepage:
http://www.bapco.com/products/sysmark2007preview/>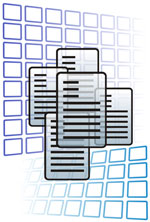 SYSmark 2007 Preview is the latest version of the premier performance metric that measures and compares PC performance based on real world applications.
SYSmark 2007 Preview extends the SYSmark family, which has been widely accepted by IT Managers, PC OEMs, press and analysts worldwide to support Windows Vista™.
SYSmark 2007 Preview allows users to directly compare platforms based on Windows Vista™ to those based on Windows XP Professional and Home.
The new release also incorporates numerous new features and enhancements such as an improved GUI allowing streamlined start-up and run along with a heads-up-display (HUD) and automated error reporting.
SYSmark 2007 Preview is an application-based benchmark that reflects usage patterns of business users in the areas of Video creation, E-learning, 3D Modeling and Office Productivity. This new release includes a robust and refreshed set of applications.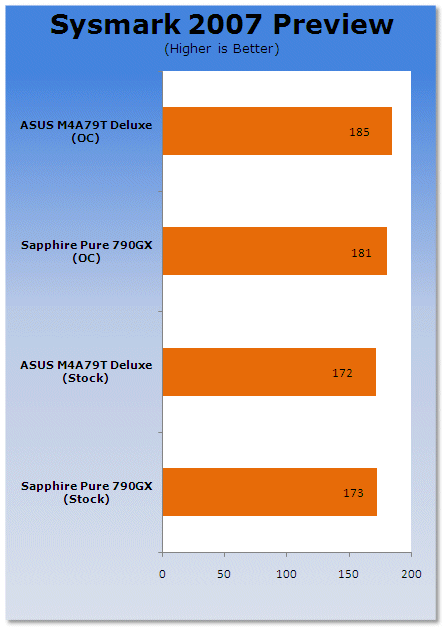 A similar trend is seen in SYSmark 2007, but this is based in the real world application field. ASUS still only wins at the overclocking level.
Benchmarks - 3DMark Vantage
3DMark VantageVersion and / or Patch Used:
1.01
Developer Homepage:
http://www.futuremark.com
Product Homepage:
http://www.futuremark.com/products/3dmarkvantage/
Buy It Here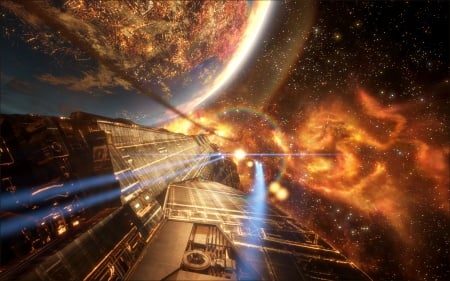 3DMark Vantage is the new industry standard PC gaming performance benchmark from Futuremark, newly designed for Windows Vista and DirectX10. It includes two new graphics tests, two new CPU tests, several new feature tests, and support for the latest hardware.
3DMark Vantage is based on a completely new rendering engine, developed specifically to take full advantage of DirectX10, the new graphics API from Microsoft.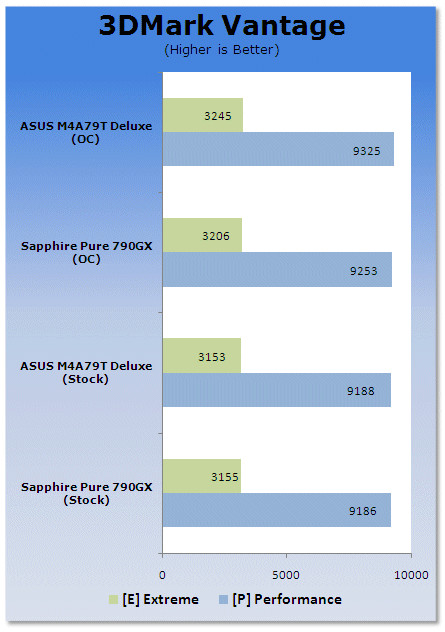 Under synthetic gaming we see that the increase in speed from the ASUS board shows out here in the overclocking field.
Benchmarks - Crysis
CrysisVersion and / or Patch Used:
1.1
Timedemo or Level Used:
Custom Timedemo
Developer Homepage:
http://www.crytek.com/
Product Homepage:
http://www.ea.com/crysis/
Buy It Here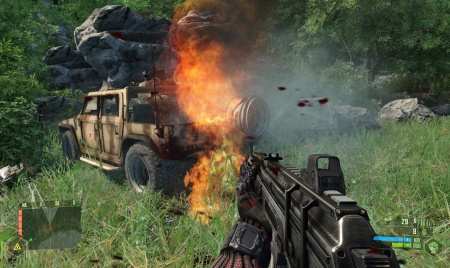 From the makers of Far Cry, Crysis offers FPS fans the best-looking, most highly-evolving gameplay, requiring the player to use adaptive tactics and total customization of weapons and armor to survive in dynamic, hostile environments including Zero-G.
Real time editing, bump mapping, dynamic lights, network system, integrated physics system, shaders, shadows and a dynamic music system are just some of the state of-the-art features the CryENGINE™ 2 offers. The CryENGINE™ 2 comes complete with all of its internal tools and also includes the CryENGINE™ 2 Sandbox world editing system.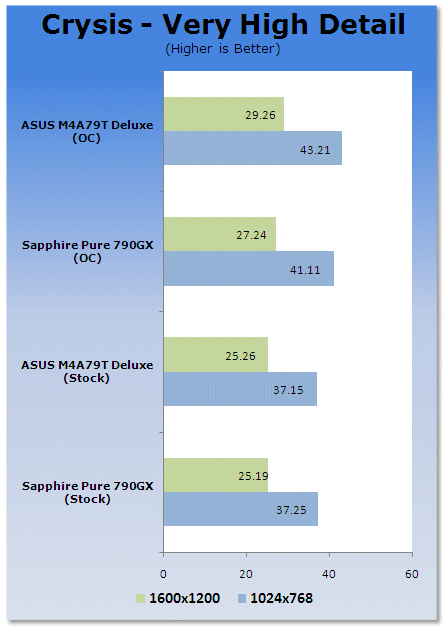 Lastly, we see that Crysis likes the increased speed of the ASUS board when overclocking.
Power Usage and Heat Tests
Power Consumption
We are now able to find out what kind of power is being used by our test system and the associated graphics cards installed. Keep in mind; it tests the complete system (minus LCD monitor, which is plugged directly into an AC wall socket).
There are a few important notes to remember though; while our maximum power is taken in 3DMark06 at the same exact point, we have seen in particular tests the power being drawn as much as 10% more. We test at the exact same stage every time; therefore tests should be very consistent and accurate.
The other thing to remember is that our test system is bare minimum - only a 7,200RPM SATA-II single hard drive is used without CD-ROM or many cooling fans.
So while the system might draw 400 watts in our test system, placing it into your own PC with a number of other items, the draw is going to be higher.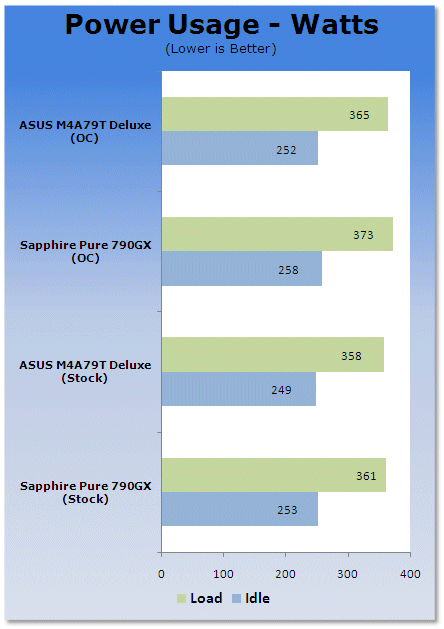 ASUS uses its EPU engine to help reduce power and we see that it works here quite well. However, it's not as effective when overclocking as more power is being used to help stabilize the system.
Heat Generation
As a new measure, we are now monitoring the heat generation from the key components on the motherboards, this being the Northbridge, Southbridge (if it contains one) as well as the Mosfets around the CPU. The results are recorded at idle and load during the power consumption tests.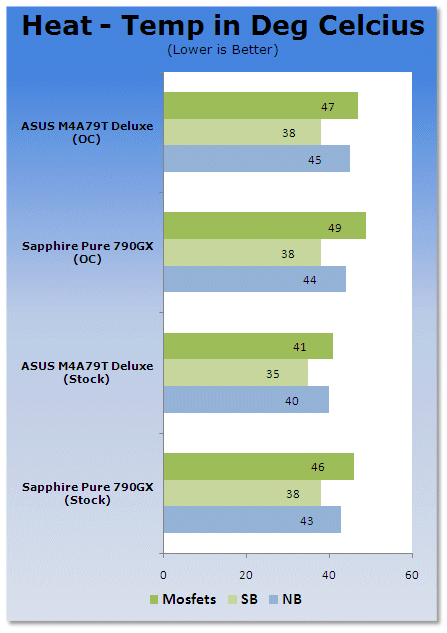 ASUS' heatpipe assembly is extremely adept at cooling the system components.
Final Thoughts
With every new ASUS board that comes out we see them improving quality and features. The M4A79T Deluxe is definitely one of the best AMD boards we have seen with the ASUS logo branded on it. Not only does it use the high quality 790FX chipset, but it also now has the improved SB750 with additional SATA ports.
AMD may not be the highest performance processor, but its price sure does compete. You can build a competitive rig with two or more GPU's and a large memory capacity.
With a price tag of
199.99 USD from Newegg
, this board definitely is a good value choice for those wanting a good Crossfire rig or a cheap AMD overclocker.