TweakTown's Rating: 90%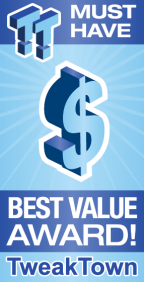 The Bottom Line
GIGABYTE's 970-Gaming SLI is a great looking motherboard designed for gamers with the latest in connectivity technology at a price that is hard to beat.
Introduction, Specifications, and Pricing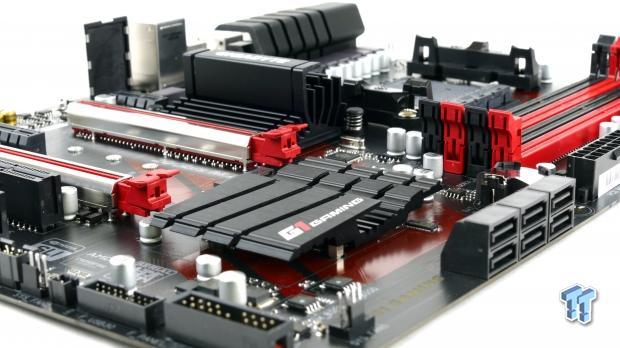 Today we are going to take a look at an AMD motherboard, a refreshing change from the typical Intel focused content. While Intel releases new chipsets as often as Marvel Comics movies come out, AMD is more at the pace of the Star Wars franchise. There are advantages to each method. As AMD fans will attest, backward and forward compatibility is quite good on the AMD side of things, but the introduction of new technologies into older platforms can be a bit difficult. GIGABYTE and other vendors recently showed off a new series of AMD motherboards based on the 990FX and 970 chipsets and their main advantage over their predecessors is the addition of the latest storage and connectivity technologies.
GIGABYTE's new 970-Gaming SLI is aimed at the price conscious consumer who wants a lot of bang for their buck, but also wants something they can show off to their friends. The 970-Gaming SLI has a list of features I wouldn't expect to find on an AMD motherboard, including USB 3.1, M.2, SLI, and even an Intel NIC. AMD is still a good alternative to Intel if you are trying to keep things wallet friendly, and the 970-Gaming SLI is built to provide a more modern experience for AMD buyers. Let's take a look at what this motherboard has to offer.
Specifications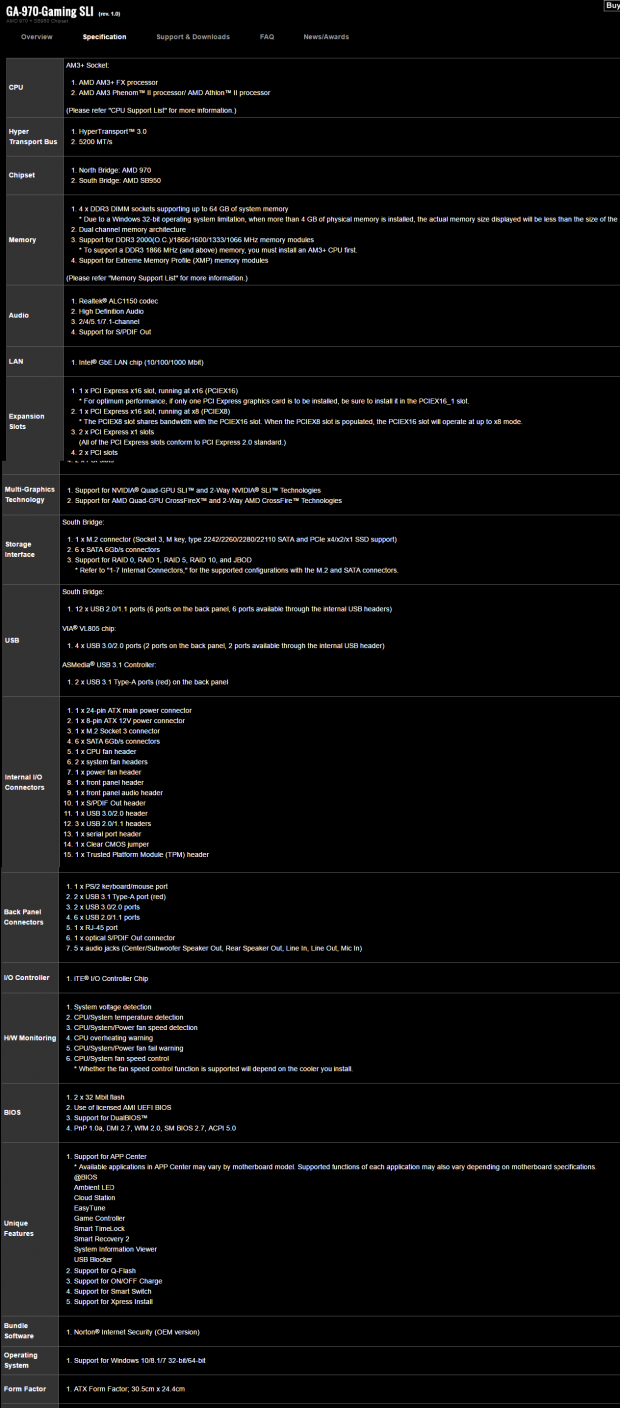 The GIGABYTE 970-Gaming SLI has an extensive list of features, including USB 3.0, USB 3.1, Intel NIC, x4 M.2 (20Gb/s), and SLI and CrossFireX support.
Pricing
The 970-Gaming SLI is available from many large retailers for $98.99.
Packaging and 970-Gaming SLI Overview
Packaging and Overview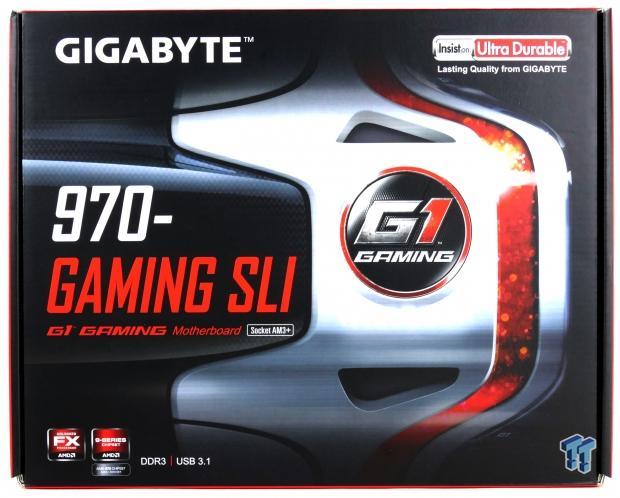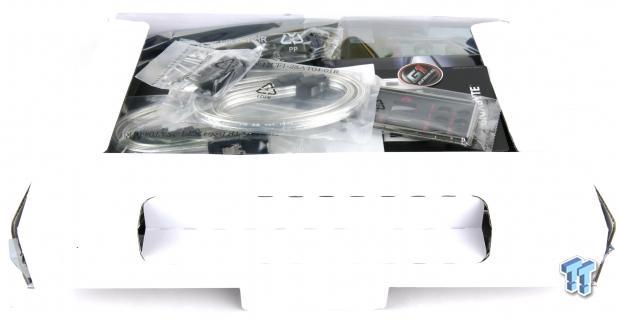 The 970-Gaming SLI's box informs us that it's indeed part of GIGABYTE's G1 gaming lineup. If the frequency of the word "Gaming" didn't tip you off, this motherboard is for gaming. Packaging is decent; the motherboard is in an anti-static bag and sits inside a cardboard cutout designed to provide a little extra protection from the elements.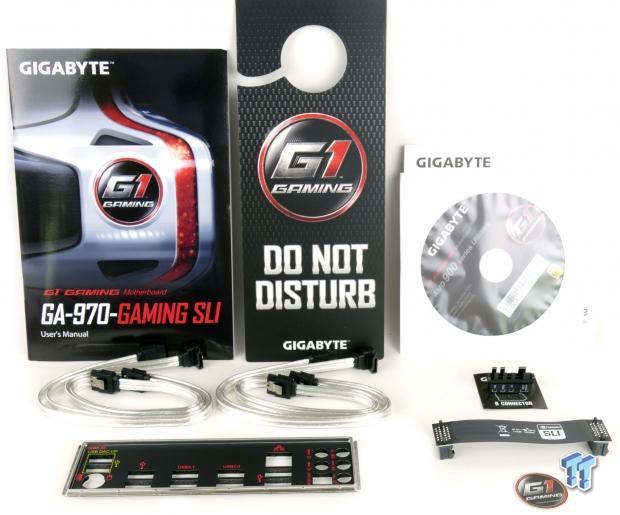 Accessories include an IO shield, 4x SATA6Gb/s cables, SLI bridge, G-Connector, case badge, door hanger, driver disc, and manual.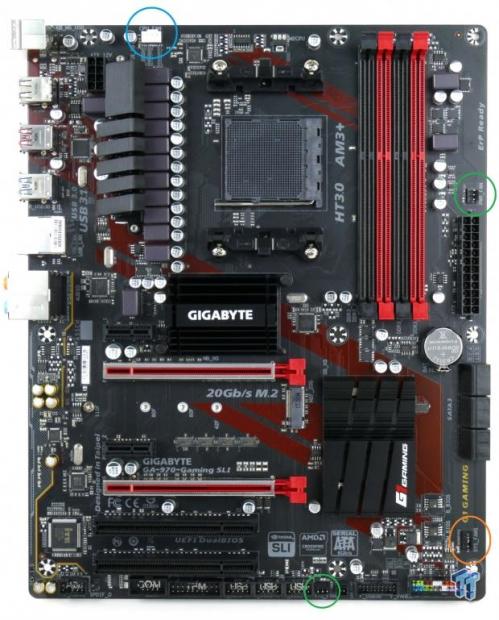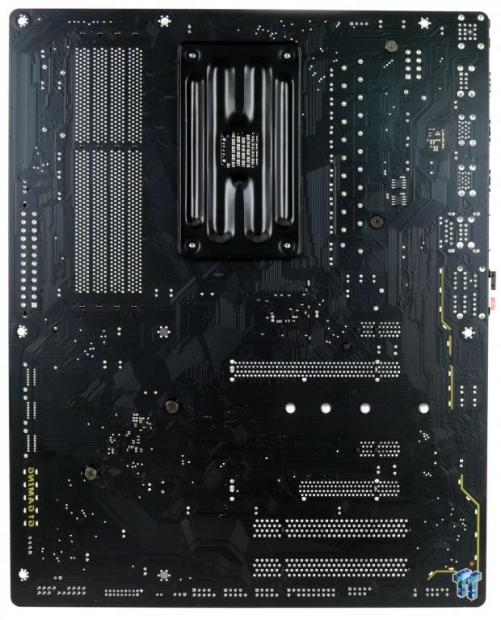 The 970-Gaming SLI has four fan headers. The CPU fan header circled in blue is a PWM mode header, the header circled in orange is a 4-pin voltage mode header, and the two headers circled in green are 3-pin 12v headers with no control mode. The motherboard's PCB has a black and red color theme to match that of the slots and heat sinks. The motherboard looks better in person than in the pictures, and it looks much nicer than its price would lead you to believe. The audio and SATA areas have translucent PCB divides that are illuminated by red LEDs. The back of the motherboard is bare except for the LEDs and two drivers for the VRM.

The IO panel on the 970-Gaming SLI features two USB 2.0 DAC-UP ports (yellow), PS/2 keyboard/mouse, four USB 2.0 (black), two USB 3.1 (red), two USB 3.0 (blue), 1Gbit LAN, and 7.1 audio with TOSLINK.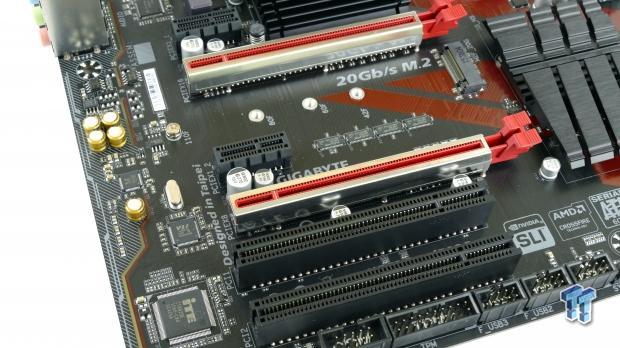 The 970 Northbridge provides up to 22 PCI-E 2.0 lanes, but only 16 of those can be used for graphics cards. There are two full sized 16x slots reinforced with GIGABYTE's single piece metal slot reinforcement to prevent heavy GPUs from damaging the slot. The motherboard supports 2-way CrossFireX and SLI. The layout is very simple; a single card in the top slot will operate at x16 and the second slot at x0, if both slots are occupied they each will run at x8. There are two PCI-E x1 slots connected to the Northbridge. Two PCI slots are also present and connected to the Southbridge.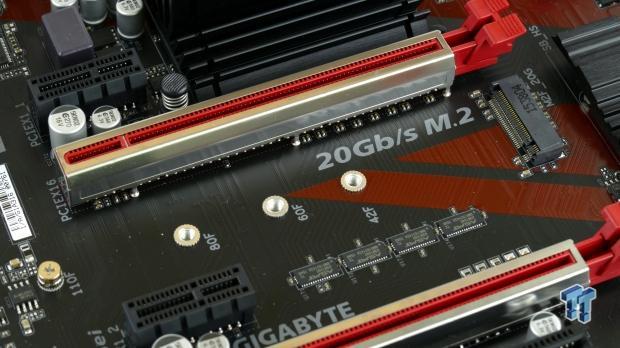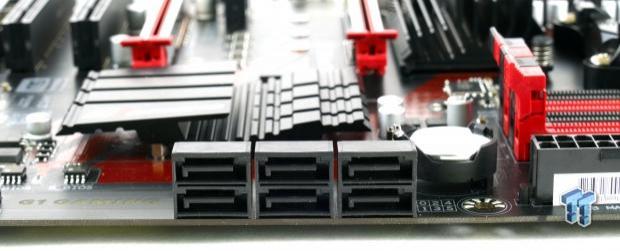 According to GIGABYTE, the M.2 slot gets x4 PCI-E 2.0 from the Southbridge. The M.2 slot provides up to 20Gb/s which is roughly 2-2.5GB/s of bandwidth for an M.2 SSD. The Southbridge also provides six SATA6Gb/s ports. SATA port 5 will be disabled if you install a SATA-based M.2 SSD.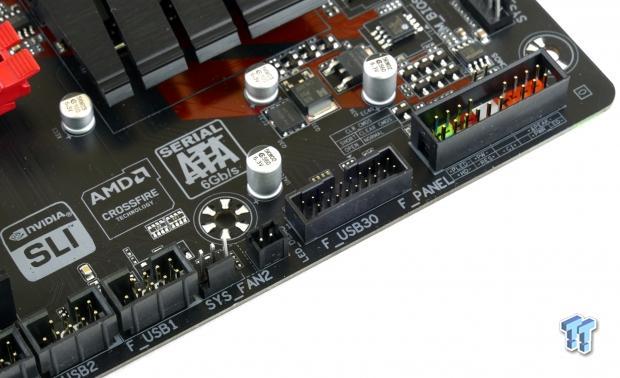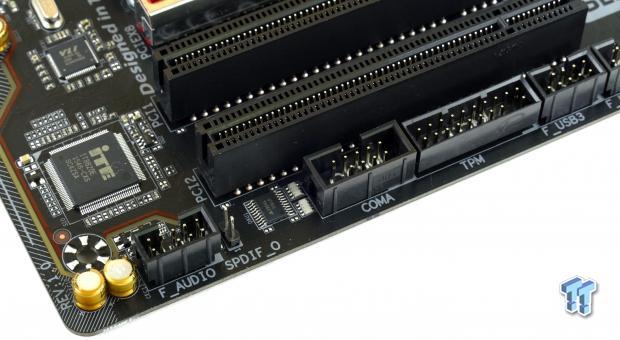 The front panel connectors are color-coded, so it's easier to see where to plug in jumpers inside a dark case. The motherboard also has a single USB 3.0 internal header. There is a two pin header labeled LED_DEMO, if you supply it with 5v it will illuminate the LEDs even if the motherboard is off. Three USB 2.0 internal headers are located in this bottom row. I also found a COM port and TPM port to the right of the HD audio header.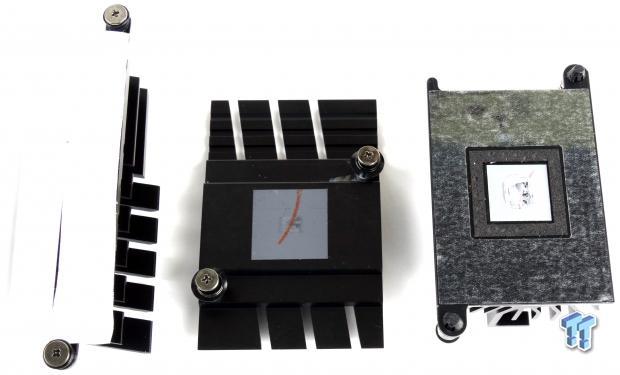 The VRM and Southbridge heat sinks use screws while the Northbridge heat sink uses push pins. Contact seems to be quite good on all heat sinks.
GIGABYTE 970-Gaming SLI Circuit Analysis
Circuit Analysis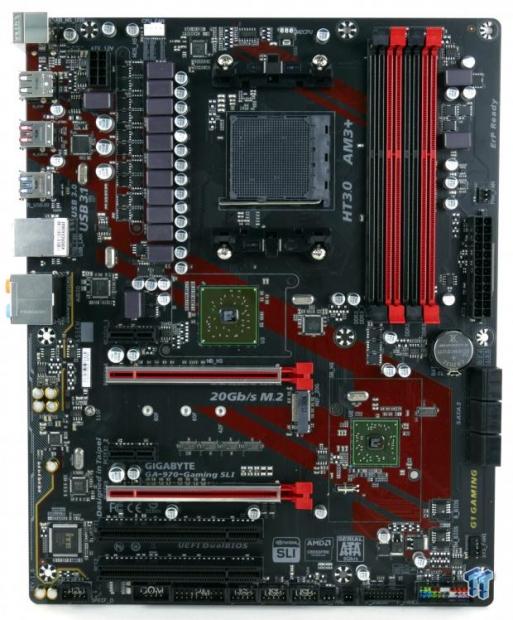 GIGABYTE has done a great job with the red silkscreen, too bad we only get to see it in full when the heat sinks are removed.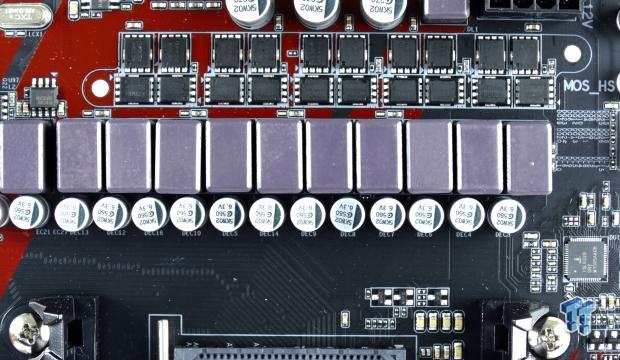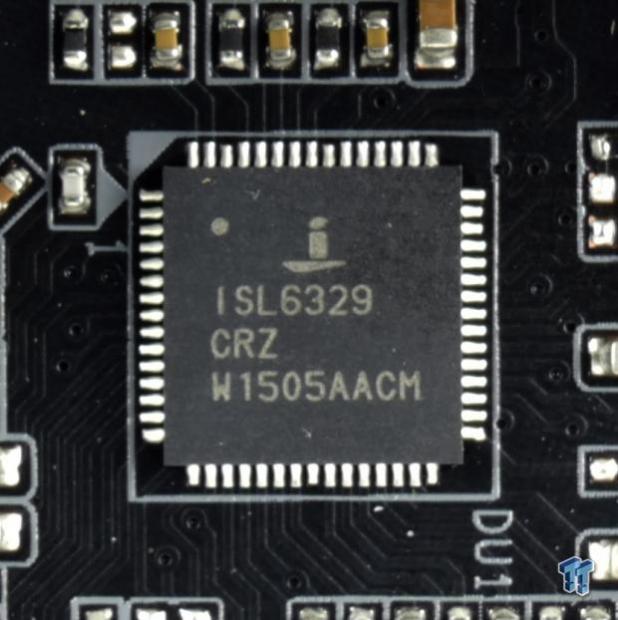 The VRM for the CPU features 8+2 phases for the CPU Core (VDD) and CPU Northbridge (CPU VDDNB) voltage rails. The VRM is controlled by a highly integrated hybrid Intersil ISL6329 which is specifically designed for AMD platforms and will work well with AMD's SVI. In this configuration, the ISL6329 outputs 4+1 phases, which are doubled to 8+2 by doubling the number of components; I call it dual output doubling and it's not the best way of doubling, but it gets the job done. The PWM has two integrated drivers for the first four phases and the CPU Northbridge phase also gets an integrated driver.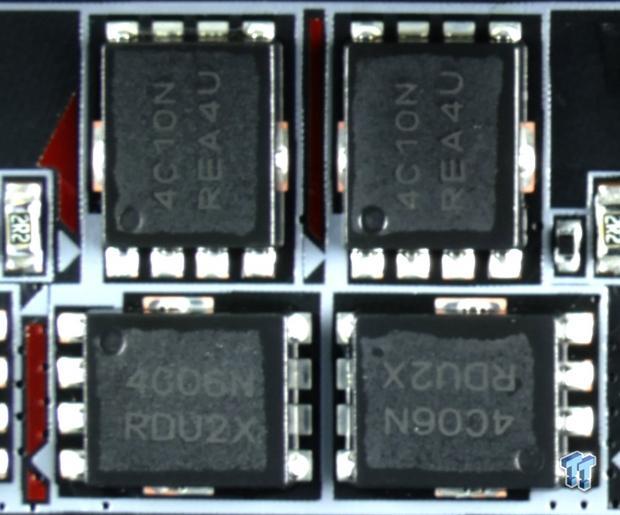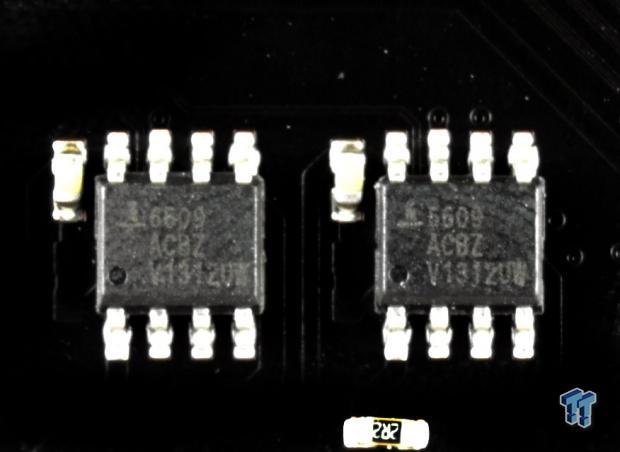 Each virtual phase uses one NTMFS4C06N as the low-side MOSFET and one NTMFS4C10N for the high-side MOSFET. Each driver is connected to two of each MOSFET. Since the VRM needs 4+1 drivers and only 2+1 drivers are integrated into the PWM, GIGABYTE had to add two ISL6609 MOSFET drivers for two of the remaining CPU Core phases.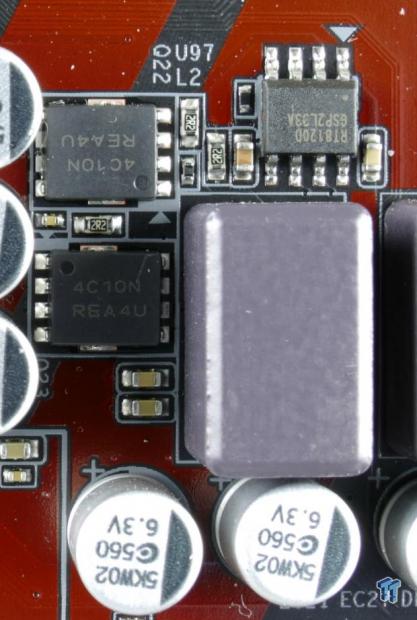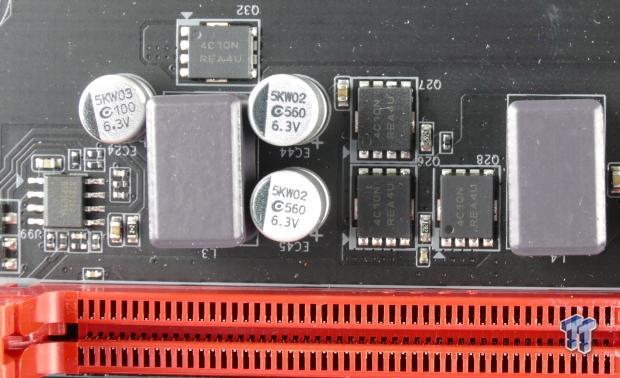 The Northbridge (not to be confused with CPU Northbridge) is powered by a single phase VRM controlled by a Richtek RT8120 single phase PWM with integrated driver. The memory VRM uses a similar setup as the Northbridge, except it uses two low-side MOSFET and a single high-side MOSFET to improve performance.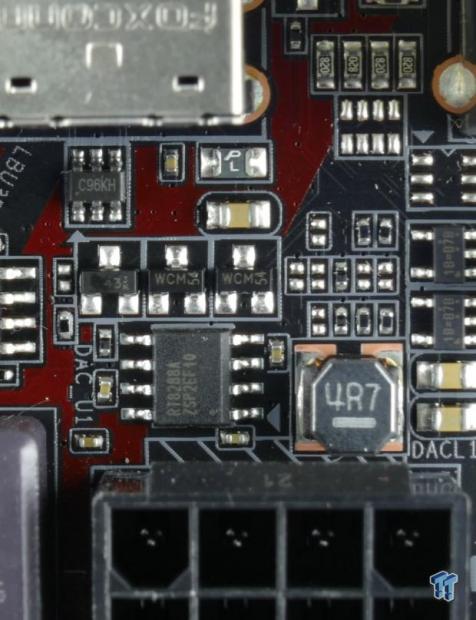 A Richtek RT8288A is used to provide the DAC-UP feature where steady power is provided to the two yellow USB 2.0 ports. The separate power controller for the two yellow USB ports allows you turn off USB power completely and only transmit data over the USB lines to an external DAC.
GIGABYTE 970-Gaming SLI Circuit Analysis Continued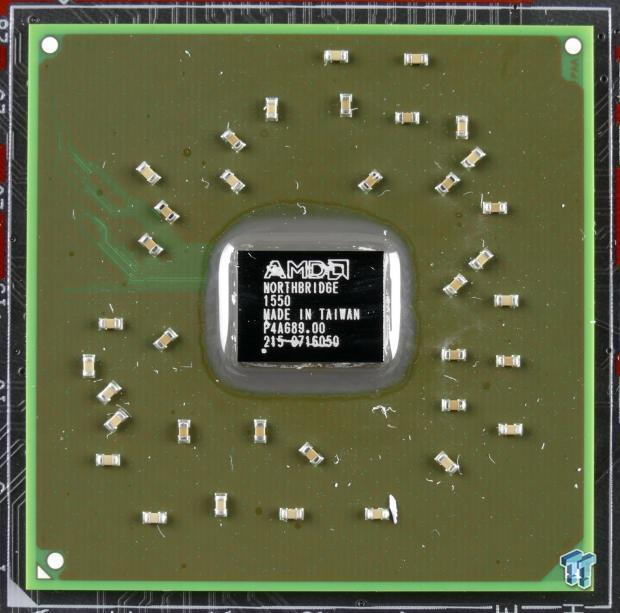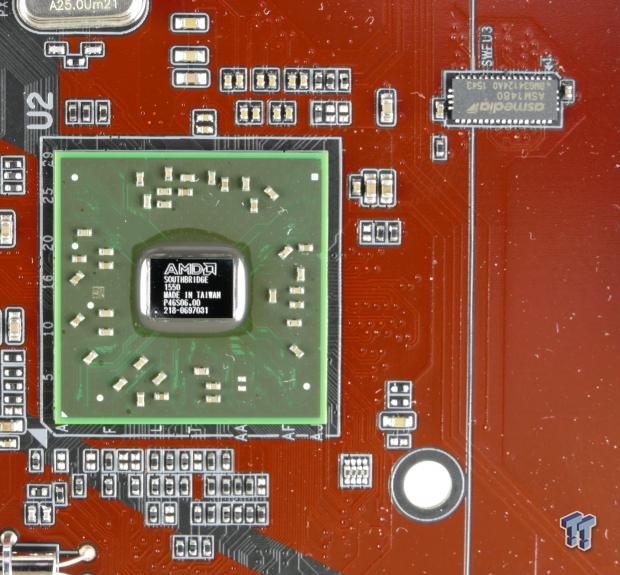 The Northbridge is the AMD 970, and the Southbridge is the SB950.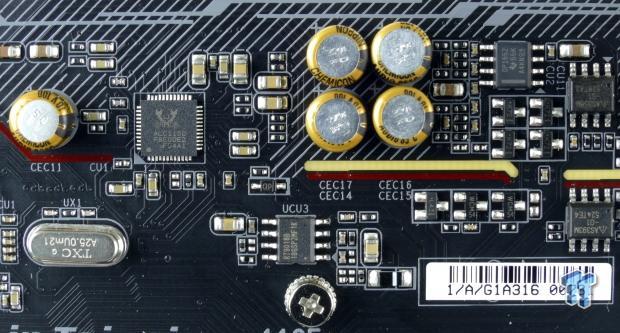 The audio solution on this motherboard is quite good. A Realtek ALC1150 is used as the codec, and a Texas Instruments OP1652 is used as the headphone amplifier. GIGABYTE is also using Nichicon Gold series electrolytic audio capacitors to improve audio quality. There is also a PCB divide to separate the analog audio domain from the motherboard's digital domain.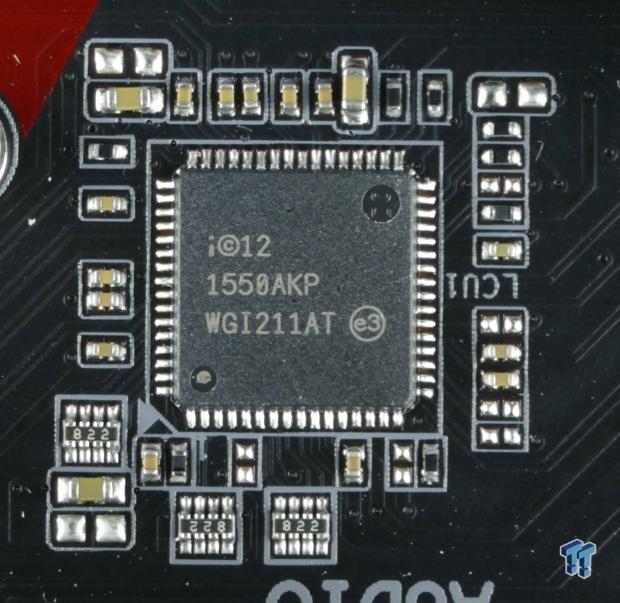 You don't see Intel NICs on AMD motherboards every day, and today is an exception. The motherboard uses the Intel i211AT for the 1Gbit NIC on the rear IO panel. The two USB 3.1 ports on the IO panel are from an ASMedia ASM1143 USB 3.1 controller.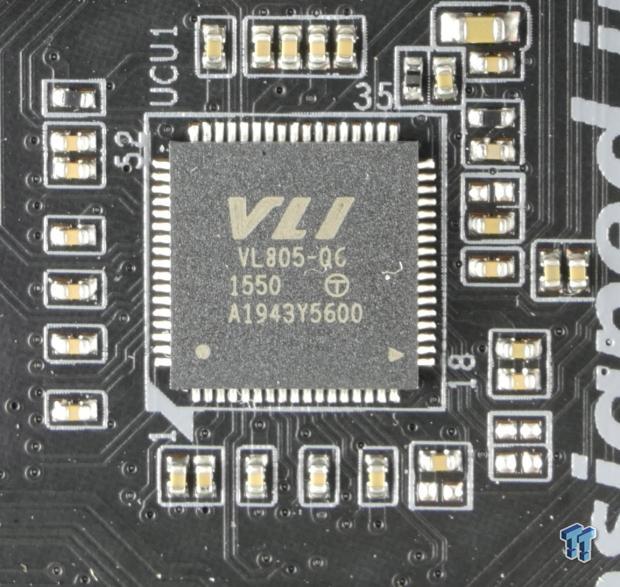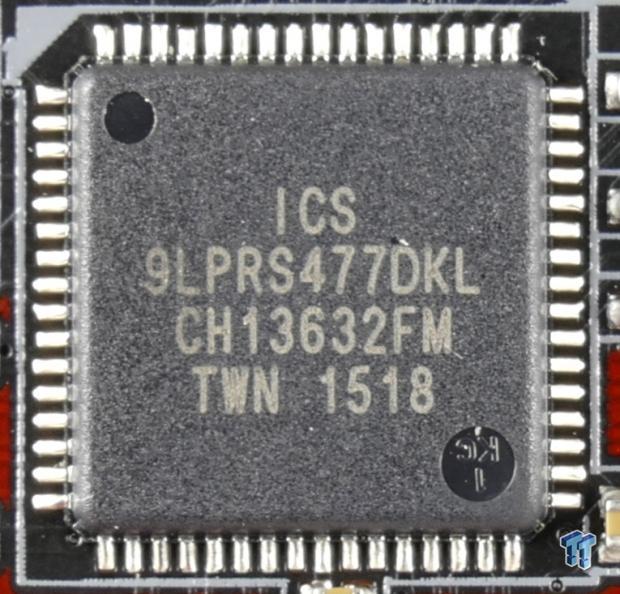 Neither the Northbridge nor Southbridge provides USB 3.0, so GIGABYTE added a VLI VL805 to provide two USB 3.0 to the rear IO panel and two more for the internal header. An ICS 9LPRS477DKL is used as a clock buffer.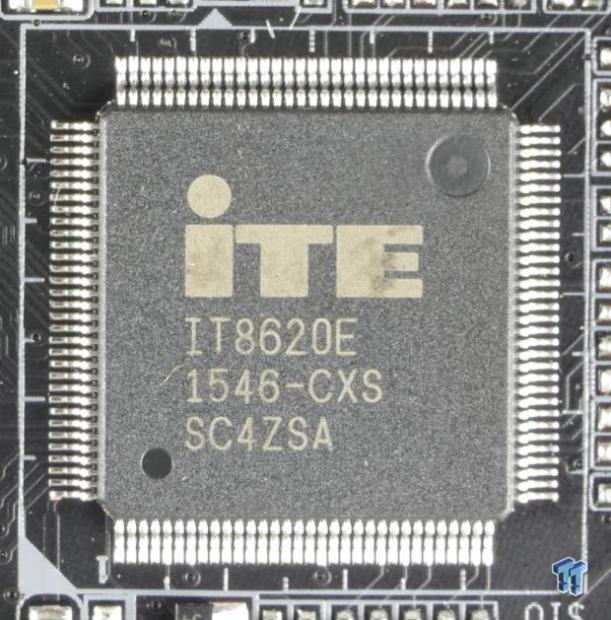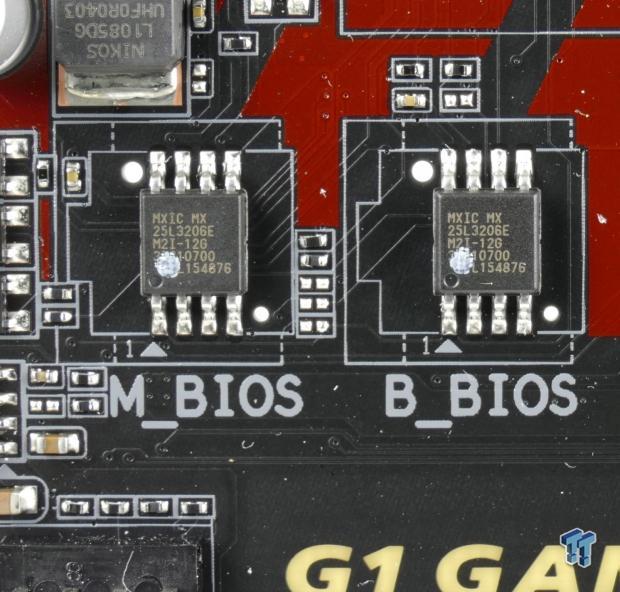 The main SuperIO is the IT8620E, which provides system monitoring, fan control, COM, and PS/2 on the rear IO. The motherboard does employee GIGABYTE's DualBIOS technology to safeguard motherboard operation in case of BIOS corruption.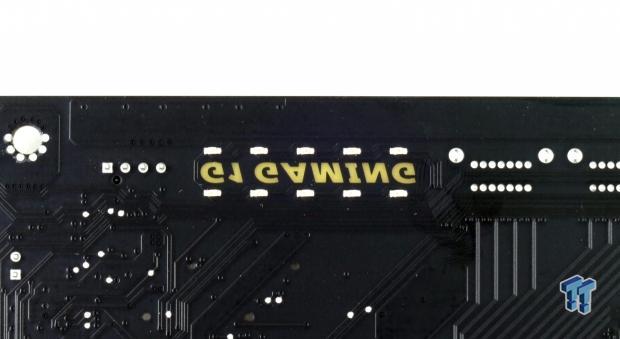 There are 15 red LEDs that line the audio divide on the back of the PCB and ten more surround the G1 Gaming logo under the SATA area. You do have the option to disable these LEDs in case you aren't a fan.
BIOS and Software
BIOS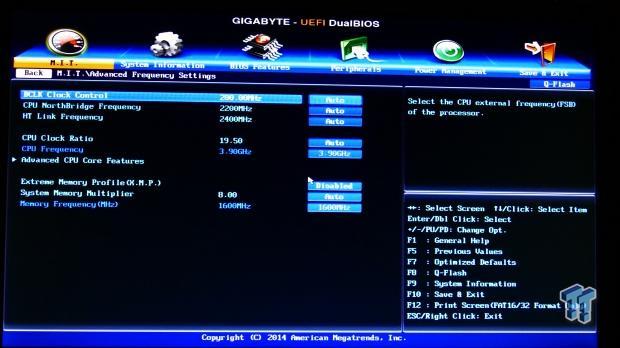 The BIOS for the 970-Gaming SLI is what you might expect from a sub-$100 motherboard. It is nothing crazy, in fact, it looks like GIGABYTE's first generation UEFI from years past on the Intel side. It has all the settings you might need to tune the system, including overclocking settings, but I would not attempt to overclock a 125W CPU because the motherboard is not designed for heavy overclocking.
I was able to configure boot options, and there is even an option for NVMe drives. Overall, the BIOS works well, and all settings you might need are present.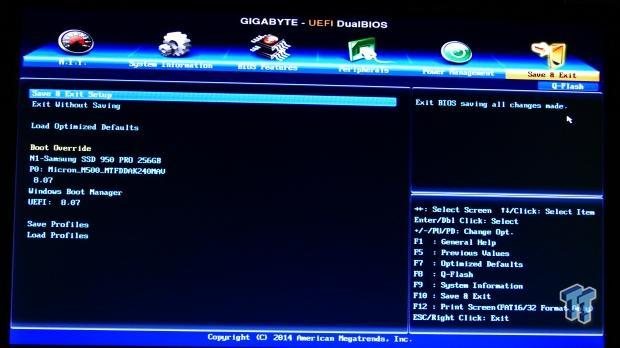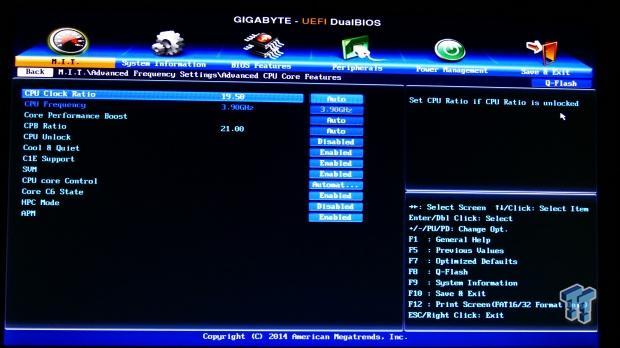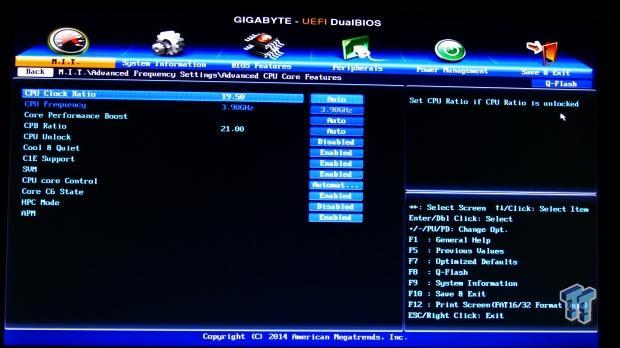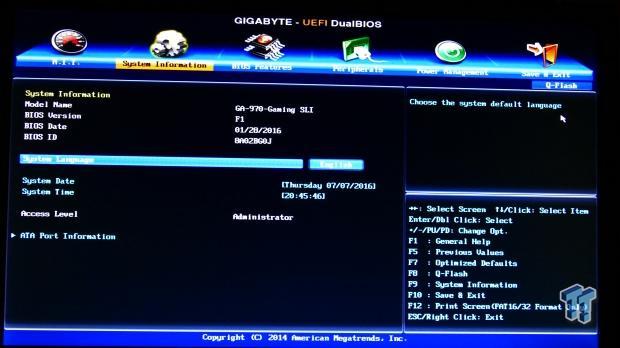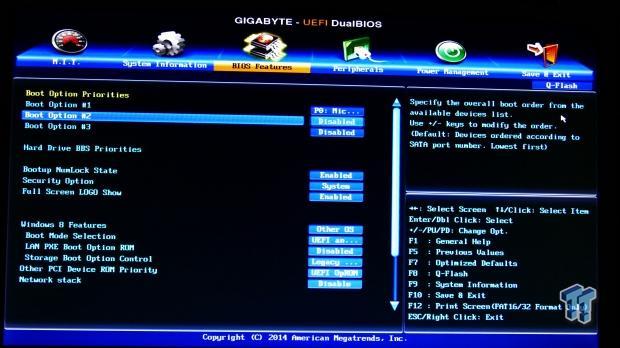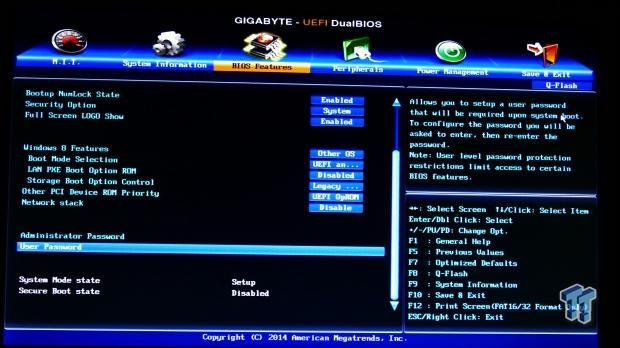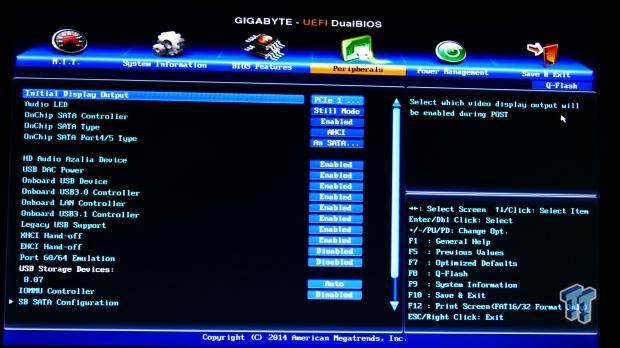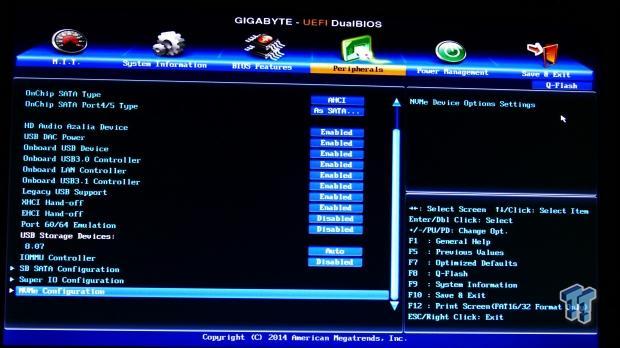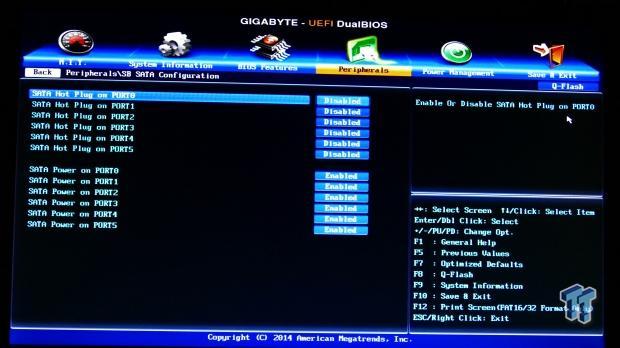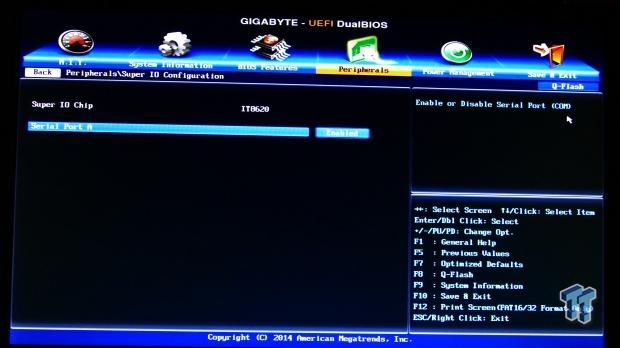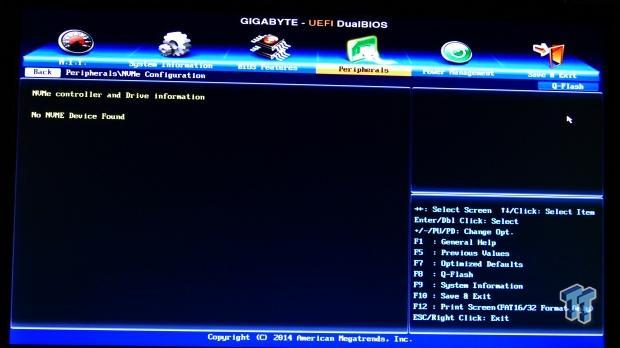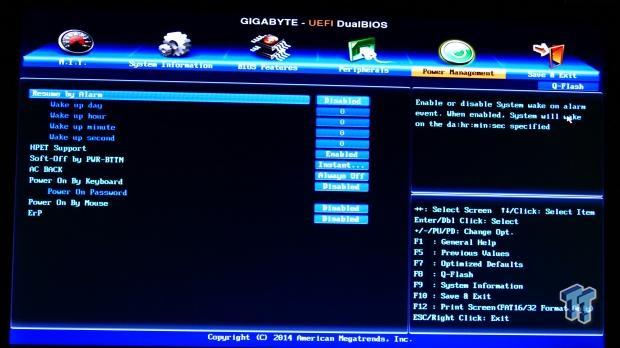 Software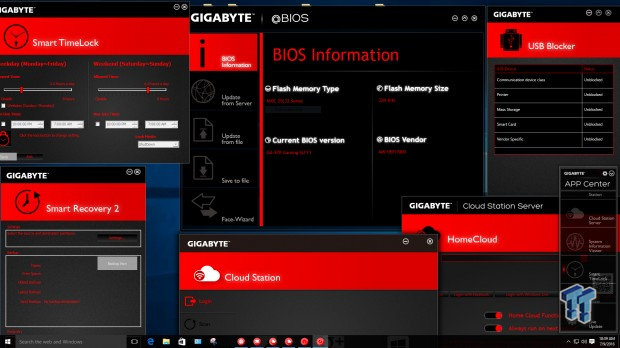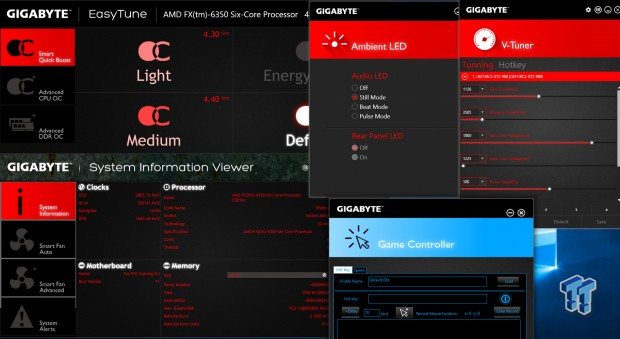 The motherboard does come with a variety of GIGABYTE software, including Game Controller, @BIOS, 3D OSD, Ambient LED, Cloud Station, USB Blocker, System Information Viewer (fan control), EasyTune, V-Tuner, Home Cloud, Smart Backup, Smart TimeLock, and Smart Keyboard.
Test System Setup and Overclocking
Steven's Motherboard Test System Specifications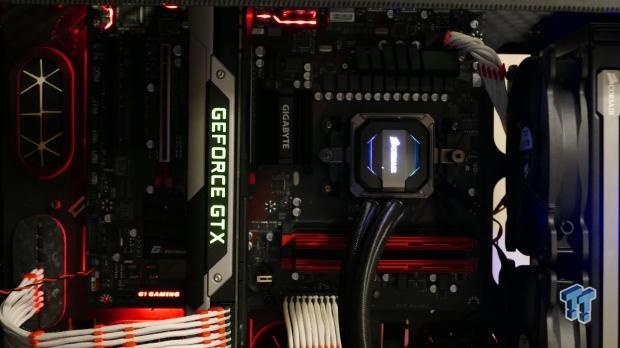 The motherboard looks good inside of a case, and the red LEDs provide a nice glow.
The new test bench is designed to test every aspect of the motherboard and IO. I have designed it so that the motherboard sits in a case and is cooled by fans always on at a constant rate to keep the conditions similar during all tests. I have cut out part of the case behind the motherboard so I can get thermal images of the back of the PCB where the VRM heat spreads. System and CPU power measurements are now digitally logged.
I am also using a Netgear Nighthawk X4 AC2350 for our network (including wireless AC) tests. The latest M.2, SSD, and USB technologies are also being utilized to test the maximum potential of the motherboards that are tested.
Overclocking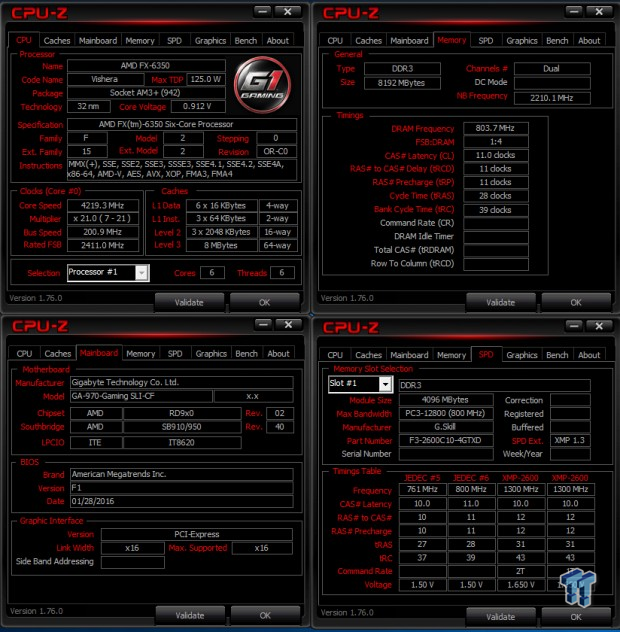 The 970-Gaming SLI is a sub-$100 motherboard, and I don't want to set a bad example by showing you guys a nice overclock. To overclock 125W CPUs over 4.2GHz on this motherboard requires very strong airflow over the VRM heat sink, and that isn't normal.
I would look into the 990FX-Gaming from GIGABYTE if you want a motherboard like this one with better overclocking. The 970-Gaming SLI is a gaming motherboard and not an overclocking motherboard.
CPU, Memory, and System Benchmarks
I do not usually test AMD motherboards, but I will be doing a few more AMD motherboard and CPU reviews before Zen launch, so I decided to bring out some of my older AMD hardware for comparison. In this case, I am comparing it to a 7870K system.
CINEBENCH 11.5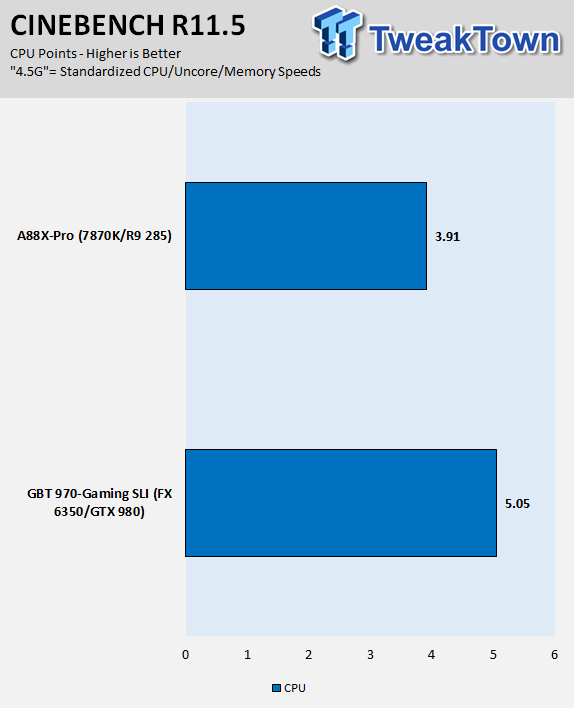 wPrime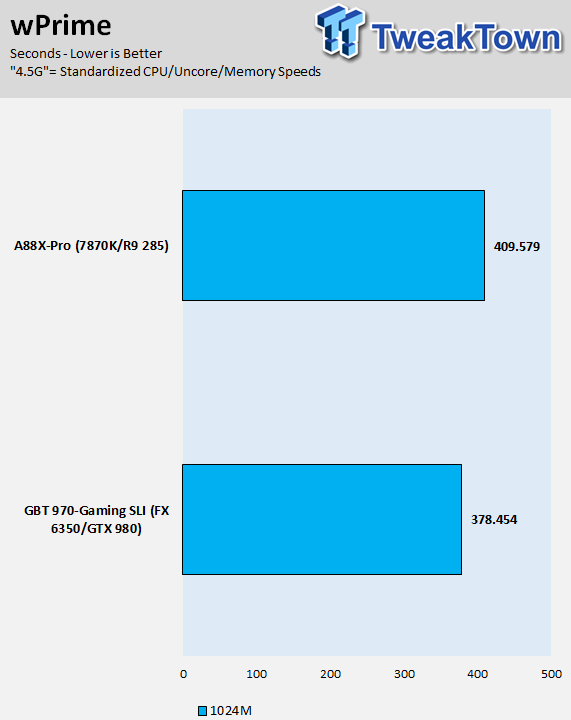 AIDA64 AES and HASH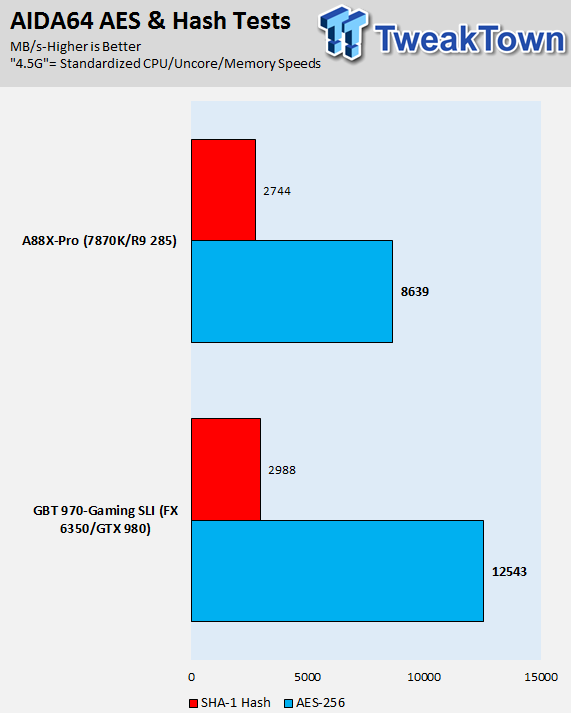 AIDA64 FPU
AIDA64 Memory
3DMark: Cloud Gate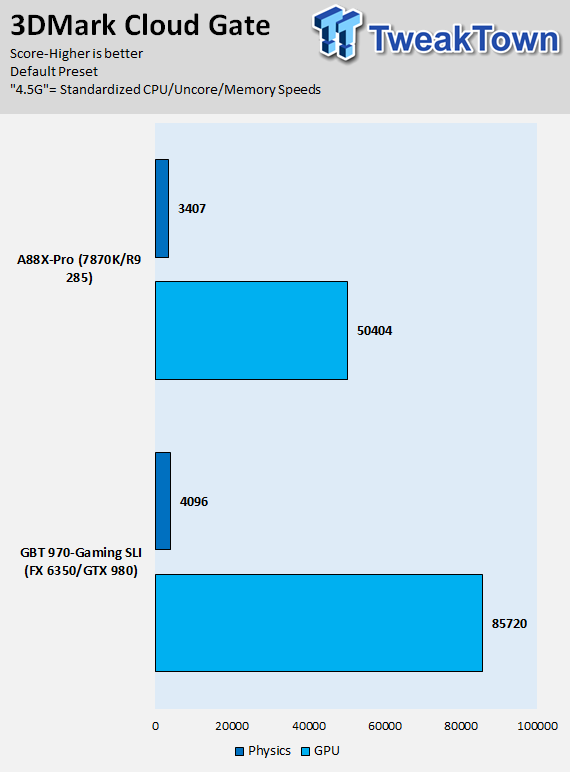 3DMark: Fire Strike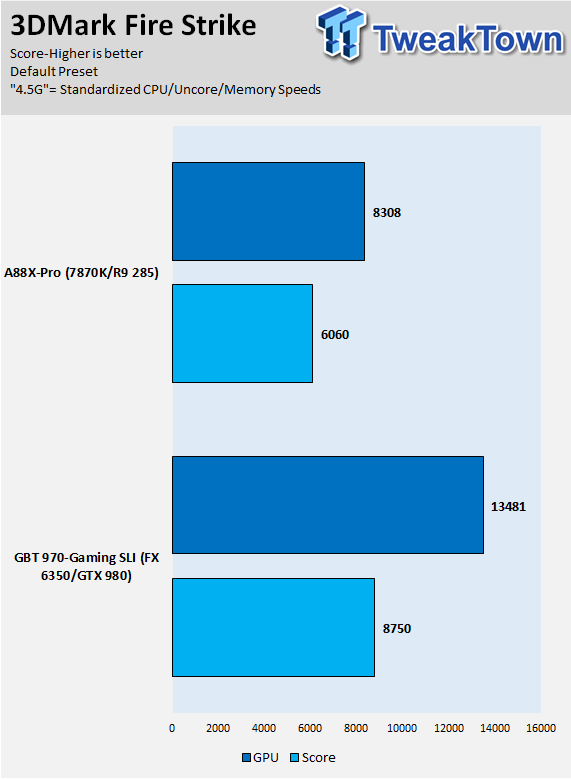 PCMark 8 Home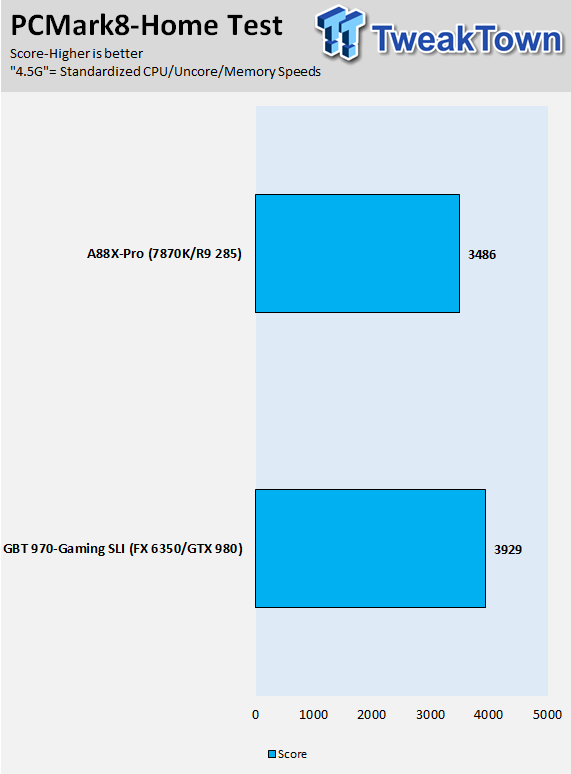 The performance numbers you see here are of the CPU, memory, and GPU. Motherboards don't really contribute to performance; they are the skeleton system, not the muscles. My results are in line with what I expected, and this CPU does offer some performance advantages compared to AMD's APU lineup.
Both the 7870K and FX 6350 are roughly around the same price, and instead of the integrated GPU on the 7870K, you get a little more CPU performance for gaming since most gamers will use dedicated graphics.
System IO Benchmarks
SATA6G: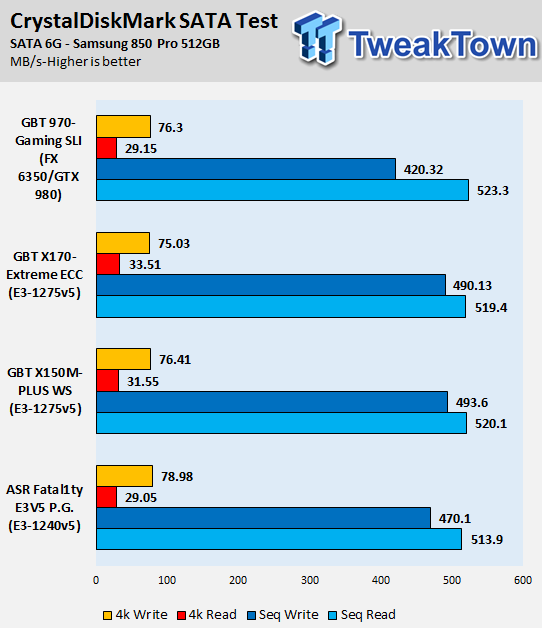 USB 3.0: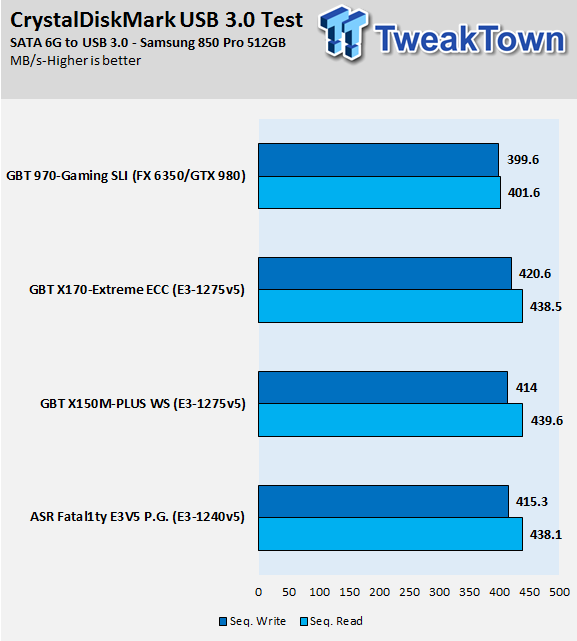 ixChariot Network Throughput: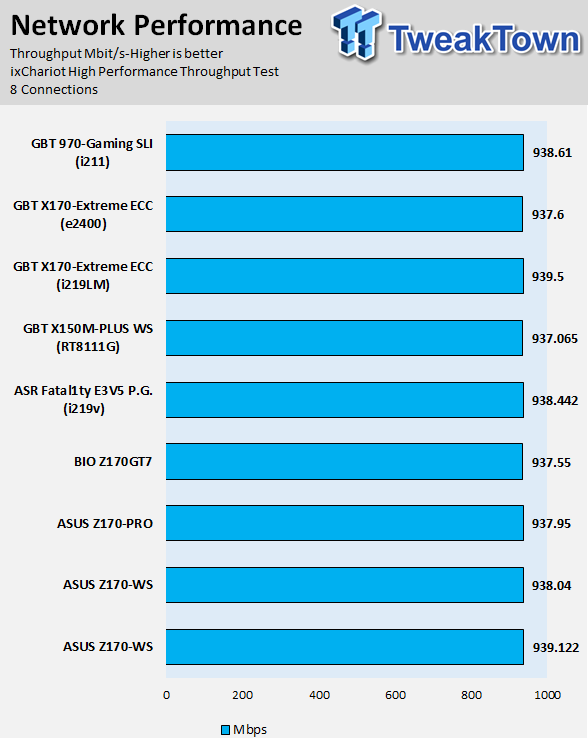 Although the AMD 970 does not have the same performance as Intel's chipsets, you will find no real-world impact from its lower performance in benchmarks. Since the motherboard uses an Intel NIC, network performance was just as good as the Intel systems I tested.
Audio RMAA 5.5:
I disable all audio features, set the correct bitrates, and then test the audio with a loopback test.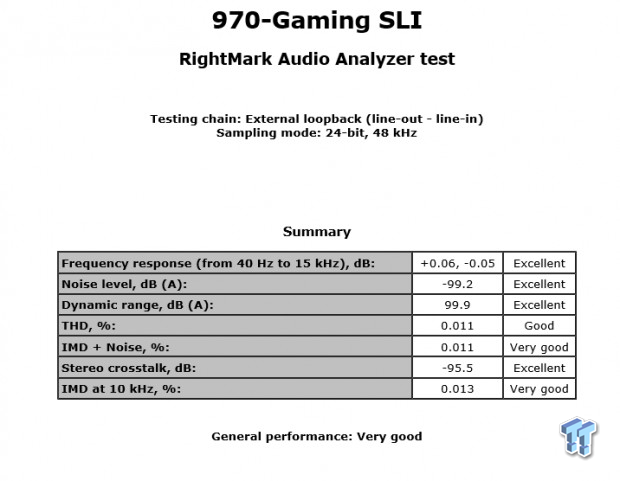 Sound Judgment by Ear: Audio performance was "very good". There are five ratings for audio: 1. Problems, 2. Okay, 3. Acceptable, 4. Very good, 5. Excellent
Thermal Imaging and Power Consumption
CPU power is measured through the 8-pin connector, which is hooked up to a hall effect IC, which measures current and puts out a voltage in proportion to the current. That voltage is logged by a National Instruments ADC, which logs the DC voltage level that I then convert into current.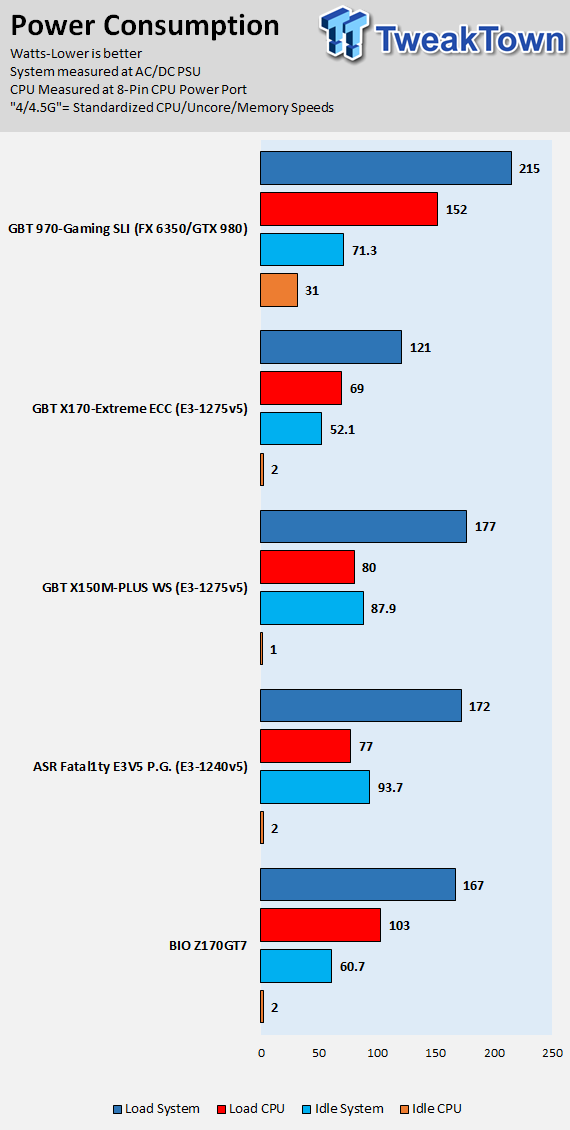 Note on Thermal Images: In the temperature section, we use our Seek thermal imaging camera to capture the surface temperatures of major components on the board. I look at the VRM and then all other things that light up the screen. If there is something to worry about, then I will state it. Otherwise, I will just show the hotter running parts of the board for fun. Unless some component is over 80-90C, then there isn't anything to worry about.
All systems will act differently, so I will look for commonalities, such as how far from the VRM the heat spreads through the PCB and the difference in temperature between the front side and backside of the PCB. Keep in mind, the majority of the heat from the VRM goes into the PCB as it is a giant soldered on copper heat sink. A larger difference in temperature between the back and front of the PCB points towards a more effective heat sink.
Thermal Testing at Stock Speeds:
The image on the left is always at idle, and the image on the right is at load. During ALL TESTS, fans above the VRM that cool the CPU cooler's (Corsair H110i GT) radiator are turned on to high (12v).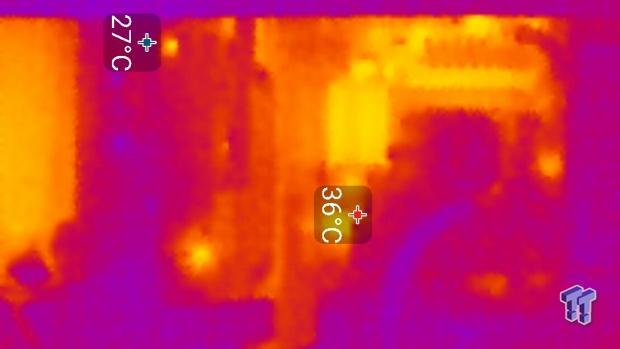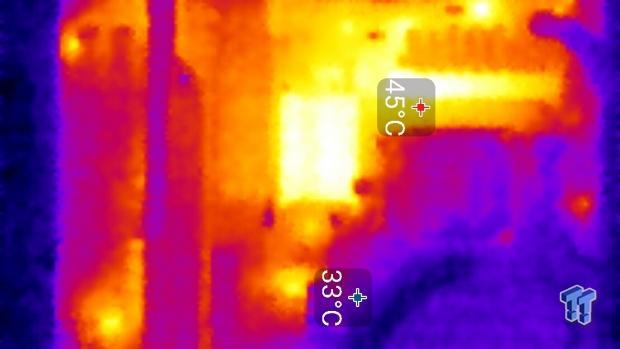 Full frontal.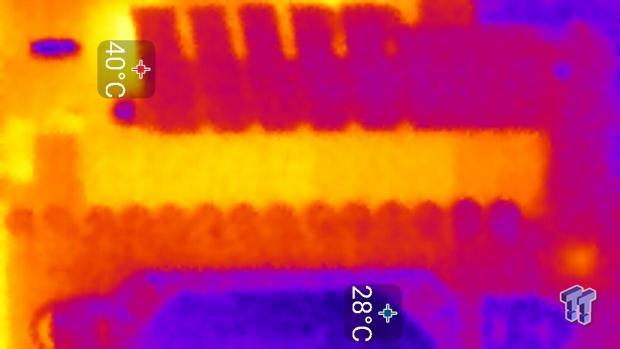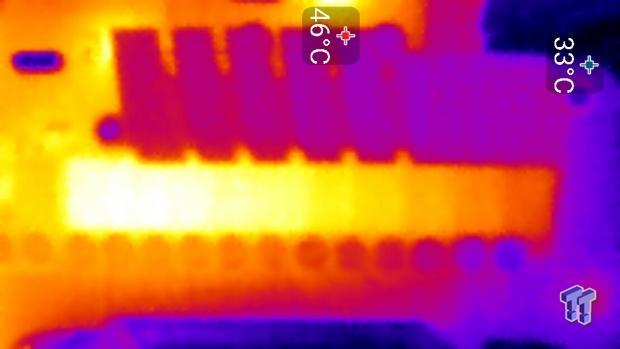 Up-close of the front of the VRM.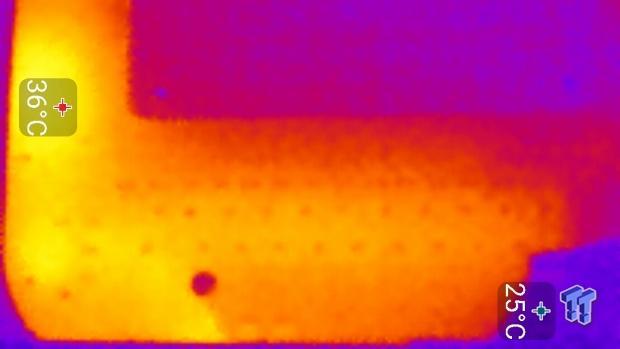 Up-close of the back of the VRM.
The VRM on the 970-Gaming SLI is decent quality, but not high quality enough to maintain a 4.5GHz+ overclock on a 125W TDP CPU with ease. CPUs with lower TDPs should overclock a little more. Stock voltage went up to 1.5v, and most overclockers won't use this much voltage (it's AMD's Core Performance Boost pushing the auto voltage).
We have to remember that voltage isn't the only thing that increases when frequency increases, current has a larger impact and is much harder to pinpoint. I would say that VRM performance is good to acceptable.
Anything under 60C is great, 60-80C is acceptable, and anything above 80C is a bit worrisome (if at stock).
What's Hot, What's Not & Final Thoughts
Here are key points about the GIGABYTE 970-Gaming SLI.
What's Hot
Snazzy Look: At the $100 price point you don't expect a product to look really good and perform well, but the 970-Gaming SLI does both. It has a stylish red and black color theme, and the red silkscreen on the motherboard is a nice addition. GIGABYTE did a nice job with the heat sink design and slot coloring. The red LEDs on either side of the motherboard make the underside of the PCB glow, which results in an aesthetically pleasing effect.
USB 3.1 and M.2: Two things missing from AMD motherboards until recently were USB 3.1 and M.2, and the 970-Gaming SLI carries both. The USB 3.1 is on the rear panel in the form of two type-A ports, which in my opinion are more useful since I don't see many USB type-C devices on the market as of yet. The M.2 slot is wired to x4 PCI-E 2.0 since the chipsets do not provide PCI-E 3.0. The M.2 slot provides up to 20Gb/s of bandwidth, which is more than enough for the majority of M.2 drives.
Intel NIC and NVIDIA SLI on an AMD Motherboard: It's probably less cringe worthy and more utilitarian to have these two features on an AMD motherboard. GIGABYTE decided to listen to their customers and bring together technologies from competing brands and integrated them into their products. Besides, AMD doesn't make NICs and a lot of people use SLI, so why exclude them?
Very Affordable: When it comes to bang for your buck, it's hard to go wrong with AMD. Their CPUs are very affordable, and motherboards for AMD CPUs are equally wallet-friendly. Let me put it in different terms; if this motherboard had an Intel chipset onboard, you would be paying at least 50% more for the same product.
What's Not
Not Really for Overclocking: While the chipset supports overclocking and the motherboard accepts a wide variety of CPUs that are fully unlocked, the motherboard is built more for gaming than overclocking. Mild overclocks are possible, but don't expect anything crazy, unless you want to hear your fans howl to the moon.
BIOS could use a New Look: I am nitpicking, but I would have expected that by now GIGABYTE would have updated the look of their AMD motherboard BIOS to match that of their Intel motherboards.
Final Thoughts
The 970-Gaming SLI is an awesome value product. There are four varieties of USB ports on the back panel IO; you get USB 2.0 ports with extra power, normal USB 2.0, USB 3.0, and USB 3.1. You get 20 Gbps M.2, 2-way CrossFireX/SLI support in mechanically reinforced x16 PCI-E slots, and even an Intel NIC all for under $100. GIGABYTE also made sure to include their DualBIOS technology and the same audio solution found on their X99 motherboards. The audio is using Realtek's 115dB codec, a Texas Instruments headphone amplifier, Nichicon audio grade capacitors, and even has a PCB divide to protect the analog audio signal integrity.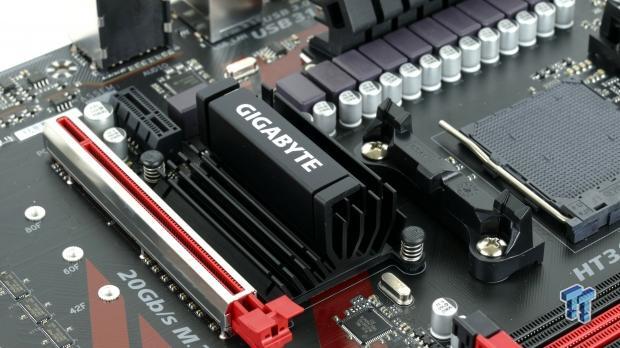 The motherboard is not only loaded with features, but it also looks like a high-end gaming motherboard. The red and black aesthetics look great and provide that high-end feeling, and GIGABYTE's use of red LEDs is tasteful rather than "blingy". If this motherboard had a high-end VRM, it would dominate at this price point, but certain things had to be cut to provide for all the features and aesthetics.
Overall, the 970-Gaming SLI offers excellent value in the form of premium features. It is definitely worth a look if you want an AMD system with the latest in computer connectivity and at a reasonable price.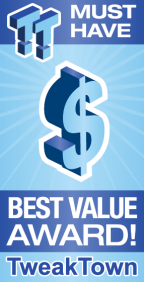 | | |
| --- | --- |
| Performance | 85% |
| Quality including Design and Build | 89% |
| General Features | 92% |
| Bundle and Packaging | 89% |
| Value for Money | 95% |
The Bottom Line: GIGABYTE's 970-Gaming SLI is a great looking motherboard designed for gamers with the latest in connectivity technology at a price that is hard to beat.
PRICING: You can find products similar to this one for sale below.

United States: Find other tech and computer products like this over at Amazon.com

United Kingdom: Find other tech and computer products like this over at Amazon.co.uk

Australia: Find other tech and computer products like this over at Amazon.com.au

Canada: Find other tech and computer products like this over at Amazon.ca

Deutschland: Finde andere Technik- und Computerprodukte wie dieses auf Amazon.de
We openly invite the companies who provide us with review samples / who are mentioned or discussed to express their opinion. If any company representative wishes to respond, we will publish the response here. Please contact us if you wish to respond.