Western Digital Caviar Green 2 TB Retail Desktop Drive
Western Digital has released a new big drive and manages to make it green friendly.
Published Tue, Feb 3 2009 11:00 PM CST
|
Updated Tue, Nov 3 2020 7:04 PM CST
Introduction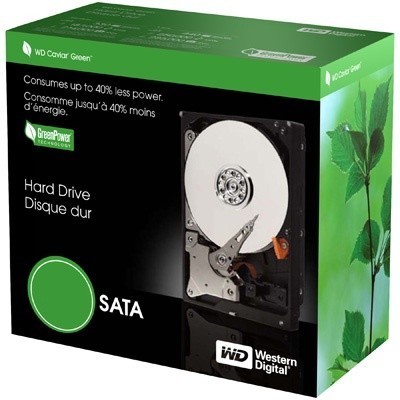 Ten percent of all 3.5in hard drives sold today are in capacities of 1TB or greater, claims Mark Geenen, President of Trend Focus. For enthusiasts, that number would grow exponentially and with their low cost, rightly so. A few months ago Seagate launched their 1.5TB drive, but it has been plagued with firmware issues that are only now getting resolved. Just as with the graphics card world, hard drive manufacturers play the performance and capacity leapfrog game.
In this round Western Digital was first to reach the finish line and the race was to 2 terabytes of storage capacity. This is achieved through their new platter technology that allows for 500 GB of data to be stored on a single platter. Western Digital also filled the drive with their best IP like IntelliSeek and IntelliPower technology that allows the new 2TB Caviar to fall under the Green product line. The advanced technology doesn't stop there, but we will get into all of the details on the Specifications Page.
Seagate shocked us with their 1.5TB drive costing less than 150 USD at launch and Western Digital countered with a 299 MSRP; this too was shocking. Hopefully in the future we will be able to get a pair of each drive to test some RAID 1 or an entire array for advanced RAID 5 and 6 testing, but for now we will settle for a straight fight between the two drives based on single drive performance. Let's dive right in and check out the feature set!
Specifications, Availability and Pricing
The Western Digital Caviar Green series of drives come in both 16 and 32 MB cache sizes. The 2TB model we are looking at today and the 1.5 TB are only available in 32 MB, but the 1TB, 750GB, 640GB and 500GB are offered with 16MB cache. The 1TB drive is the only one offered in both cache sizes.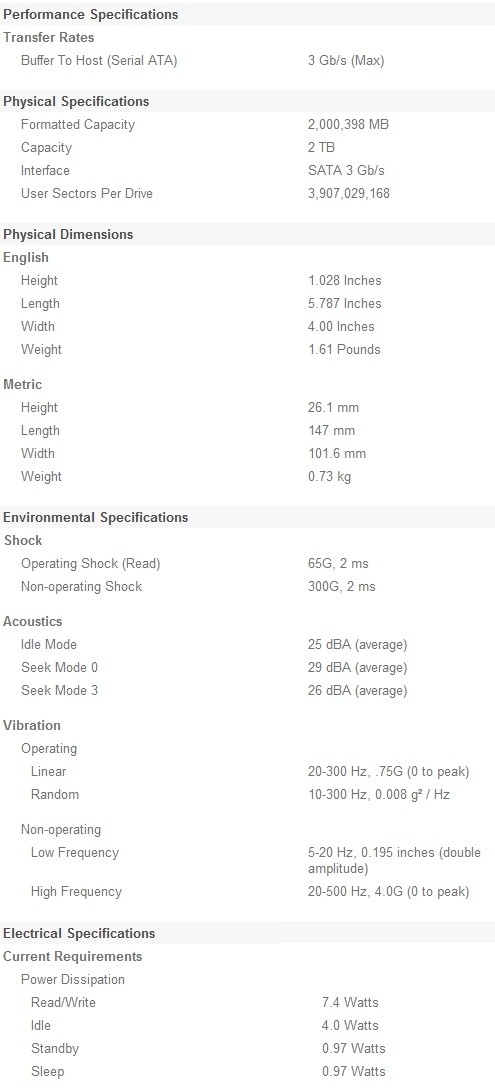 Western Digital has always been good at publishing the details of their products. As you can see, everything is pretty standard when it comes to the size of the drive and the typical specifications all apply.
One item that you don't see listed is rotational speed. This is because the Green Series uses IntelliPower, a fine-tuned balance of spin speed, transfer rate and caching algorithms designed to deliver both significant power savings and solid performance. That is the official statement on it, but just think of it as a dynamic system that will adjust with the demands placed on the drive.
The Intelligence doesn't stop there.
IntelliPower - A fine-tuned balance of spin speed, transfer rate and caching algorithms designed to deliver both significant power savings and solid performance.

IntelliSeek - Calculates optimum seek speeds to lower power consumption, noise, and vibration.

Cool and quiet - GreenPower technology yields lower operating temperatures for increased reliability and low acoustics for ultra-quiet PCs and external drives.

NoTouch ramp load technology - The recording head never touches the disk media ensuring significantly less wear to the recording head and media as well as better drive protection in transit.

Perpendicular Magnetic Recording (PMR) - Employs PMR technology to achieve even greater areal density.

StableTrac - The motor shaft is secured at both ends to reduce system-induced vibration and stabilize platters for accurate tracking, during read and write operations. (2 TB models only)

Low power spin-up - WD Caviar Green drives consume less current during startup, allowing lower peak loads.

Advanced power technology - Electronic components deliver best-in-class low power consumption for reduced power requirements and increased reliability
Looking over at Newegg, the new Western Digital Caviar Green 2TB is not yet in stock but it has a
list price of 299 USD
which is the MSRP and it should start shipping anytime within the next week or two. Many are going to balk at the price and even I have to admit that it is a lot of dough for a desktop drive. Let's dive in and see what all you get for all of that green.
The Packaging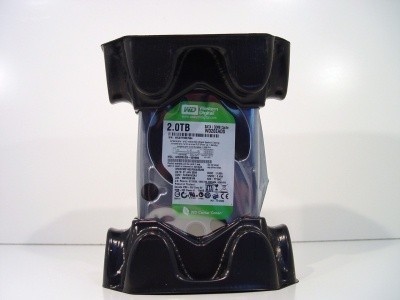 Our Caviar Green came to us in OEM form, but most of our readers are aware of Western Digital's product packaging. Our sample did come with the same protective surround that the retail drives are packaged with.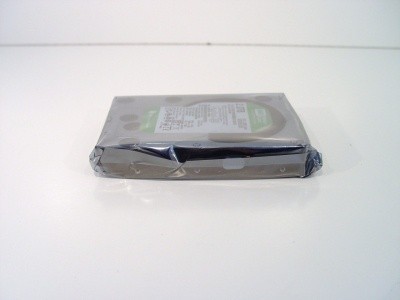 Once outside of the retail and our sample box, the drive is left in a sealed antistatic bag.
The Western Digital Caviar Green 2 TB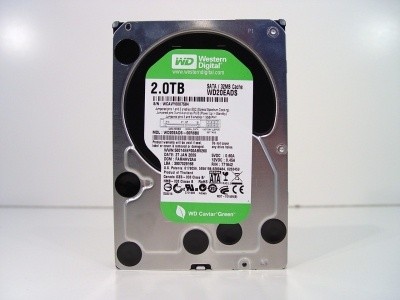 The outside of the drive is pretty standard. Western Digital chose to put a big and powerful 2TB that stands out from the rest of the text. No decoder ring needed to figure out the capacity of this drive.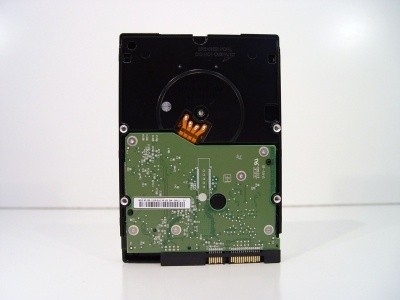 All of the surface mount components and chips are placed on the inside of the control board.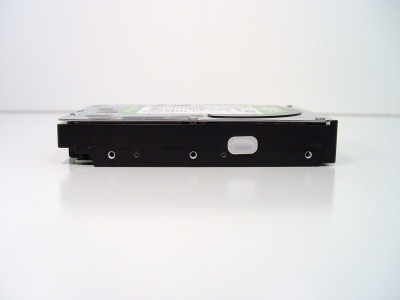 As you can see, this is a standard 3.5 inch desktop drive. Many years ago when a company would release a new high capacity drive, they needed to package it in a 1.5 inch package; not the case with the new 2TB Caviar Green.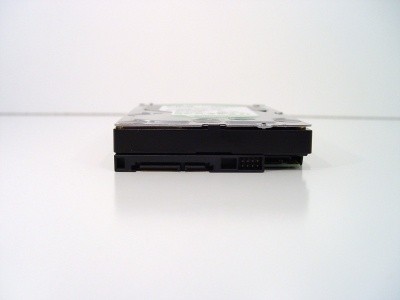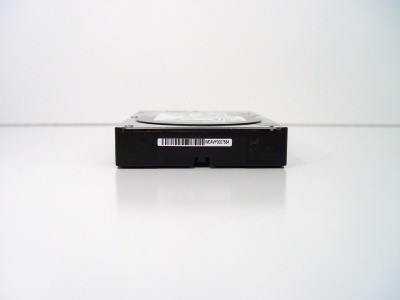 Let's move onto performance!
Test System Setup
Test System
Processors
: AMD Opteron 2356 (2.3GHz Quad-Core) x2
Motherboard
: Tyan S2915-E (Supplied by
Tyan
)
Memory
: Kingston KVR667D2S4P5/2G x4 (Supplied by
Kingston
)
Graphics Card
: XFX 8800 GTX (Supplied by
XFX USA
)
Enclosure
: Lian Li V2000
Cooling
: Noctua NH-U12DO (Supplied by
Noctua
)
SATA Controller
: Areca ARC-1231ML (Supplied by
Areca
)
SAS Controller
: Areca ARC-1680i (Supplied by
Areca
)
Operating System
: Microsoft Windows Vista Ultimate X64
Today we are comparing the Western Digital Caviar Green 2TB desktop drive to a couple of other 3.5 inch drives that are either widely used in the industry or previously reviewed here at TweakTown.
All of the drives tested were performed on the listed system under identical conditions to ensure true apples to apples performance results for comparison. The most obvious competitor to the WDC Caviar Green 2TB drive comes from the Seagate 1.5TB 7200.11 drive that
costs 129.00 USD at Newegg
at the time of writing.
Benchmarks - HD Tune Pro
HD Tune ProVersion and / or Patch Used:
3.00
Developer Homepage:
http://www.efdsoftware.com/
Product Homepage:
http://www.hdtune.com/>
HD Tune is a Hard Disk utility which has the following functions:
- Benchmark: measures the performance
- Info: shows detailed information
- Health: checks the health status by using SMART
- Error Scan: scans the surface for errors
- Temperature display
HD Tune Pro gives us accurate read, write and access time results and for the last couple of years has been gaining popularity amongst reviewers. It is now considered a must have application for storage device testing.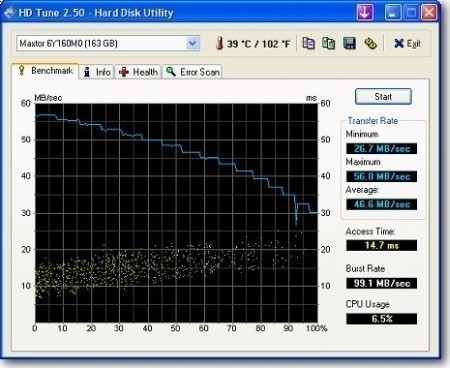 Read Tests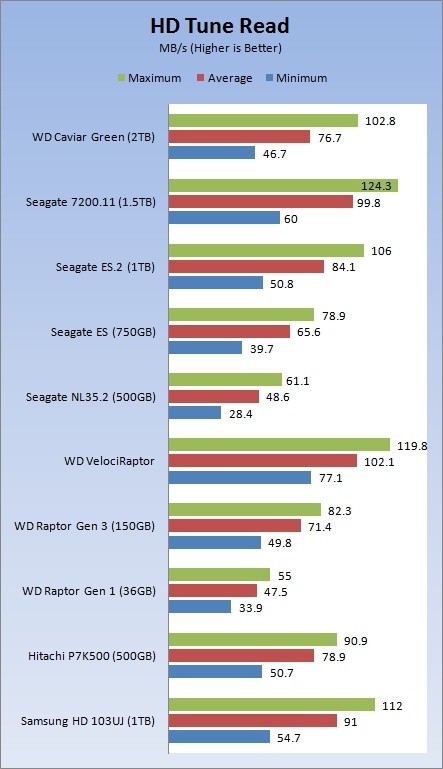 The Western Digital Caviar Green 2TB drive runs head to head with Seagate's ES.2, the enterprise version of the 7200.11 desktop drives. Seagate has upgraded the 7200.11 design to achieve the 1.5TB variation and it appears to perform a little better in sustained transfer speeds, but is not at Green as the Western Digital super capacity drive. The synthetic tests may just not be demanding enough to kick the Green WDC to high performance mode. Just like many of the SSD drives we have been looking at, STR is starting to become an outdated test for comparing today's advanced drives.
Write Tests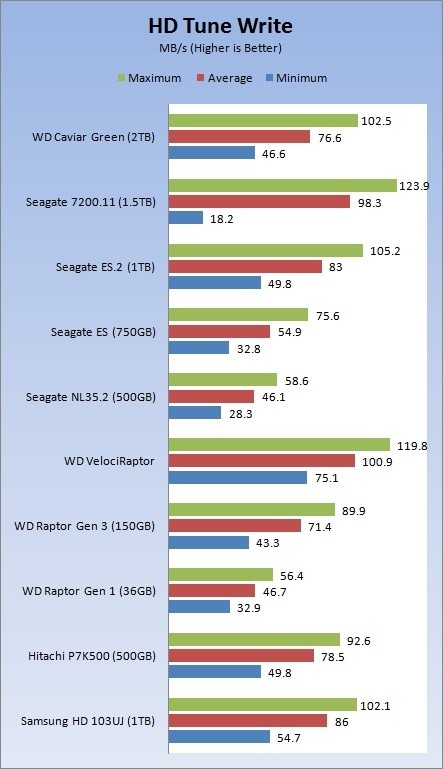 The Sustained Write Tests show similar results to the read tests.
Benchmarks - EVEREST Random Access Time
EVEREST Random Access TimeVersion and / or Patch Used:
4.60
Developer Homepage:
http://www.lavalys.com/
Product Homepage:
http://www.lavalys.com/ >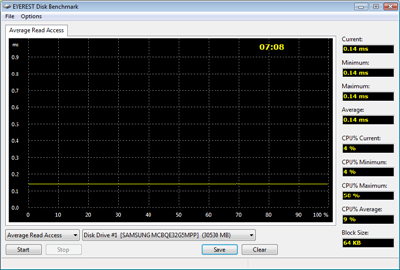 Everest Ultimate and Corporate Edition offer several different benchmarks for testing and optimizing your system or network. The Random Access test is one of very few if not only that will measure hard drives random access times in hundredths of milliseconds as oppose to tens of milliseconds.
Read Tests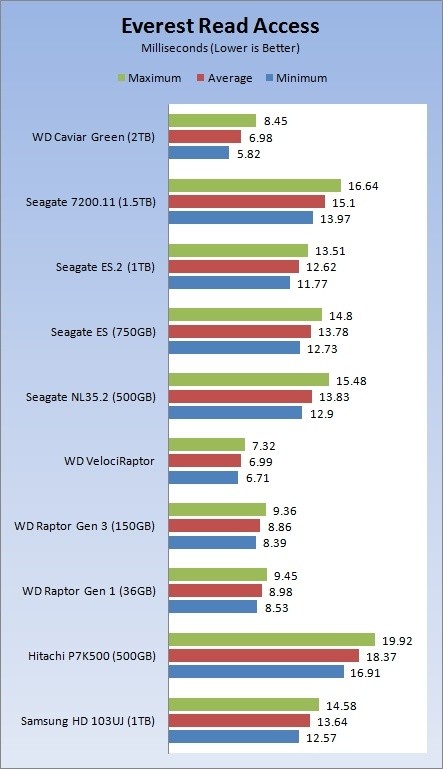 Western Digital's advanced algorithm seems to do wonders for their access times. The large 32MB cache also has quite a bit to do with the stellar performance as well.
Write Tests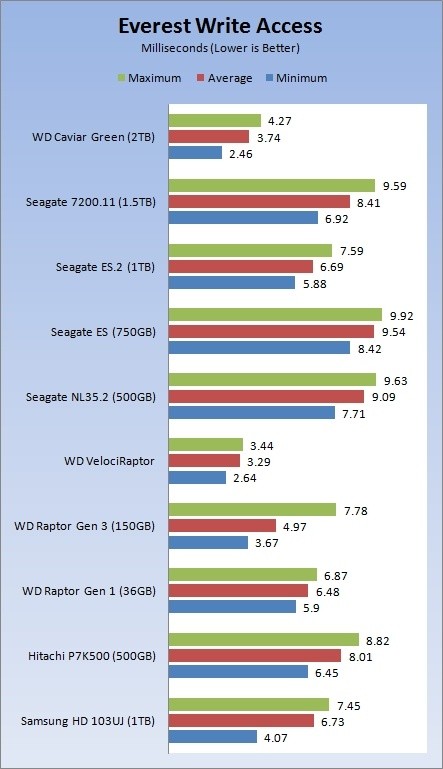 The Write Access Times are also amazing for the Western Digital Caviar Green 2TB. With read and write access times this fast it would be possible to use the drive as a primary boot drive and still have very snappy performance.
Let's see how all of these synthetic benchmarks relate to real world applications.
Benchmarks - PCMark Vantage Hard Disk Tests
PCMark Vantage - Hard Disk TestsVersion and / or Patch Used:
1.0.0
Developer Homepage:
http://www.futuremark.com
Product Homepage:
http://www.futuremark.com/benchmarks/pcmark-vantage//
Buy It Here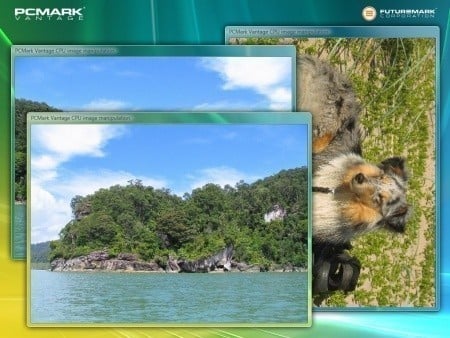 PCMark Vantage is the first objective hardware performance benchmark for PCs running 32 and 64 bit versions of Microsoft Windows Vista. PCMark Vantage is perfectly suited for benchmarking any type of Microsoft Windows Vista PC from multimedia home entertainment systems and laptops to dedicated workstations and high-end gaming rigs. Regardless of whether the benchmarker is an artist or an IT Professional, PCMark Vantage shows the user where their system soars or falls flat, and how to get the most performance possible out of their hardware. PCMark Vantage is easy enough for even the most casual enthusiast to use yet supports in-depth, professional industry grade testing.
FutureMark has developed a good set of hard disk tests for their PCMark Vantage Suite. These tests are based on real world applications that many of us use daily.

HDD1 - Windows Defender
HDD2 - Gaming
HDD3 - Windows Photo Gallery
HDD4 - Vista Startup
HDD5 - Windows Movie Maker
HDD6 - Windows Media Center
HDD7 - Windows Media Player
HDD8 - Application Loading
In our first real world set of tests the WDC Caviar Green 2TB and Seagate 7200.11 1.5TB drive run very close to each other when it comes to Windows application performance.
Benchmarks - Passmark
Passmark Advanced Multi-User TestsVersion and / or Patch Used:
6.1
Developer Homepage:
http://www.passmark.com/
Test Homepage:
http://www.passmark.com/ >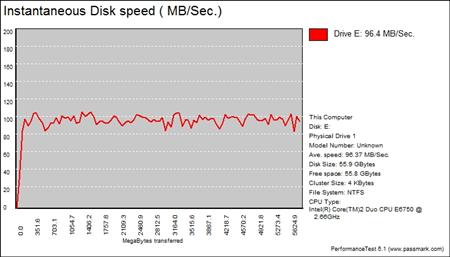 Many users complain that I/O Meter is too complicated of a benchmark to replicate results so my quest to find an alternative was started. Passmark has added several multi-user tests that measure a hard drives ability to operate in a multi-user environment.

The tests use different settings to mimic basic multi-user operations as they would play out on your server. Variances is read / write percentage as well as random / sequential reads are common in certain applications, Web Servers read nearly 100% of the time while Database Servers write a small amount of data.
The Workstation test is the only single user environment and will be similar to how you use your system at home.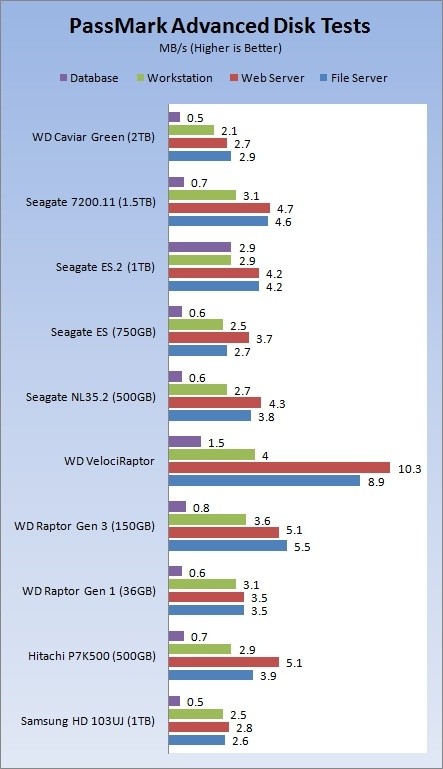 Several of the drives in our comparison chart are enterprise drives designed for use in nearline storage. The Western Digital Caviar Green is not advertised as an enterprise product, but with its low power consumption and high capacity I can see web hosting companies crossing their fingers to see high performance numbers in many of these tests.
The Caviar Green has a little less performance, but when used in an array that hits the performance of the PCIe and RAID controller, it wouldn't be much of an issue. You would need more drives to max the bus but I have yet to see anyone choose the number of drives in an array based on performance; capacity is king with today's high capacity web servers where companies throw as many websites on a server as they can.
Final Thoughts
The Western Digital Caviar Green in 2TB form has a lot of strong features and innovative technology to impress us just with its specifications alone. New and innovative usually comes with a drawback and many consumers tend not to take it lightly, cost. Still, there is the whole "Green" aspect, but outside of California and the server room, most of us enthusiasts could care less. It might not be the most politically correct thing to say, but some of us live in places that still have trees and grass on land that we own.
Western Digital has a strong suite of IP that they are rolling into the new Green Series that allow the drives to perform quickly when asked to and morph into low power sleepers when performance is not needed. Other features like the custom algorithms allow the drives to perform well in tests like Read and Write Access, something we didn't expect to see at all.
The only real drawback with the WDC Caviar Green 2TB is the cost.
At 299
USD it has a high MSRP for a desktop drive and Newegg will not help us out with the cost for a couple of weeks. Many people will ignore the cost and see the feature set that is matched with good performance and pull the trigger right away, but I think in a couple of weeks we will start to see the cost slide a little.
The power saving features that Western Digital has incorporated into their Green Series products is very impressive. For enthusiasts it doesn't matter too much if your storage drives use 3 watts less power than a competing product when you are already using 250 watts for your graphics card, 160 from your processor and who knows how much more power from your array of VelociRaptors. Having 2TB of storage in an external enclosure that doesn't require active cooling is a positive, no matter what kind of user you are. And I am sure in time WDC will take advantage of the new drives and make some popular My Book products with the new technology.
Windows 32-bit users should be made aware that the capacity limit for a single partition is 2TB. If you plan to RAID a set of drives, keep this in mind. Windows 64-bit users get a little more room to play with.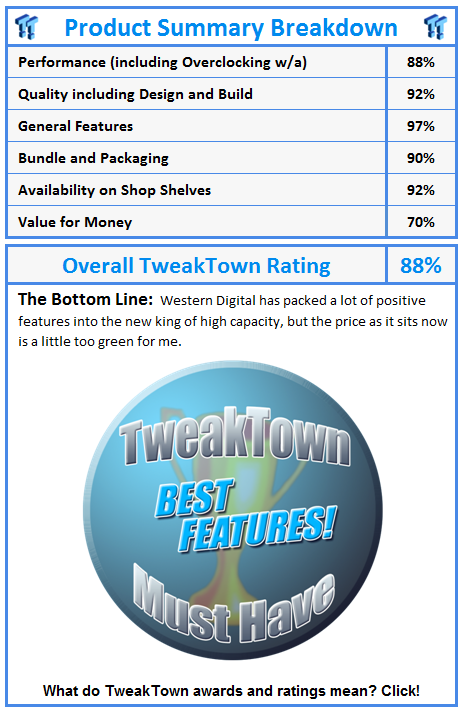 PRICING: You can find products similar to this one for sale below.

United States: Find other tech and computer products like this over at Amazon.com

United Kingdom: Find other tech and computer products like this over at Amazon.co.uk

Australia: Find other tech and computer products like this over at Amazon.com.au

Canada: Find other tech and computer products like this over at Amazon.ca

Deutschland: Finde andere Technik- und Computerprodukte wie dieses auf Amazon.de
We openly invite the companies who provide us with review samples / who are mentioned or discussed to express their opinion. If any company representative wishes to respond, we will publish the response here. Please contact us if you wish to respond.
Related Tags