Introduction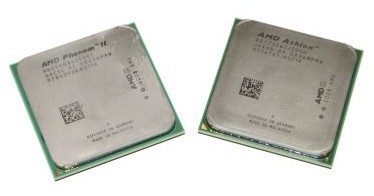 AMD has had a rocky start to its latest architectural update. K10 has had its major downs, suffering right from the start with the TLB bug in the B1 and B2 stepping cores. When they were first introduced to market, they were the plague CPU; as in, every one avoided them like the plague! - It took many months for AMD to write this problem out, but B3 promised a fix and eventually delivered.
But Phenom really didn't deliver what AMD was hoping. In fact, on a clock-for-clock basis it was well behind the 8 ball compared to Intel's Core 2 lineup. While Phenom wasn't able to compete at the enthusiast platform level, AMD has kept things interesting with its prices, trying to undercut Intel at every chance they can and quite rightly so; a 4 core Phenom X4 can be had for next to nothing these days.
While it wasn't the success that AMD really wanted, it wasn't a monumental failure either. Phenom delivers more processing power per core than a similarly clocked K8 processor, which is impressive none the less.
So far we have now seen AMD release the Phenom core in quad, tri and dual core variants, slowly phasing out the K8 architecture for all time. And it's about time, as AMD has been relying on this same architecture since 2003 when Hammer was released at Computex.
Today AMD up's the ante in regards to Phenom with some minor changes to the design. We take a look at the Phenom II 940 processor core along with a new platform named Dragon to complement the latest technology.
Phenom II and Dragon Explained
AMD Phenom II and Dragon Details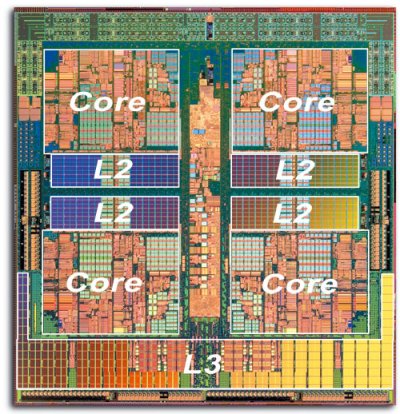 First off, before we take a look at the Phenom II processor we thought it might be an idea to discover what makes Phenom II a new processor. In point of fact, Phenom II is a direct descendant of the Phenom B3 core with a few minor changes. This means that the Phenom II keeps the same wide floating point accelerator at 128-bit wide along with its dual independent memory controller, allowing for ganged and un-ganged memory configurations as well as the 32-byte fetcher unit.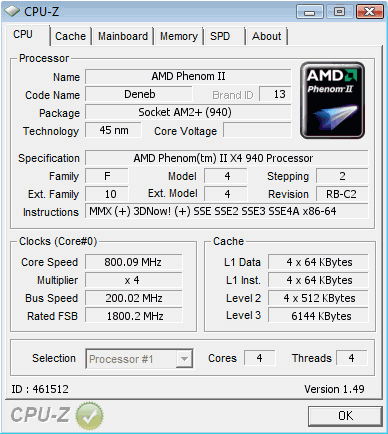 What makes the Phenom II new in design is its fabrication process and its cache memory. First off, Phenom II is AMD's first 45nm processor; this means that AMD has shrunk the die significantly to help reduce the mount of thermal dissipation.
While this is one goal, the other is to help improve clock speeds. Phenom cores using a 65nm process have been limited to around 2.9 / 3GHz on air, leaving the end users with a bitter taste in their mouths. AMD was once the overclocking master, but now they are simply plodding along. It's easy to remember when Intel introduced its 45nm parts to market and clock speeds started heading north to 4GHz and beyond. Today AMD is also hoping for this same curve in order to bring some of the enthusiast base back to AMD platforms.
The other major change with the introduction of the 45nm process is an increase in the cache memory. All three cores have the same L1 and L2 cache sizes, so nothing has changed there, but the shared L3 cache that is connected to the integrated Northbridge and memory controller has increased from 2MB to a whopping 6MB.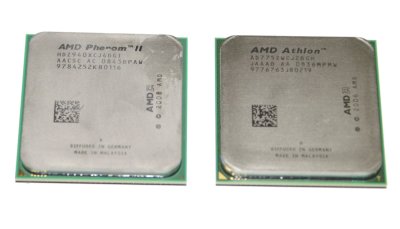 When it comes to the design, AMD has made the Phenom II a drop in replacement for any motherboard that supports the current Phenom quad and triple core processors, making it a perfect upgrade path. While AMD may cling to technology for too long, one thing is a constant, the upgrade path is assured for even the older AM2 boards. If it supports the 140watt TDP processors then it will support the Phenom II with a BIOS upgrade.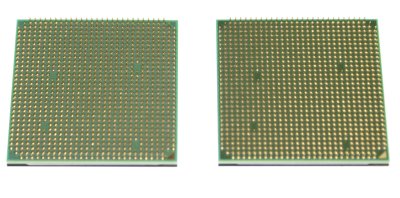 Since it's a full drop in replacement, the amount of pins hasn't changed on the bottom. A full 940 pin arrangement is used, making it fully compatible with the latest AM2+ boards and some older AM2 boards that are currently able to use the Phenom processors.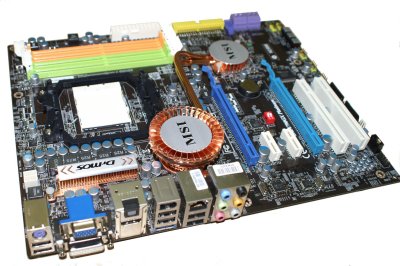 Now, while we would be content with AMD just introducing a new and improved processor, AMD isn't. In fact, they have decided to introduce a whole new platform to coincide with Phenom II.
With the Phenom we saw the introduction of the Spider platform. This very platform was a combination of a Phenom X4 processor along with an AMD 790FX chipset based motherboard and one or two AMD/ATI Radeon HD 3xxx series graphics cards.
Dragon is the next step up for AMD and it's a combination of three key pieces of hardware. First off, the processor and this is simply any Phenom II based CPU. The motherboard to go along with the Dragon platform must be based on the 790GX chipset, which in itself is extremely impressive due to its IGP nature with a dedicated memory module called Sideport. Lastly, we have the graphics card to accompany it and this is where we get a new upgrade. Rather than a Radeon HD 3xxx series graphics card, we now get the choice of a Radeon HD 4xxx series model.
Test Systems and EVEREST
K10 Test System
Motherboard
: MSI DKA790GX (Supplied by
MSI
)
Memory
: 2x2GB Aeneon DDR2-1200 Xtune (Supplied by
Aeneom
)
Hard Disk
: Intel X-25M 80GB SSD (Supplied by
Intel
)
Graphics Card
: GIGABYTE 9800GX2 (Supplied by
GIGABYTE
)
Cooling
: GIGABYTE 3D Galaxy II (Supplied by
GIGABYTE
)
Operating System
: Microsoft Windows Vista x64 SP1
Drivers
: ATI Catalyst 8.12, NVIDIA ForceWare 180.24
Intel Core 2 Test SystemMotherboard
: GIGABYTE X48T-DQ6 (Supplied by
GIGABYTE
)
Memory
: 2x2GB Corsair PC3-1600 (Supplied by
Corsair
)
Hard Disk
: Intel X-25M 80GB SSD (Supplied by
Intel
)
Graphics Card
: GIGABYTE 9800GX2 (Supplied by
GIGABYTE
)
Cooling
: GIGABYTE 3D Galaxy II (Supplied by
GIGABYTE
)
Operating System
: Microsoft Windows Vista x64 SP1
Drivers
: Intel INF 9.0.0.1008, NVIDIA ForceWare 180.24
Core i7 Test SystemMotherboard
: ASUS P6T Deluxe (Supplied by
ASUS
)
Memory
: 3x2GB Corsair Triple Channel PC3-1600 (Supplied by
Corsair
)
Hard Disk
: Intel X-25M 80GB SSD (Supplied by
Intel
)
Graphics Card
: GIGABYTE 9800GX2 (Supplied by
GIGABYTE
)
Cooling
: GIGABYTE 3D Galaxy II (Supplied by
GIGABYTE
)
Operating System
: Microsoft Windows Vista x64 SP1
Drivers
: Intel INF 9.0.0.1008, NVIDIA ForceWare 180.24
Today we have three major platforms on the bench. First we have the K8/10 setup using the Dragon platform. While Phenom II isn't designed to directly compete with the Core i7, we thought it was a good idea to throw in the results for reference. However, the Core 2 Extreme that it's designed to take on is included and we have given you a full lust of results here today. So without any further delays, off we go.
EVEREST Ultimate EditionVersion and / or Patch Used:
2006
Developer Homepage:
http://www.lavalys.com
Product Homepage:
http://www.lavalys.com
Buy It Here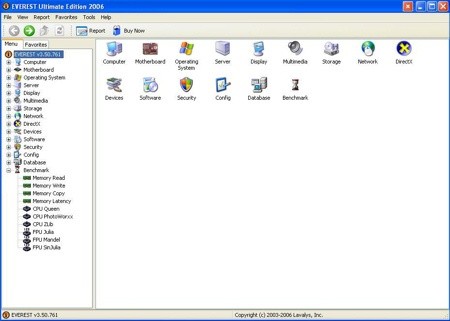 EVEREST Ultimate Edition is an industry leading system diagnostics and benchmarking solution for enthusiasts PC users, based on the award-winning EVEREST Technology. During system optimizations and tweaking it provides essential system and overclock information, advanced hardware monitoring and diagnostics capabilities to check the effects of the applied settings. CPU, FPU and memory benchmarks are available to measure the actual system performance and compare it to previous states or other systems.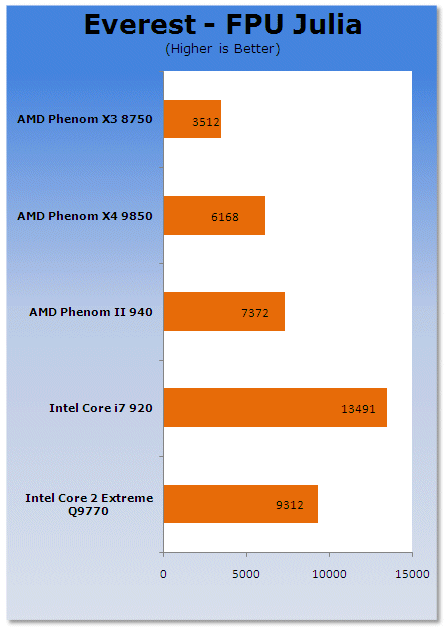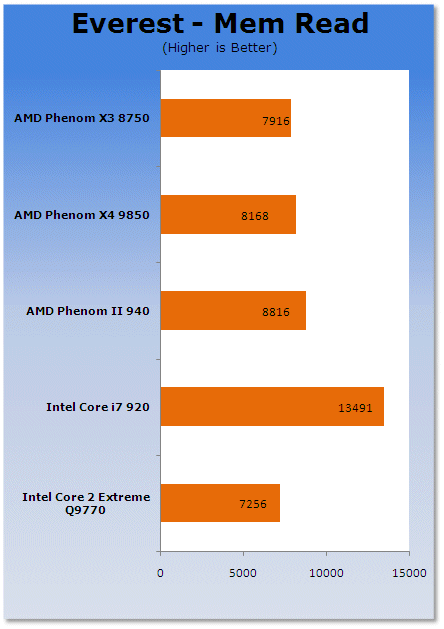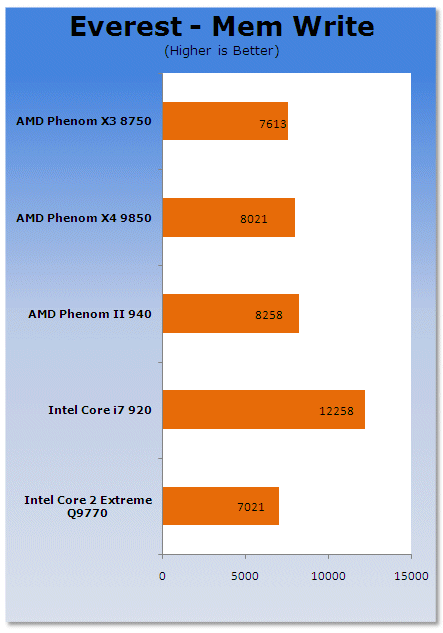 Phenom II seems to be lacking any real CPU power, even when compared to the Core 2 series and is certainly much less than Core i7. It seems that the extra cache isn't helping AMD much here. Memory performance is good since the on die memory controller remains intact.
Benchmarks - Sisoft Sandra
SiSoft SandraVersion and / or Patch Used:
2009
Developer Homepage:
http://www.sisoftware.co.uk
Product Homepage:
http://sisoftware.jaggedonline.com/index.php?location=home&a=TTA&lang=en
Buy It Here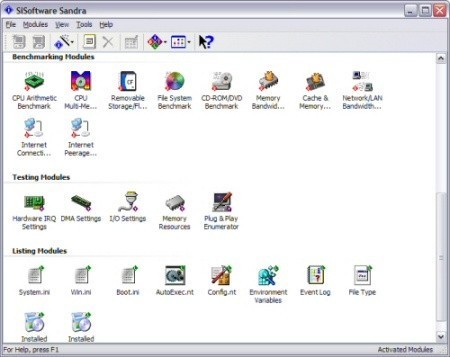 SiSoft Sandra (
S
ystem
AN
alyser,
D
iagnostic and
R
eporting
A
ssistant) is a synthetic Windows benchmark that features different tests used to evaluate different PC subsystems.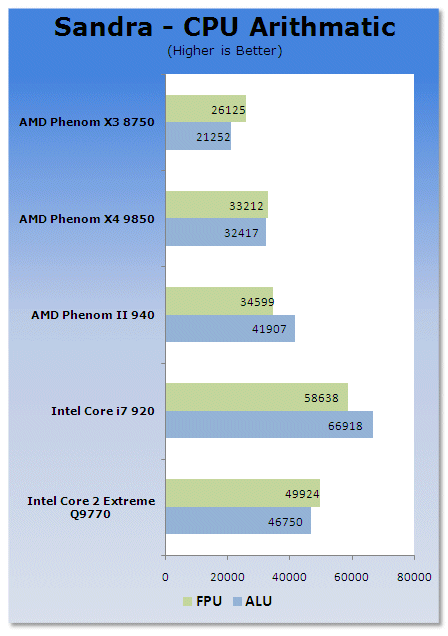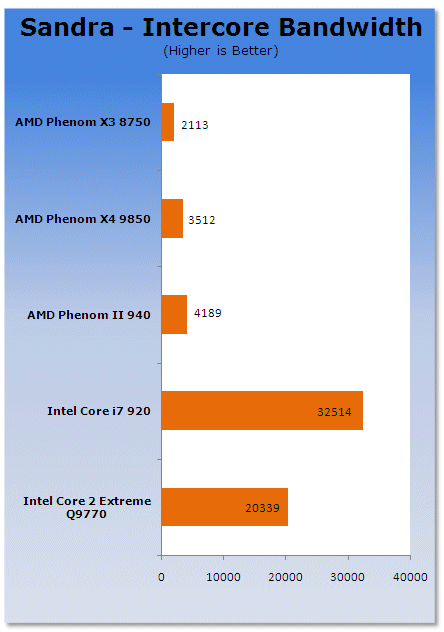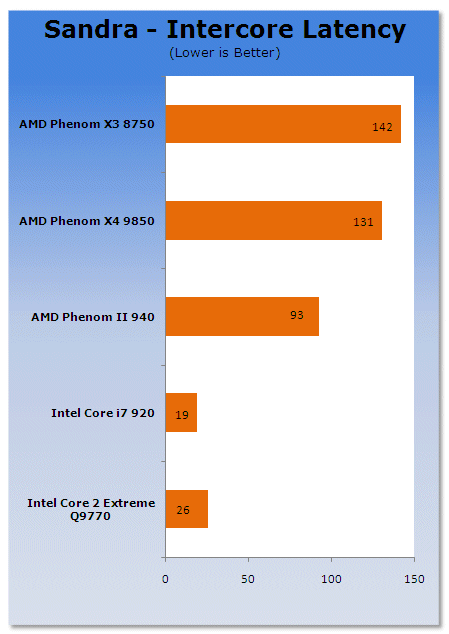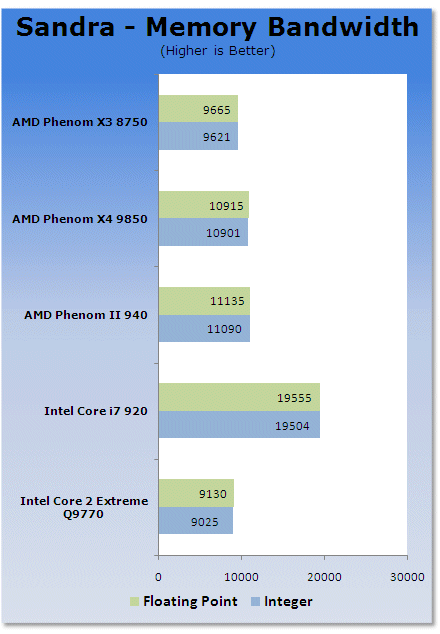 Again we see in the synthetics that AMD simply isn't able to produce anywhere near as much raw CPU horsepower as the Intel Core 2 series in order to keep up. And never mind Core i7.
Benchmarks - Super Pi
Super PIVersion and / or Patch Used:
1.5 Mod
Developer Homepage:
http://pw1.netcom.com/~hjsmith/Pi/Super_Pi.html
Product Homepage:
http://pw1.netcom.com/~hjsmith/Pi/Super_Pi.html
Developed by some folks from the University of Tokyo (yes, Japan), Super PI is a small utility that does just as the name implies. It figures PI to a set number of decimal places. Since PI is an infinite number to the right of the decimal point, the utility measures the time it takes to figure a set number of places. It runs the calculations a set number of times and gives a time for the completion of the task. This is a simple and effective way to measure the raw number crunching power of the processor being used to compile the results.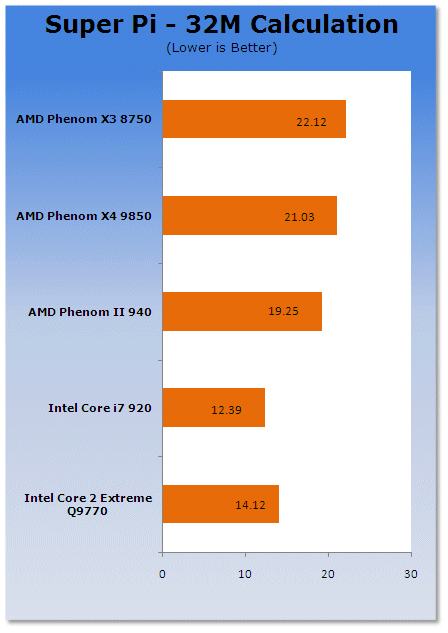 While Super Pi isn't actually a real world application, it does push the CPU calculation factors. We can see here that the Phenom II is sadly disappointing up against the Intel counterparts once again.
Benchmarks - PCMark Vantage
PCMark VantageVersion and / or Patch Used:
110
Developer Homepage:
http://www.futuremark.com
Product Homepage:
http://www.futuremark.com/benchmarks/pcmark-vantage//
Buy It Here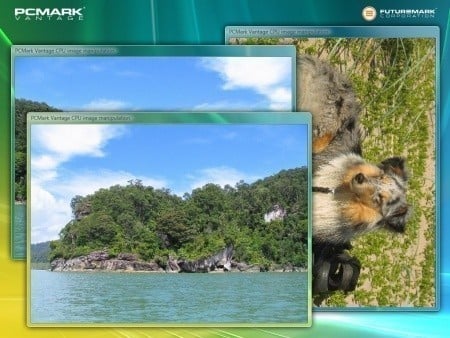 PCMark Vantage is the first objective hardware performance benchmark for PCs running 32 and 64 bit versions of Microsoft Windows Vista. PCMark Vantage is perfectly suited for benchmarking any type of Microsoft Windows Vista PC from multimedia home entertainment systems and laptops to dedicated workstations and high-end gaming rigs. Regardless of whether the benchmarker is an artist or an IT Professional, PCMark Vantage shows the user where their system soars or falls flat, and how to get the most performance possible out of their hardware. PCMark Vantage is easy enough for even the most casual enthusiast to use yet supports in-depth, professional industry grade testing.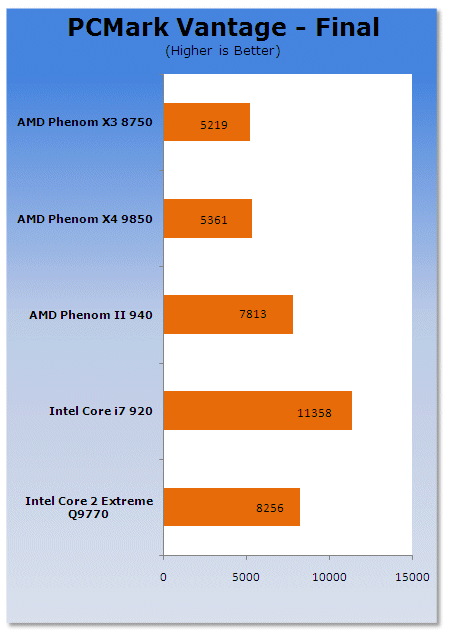 Moving into PCMark Vantage, we see that the performance of the Phenom II, while still of a synthetic nature, its K10 architecture isn't as advanced as we are told it is.
Benchmarks - SYSmark 2007 Preview
SYSmark 2007Version and / or Patch Used:
1.04
Developer Homepage:
http://www.bapco.com/
Product Homepage:
http://www.bapco.com/products/sysmark2007preview/>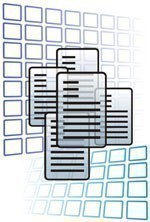 SYSmark 2007 Preview is the latest version of the premier performance metric that measures and compares PC performance based on real world applications.
SYSmark 2007 Preview extends the SYSmark family, which has been widely accepted by IT Managers, PC OEMs, press and analysts worldwide to support Windows Vista™.
SYSmark 2007 Preview allows users to directly compare platforms based on Windows Vista™ to those based on Windows XP Professional and Home.
The new release also incorporates numerous new features and enhancements such as an improved GUI allowing streamlined start-up and run along with a heads-up-display (HUD) and automated error reporting.
SYSmark 2007 Preview is an application-based benchmark that reflects usage patterns of business users in the areas of Video creation, E-learning, 3D Modeling and Office Productivity. This new release includes a robust and refreshed set of applications.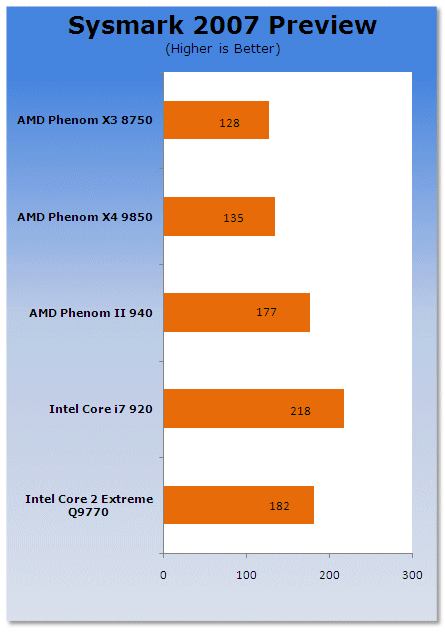 Sysmark is based on actual programs we see in every day tasks. While in a synthetic environment, it is actually a real world application. Here we can see that Phenom II is ok for basic system tasks such as a media server or workstation, but it still isn't able to keep up with the Core 2 based CPU's.
Benchmarks - Adobe Premiere Elements 4
Adobe Premiere Elements 4.0Version and / or Patch Used:
4.0
Developer Homepage:
http://www.adobe.com
Product Homepage:
http://www.adobe.com/products/premiereel/
Buy It Here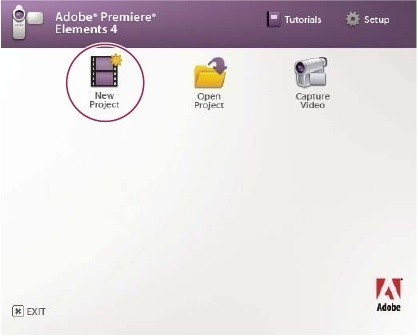 Our test with Adobe Premiere Elements 4.0 is performed with a raw two hour AVI file. It is then compressed into DivX format using the latest version codec. We measure the time it takes to encode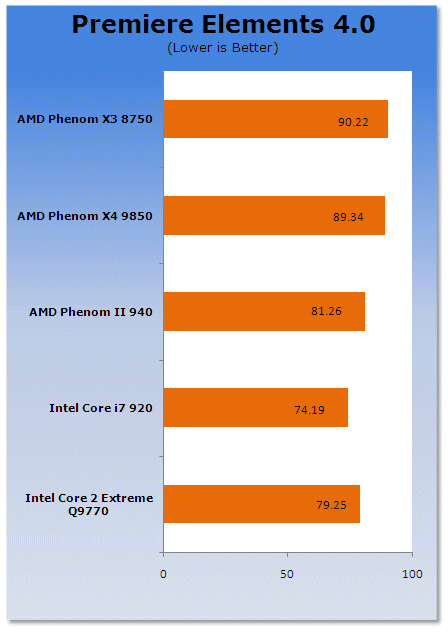 Media encoding has always been AMD's weak point compared to Intel and the stakes haven't changed.
Benchmarks - 3DMark Vantage
3DMark VantageVersion and / or Patch Used:
101
Developer Homepage:
http://www.futuremark.com
Product Homepage:
http://www.futuremark.com/products/3dmarkvantage/
Buy It Here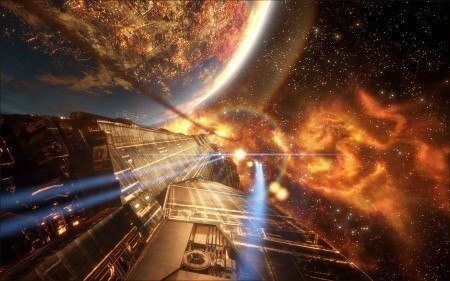 3DMark Vantage is the new industry standard PC gaming performance benchmark from Futuremark, newly designed for Windows Vista and DirectX10. It includes two new graphics tests, two new CPU tests, several new feature tests, and support for the latest hardware.
3DMark Vantage is based on a completely new rendering engine, developed specifically to take full advantage of DirectX10, the new graphics API from Microsoft.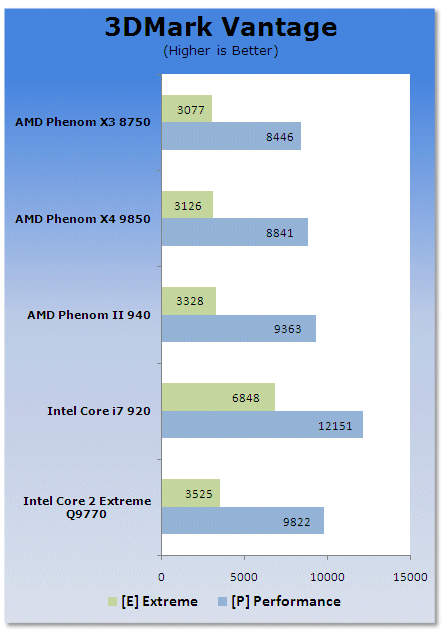 3DMark Vantage does give AMD a much better result than our previous tests, but it's still not able to compete with Intel's top flagship.
Benchmarks - Crysis
CrysisVersion and / or Patch Used:
1.1
Timedemo or Level Used:
Custom Timedemo
Developer Homepage:
http://www.crytek.com/
Product Homepage:
http://www.ea.com/crysis/
Buy It Here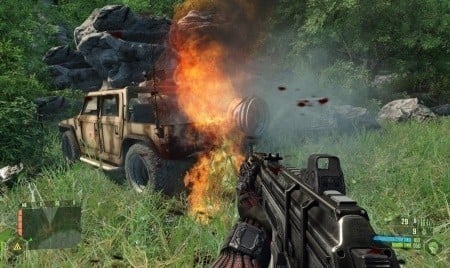 From the makers of Far Cry, Crysis offers FPS fans the best-looking, most highly-evolving gameplay, requiring the player to use adaptive tactics and total customization of weapons and armor to survive in dynamic, hostile environments including Zero-G.
Real time editing, bump mapping, dynamic lights, network system, integrated physics system, shaders, shadows and a dynamic music system are just some of the state of-the-art features the CryENGINE™ 2 offers. The CryENGINE™ 2 comes complete with all of its internal tools and also includes the CryENGINE™ 2 Sandbox world editing system.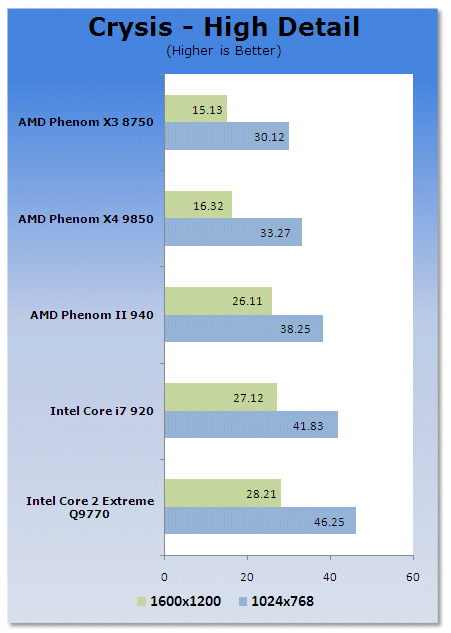 In real world gaming we see that Crysis favors the Intel platform here.
Power Consumption
We are now able to find out what kind of power is being used by our test system and the associated graphics cards installed. Keep in mind; it tests the complete system (minus LCD monitor, which is plugged directly into an AC wall socket).
The other thing to remember is that our test system is bare minimum - only a 7,200RPM SATA-II single hard drive is used without CD-ROM or many cooling fans.
So while the system might draw 400 watts in our test system, placing it into your own PC with a number of other items means the draw is going to be higher.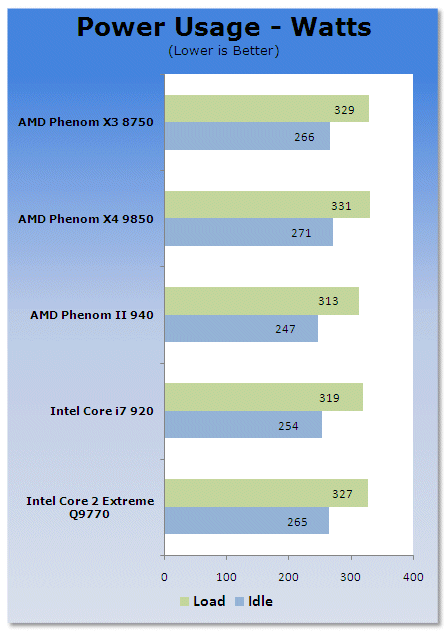 This is where AMD manages to pull off some impressive numbers. AMD has finally managed to reduce its power quite a bit with the new 45nm process. In fact, it's even better than the Core i7 with the 940 version. How it scales we will see very soon in our extreme overclocking tests.
Final Thoughts
With a name like Phenom II we were kind of hoping to see something major in change from what AMD calls its improvements to the K10 architecture. Now, we aren't scoffing at the increase in L3 cache from 2MB to 6MB, or the new fabrication process, but AMD really hasn't done any major upgrades to the Phenom to classify it as a new processor. Phenom II is simply what we would call moving from Conroe to Penryn; a new fab and a few tweaks, but no new architecture.
Now, we have a few gripes on the CPU, but we'll first touch on the pluses. The reduction in fabrication size from 65nm to 45nm has resulted in AMD cutting power requirements for the latest batch of Phenom II processors; this makes them ideal for media servers and mid range gaming platforms.
The next big thing is price. AMD hasn't been able to beat Intel in the performance field, so to keep people coming back to AMD processors, the price of them continues to be slashed. To this end, AMD's top line processors are extremely cheap. Phenom II is no different and while not as cheap as chips, so the saying goes, AMD's Phenom II clocked at 3GHz comes in well below Intel's extremely high asking price for the Core 2 Quad 9770 processor.
The bottom line here for us is that AMD still hasn't given Intel a real run for their money. But AMD won't be fading away into the dark anytime soon and hopefully it won't take too long to gain the upper hand.