TweakTown's Rating: 91%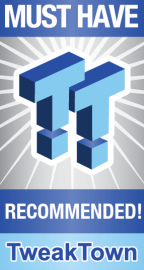 The Bottom Line
The new 2023 Razer Blade 16 gaming laptop offers fantastic build quality on top of excellent performance and features, though all that comes at a fairy hefty price tag!
Pros
+

Desktop-level performance

+

Upgradable RAM and storage

+

Display

+

Connectivity
Cons
-

Proprietary power

-

Price
Should you buy it?
Avoid
Consider
Shortlist
Buy
Introduction, Specifications, and Pricing
As I have stated in the past, the Razer Blade is a cornerstone in the gaming laptop market and has been for quite some time. For model year 2023, Razer has gone through the Blade, and its entire lineup, upgrading components with Intel's 13th generation platform and offering several new SKUs of the Blade 16.
Specifications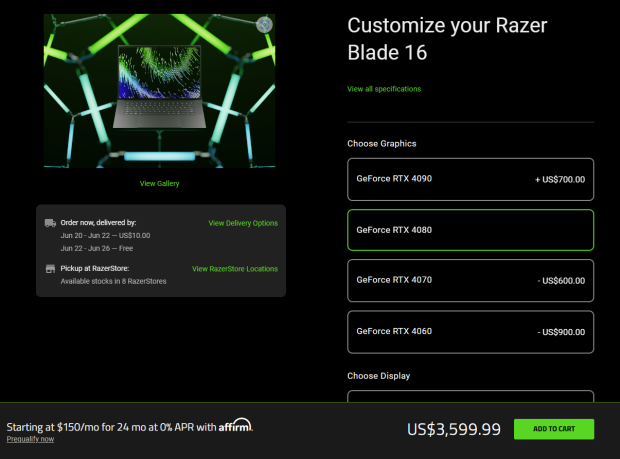 Starting at the top with specifications, the unit sent for review is a mid-range sampling of what Razer will offer. This gives us an Intel Core i9 13950HX CPU offering eight performance cores and sixteen efficient cores - with boost clocks up to 5.5GHz. Razer has paired this CPU with 32GB of DDR5 SO-DIMM. Our unit had 5600MHz memory from SK hynix.
The discrete graphics solution in this machine is the NVIDIA GeForce RTX 4080 laptop GPU with 12GB of dedicated memory. This outputs to a 16" 2560x1600p NVIDIA G-Sync panel that offers refresh rates up to 240Hz at 95% sRGB.
Connectivity and expansion for this laptop include three USB 3.2 ports, two USB-C ports, and an SD card reader. Further, we have HDMI output, one 3.5mm audio jack, and WiFi6 support. Internally, the memory is socketed through two SO-DIMM slots, and one 2280 m.2 NVMe slot is available.
Pricing
While the Blade 16 can be configured to your liking, Razer does offer prebuilt models, including our review unit. As built, our Razer Blade 16 comes in at a fairly hefty $3599 with a one-year warranty.
Notebook Overview
Razer Blade 16 Overview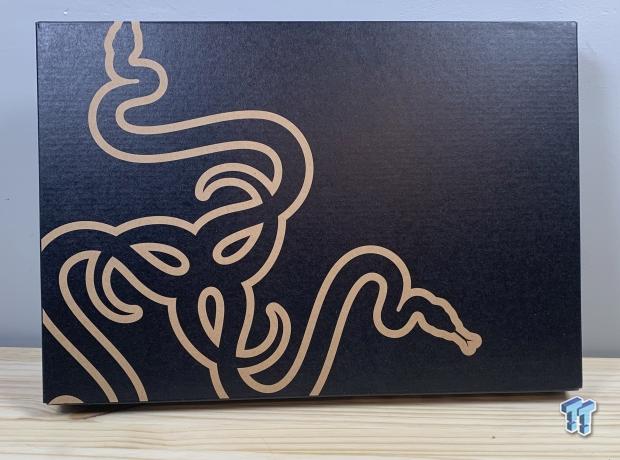 The Blade was delivered in the standard Razer box with their slithering logo.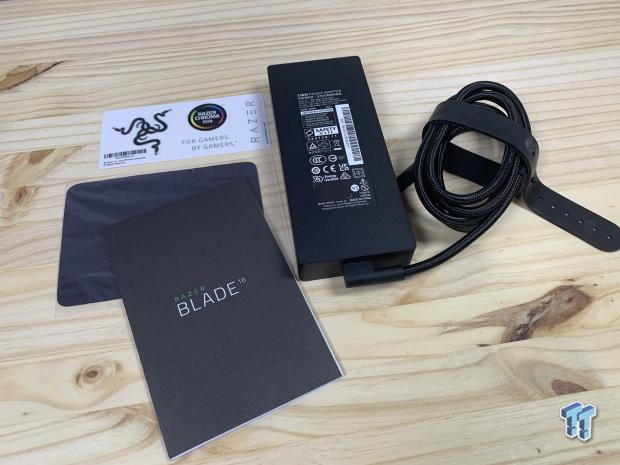 Included we have the power adapter, manual, and stickers.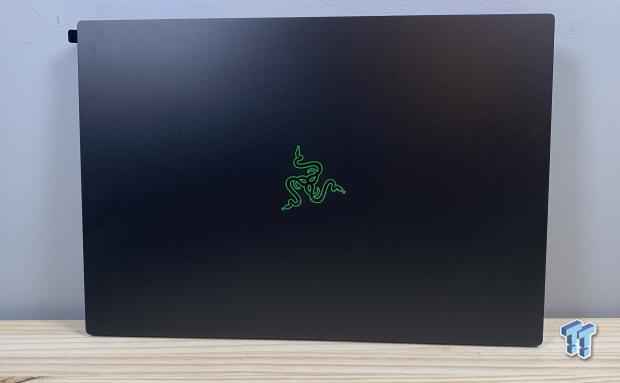 Unboxing, the Blade 16 offers a smooth matte black finish with the green Razer logo centered in the chassis.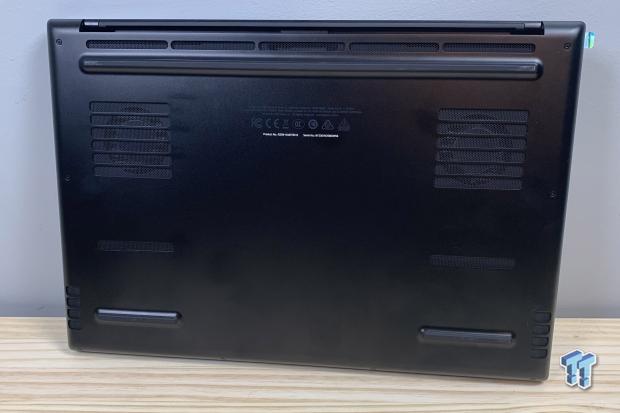 The bottom of the Blade offers two mesh vents for air intake and rubber feet to secure the laptop to the desk.

Starting with the left side, we have power input followed by two USB 3.2 and one USB-C. Finishing this side, we have the 3.5mm audio.

The right side houses the Kensington lock far right, followed by HDMI, USB 3.2, and USB-C. Further down, we have an SD card slot.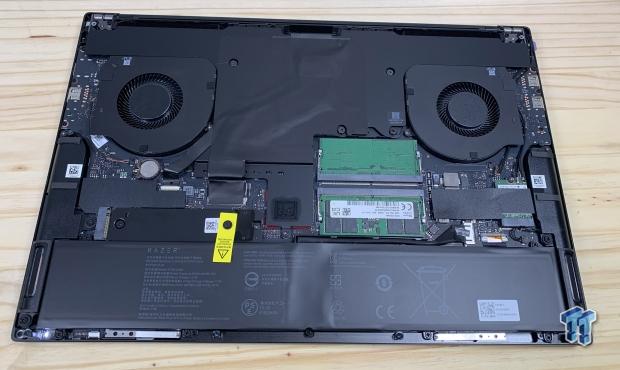 Opening the Blade 16, we have the memory socketed in the center, NVME off to the left, and Wi-Fi to the right. Up top, we have a large cooling array with two fans, and down below, a 95Wh battery.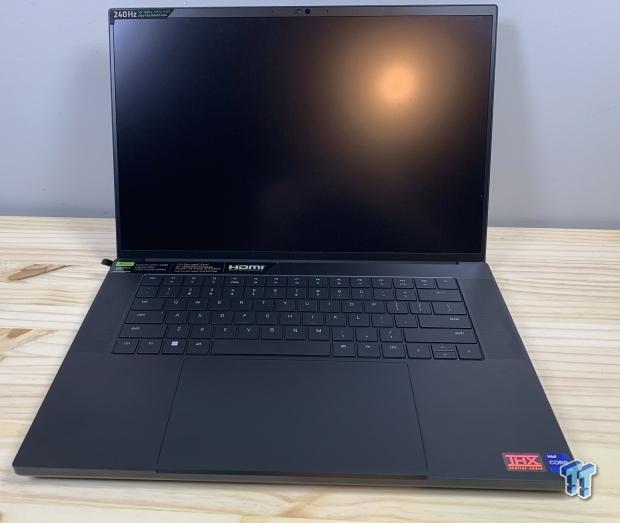 Opening the lid, we have a TKL keyboard and a huge trackpad centered in the chassis.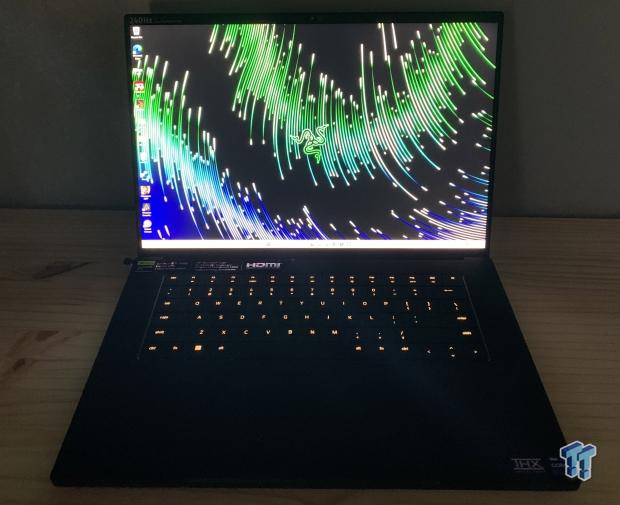 Lights off, we can see the RGB illumination of the keyboard.
BIOS/UEFI and Software
UEFI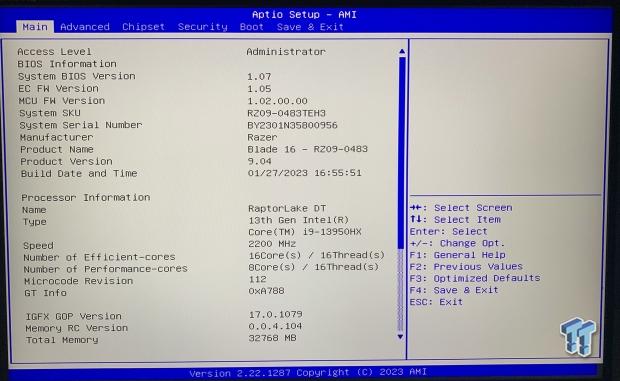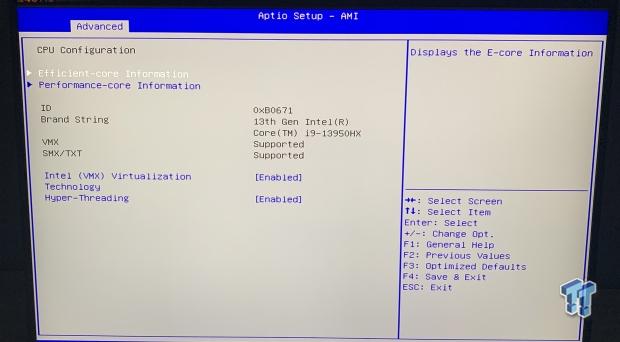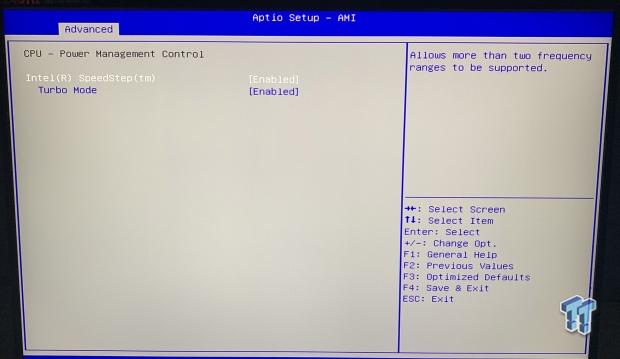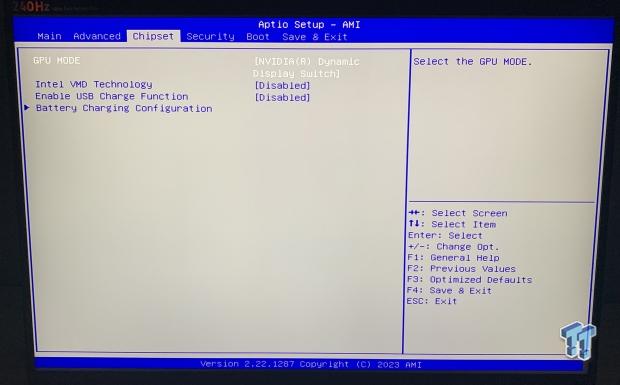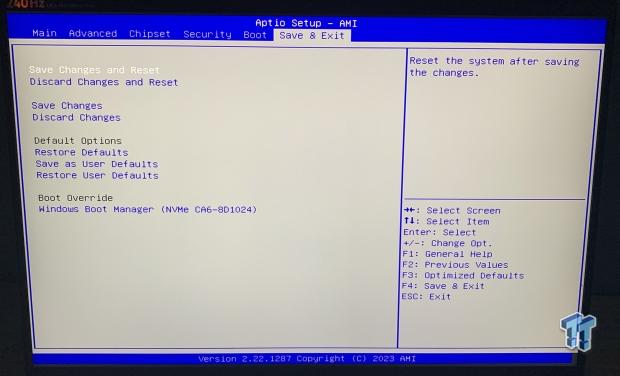 The BIOS is an old-school solution, as Razer has yet to move to a UEFI mouse-enabled setup process. That said, the main screen offers hardware information about the notebook.
The advanced menu provides power management for the laptop and CPU configuration options. While moving into the chipset, you will find the option for changing the GPU mode and enabling Intel VMD.
Software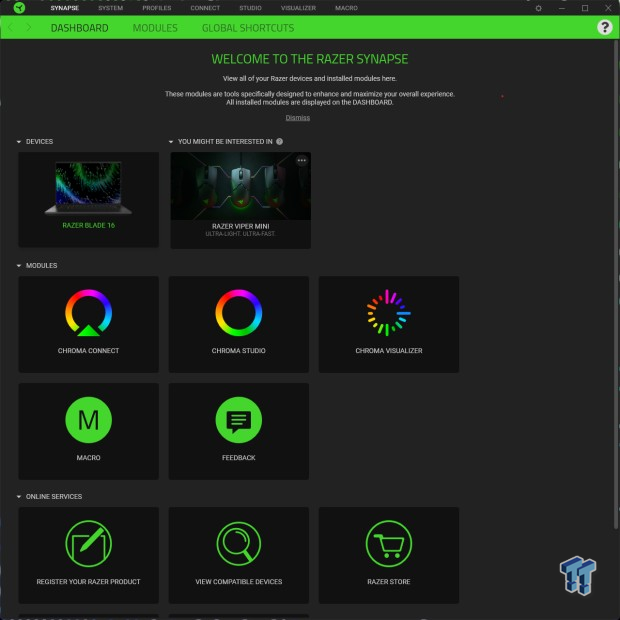 Synapse is the software for controlling the Blade 16. The main menu shows you connected devices.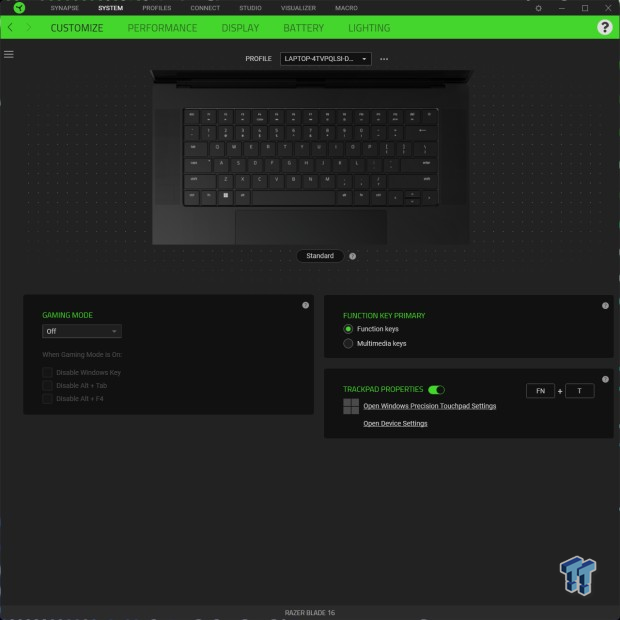 The system tab offers the setup for the keyboard, including gaming mode.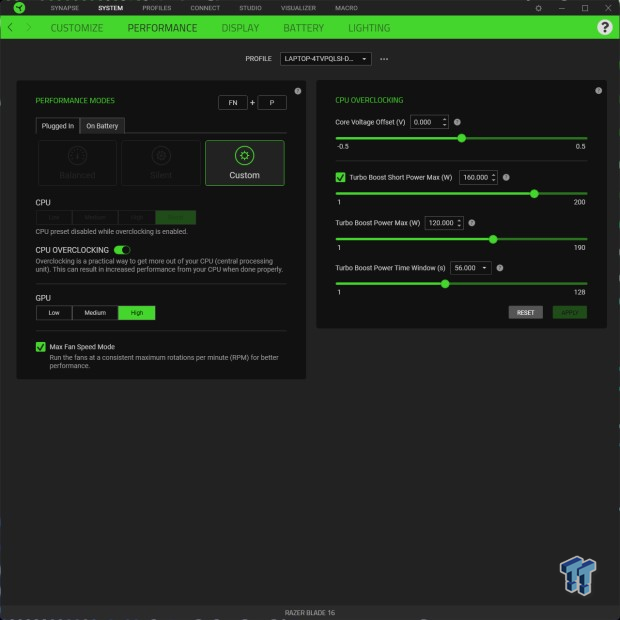 Performance modes for this laptop include Balanced, Silent, and Custom. We ran a custom setup in testing to get the most from the Blade 16.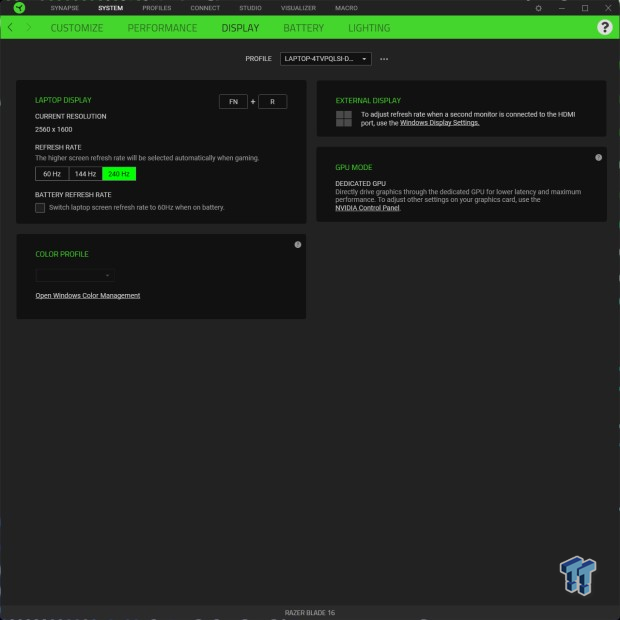 Further in, we have controls for the display, including the refresh rate and color profile.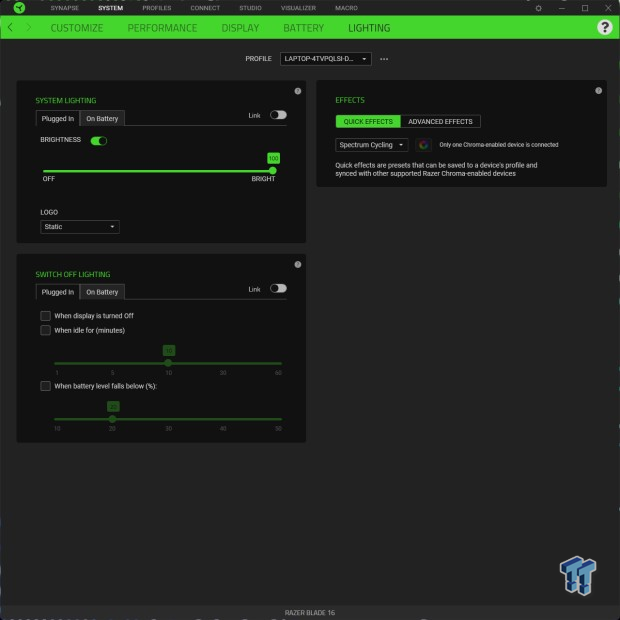 Lighting on the Razer Blade gives several options, including the ability to disable it or sync it with other devices.
System/CPU Benchmarks
Cinebench
Cinebench is a long-standing render benchmark that has been heavily relied upon by both Intel and AMD to highlight their newest platforms during unveils. The benchmark has two tests, a single-core workload that will utilize one thread or 1T. There is also a multi-threaded test that uses all threads or nT of a tested CPU.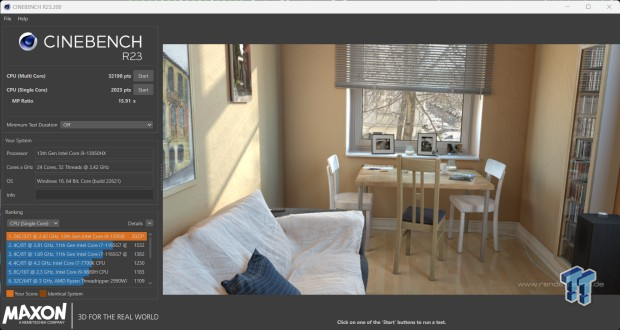 Single thread performance for the Blade landed at 2023 while nT pushed to 32198!
BAPCo CrossMark
CrossMark™ is an easy-to-run native cross-platform benchmark that measures the overall system performance and system responsiveness using models of real-world applications. CrossMark™ supports devices running Windows, iOS, and macOS platforms.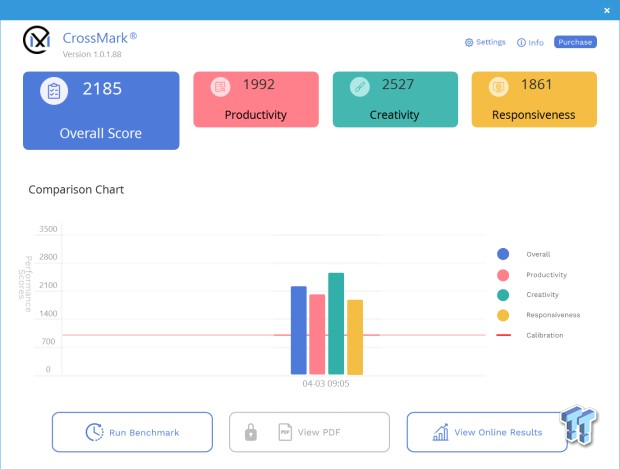 Crossmark demanded a 2185 overall score, with creativity being the best workload.
AIDA64 Memory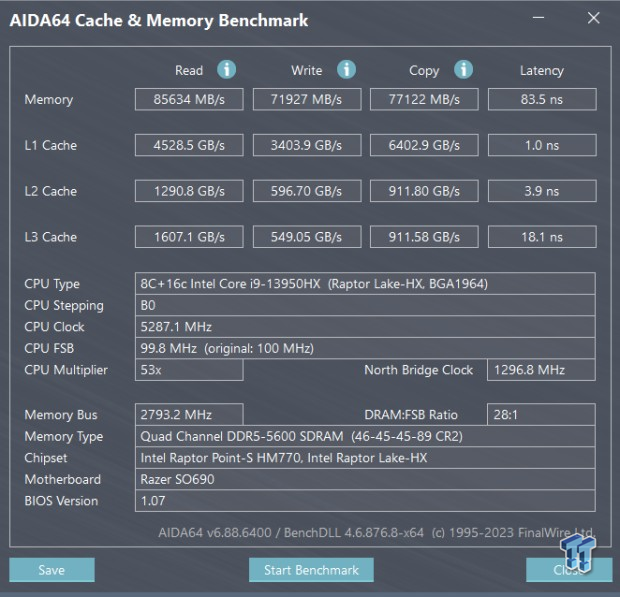 Memory bandwidth came in at 85K read, 71K write, and 77K copy. Latency landed at 83ns.
UL Benchmarks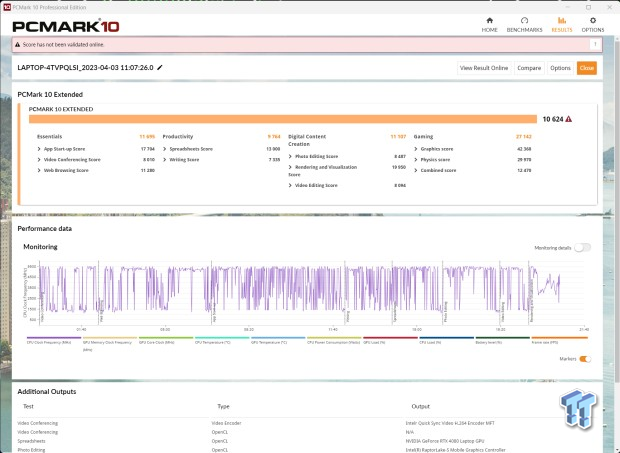 We started our UL benchmarks with PCMark. This landed us an overall score of 10624.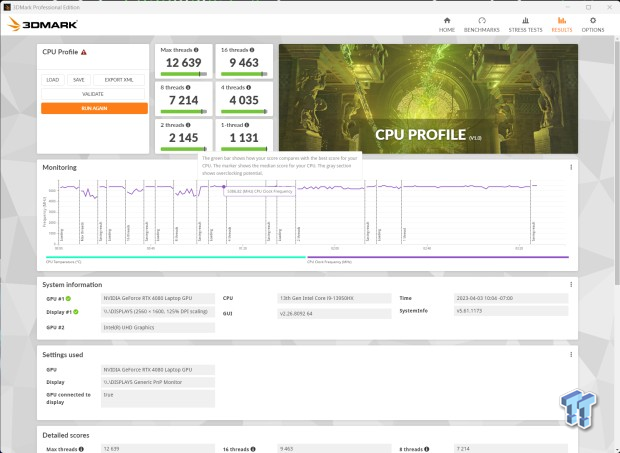 Switching to 3DMark, we look at the CPU Profile workload. Single thread we are pulling 1131, while sixteen threads lands at 9463.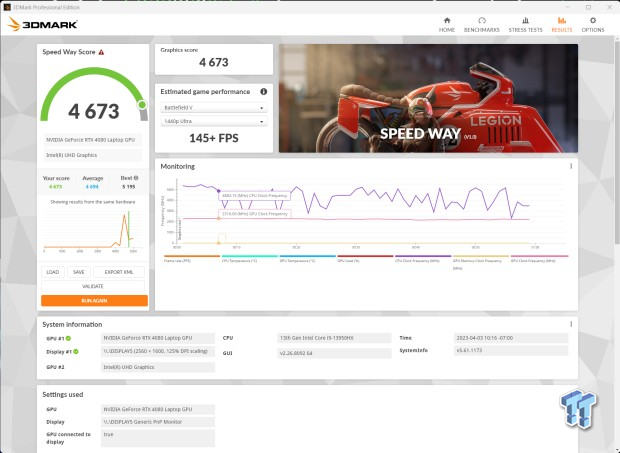 Speed Way was the start of our gaming workloads. We came away with a 4673 overall score.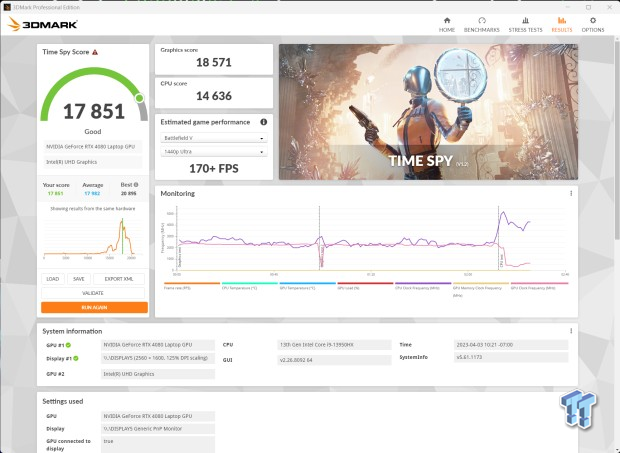 Time Spy picked up 17851.
Storage, Battery, and Gaming
3DMark Storage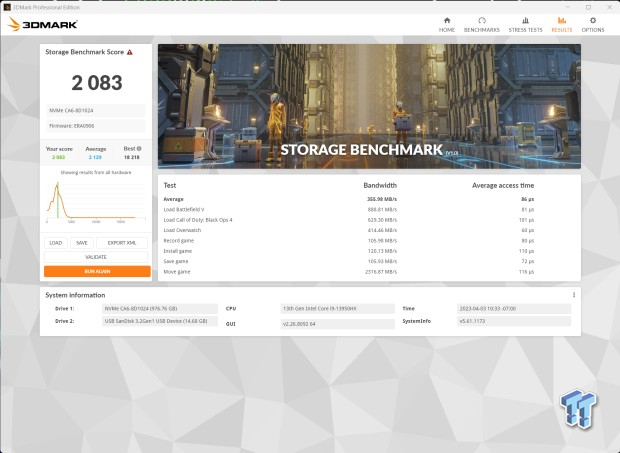 The Razer Blade 16 grabbed an overall score of 2083 in Storage Benchmark; this equates to a 355 MB/s bandwidth average.
Battery Testing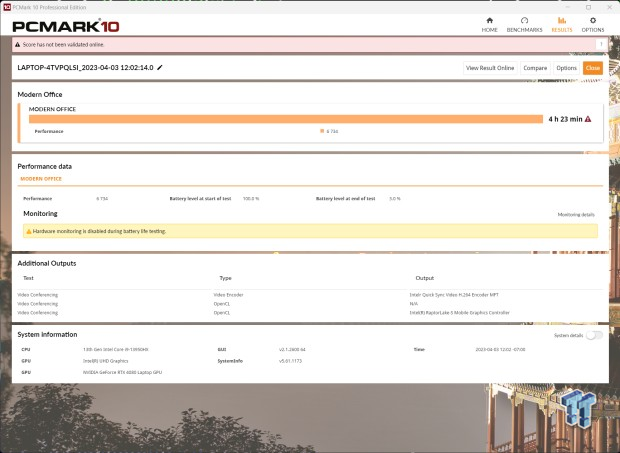 Battery life for the Blade 16 gave us 4 hours and 23 minutes. Stayed tuned to see where this ranks in our charts!
Graphics Performance
We ran through several titles to evaluate the graphics performance of the Blade 16 with the RTX 4080.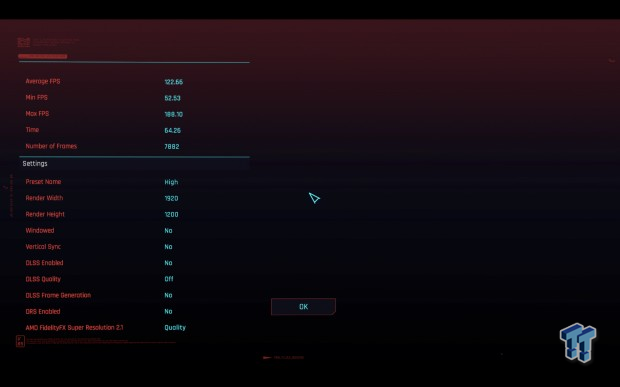 In 1080p, we grab a 122 FPS average in CyberPunk 2077 with high settings.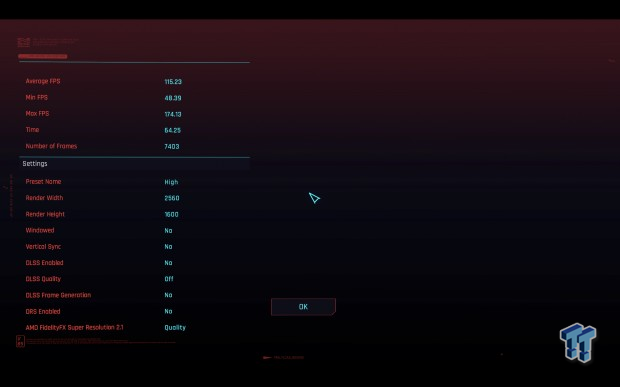 At 1600p, we lost just a few FPS, grabbing 115 FPS average.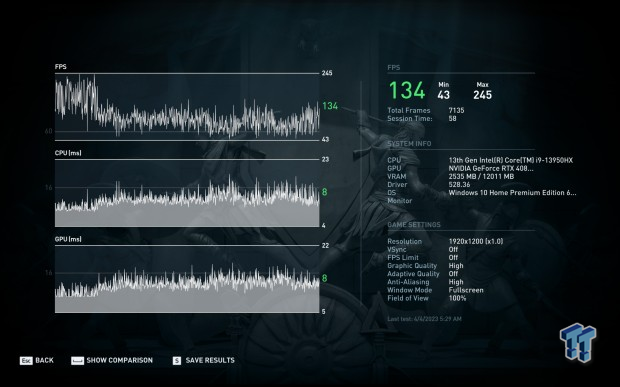 AC: Odyssey picked up 134 FPS at 1080p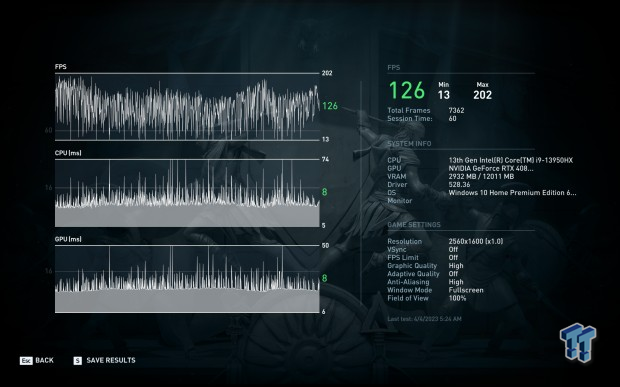 This dropped only slightly to 126 FPS at 1600p.
Comparisons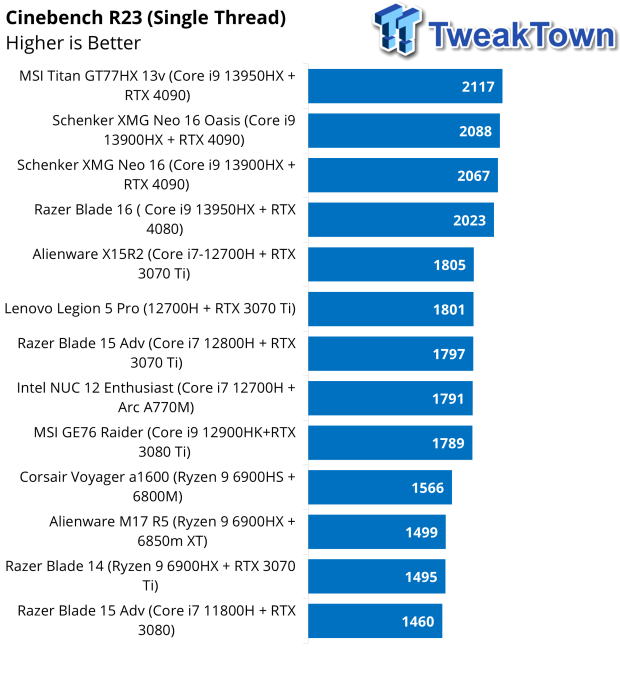 Getting into our charts, starting with R23, of course, the Blade 16 lands fourth in single thread.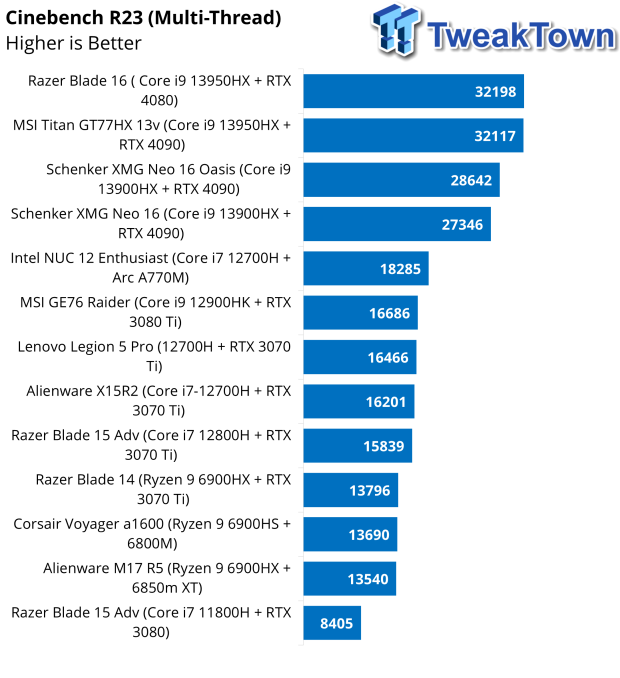 Moving to nT, the Blade 16 takes top honors with a massive 32198 points.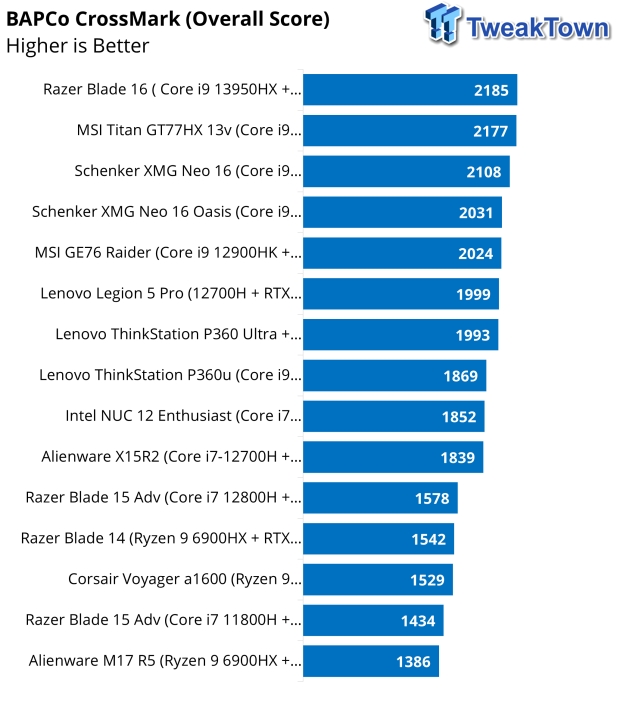 CrossMark landed top of the charts, even against the mighty Titan and XMG Neo with Oasis cooling.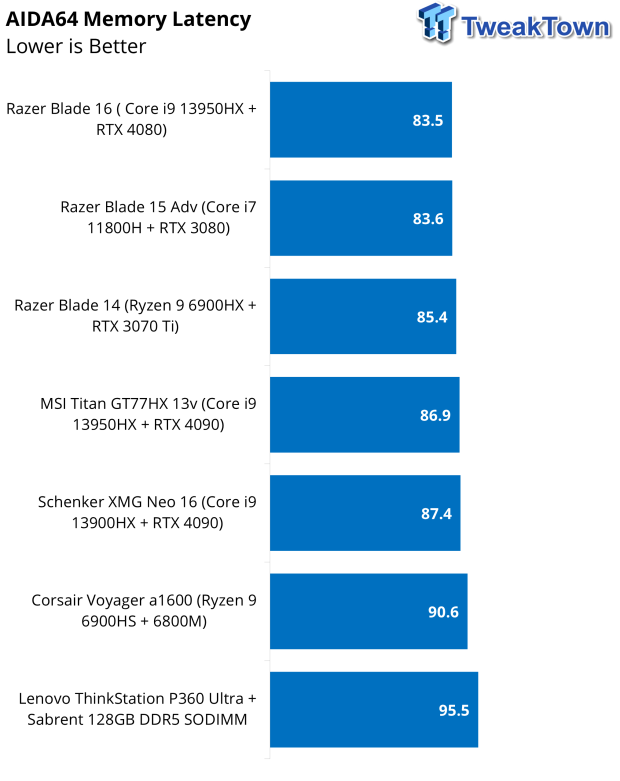 Memory latency was the best we have seen in recent units.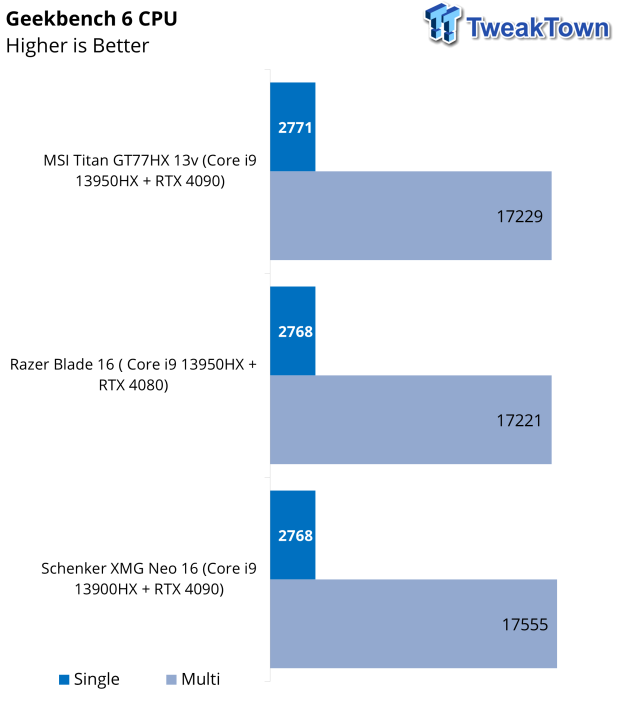 Throwing in GeekBench 6, the Blade 16 enjoyed matching us to previous systems in single thread and falling a bit shy of top honors in multi-thread.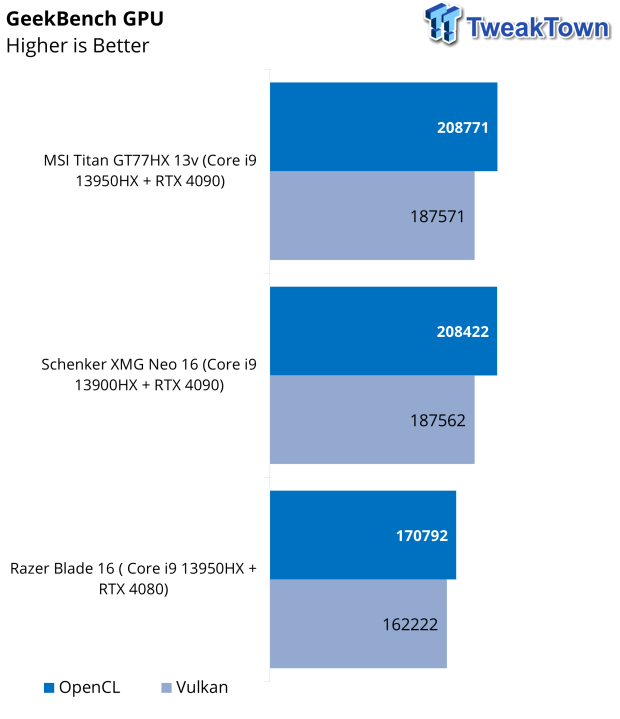 In GPU, higher-class units outgunned the Blade 16. However, it did pretty well, with a 170K score in OpenCL and 162K in Vulkan.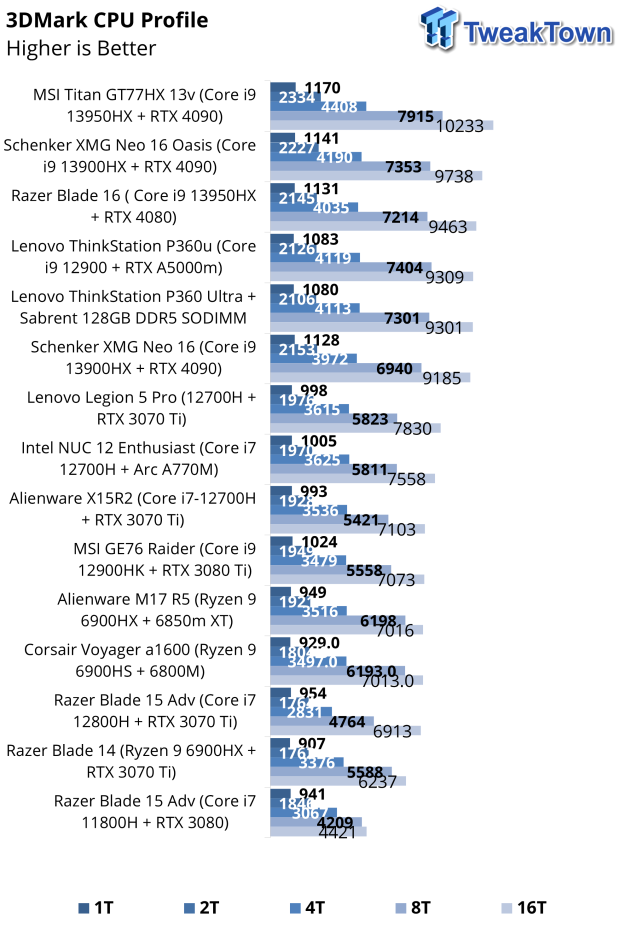 CPU Profile lands this machine in third.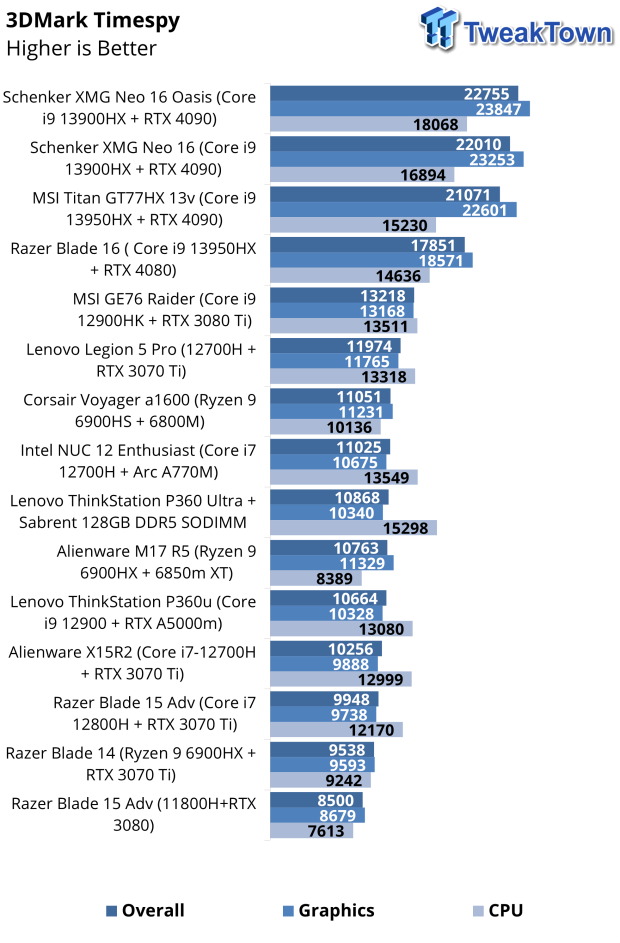 Time Spy gives the Blade 16 a solid resting spot, fourth in our charts.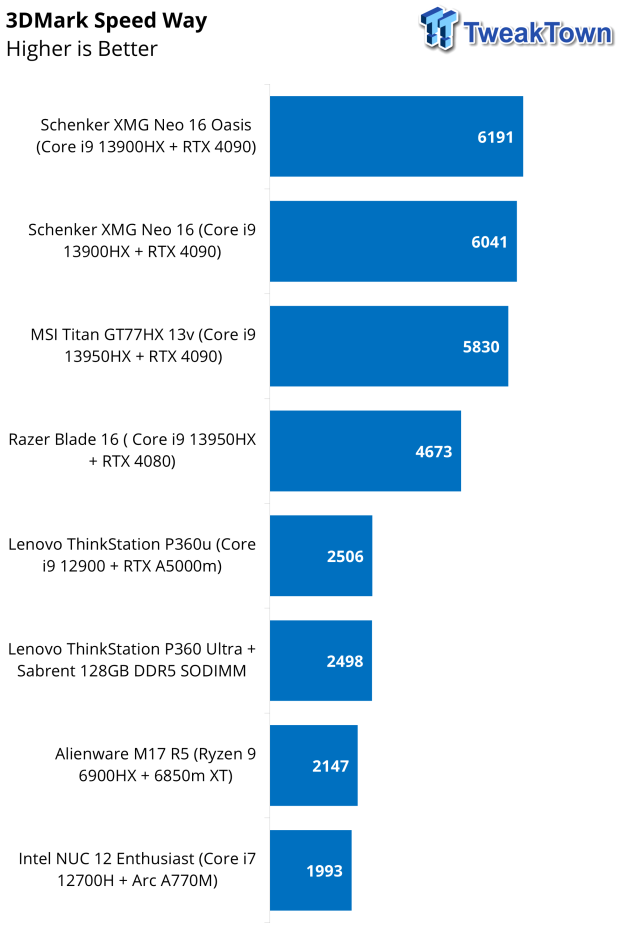 Looking at Speed Way, the Blade 16 is once again the fourth spot, landing about 1200 points back from the RTX 4090 powered machines.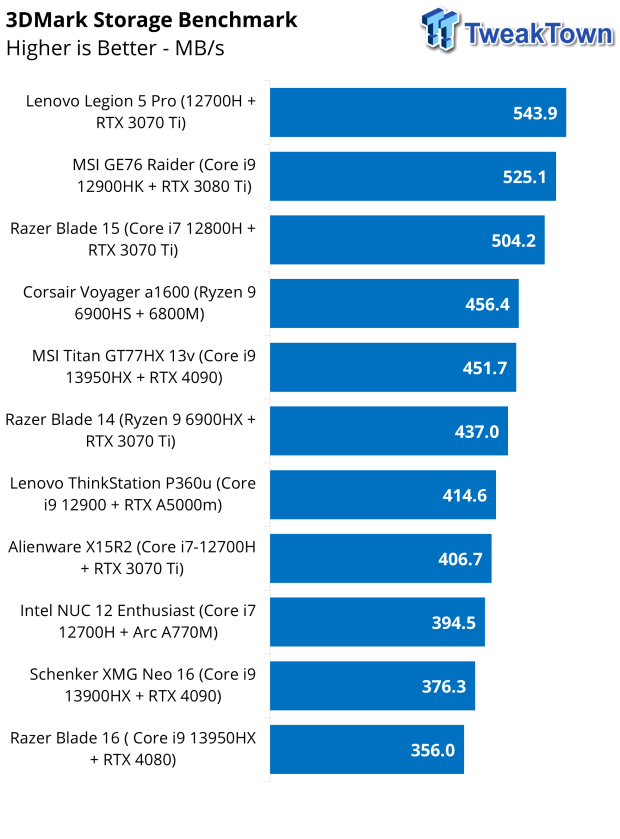 Storage Benchmark showed the Blade 16 offering the worst NVMe solution out of the systems we have assessed.
Value, Battery, and Final Thoughts
Battery and Value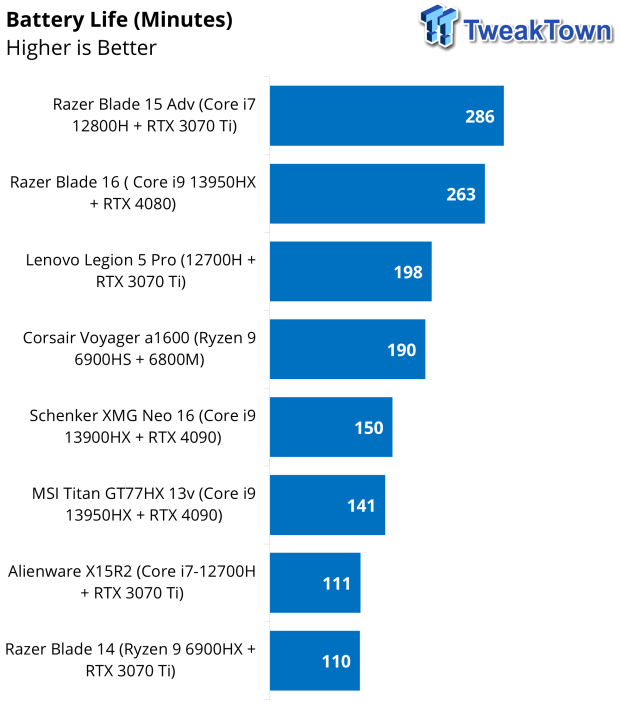 After evaluating the battery life of the Blade 16, we put it up against some recent competition. With a time of 263 minutes under the modern office battery test, the Blade 16 was the second-best unit we have assessed.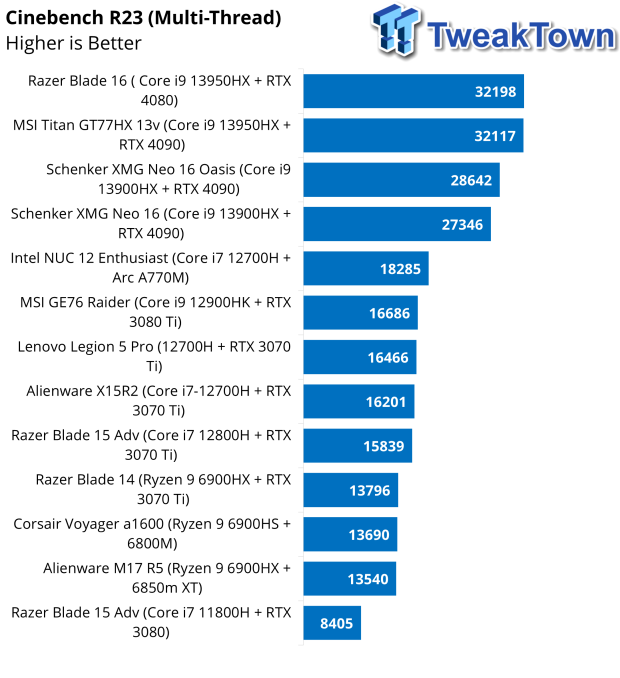 Taking performance and cost into our charts, the Blade 16 did land near the bottom of this chart at 99.4%.
Final Thoughts
With new iterations coming at us every year, knowing when to buy your next laptop can be challenging. That said, Intel has done an excellent job squeezing more performance out of the 13th Gen Core series, offering a sizable performance bump in single and multi-core workloads.
Razer has done a solid job putting together the Blade 16, giving them a complete lineup from the Blade 14 to the Blade 18. The Blade 16 has now become one of two flagship machines for Razer, which comes with new technologies, one being the dual-mode mini-LED display option.
With this Blade 16 being a new chassis, we looked for any quality issues and happily came away with none. You still get to experience the rubberized matte finish that makes the Blade what it is, and while not our favorite, the keyboard offered subtle tactile feedback and plenty of RGB flavor to go around. The trackpad is massive and centered within the chassis, a design I have learned to love with time. The trackpad does offer a solid click at the bottom, sacrificing any legit left-right mouse buttons.
The connectivity on this machine was quite good, better than I remember from any previous Razer Blade. To that point, we had two USB-C available for docking or our high-speed storage devices and could fall back to USB 3.2 for our legacy devices. The single HDMI output is 2.1, so it can support high resolutions with high refresh rates. And last, we found Razer to include an SD card reader, pushing this Blade 16 more into the productivity market for gamers and streamers.
Overall, the performance was fantastic, considering that many of our comparisons were against higher-powered machines. The Blade 16 ended top five in several of our charts, including R23, CrossMark, and Geekbench. Sliding over to UL Benchmarks, we saw solid performance from the Razer Blade 16, top three in CPU Profile, Time Spy, and Speed Way. On the flip, the Blade 16 had the worst NVMe solution we have assessed to date, so it's worth looking at throwing a better storage solution in.
Pricing, the Blade 16 needs help as the market is strong with options. As configured, our Blade 16 carries an MSRP of $3599. That said, you can build an identical system on a Lenovo Legion platform for $1000 cheaper, sacrificing only a few hundred MHz of CPU clock speed.