TweakTown's Rating: 91%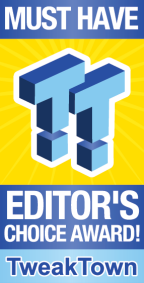 The Bottom Line
Those in the market for an AMD Advantage gaming PC will certainly want to put the Origin 5000D on their short list!
Pros
+

Water cooled CPU

+

Upgradable components

+

Standard form factor

+

iCue monitoring, lighting and fans

+

Cable management
Cons
Should you buy it?
Avoid
Consider
Shortlist
Buy
Introduction and Pricing
This year, we have been quite lucky to get many desktop systems through the lab for review. Continuing this, I recently spoke with Origin PC and ended our conversation by securing one of their high-end systems for review. This system dubbed the Origin PC 5000D comes from their new AMD Advantage lineup, which is geared to bring together the best Ryzen processors, Radeon graphics and software for a seamless, high-performance desktop experience.
AMD takes this further by saying, "AMD Advantage desktops have been purposefully engineered to be the most premium desktop PCs on the market."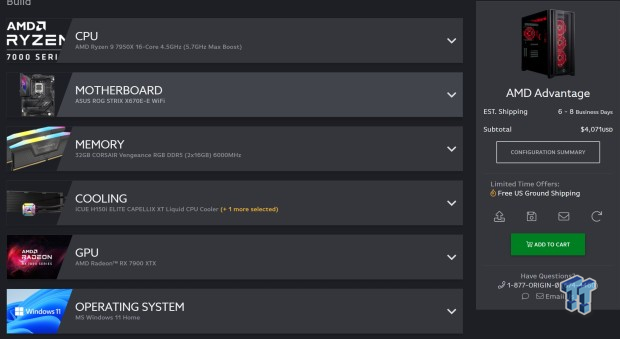 Our build-out of the Origin 5000D can be seen in the image above. I believe it's the highest-spec'd non-3D model with a Ryzen 9 7950X at the heart, giving us 32 threads and clocks up to 5.7GHz. The ROG Strix X670E has been installed as our motherboard, which offers up DDR5 memory support, with our unit having 32GB of 6000MHz Corsair Vengeance installed. The GPU for this machine is the Radeon 7900 XTX.
Cooling for this machine is handled by Corsair with their H150i Elite Capellix, alongside a plethora of QL series fans and the power supply. At the time of writing, the Origin PC 5000D, as configured above, retails for $4099 with a one-year warranty.
The Origin 5000D, BIOS and Software
Packaging and BIOS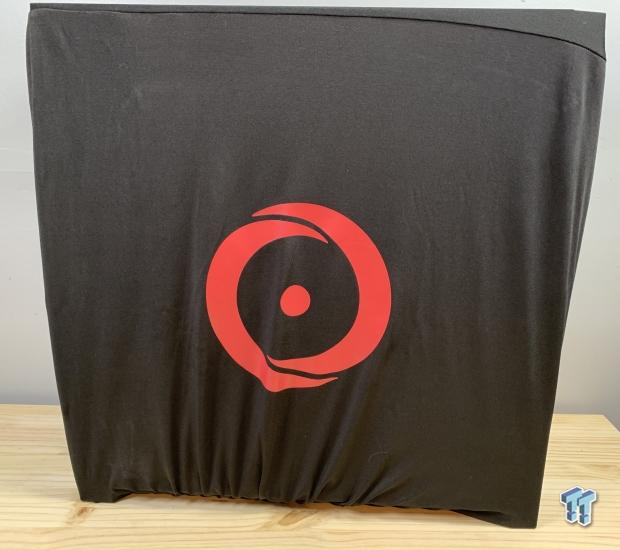 The Origin PC 5000D came to us wrapped in a branded cloth to protect the chassis from fingerprints.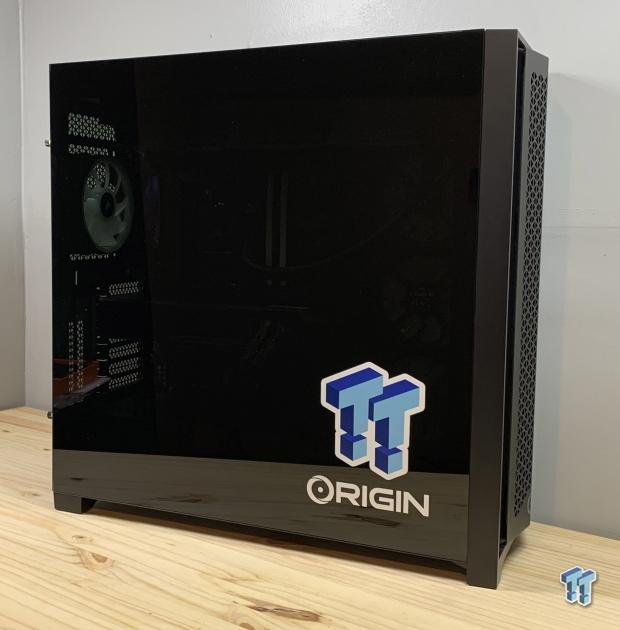 Removing the cloth, we found our review unit branded with the TweakTown logo on the tempered glass side panel.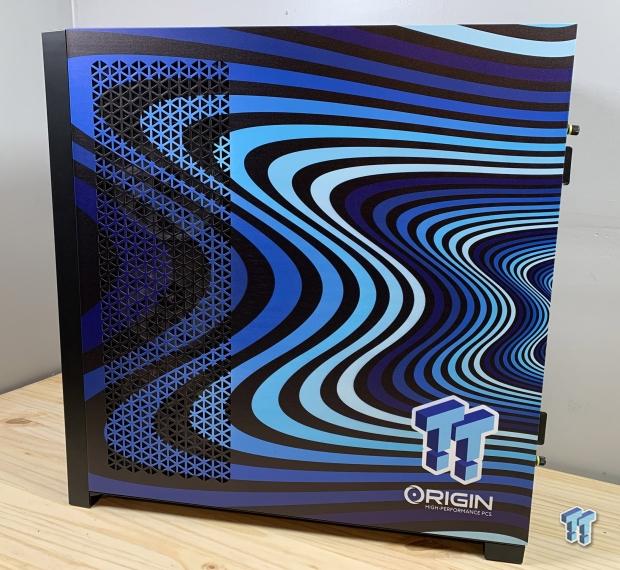 The back panel, too, was dressed up for our review.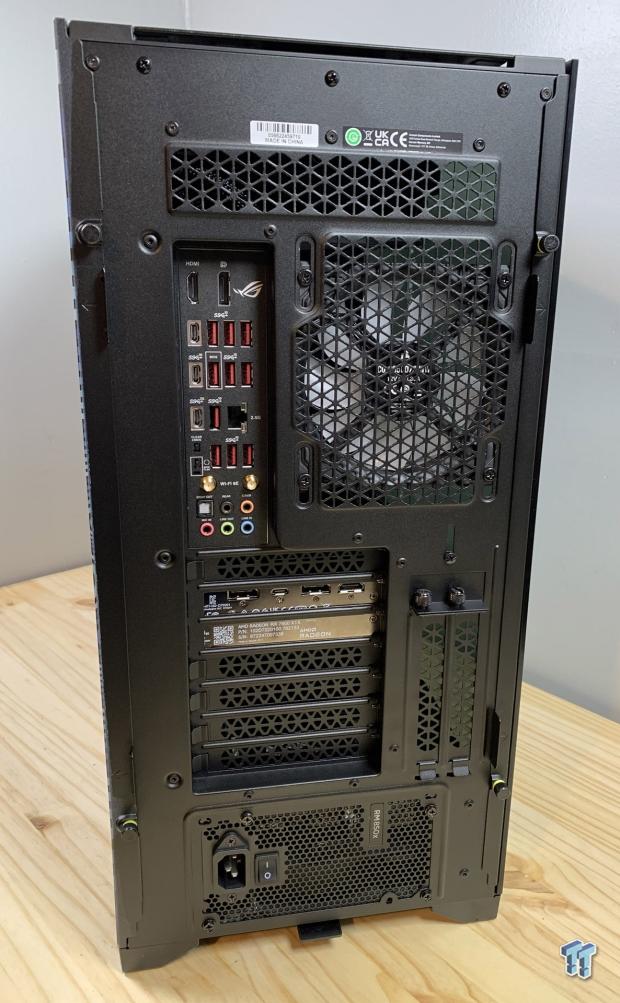 The rear I/O of the motherboard includes HDMI and DP outputs followed by ten USB 3.2 Type-A ports and another three USB-C, two at 10Gbps and the other at 20Gbps. Further down, you will find 2.5Gbe and WiFi6e connections.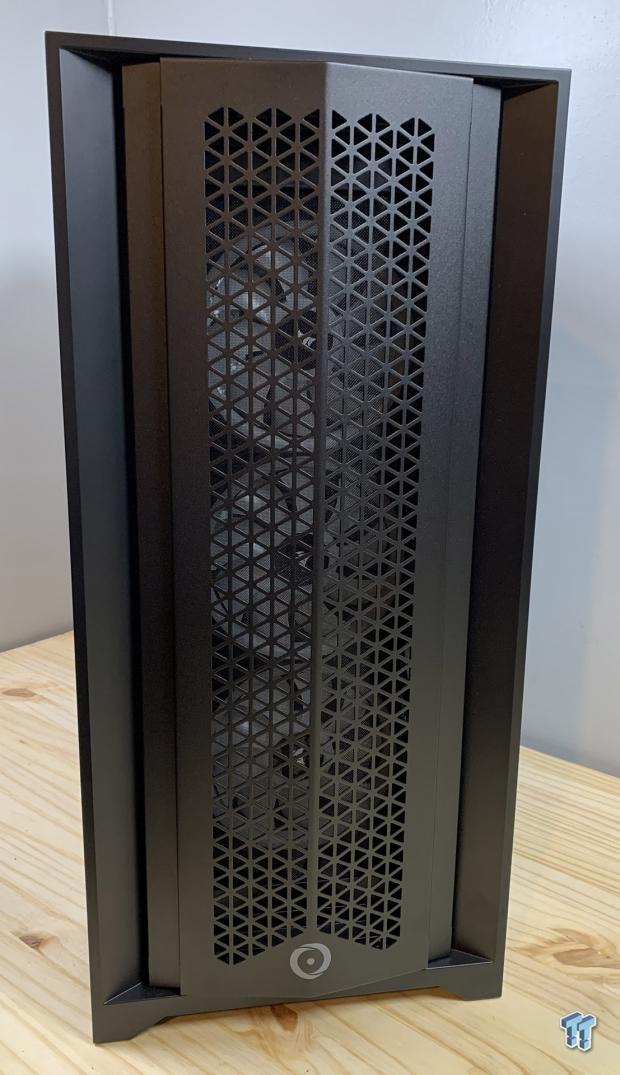 The front of the chassis offers a full airflow design, three fans waiting behind the mesh, and the Origin PC logo at the bottom.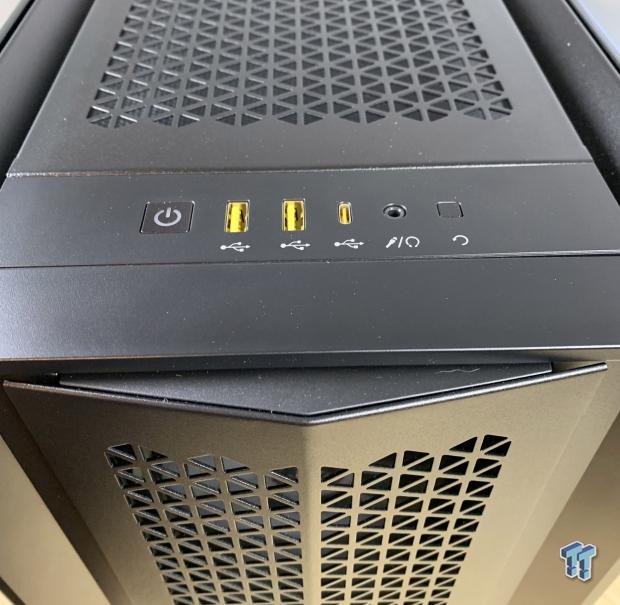 The top of the chassis includes two USB-A and one USB-C connection and dual purpose 3.5mm jack far right.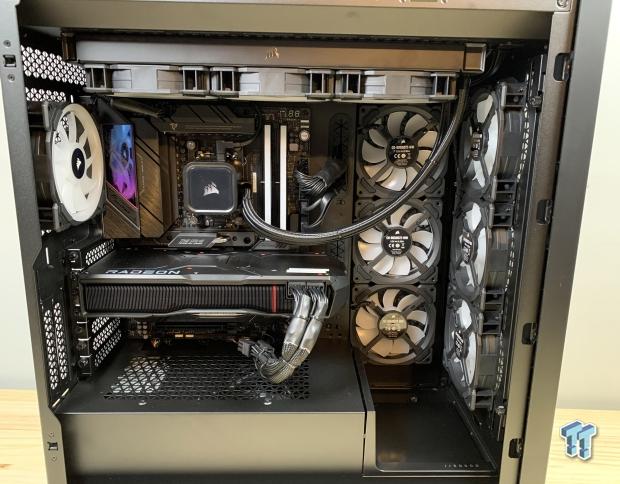 Removing the side panel, we get a look at the system with an absolute ton of fans bringing air in on the right and exhaust through the top. Many of these components are from Origin PC's parent company, Corsair. The Radeon GPU appears to be a reference designed card with dual 8-pin power.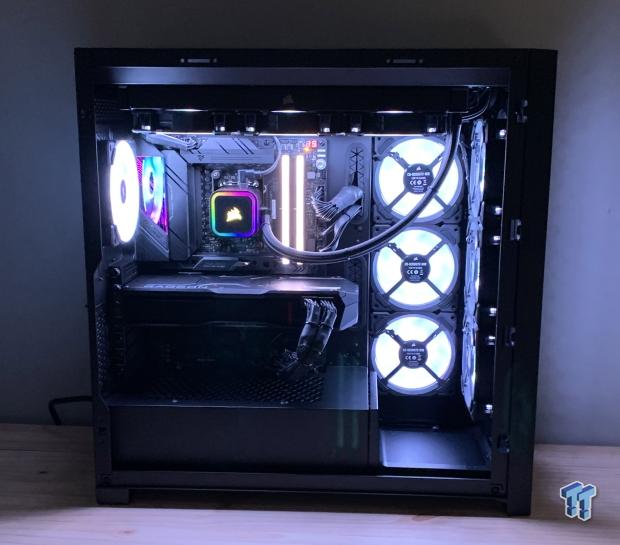 Above, we have the unit powered up, getting a look at the RGB lighting on this system.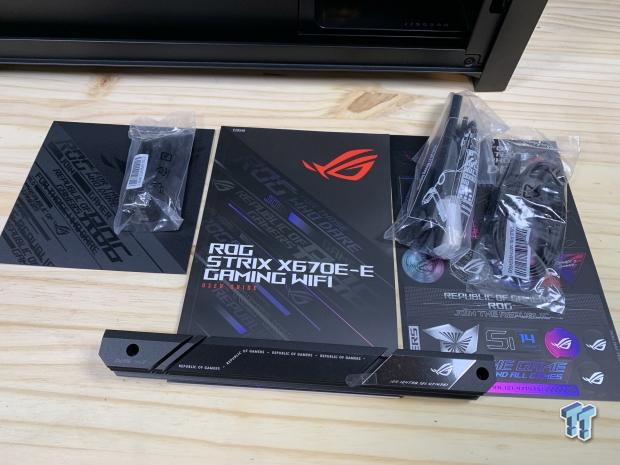 Origin sends the motherboard kit with the manual, cables, and board heatsink for NVMe SSD.
BIOS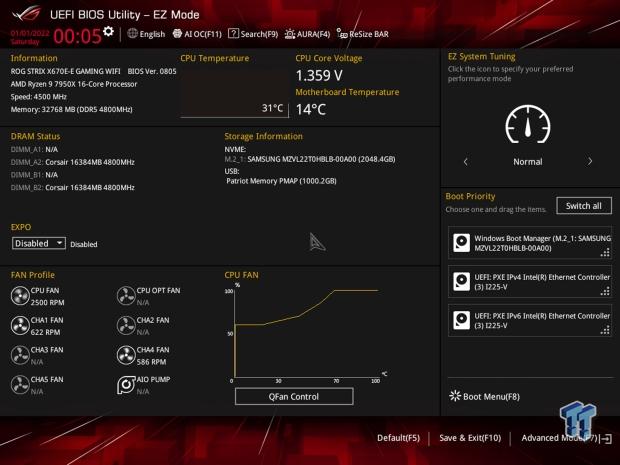 The BIOS is all ASUS ROG, with EZ Mode offering hardware information and configurable options like boot devices, EXPO, and fan control.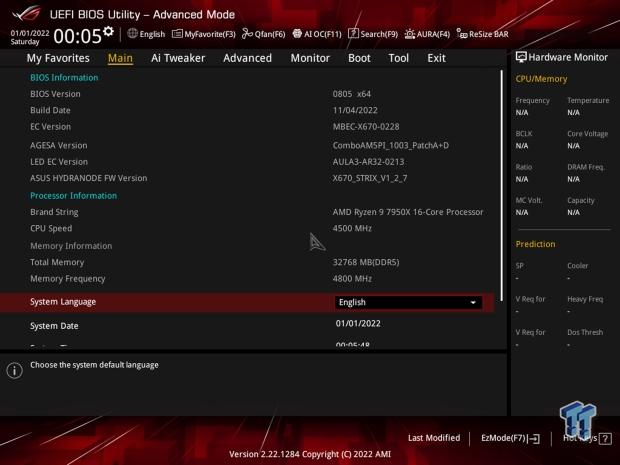 In the advanced menus, we first look at the main menu, which shows all the installed hardware.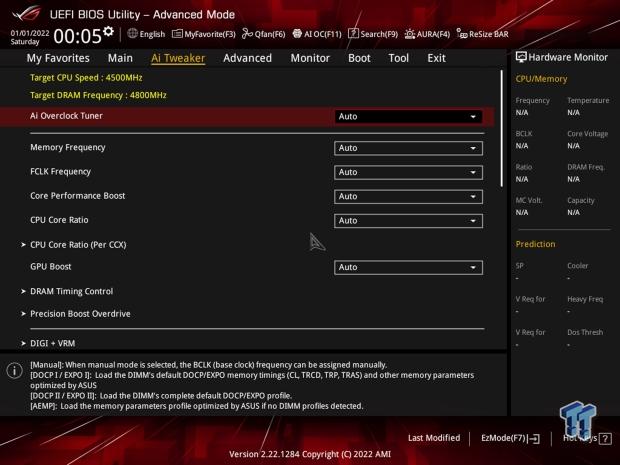 We then have access to Ai Tweaker, where you would tune the system.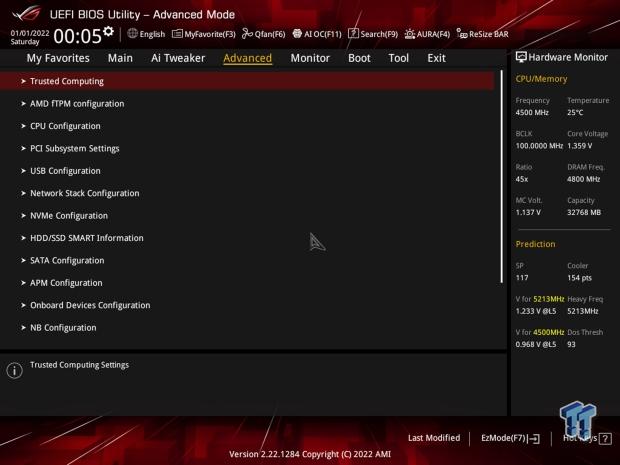 The advanced menu offers onboard device options, including storage, network, and CPU.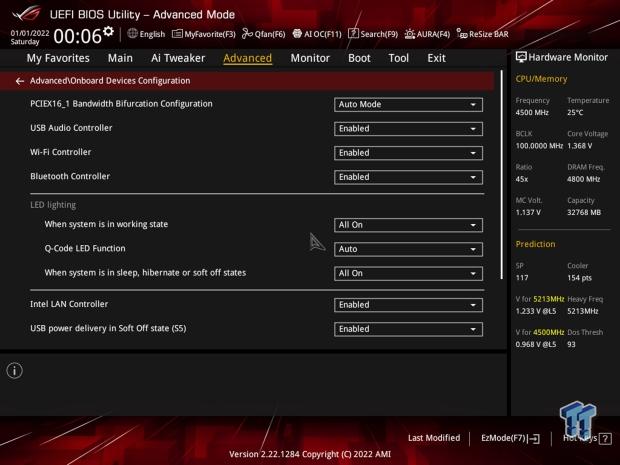 Onboard devices include USB, Wi-Fi, and LAN configuration.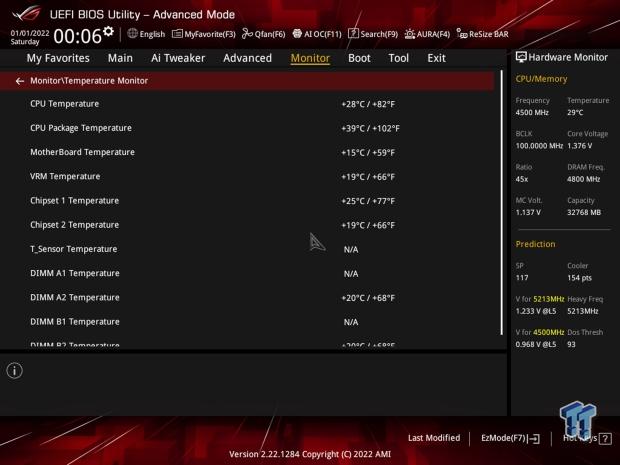 Monitor keeps tabs on the motherboard temperatures and voltages.
Software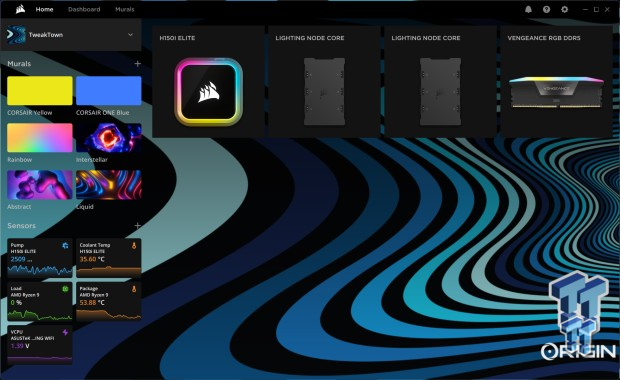 The first bit of software for the Origin 5000D is Corsair iCue, which offers control over the many installed fans, the H150i cooling system, and the RGB on our installed Vengeance DDR5.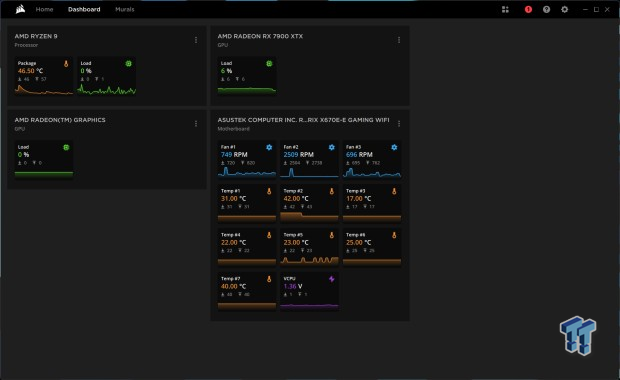 We then have the dashboard panel, which offers temperature data for both the CPU and GPU.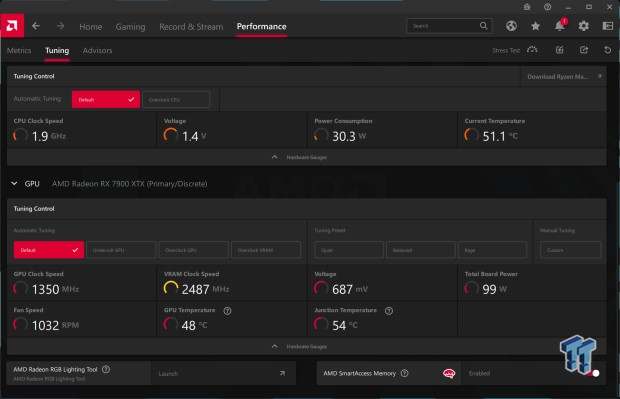 AMD Adrenaline Software too offers options for tuning the system.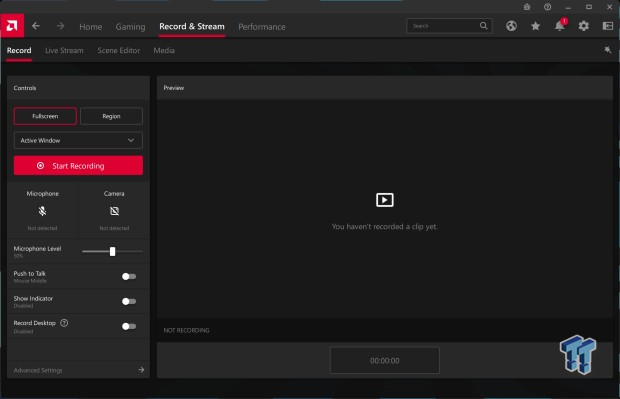 Included inside AMD's software is recording and streaming tools.
CPU and System Benchmarks
Cinebench R23
Cinebench is a long-standing render benchmark that has been heavily relied upon by both Intel and AMD to highlight their newest platforms during unveils. The benchmark has two tests, a single-core workload that will utilize one thread or 1T. There is also a multi-threaded test that uses all threads or nT of a tested CPU.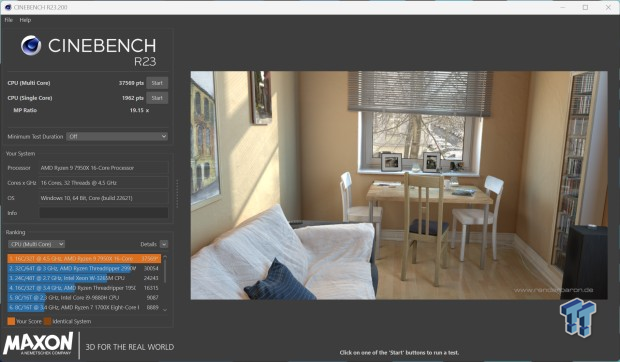 Starting with R23, we picked up 1962 single thread and 37569 multi-threads.
Crossmark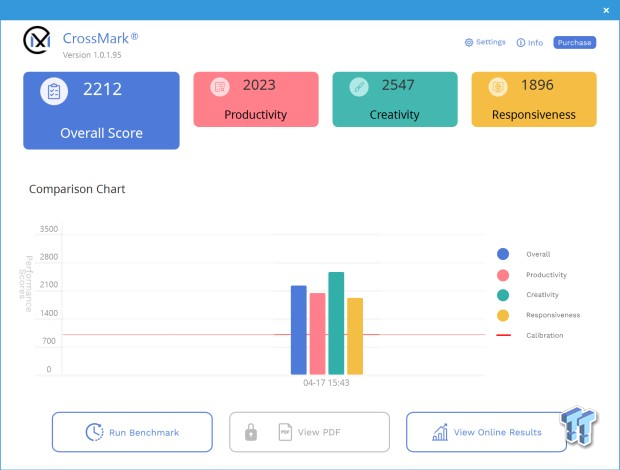 Crossmark showed an overall score of 2212 for the 5000D.
AIDA64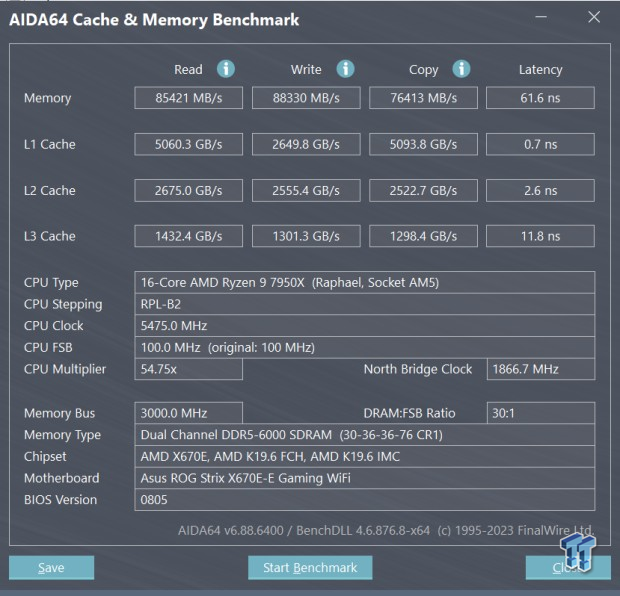 AIDA64 memory gave us throughput at 85K for reading, 88K for writing, and 76K for copy. Latency was as expected at 61.6ns.
Geekbench 6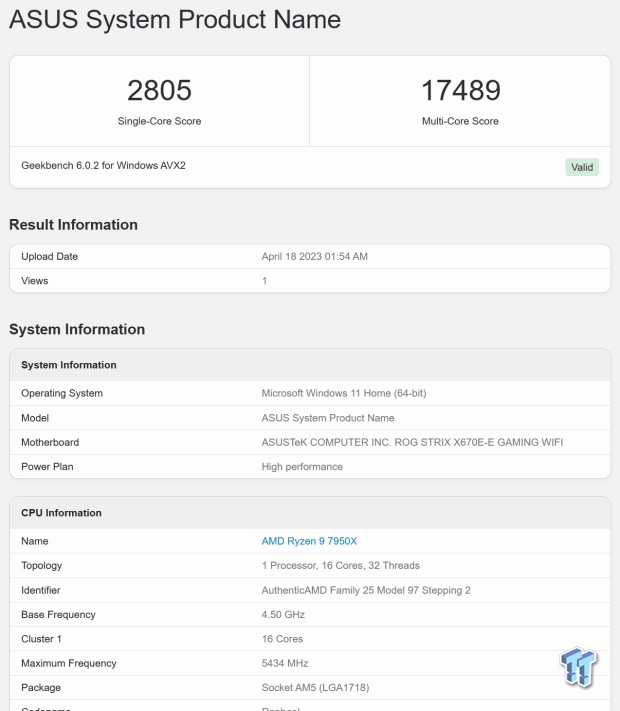 In our first run through Geekbench 6, we picked up 2805 single core and 17489 multi-core.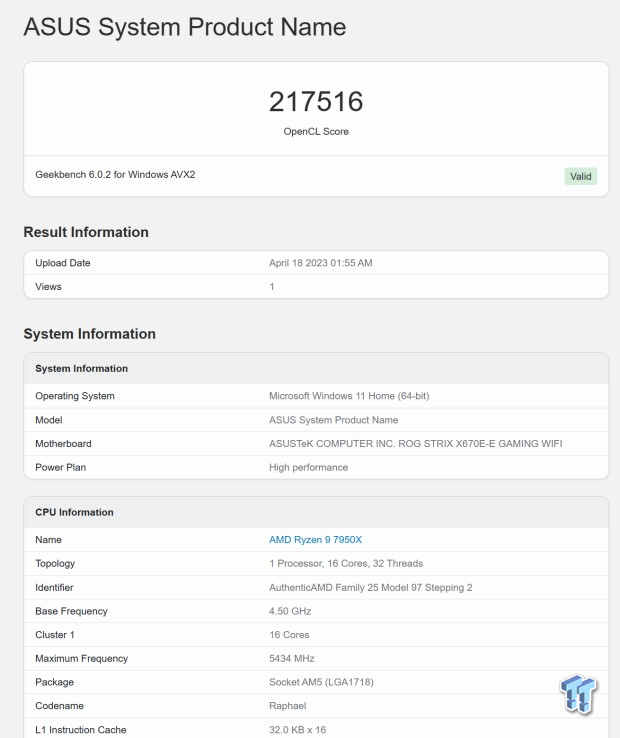 Geekbench 6 OpenCL gave the 500D a score of 217516.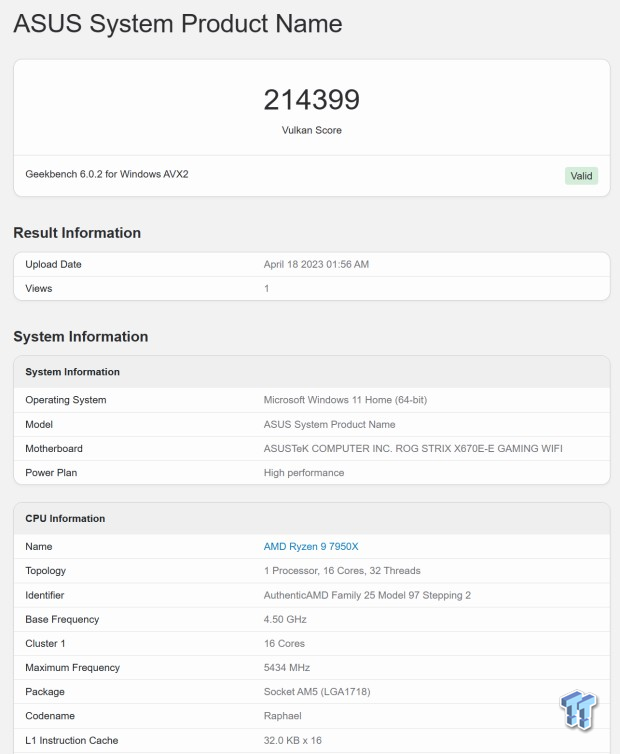 Moving over to Vulkan API, we landed with a score of 214399.
UL Benchmarks
PCMark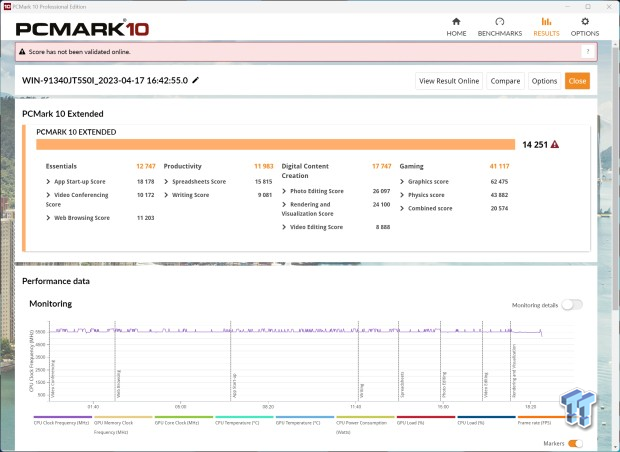 PCMark gave us an extended score of 14251.
3DMark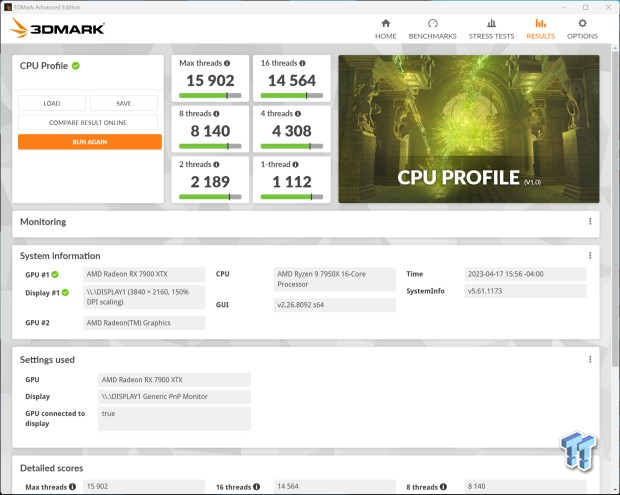 CPU Profile started with 1112 single thread and ended at sixteen threads with a score of 14564.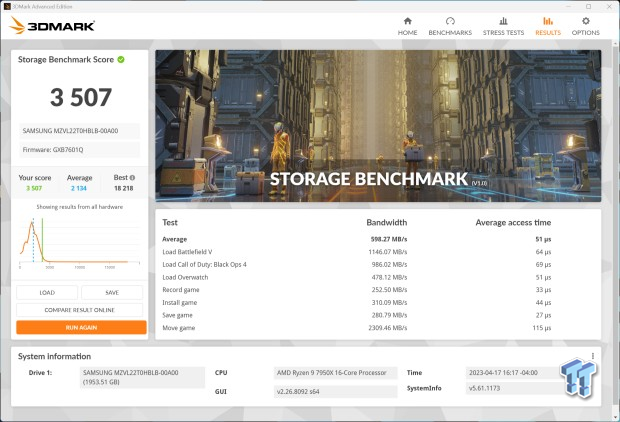 Storage was excellent, with a score of 3507 and bandwidth at 598 MB/s.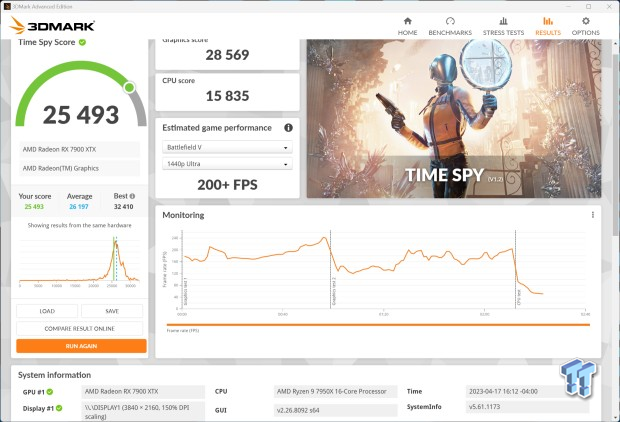 Pushing over to gaming workloads, we picked up 25493 in Time Spy.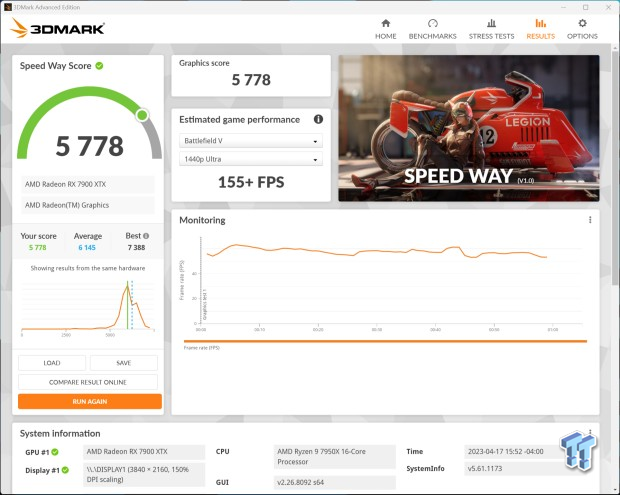 Running through Speed Way, we picked up a score of 5778.
Gaming Benchmarks
We ran the Origin PC 5000D through several built-in benchmarks, including Cyberpunk 2077, Far Cry 5, and Tomb Raider.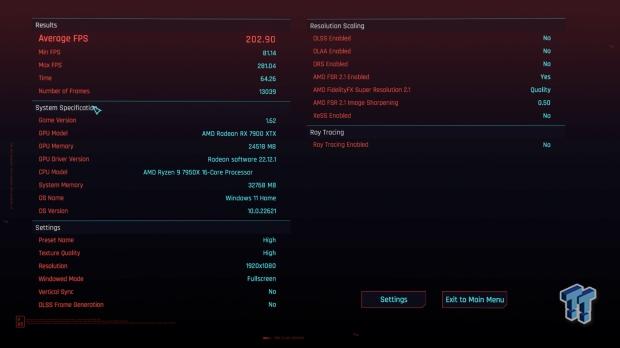 Starting with Cyberpunk, we picked up 202 FPS at 1080p high settings.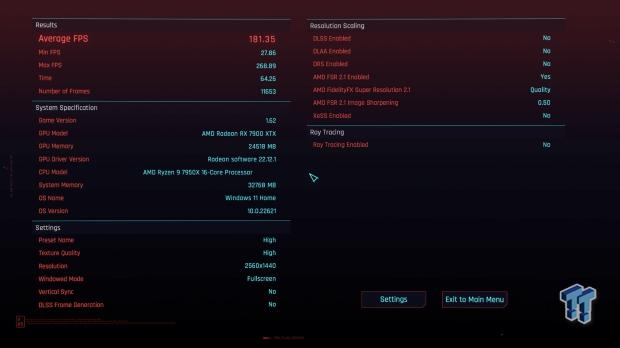 Moving over to 1440p, FPS came in at 181.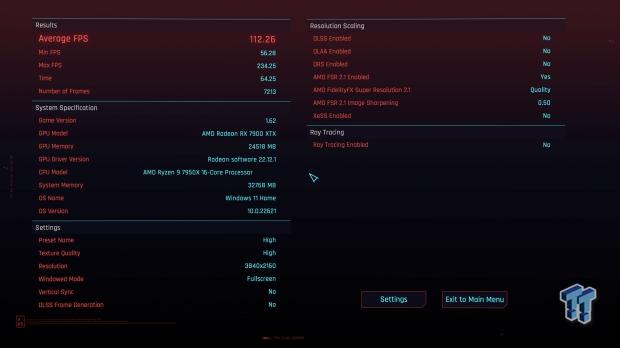 Last, we had 112 FPS at 4K for the Origin 5000D.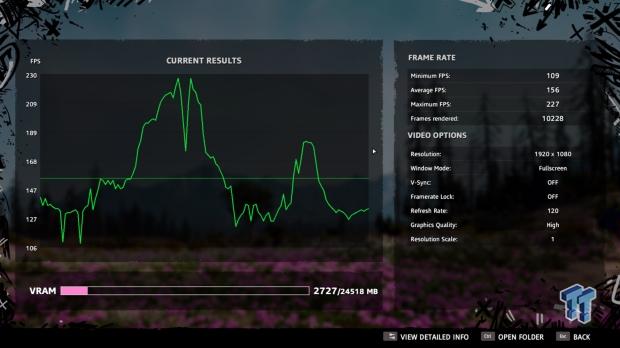 Switching to Far Cry, we picked up 156 FPS at 1080p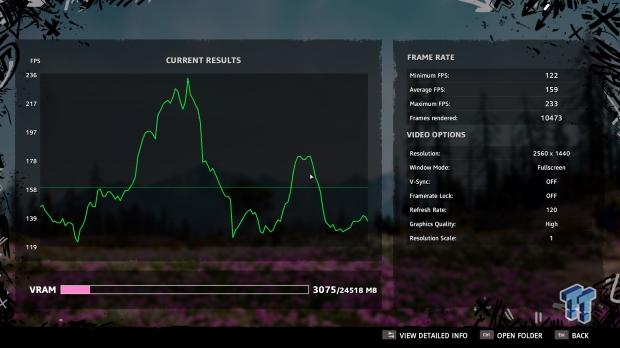 FPS stayed steady through 1440p as well with 159 FPS.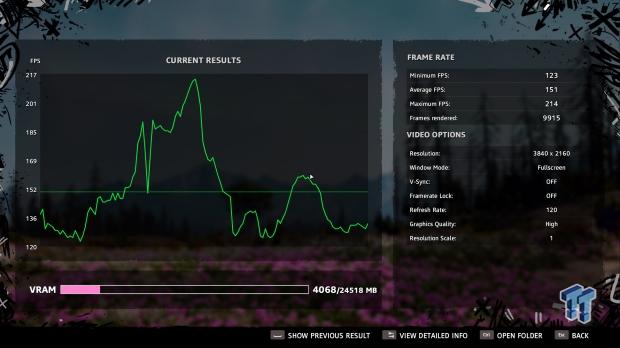 4K offered solid performance, too, 151 FPS on average.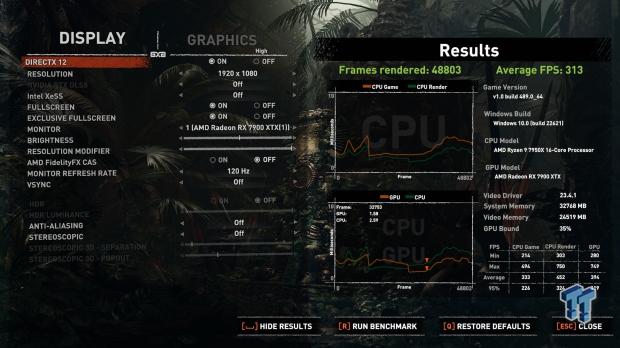 Last, we have Tomb Raider, which produced 313 FPS at 1080p.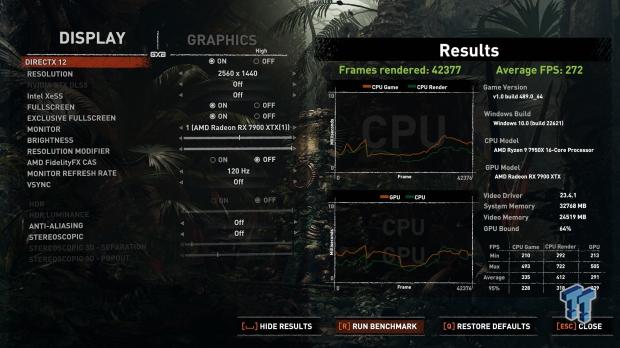 272 FPS can be had at 1440p.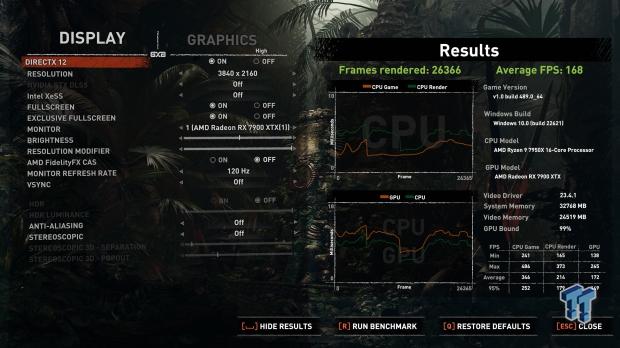 4K high settings gave us 168 FPS.
Value and Final Thoughts
Value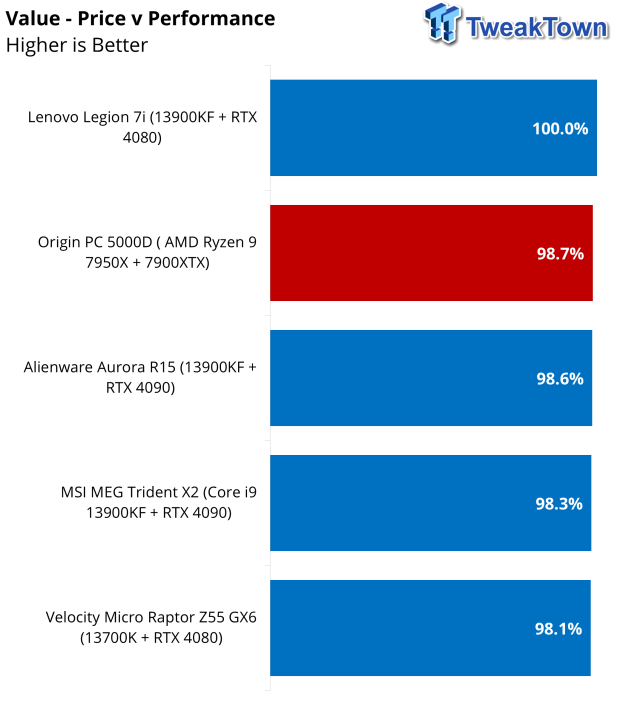 Putting the Origin PC 5000D in our value charts landed this machine in the second spot at 98.7%.
Final Thoughts
With several of these pre-built machines behind us, we have started to see the nuances between machines that add to build quality and user experience. With that, this is our first look at an AMD Advantage desktop machine. Origin PC did us right with a custom 5000D airflow chassis, with ten QL series fans and Corsair Commander to control everything.
They also pulled from Corsair for the cooling, with the H150i Elite, and added Vengeance memory and an RM1000x power supply, which makes for an easily serviceable machine that uses standard off-the-shelf PC parts from top to bottom.
In use, the 5000D did quite well. In single thread testing, we picked up 1962 in R23, 2805 in GeekBench 6, and 1112 in CPU Profile. While looking at multi-thread, we maxed out 3DMark CPU with a score of 15902, Geekbench 6 at 17489, and R23 pulling near 38K. If we look at workloads, Crossmark pulled an overall score of 2212, the creativity workload grabbing 2527. PCMark scored the 5000D at 14251, 41K for gaming, and 12K for productivity.
Moving into gaming, we managed some solid FPS at 1080p - 202 FPS in Cyberpunk and upwards of 310 FPS in Tomb Raider. Conversely, the 4K performance was still quite good, and we grabbed 112 FPS in Cyberpunk and 168 FPS in Tomb Raider.
To wrap this review up, I was quite surprised with the Adrenaline software package for this system, offering straightforward options for tuning performance for both the CPU and GPU. In addition, you can record and stream directly from the app as well. iCue has also matured since the last time I used it. We now can design murals creating an entire ecosystem of light inside the chassis, and the hardware monitoring also allows the end-user to see what's going on with their system on the dashboard.
Pricing of the Origin PC 5000D as configured was decent at its $4099 MSRP. Pricing everything with exact components off the shelf saves you a bit of money - we calculated a touch over $3K to build this system. That said, Origin PC does offer lifetime 24/7 support on all of its systems.