TweakTown's Rating: 94%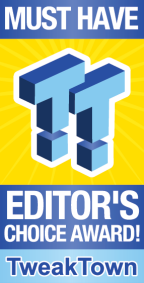 The Bottom Line
Consumers that can live without USB4/Thunderbolt 4 are in for a treat with the B760 AORUS Elite AX!
Pros
+

2.5Gbe/Wi-Fi 6e

+

DDR5 support

+

Price

+

Performance

+

Great XMP memory support
Cons
Should you buy it?
Avoid
Consider
Shortlist
Buy
Introduction, Specifications, and Pricing
With the costs of motherboards rising, mid-range solutions have never been more popular than today. For 13th-generation Intel CPUs, the B760 chipset fills this gap in their portfolio, offering a moderate level of connectivity while supporting most of the latest technologies like DDR5 and PCIe 5.0.
The most significant difference between this and the flagship Z790 motherboards will come from the chipset connectivity, with B760 platforms limited to 16 PCIe lanes, four SATA 6Gbps, and about half the available USB 3.2 ports. It's not likely we'll see Thunderbolt 4 or USB 4 appear either with this chipset.
For the B760 AORUS Elite AX, we are on the LGA1700 socket, and it does support DDR5. That said, GIGABYTE does offer a DDR4 variant as well. That out of the way, memory support is similar to Z790-based systems with 128GB as the max capacity over four slots. Speeds range from 4800MHz up to 7600MHz via overclocking.
This AORUS solution offers DisplayPort 1.2 and HDMI 2.0 on the rear I/O with a maximum resolution of 4096x2304. Both interfaces support HDCP 2.3. Audio comes from Realtek with support for 7.1 channels and optical output. Additional connectivity includes 2.5Gbe LAN from Realtek, WiFi6e from the Intel AX211, and Bluetooth 5.3.
PCIe connectivity includes three x16 slots. The top slot supports Gen4, while the bottom two offer Gen3 support and run at x1. Storage offers a single Gen4 NVMe connection from the CPU lanes and two additional from the chipset also running at Gen4 in x4 and x2, respectively. Four SATA connections are available as well for legacy storage. USB support includes three 3.2 Gen 2 ports, six 3.2 Gen 1, and four USB 2.0 ports.
Pricing
Pricing for the B760 AORUS Elite AX comes in at $179.99 with a three-year warranty.
Packaging, Accessories, and Overview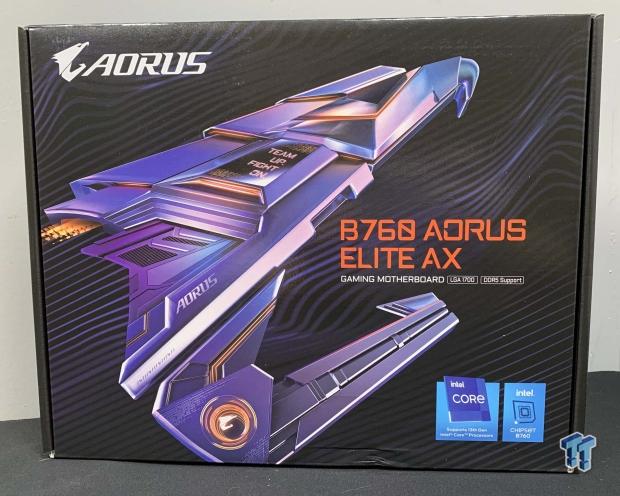 Packaging follows the AORUS design, including board branding to the right and chipset and CPU support down below.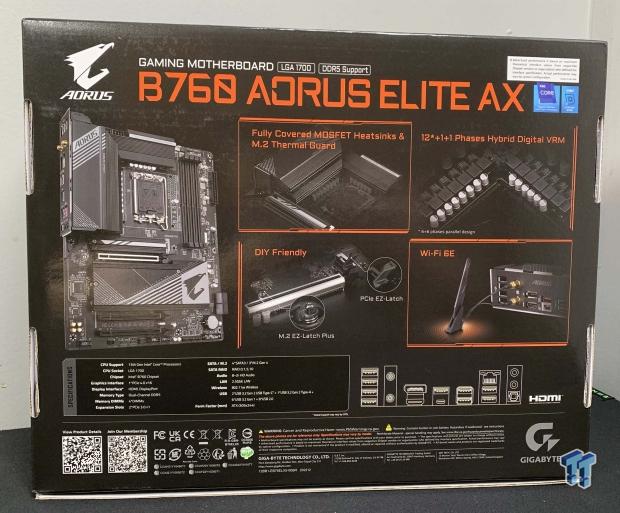 On the back, we have an image of the board with specs just below and features listed to the right.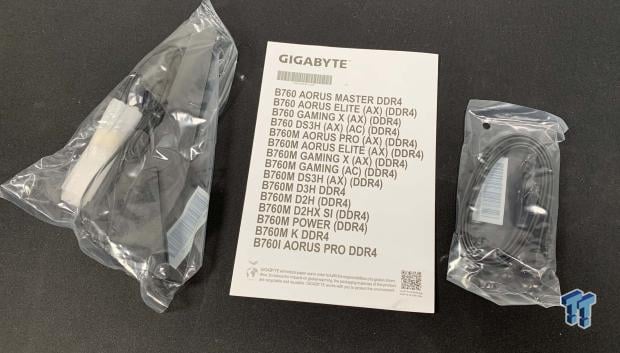 The AORUS includes SATA cables, reading materials, and a Wi-Fi antenna.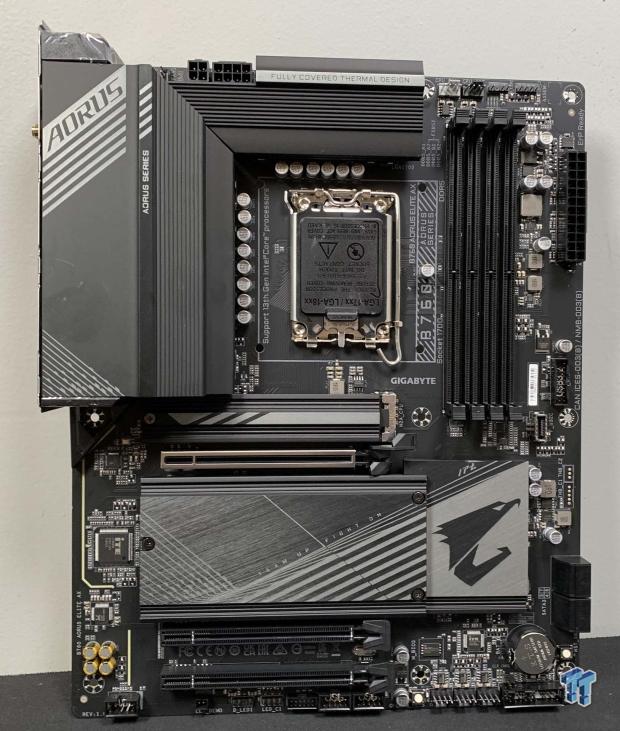 The AORUS Elite keeps the design we saw with the Z790 boards, with much of the board covered in heatsinks using the black and grey colorway. At the top, the VRM to the rear I/O is covered, while the first m.2 slot carries its own heatsink. A two-piece heatsink covers the other two m.2 and the chipset.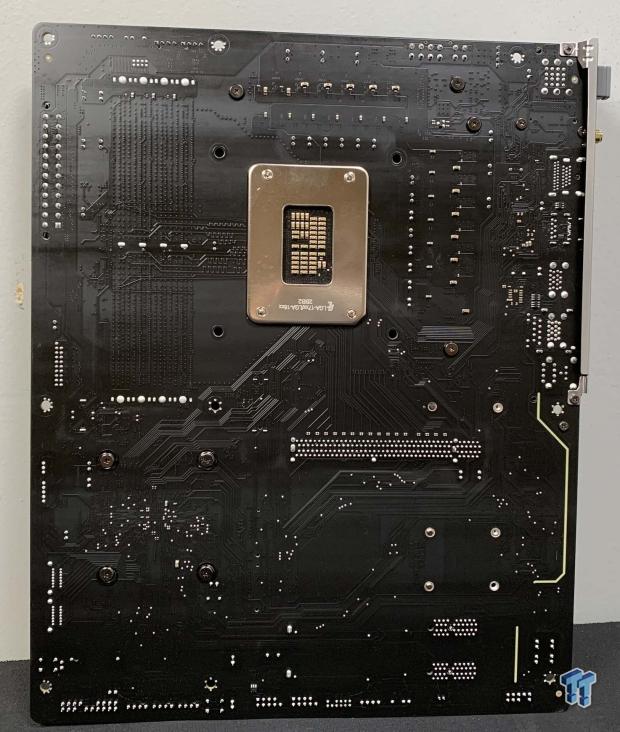 The back of the board is mostly blank, with the socket retention backplate up top.

The rear I/O includes USB 2.0 at the top followed by Wi-Fi, both display outputs, and six USB 3.2 ports. At the bottom, we have the 2.5Gbe port next to the audio outputs.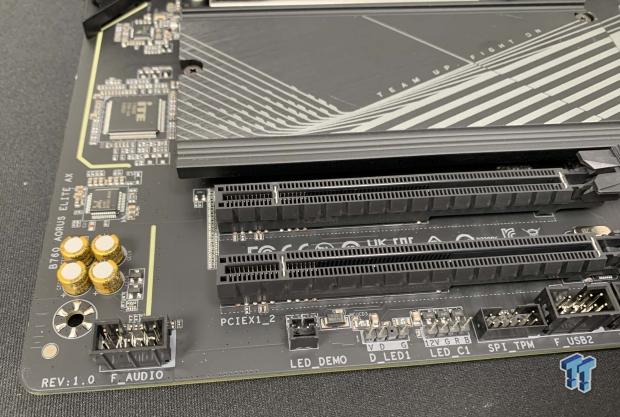 We start at the bottom of the board with front panel audio, followed by several LED outputs and USB 2.0 header.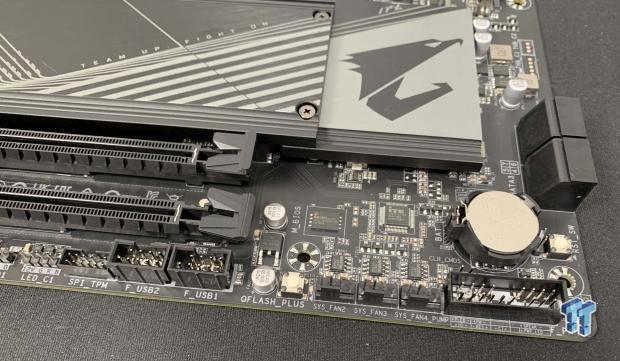 Further right, we run into a set of fan headers and the front panel chassis connections.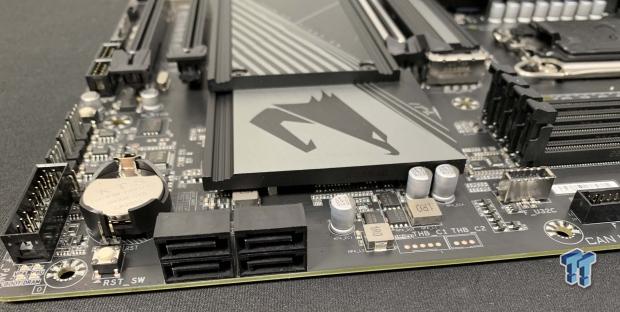 Around the corner, we have four SATA connections, and to the edge of the image, you can spot both USB 3.2 headers.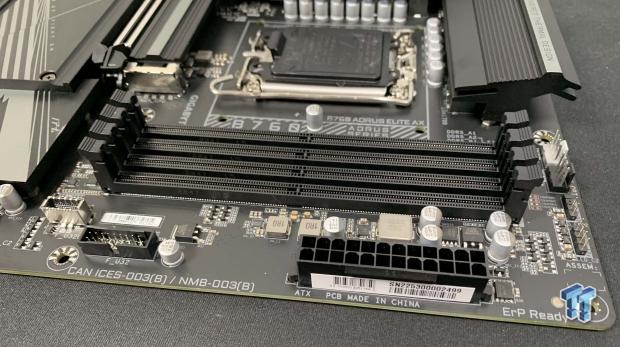 Further up this side, we have 24-pin power.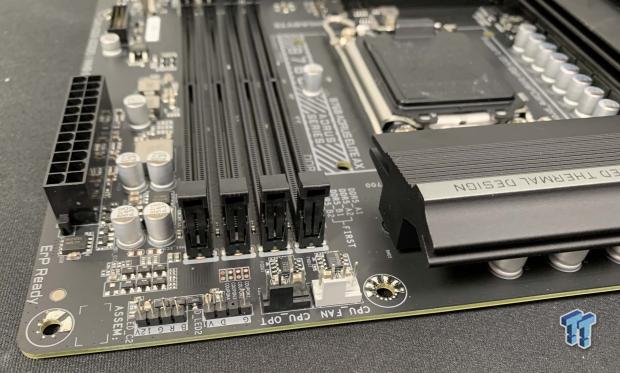 At the top, we have more LED outputs and fan headers.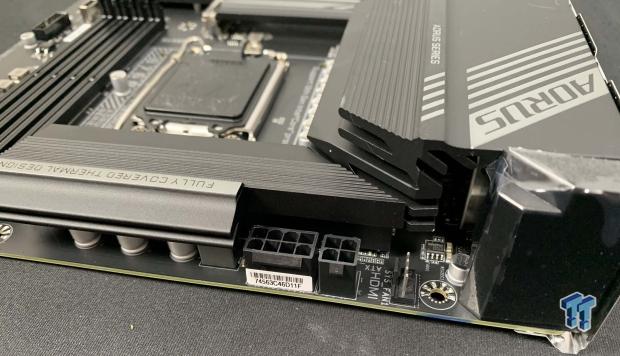 We wrap up with an eight-pin and four-pin power connection.
UEFI, Software and Test System
UEFI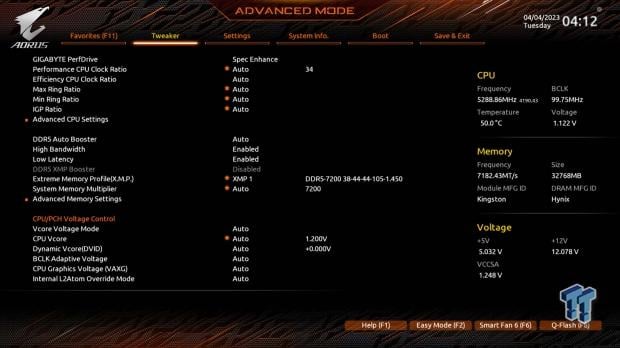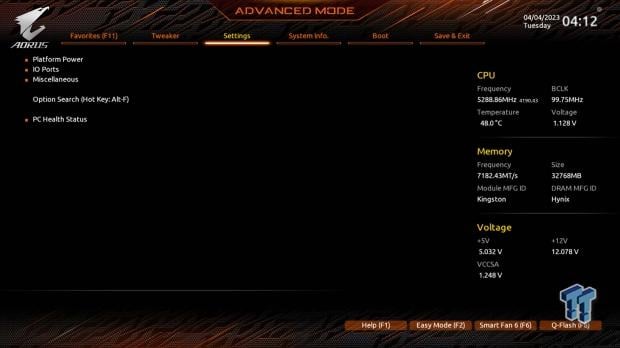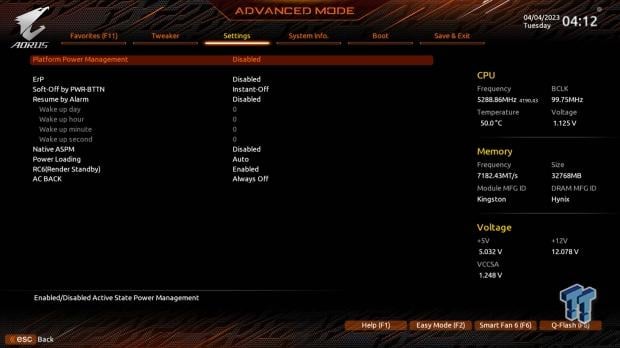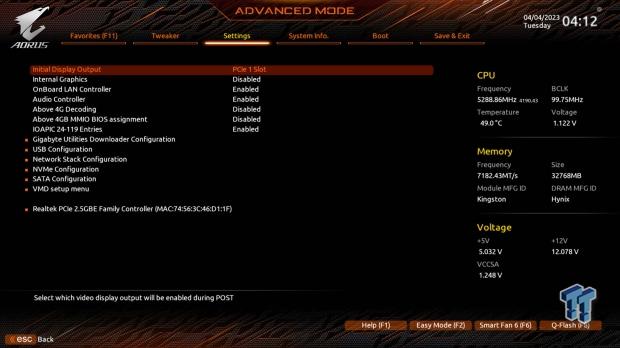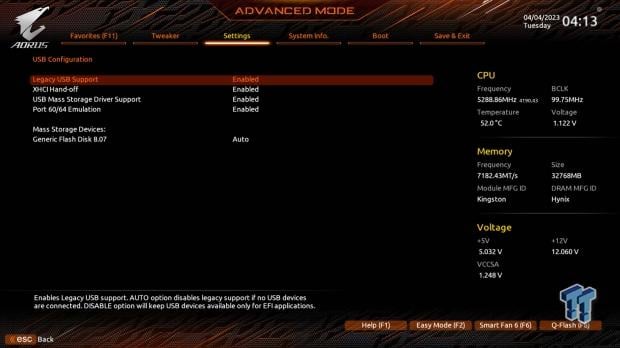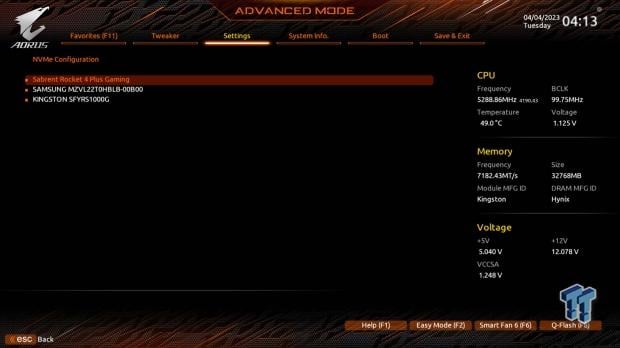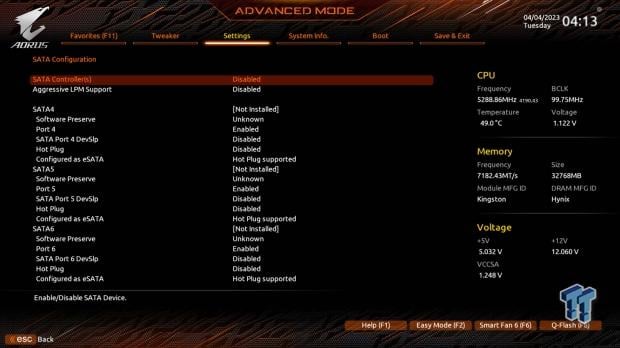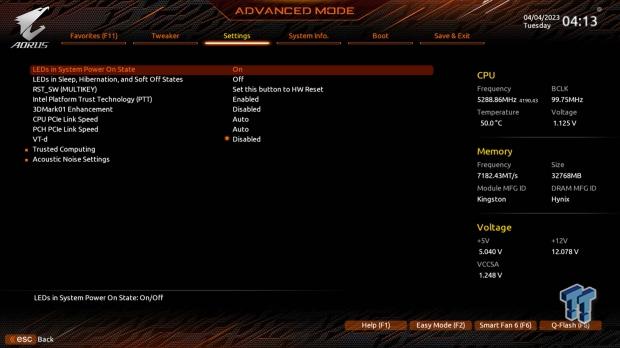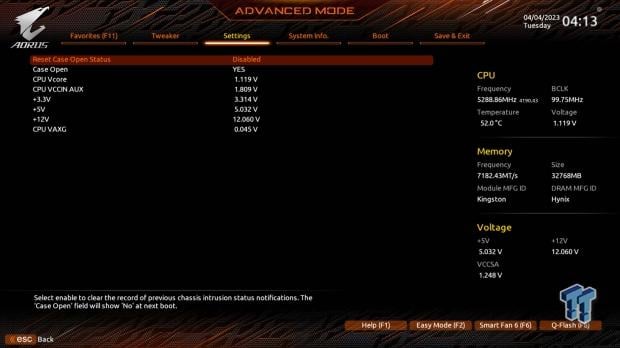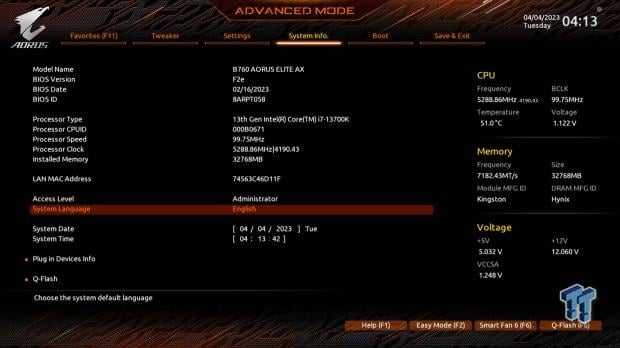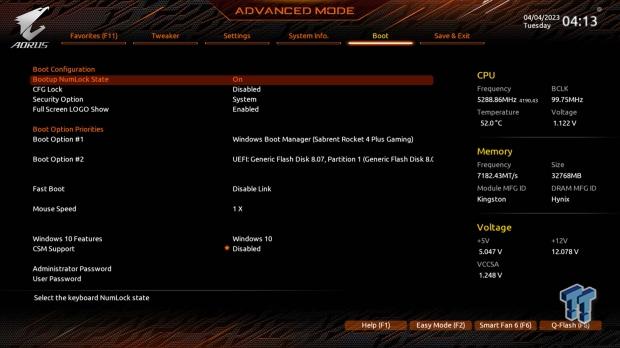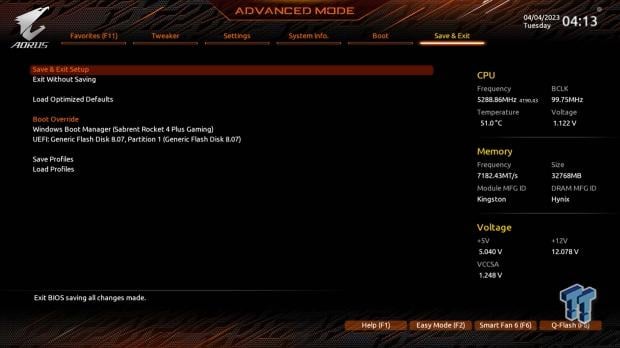 The BIOS layout is identical to the Z790 Xtreme and Master, with fewer options for overclocking. Starting with the easy mode, you will get all the CPU and RAM information along the top, including frequency and temperature. The boot sequence shows installed drives and fan controls to the right.
Advanced mode is where you will find tweaking tools for CPU and memory, including voltages. AORUS has additional options in the IO Ports menu; these include the ability to disable IGP and configure LAN controls and storage.
Motherboard Software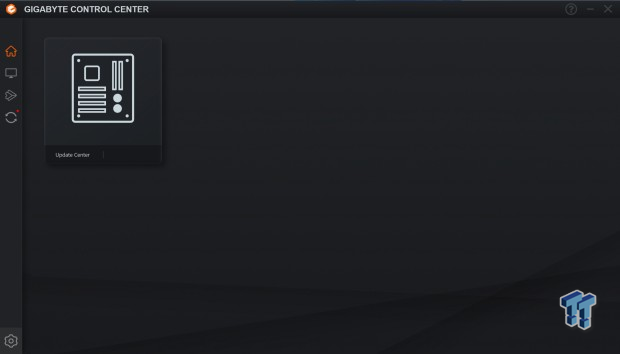 The software for this motherboard is GIGABYTE Control Center. In the home menu, this will show you connected devices, ours being the board alone.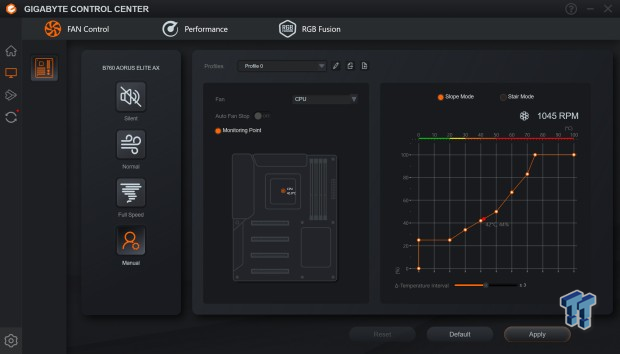 Moving to the monitoring panel, we have controls for the fan headers, which give preset options or the ability to make a manual curve.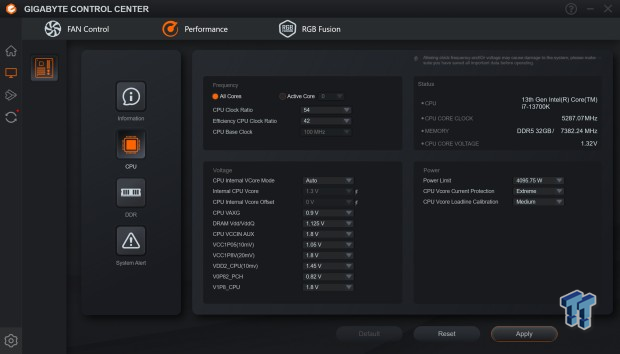 Performance gives a cut-down XTU interface that can change ratios and voltages.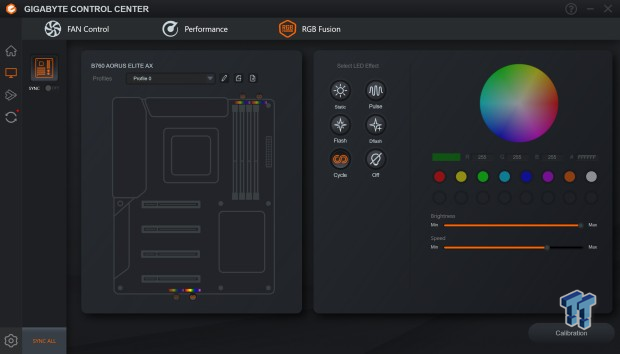 RGB Fusion offers control over the four LED outputs on board.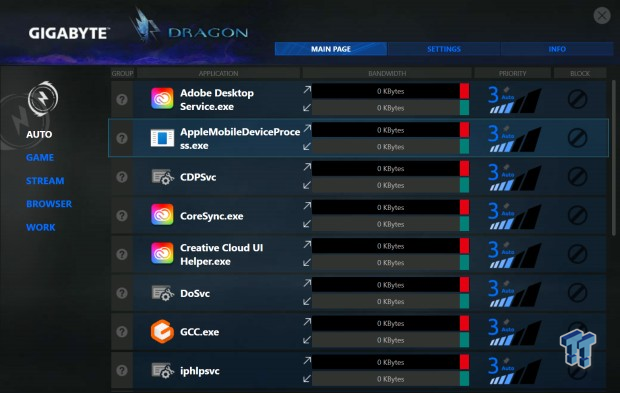 Dragon LAN is another piece of software that allows you to set up a pseudo-QoS on your motherboard.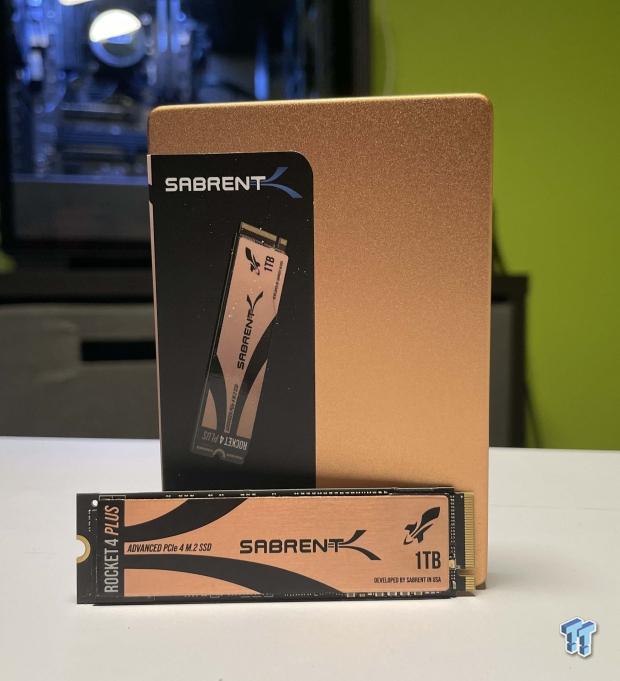 Sabrent supports our motherboard testing with the Rocket 4 Plus.
TweakTown Intel Motherboard Test System
Cinebench R23, Crossmark and AIDA64
Cinebench R23
Cinebench is a long-standing render benchmark that has been heavily relied upon by both Intel and AMD to highlight their newest platforms during unveils. The benchmark has two tests, a single-core workload utilizing one thread or 1T and a multi-threaded test that uses all threads or nT of a tested CPU.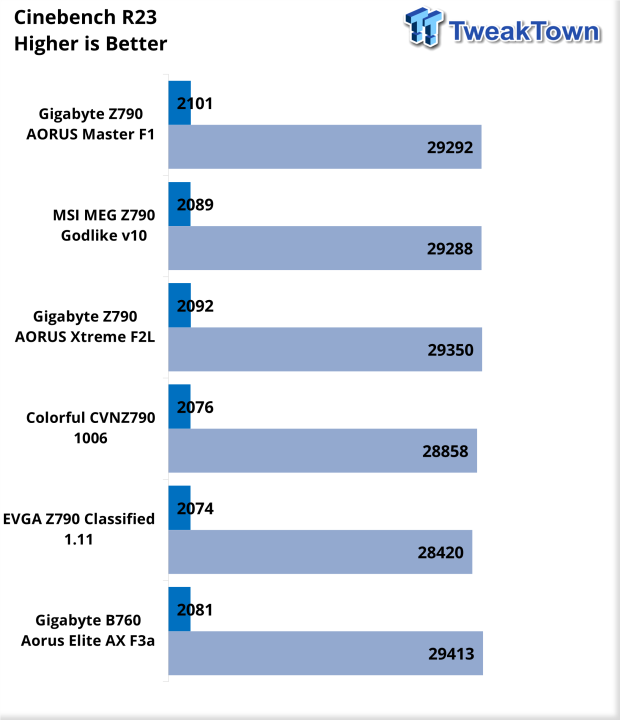 The B760 with the latest BIOS showed solid performance in R23. Single thread, we pushed 2081 points, and in multi-thread, we ran our 13700K up to 29413, the best we have seen to date.
CrossMark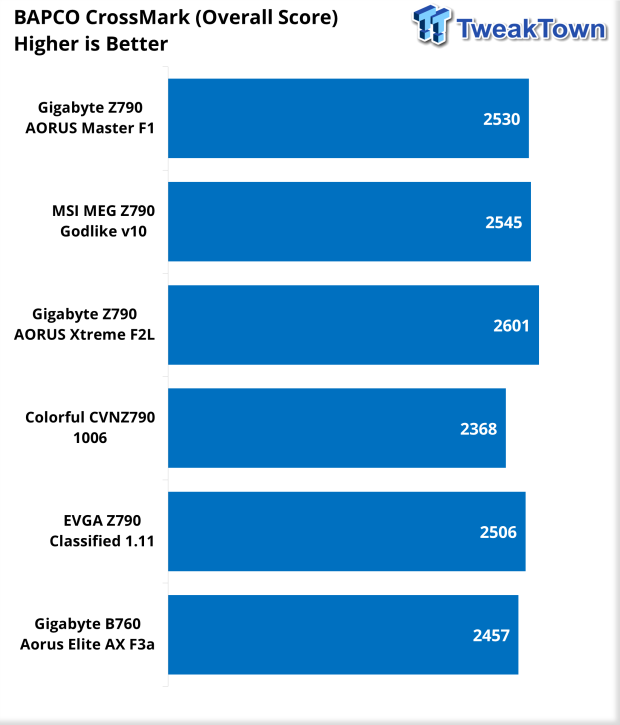 CrossMark finished at 2457 overall.
AIDA64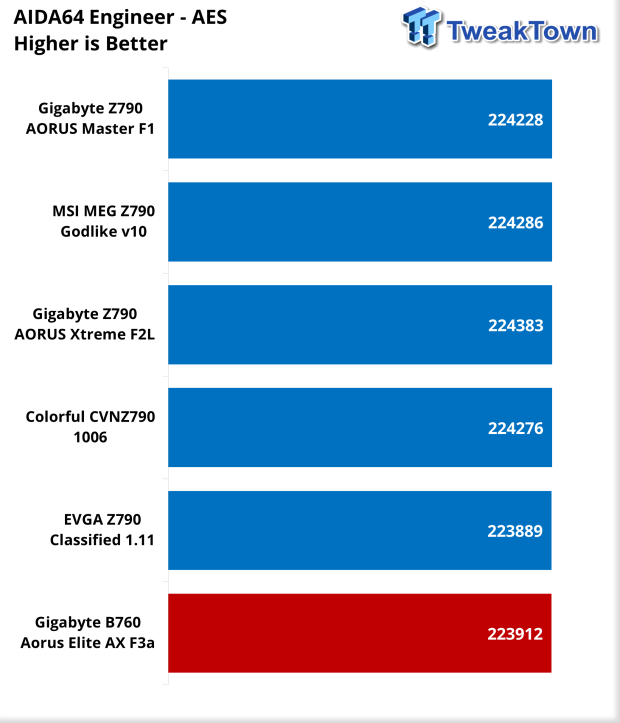 In AES, our 13700K scored 223912.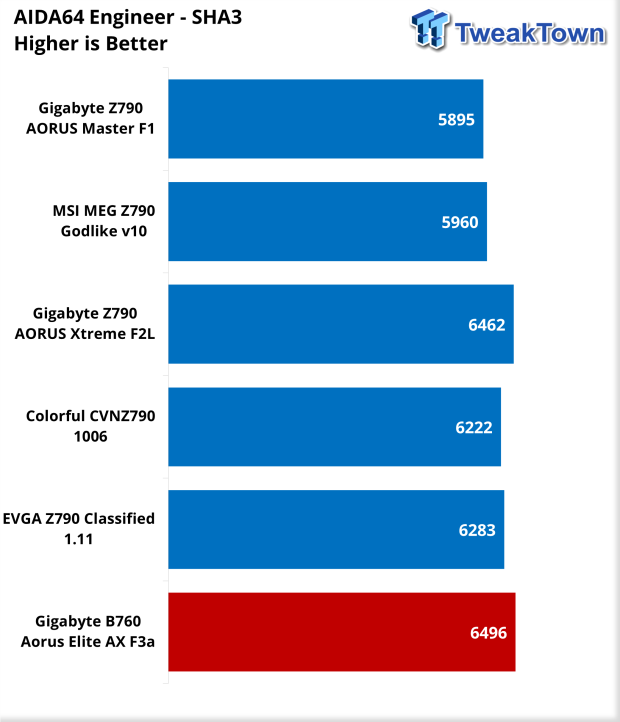 SHA3 offered 6496.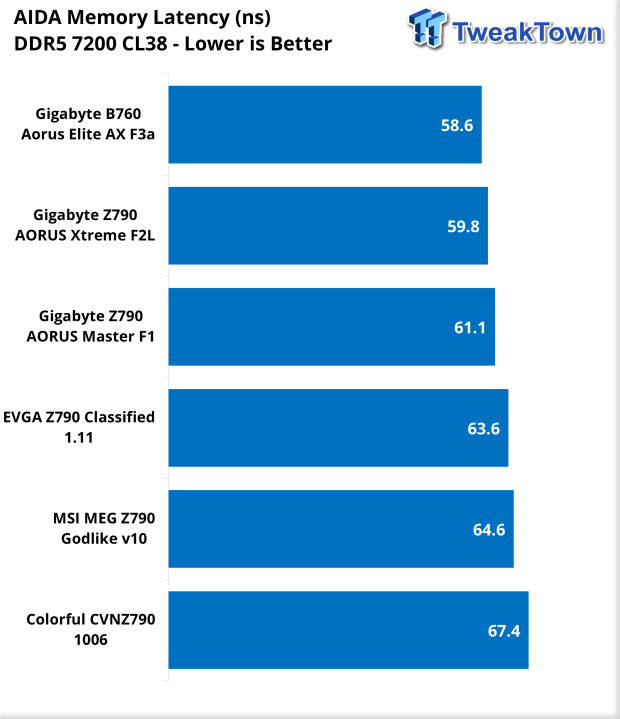 Memory latency landed at 58.6ns.
UL Procyon, 3DMark, and Gaming Benchmarks
UL Procyon Suite
The UL Procyon Office Productivity Benchmark uses Microsoft Office apps to measure PC performance for office productivity work.
The Photo Editing benchmark uses Adobe Lightroom to import, process, and modify a selection of images. In the second part of the test, multiple edits and layer effects are applied to a photograph in Adobe Photoshop.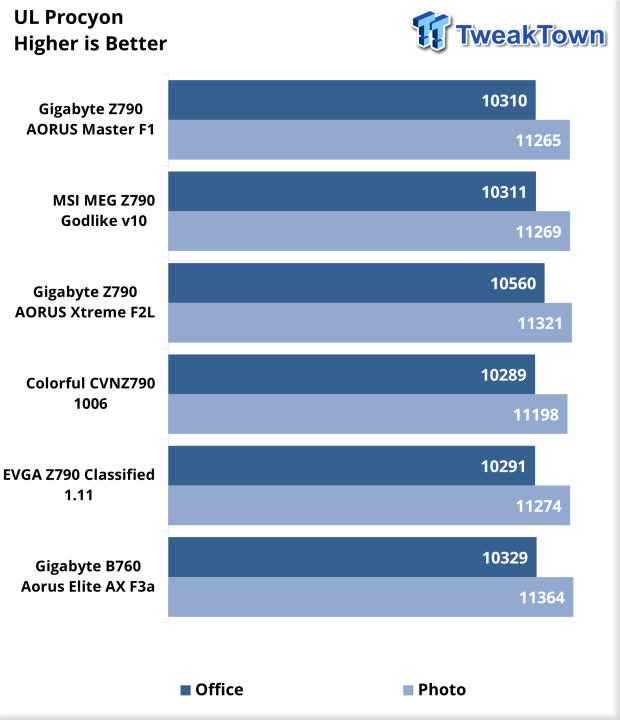 Procyon came in at 11364 in Photo workloads and 10329 in Office.
3DMark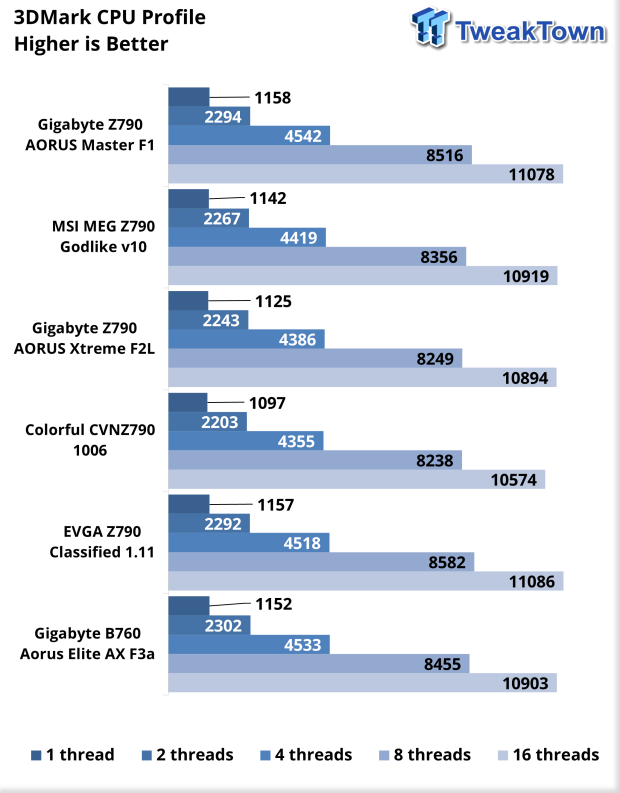 CPU Profile gave us a single thread score of 1152, the second highest to date, and a sixteen thread score of 10903.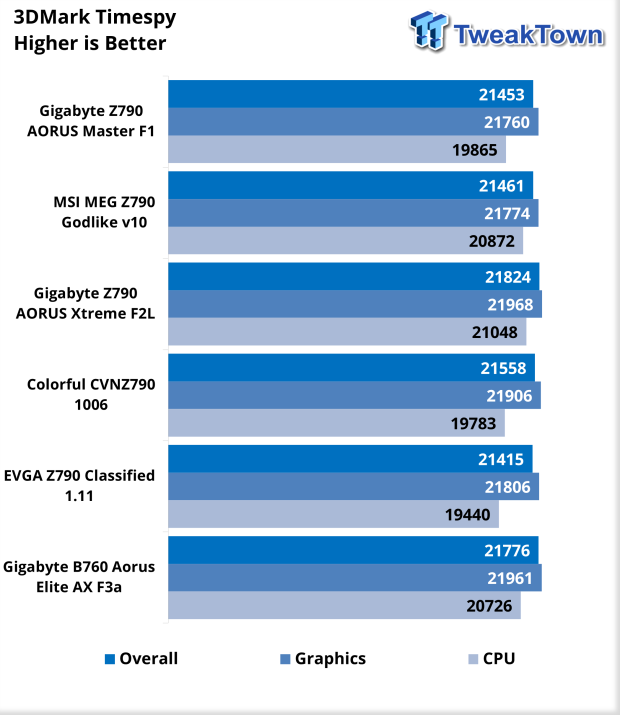 Time Spy finished with a 21776 score, on par with our Z790 motherboards.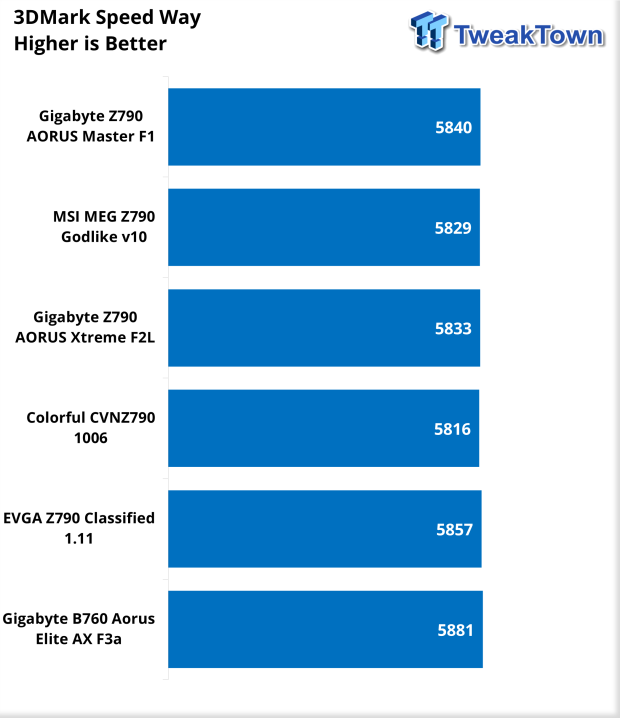 Speed Way scored 5881, yet again a new best from our test setup.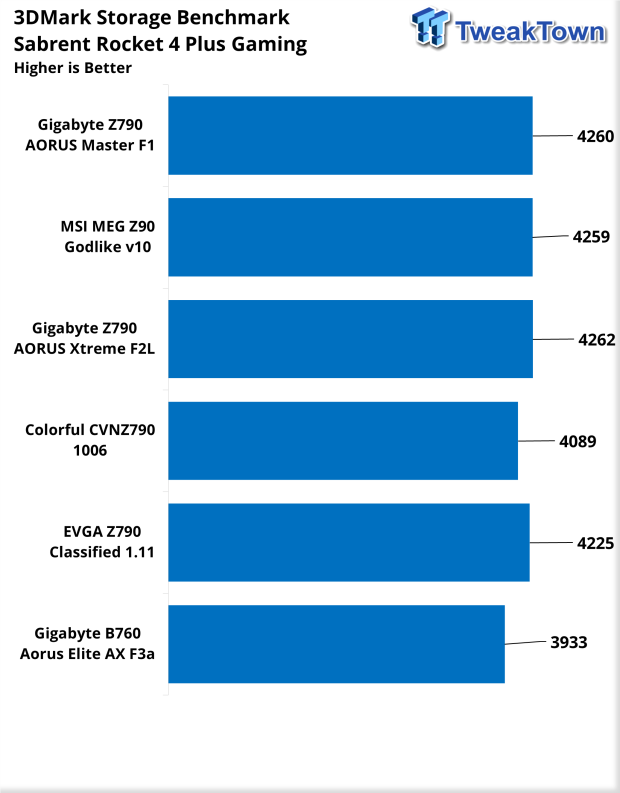 3DMark Storage scored 3933, a bit lower than usual.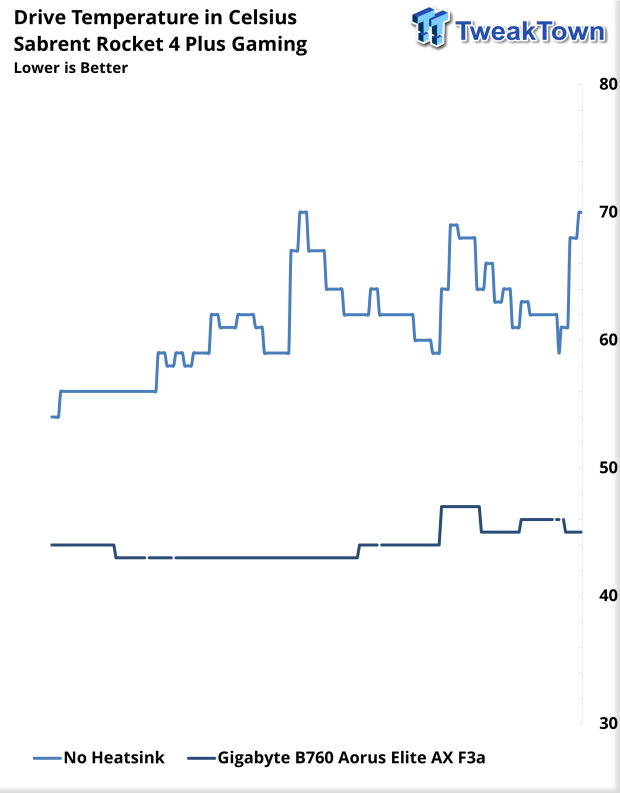 NVMe cooling on the B760 was quite good as well. We peaked near 47c on our Rocket G.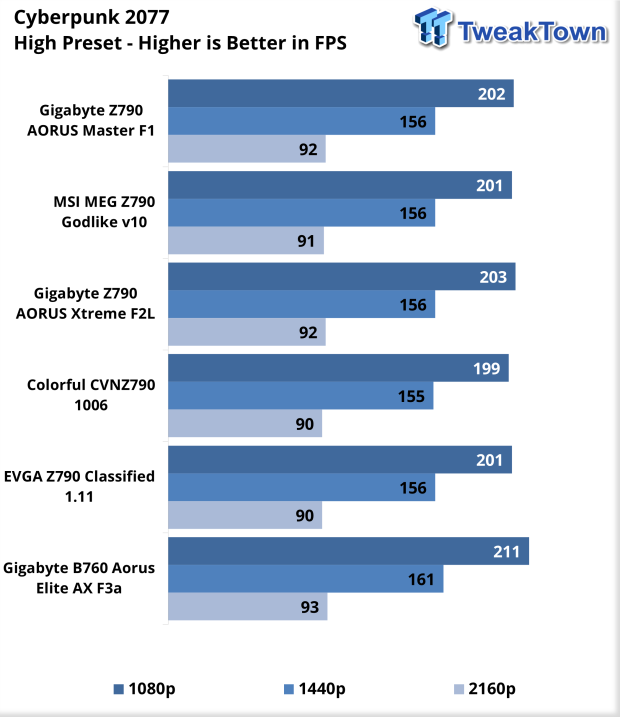 Cyberpunk showed fantastic performance. Our 3090 Ti worked a little harder, giving 211 FPS at 1080p and 93 FPS at 4K.
Power and Final Thoughts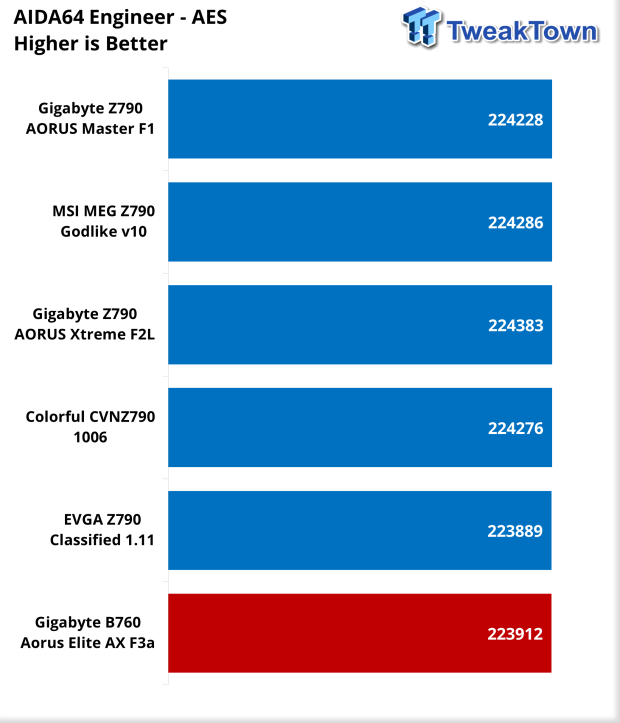 The power draw for the B760 matched that of some Z790 motherboards - 51 watts idle and 331 load.
Final Thoughts
GIGABYTE, equipped with their AORUS gaming brand, continues to impress me this generation with some of the best motherboards we have tested on either side - AM5 and LGA1700. The B760 keeps with this tradition, the latest BIOS offering noticeable performance increases with this platform matching and even beating some Z790 offerings on early BIOS revisions.
Loading up our XMP profile gave us our first inclination that this would be a good board, booting the 7200MHz profile with ease, but adding on this, we could tune it up to 7600MHz without touching voltages or timings. This gave us a kit running 7600MHz at CL34 with the voltage at 1.4, pushing our latency down lower than what we tested at - 56ns.
Running through our set of workloads, the AORUS did very well. We noted the highest nT score we have had in R23 to date. CPU Profile was similar at 10903 - the third best we have seen on this test setup. Procyon showed solid numbers for our application benchmarks, the Elite grabbing 11364 in Photo and 10329 in Office; both some of the better scores we have seen.
Looking at our gaming workloads, Time Spy and Speed Way both showed solid performance, with 21776 in Time Spy being the second-best we have seen and 5881 in Speed Way being the single-best score from this setup. Cyberpunk confirmed everything with a massive 211 FPS at 1080p high settings, and moving to 1440p and 4K, we saw 161 FPS and 93 FPS, respectively.
Moving into hardware, the B760 AORUS Elite has about half of the USB 3.2 ports of a Z790 offering, but GIGABYTE has done well offering a host of USB 2.0 ports for peripherals like keyboards and mice and six USB 3.2 ports, one going to USB-C for your high-speed storage devices, etc. Adding to this, we don't have any corners cut on the networking side, with Realtek handling 2.5Gbe and Intel getting the AX211 on this board.
As for pricing, at $179.99, this board is exceptionally well suited for anyone building a 12th or 13th Gen gaming machine. Competing boards would be the B760 Pro RS from ASRock and MSI MAG B760 Tomahawk Wi-Fi.