TweakTown's Rating: 96%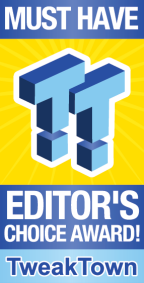 The Bottom Line
4TB of superfast armored portable storage? Yes please.
Pros
+

Compatibility

+

Read throughput

+

Sustained sequential write
Cons
Should you buy it?
Avoid
Consider
Shortlist
Buy
Introduction & Drive Details
Back in June of last year, we got our first taste of Samsung's T7 Shield 1TB and that left us wanting for more. Today we have more, 4x more, to be specific. Samsung is now offering its T7 Shield portable SSD in a massive 4TB option. With this new model, Samsung is going directly after professional content creators with an appetite for high capacity.
To that point, Blackmagic Design, well known for its high-end digital cameras, worked with Samsung to validate and bring forth the 4TB T7 Shield. Samsung's T7 Shield is the first USB 3.2 Gen 2 portable SSD validated to support the Blackmagic URSA Mini PRO 12K camera. Impressive. The 4TB model we are testing today is ideally suited for 12K video as it can not only deliver the recording performance 12K demands, but at 4TB, it offers up to 88 minutes of recording time.
Importantly, as it relates to high-definition video recording, Samsung's T7 Shield is designed for high sustained write performance as the drive fills up. This becomes very important for super high-resolution videos such as 12K, where sustained write speeds of up to 900 MB/s need to be maintained for the full capacity of the storage device. Samsung states the T7 Shield can, with an ambient temperature of 25°C, maintain above 900 MB/s sequential write for its full capacity. Impressive.
Samsung's T7 Shield is designed with some key factors in mind. First off, and as its naming indicates, the T7 Shield will keep your data well shielded from accidental physical harm, including dropping, moisture, dust, or heat.
The T7 Shield is drop-proof tested to a height of 3 meters, moisture tested with fresh water projected from a nozzle 3 meters away at 12.5 l/min for 3 minutes, and dustproof verified to a level of IP65 rating based on internal testing conducted under controlled conditions. Additionally, Samsung's T7 Shield is power-efficient and follows USB power specifications, allowing it to be compatible with a broad variety of host devices.
Everything we love about the T7 Shield, only more of it. Well, let's put some numbers to our 4TB test subject and see if it can deliver as impressively as its 1TB sibling did.
Enclosure Details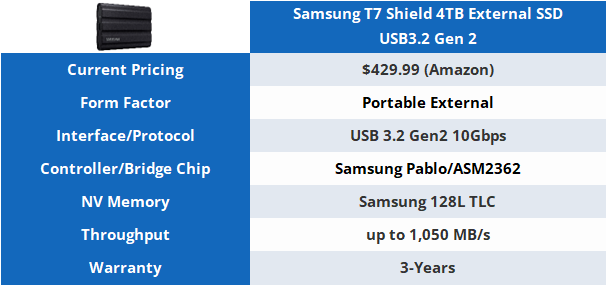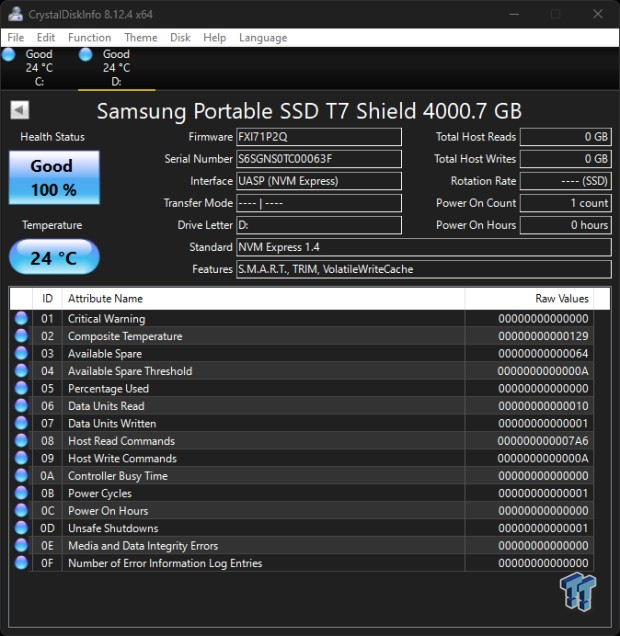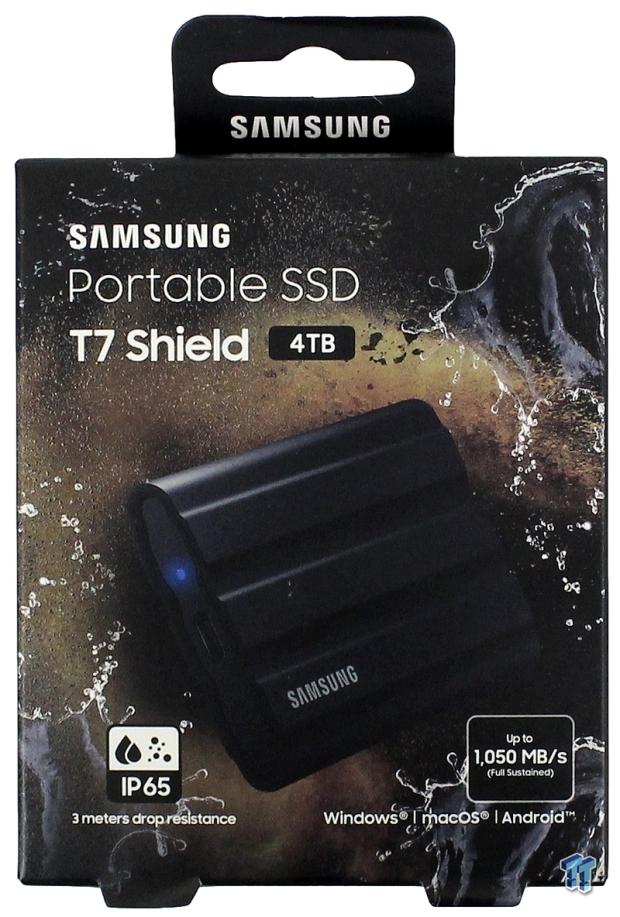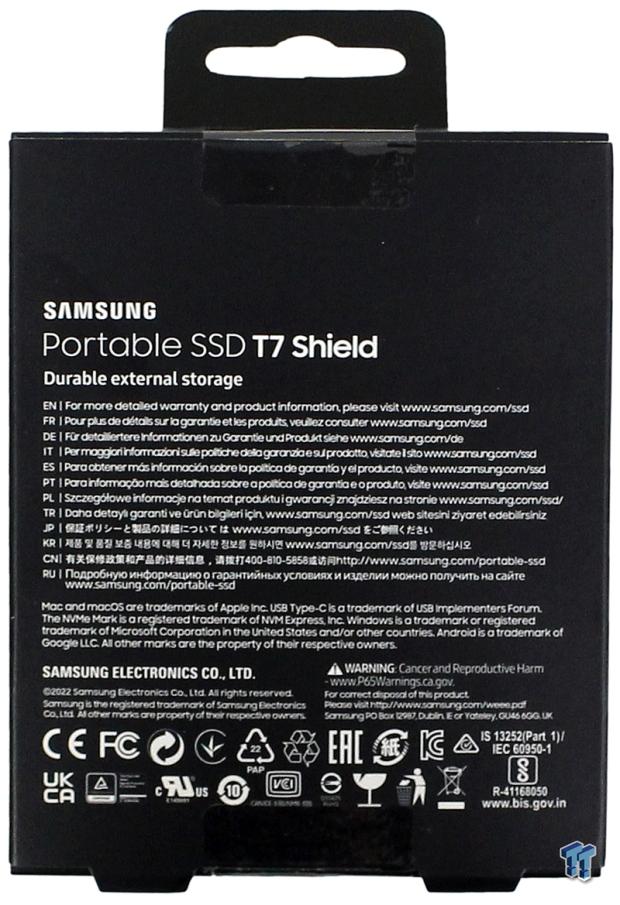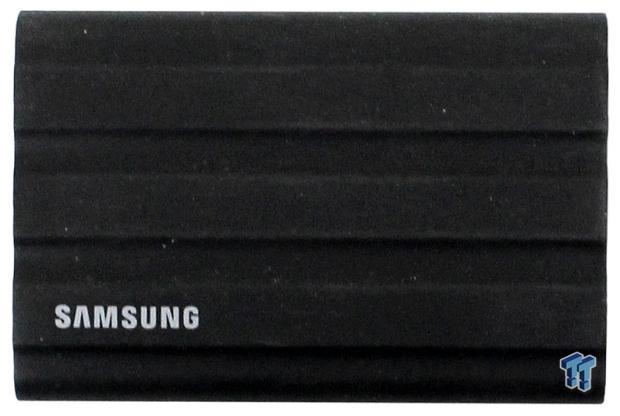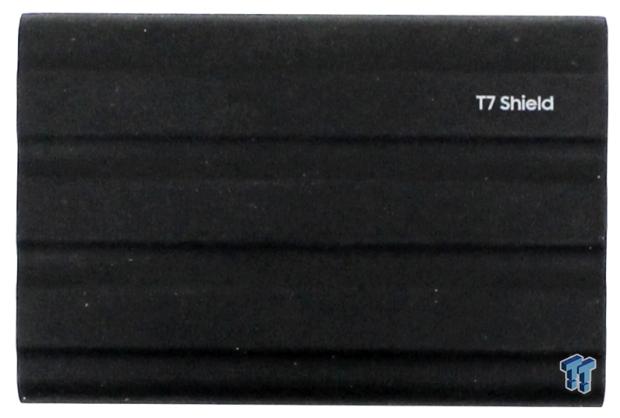 The T7 Shield exudes quality, the kind that needs to be felt in hand to be fully appreciated. The drive's integrated rubberized protective sheathing feels tacky without being sticky, providing a confident feeling that it won't inadvertently slip away.
Synthetic Benchmarks: CDM, ATTO & Blackmagic
CrystalDiskMark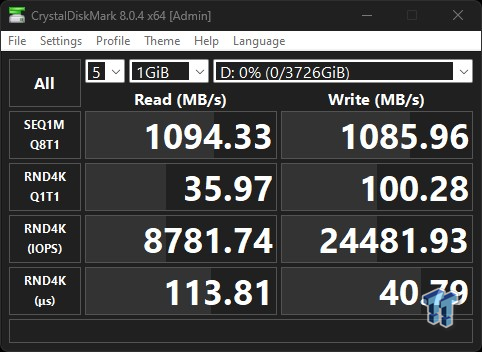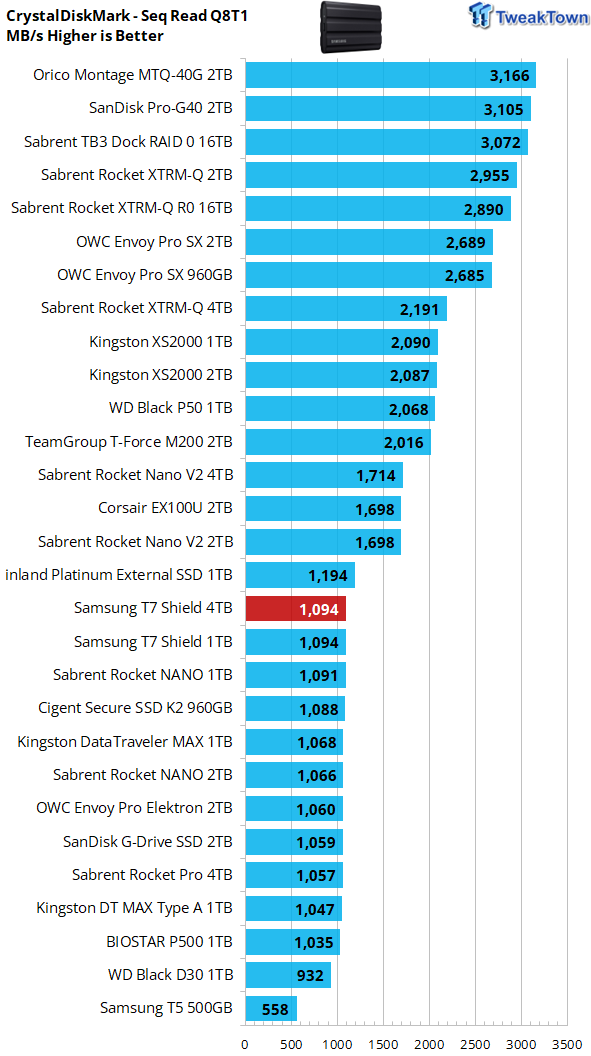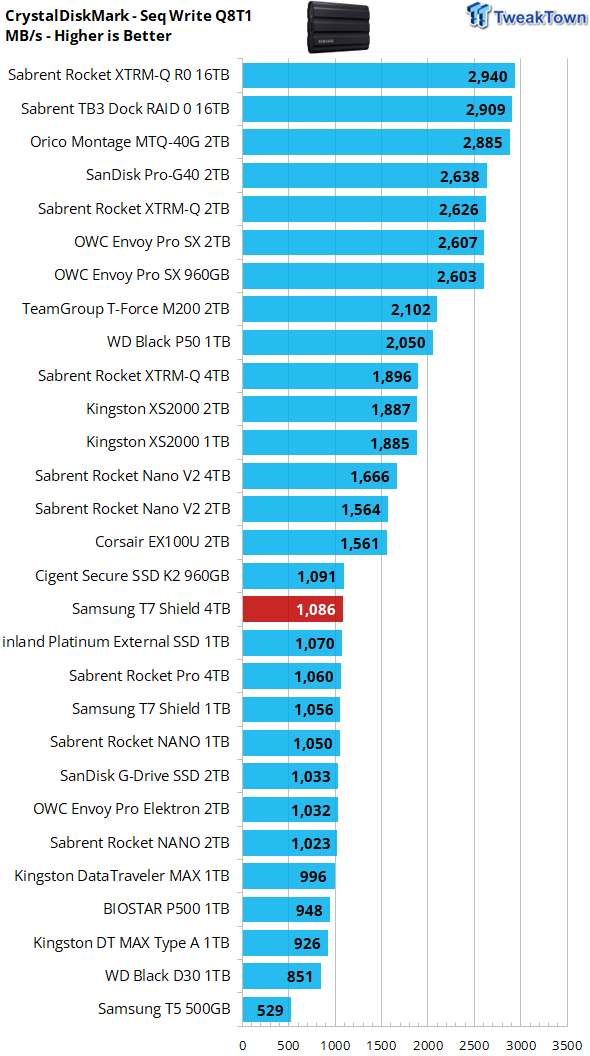 Out test subject delivers as advertised and then some. Top of the food chain throughput for a 10Gbps interfaced portable device. Excellent. Additionally, as we know from previous testing, the T7's low queue depth random performance verifies its competence as an extended data disk or a portable gaming drive.
ATTO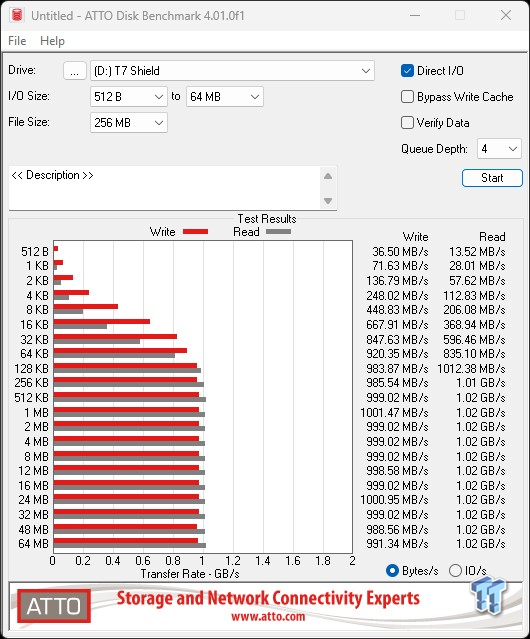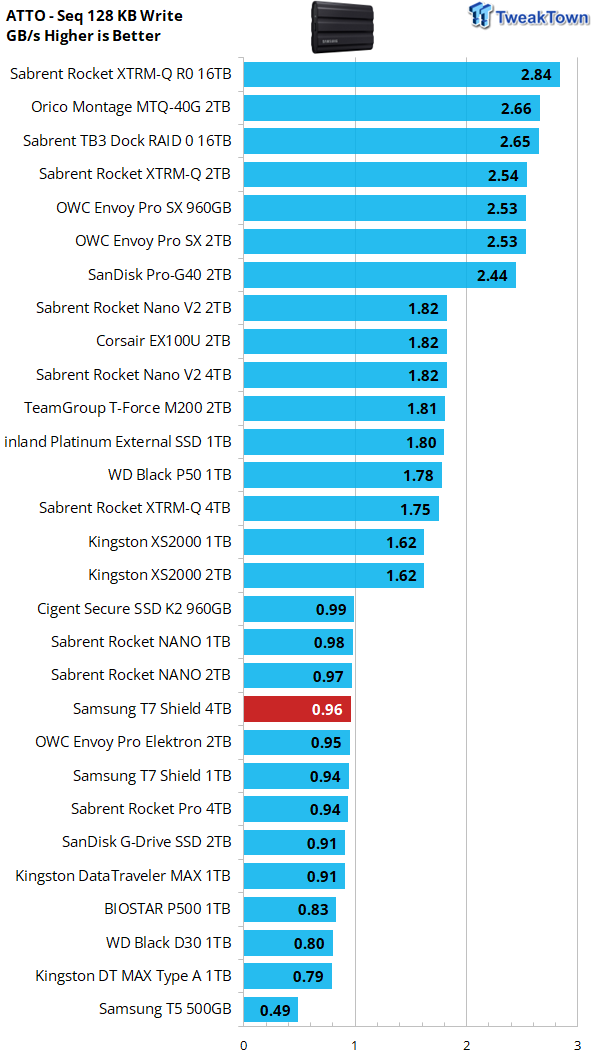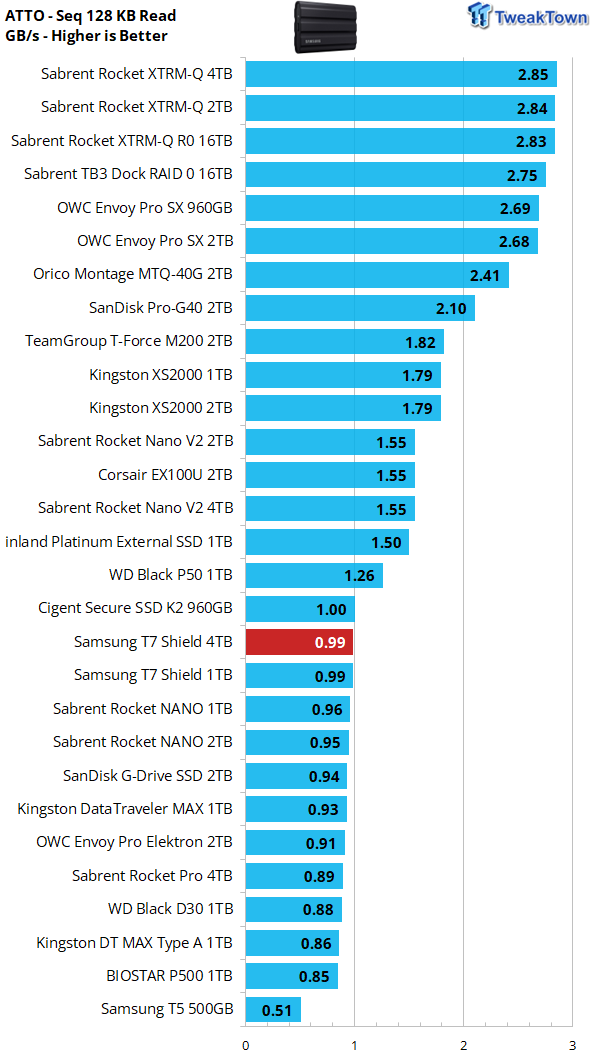 ATTO demonstrates the T7 Shield 1TB delivering full performance at 128K transfers, and precisely what we like to see from any storage device.
Blackmagic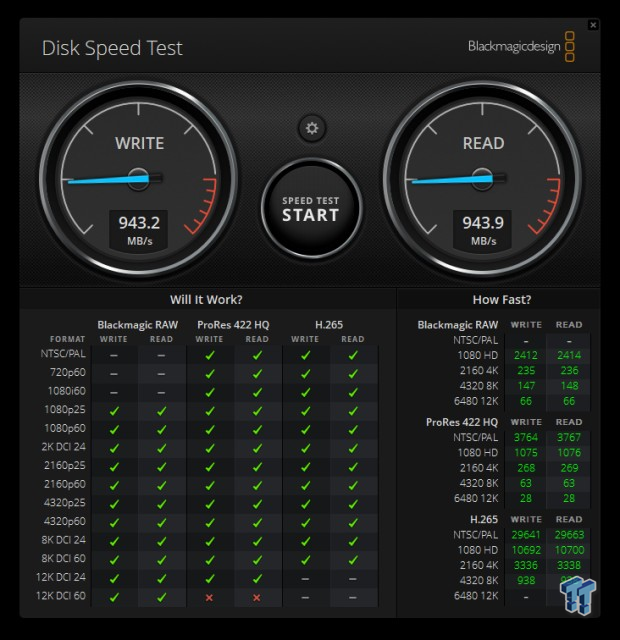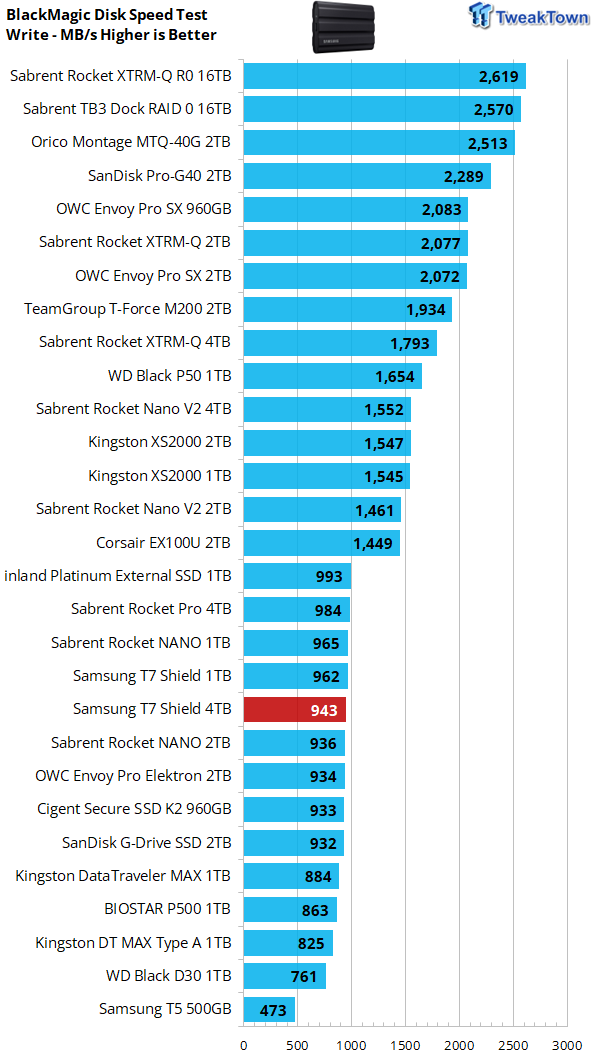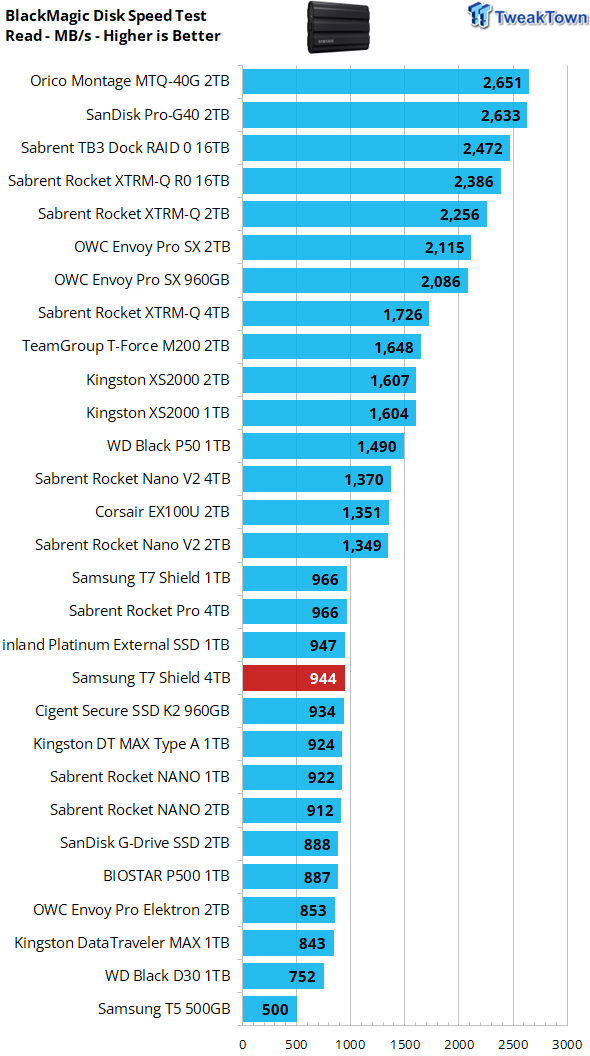 Looking at the Blackmagic raw performance as measured by Blackmagic Design's disk speed test, we can see that our test subject can indeed deliver the performance required for its 12K camera at 60 frames. Verified.
Real-World Testing: PCMark 10, 3DMark SSD Gaming & Transfer Rates
PCMark 10 Data Drive Benchmark
The Data Drive Benchmark is designed to test drives that are used for storing files rather than applications. You can also use this test with NAS drives, USB sticks, memory cards, and other external storage devices.
The Data Drive Benchmark uses three traces, running three passes with each trace as follows:
Copying 339 JPEG files, 2.37 GB in total,?into?the target drive (write test).

Making a copy of the JPEG files (read-write test).

Copying the JPEG files to another drive (read test).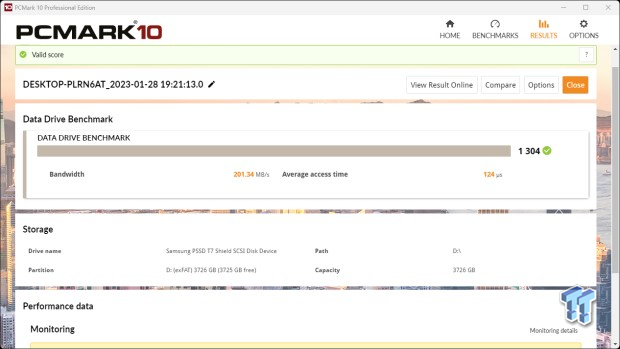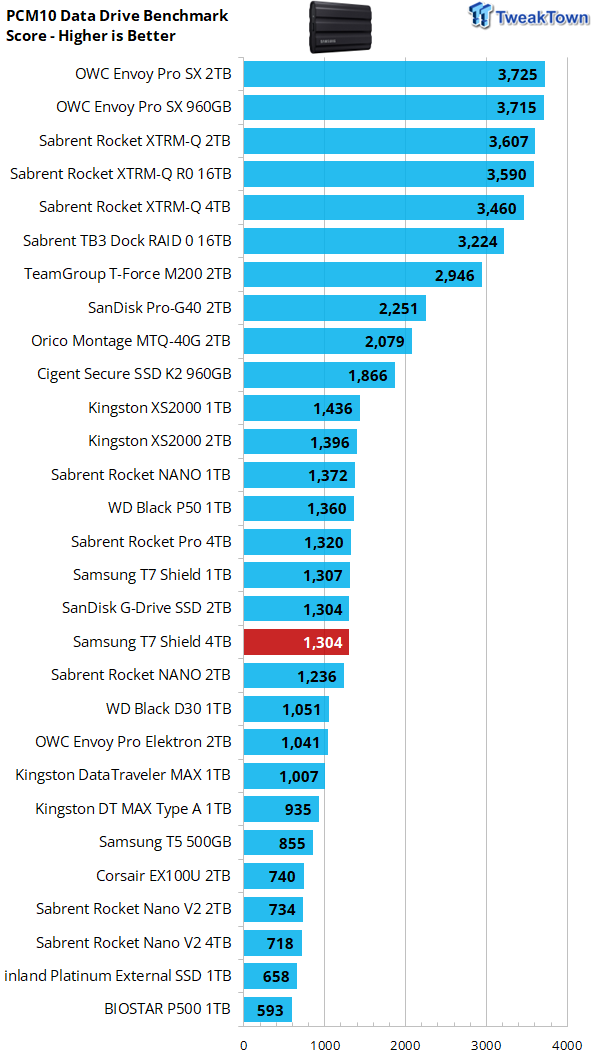 Like its smaller sibling before it, the 4TB T7 Shield makes for an excellent extended data drive, and this is especially impressive for a device running within USB power specs.
3DMark SSD Gaming Test
UL's newest 3DMark SSD Gaming Test is the most comprehensive SSD gaming test ever devised. We consider it superior to testing against games themselves because, as a trace, it is much more consistent than variations that will occur between runs on the actual game itself. This test is the same as running the actual game, just without the inconsistencies inherent to application testing.
In short, this is the world's best way to test an SSDs gaming prowess and accurately compare it against competing SSDs. The 3DMark SSD Gaming Test measures and scores the following:
Loading Battlefield V from launch to the main menu.

Loading Call of Duty Black Ops 4 from launch to the main menu.

Loading Overwatch from launch to the main menu.

Recording a 1080p gameplay video at 60 FPS with OBS (Open Broadcaster Software) while playing Overwatch.

Installing The Outer Worlds from the Epic Games Launcher.

Saving game progress in The Outer Worlds.

Copying the Steam folder for Counter-Strike Global Offensive from an external SSD to the system drive.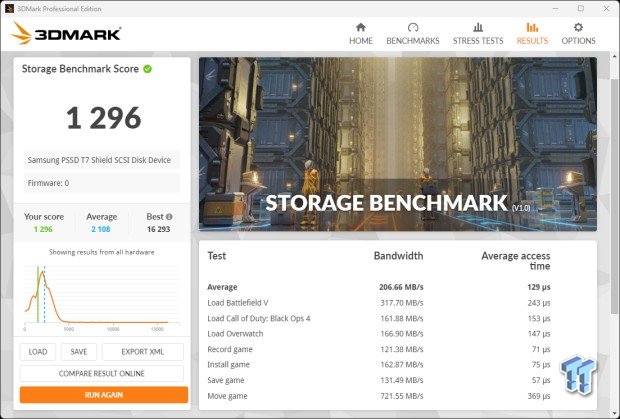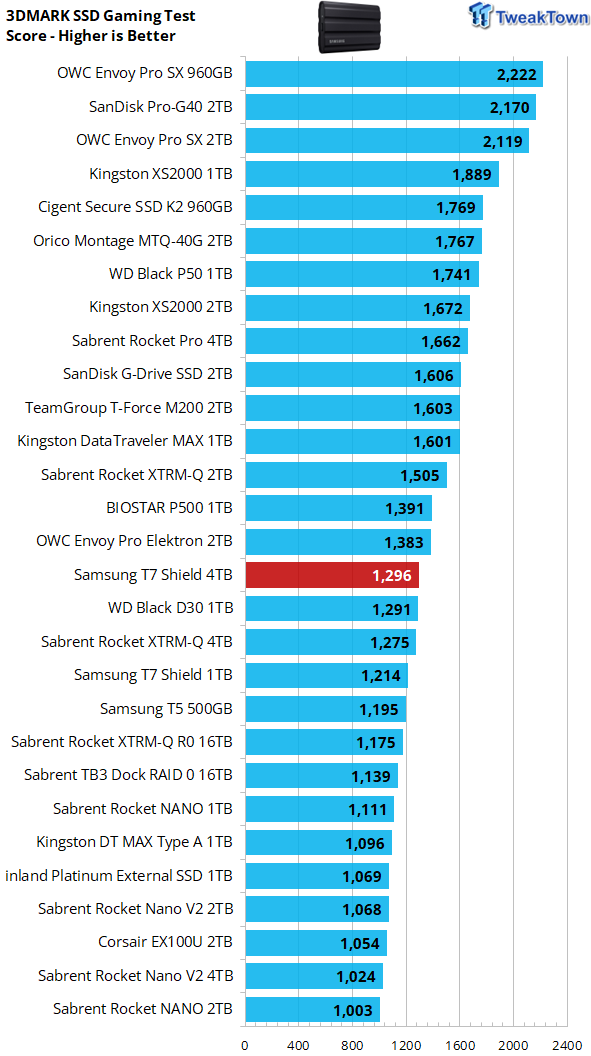 Gaming is a performance metric that matters to most DIY consumers, especially to the enthusiast crowd that TweakTown caters to. We are now including gaming performance as a part of our external SSD reviews, as using portable storage for gaming duties is very popular among avid gamers.
4TB of fast, fully compatible portable storage is a nice complement to any console or PC gaming device.
DiskBench - Transfer Rates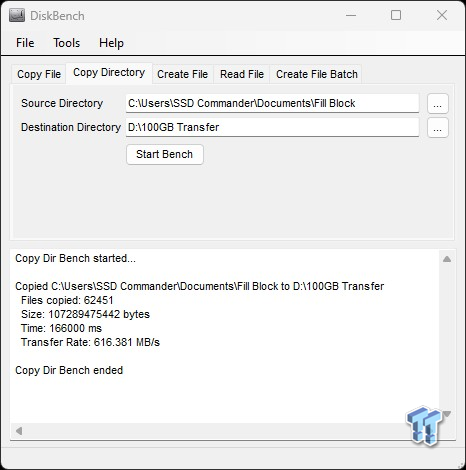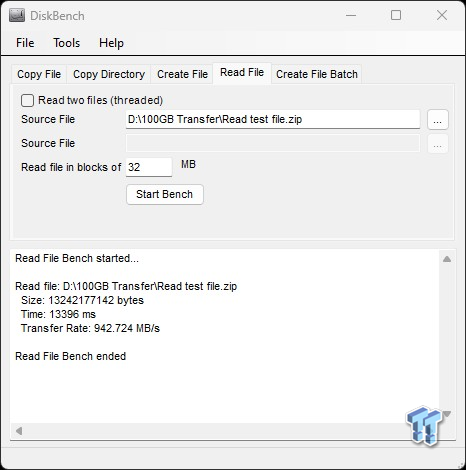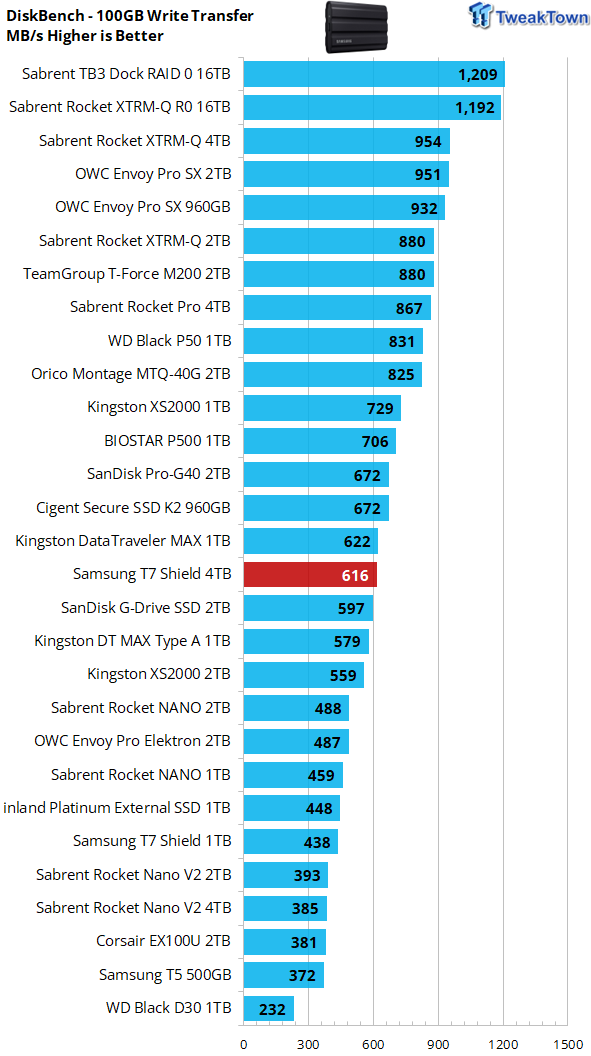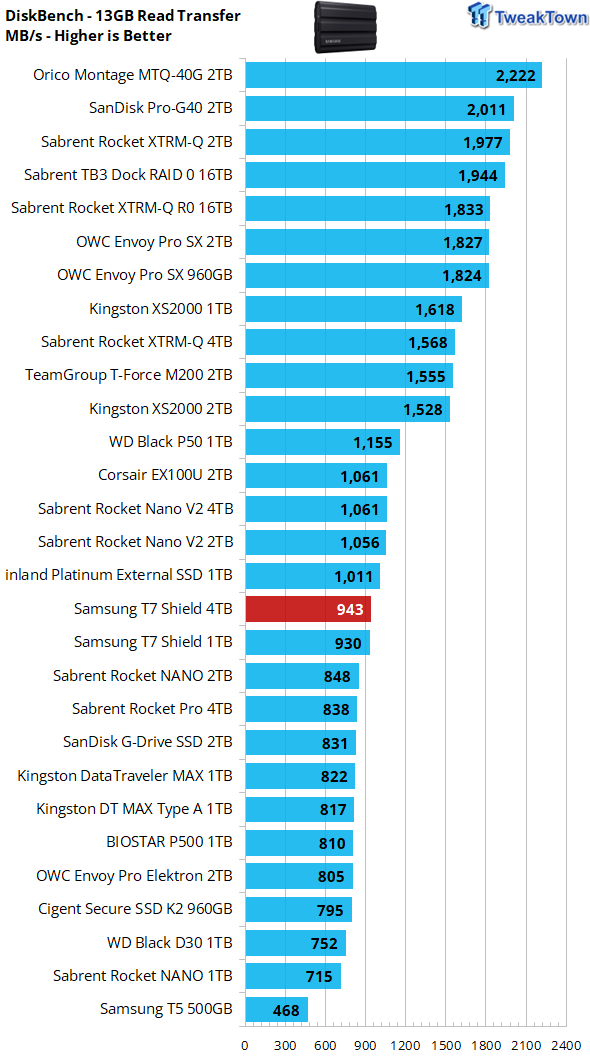 We brutalize our test subjects with our extremely hard-to-swallow 100GB data block. This data block is the same one we use for our internal SSD testing and comprises more than 62K files. This is where the rubber meets the road for a portable SSD used for PC data storage (not video files).
Real-world write performance is exceptional for a 10Gbps device; in fact, it's nearly 50% better than its 1TB sibling. Real-world read performance is stellar and class-leading for a 3.2 Gen2 device. Impressive.
Final Thoughts
Having already tested its 1TB sibling, we knew the 4TB model would be an excellent performer. Even so, the 4TB T7 Shield did surprise us when it came to our brutal 100GB write transfer testing, where it delivered nearly 50% better than the 1TB model. Now that's impressive, especially considering it is among the very best we've ever seen from a 10Gbps storage device.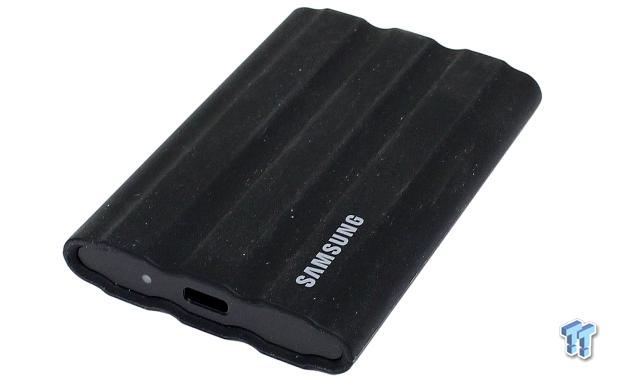 Performance is outstanding and based on that alone, Samsung's T7 Shield is worthy of our highest award. However, what we love most about the T7 Shield might be easily overlooked by a review like this because it must be physically felt to be fully appreciated.
We are referring to the unique rubberized sheathing that covers the T7 Shield, and this protective sheathing makes the T7 Shield stand out from the crowd.
Editor's Choice.