TweakTown's Rating: 96%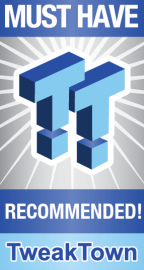 The Bottom Line
Overall the best performing 20Gbps portable SSD we've ever tested.
Pros
+

Rugged

+

Professional grade

+

Transfer rates
Cons
Should you buy it?
Avoid
Consider
Shortlist
Buy
Introduction & Drive Details
Back in January of this year, we had the pleasure of reviewing Samsung's rugged and capacious 4TB T7 Shield. The drive gave us everything we wanted from a rugged portable storage device, with the single drawback being speeds limited to a 10Gbps interface. We loved its slim compact design and especially loved its integrated grippy rubberized armor coating.
Fast forward to today, where Samsung is introducing a new portable SSD with similar physical traits to the T7 that we love, but this time, we are getting up to twice the speed via its 20Gbps interface. Samsung's T9 is its first USB 3.2 Gen2 x2 SSD. This speedy armored portable is capable of delivering up to 2,000 MB/s throughput.
To us, it appears the internal case is the same reinforced aluminum body as was used for the T7 Shield. However, that grippy rubberized armor coating we love so much is even thicker this time around. As it was with its predecessor, the T9 is factory-validated as able to withstand repeated drops of up to three meters. Impressive.
Samsung is targeting professional content creators with its T9. Essential for filling this role is high sustained write performance. Samsung states its T9 is capable of delivering outstanding sustained write performance until the entire capacity is filled and can be directly connected to an 8K or 12K high-resolution camera. This is also where capacity is king and why Samsung has a 4TB model on offer.
The other part of the equation for professional content creators is fast transfer rates from the portable storage device to a computer for editing and backup. This is where the T9 shines with up to 2,000 MB/s throughput. Additionally, thanks to outstanding speed and ample capacity of up to 4TB, editing can be done directly on the portable SSD without transmitting data to other hosts, eliminating unnecessary steps.
Finally, the T9, like its predecessors, is supremely power efficient for a bridge-chip design. With 0.67W idle power and peak power up to 7.3W when connected by the USB Type-C, the T9 consumes up to 4.8 times less power than competing products. In turn, less power consumption means less heat. According to Samsung, the T9's surface temperature, when compared to competing products, is up to 7? lower.
It sounds like another well-architected design from Samsung. Now, let's see how well the T9 stacks up against the competition in terms of performance.
Drive Details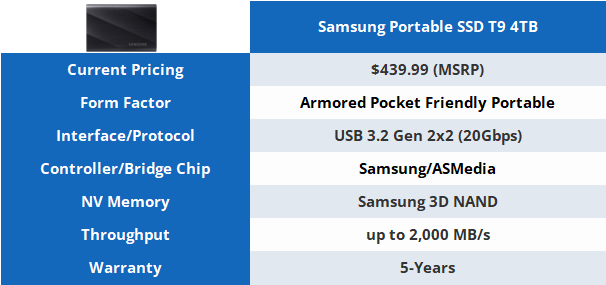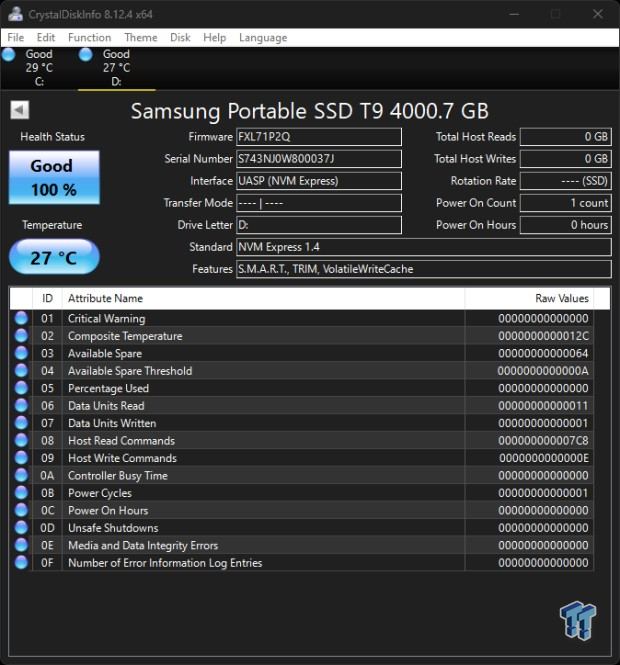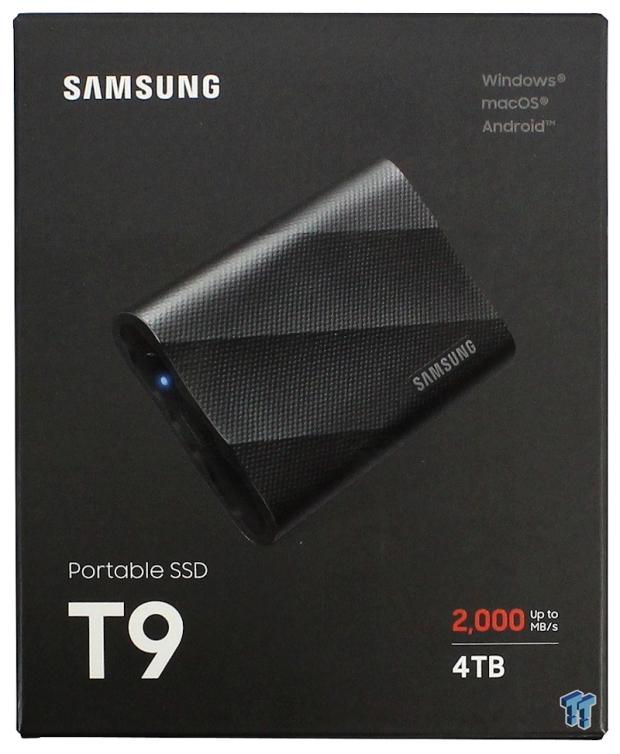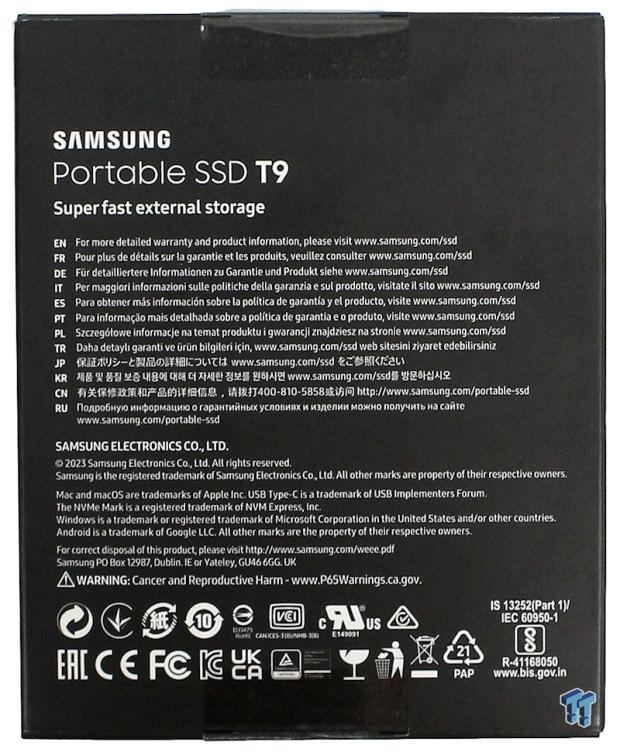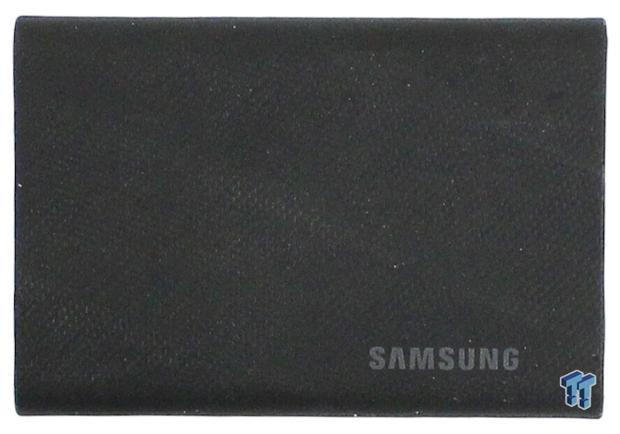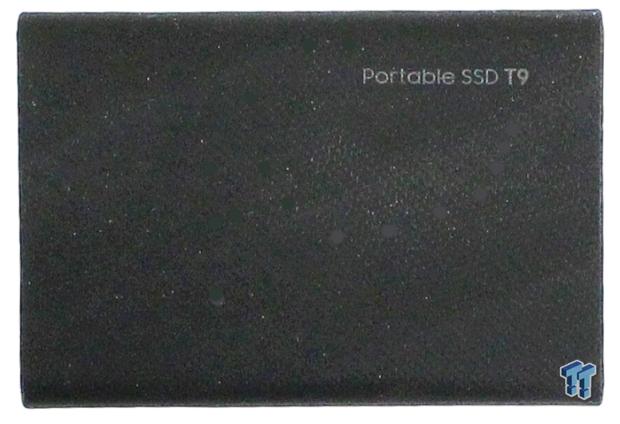 The T9 is the kind of quality that is hard to describe with words and really needs to be felt in the hand to fully appreciate its build quality. The woven texture on the rubberized armor imbues confidence that this thing isn't going to slip away from your grip. Samsung provides both a Type-C to A cable and a Type-C to C cable.
Synthetic Benchmarks: CDM, ATTO & Blackmagic
CrystalDiskMark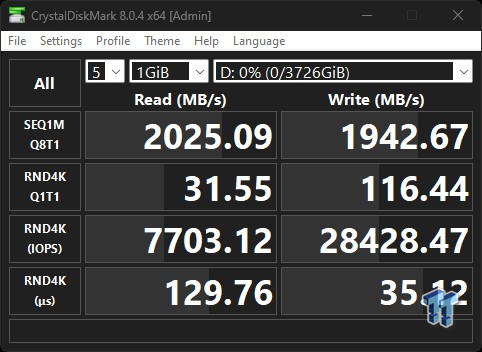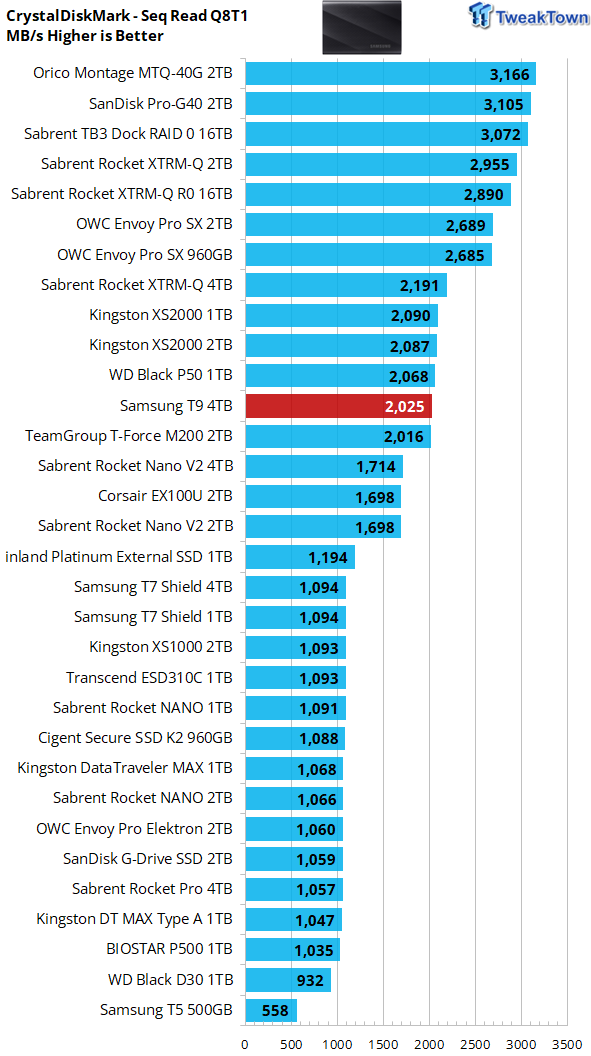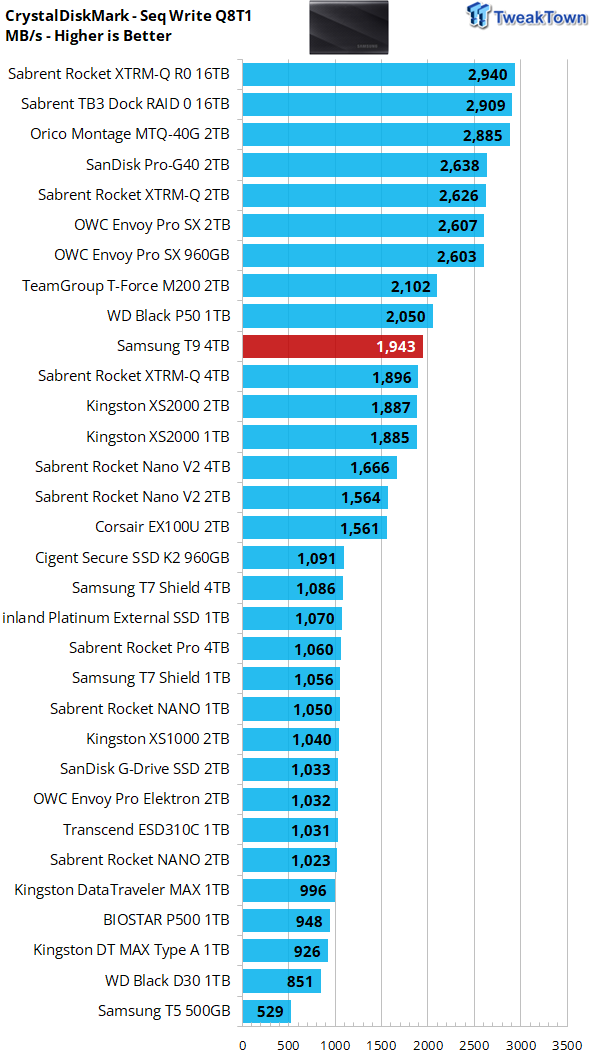 Excellent sequential throughput for a 20Gbps interfaced portable device. At 2,025 MB/s, our test subject does indeed deliver as advertised. QD1 random performance indicates that the drive can even serve a competent role as portable gaming storage.
ATTO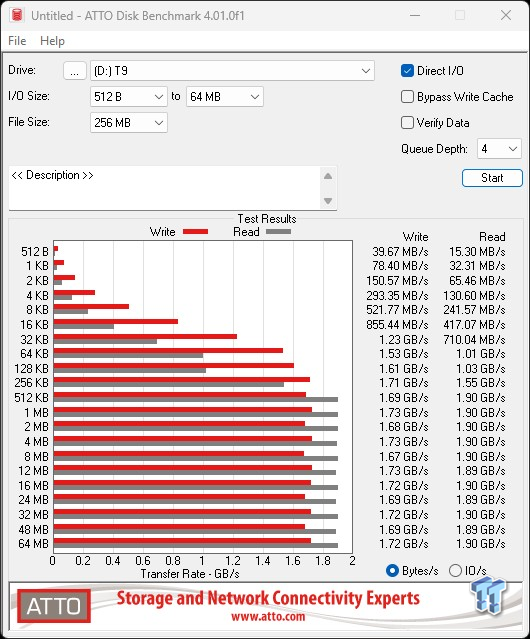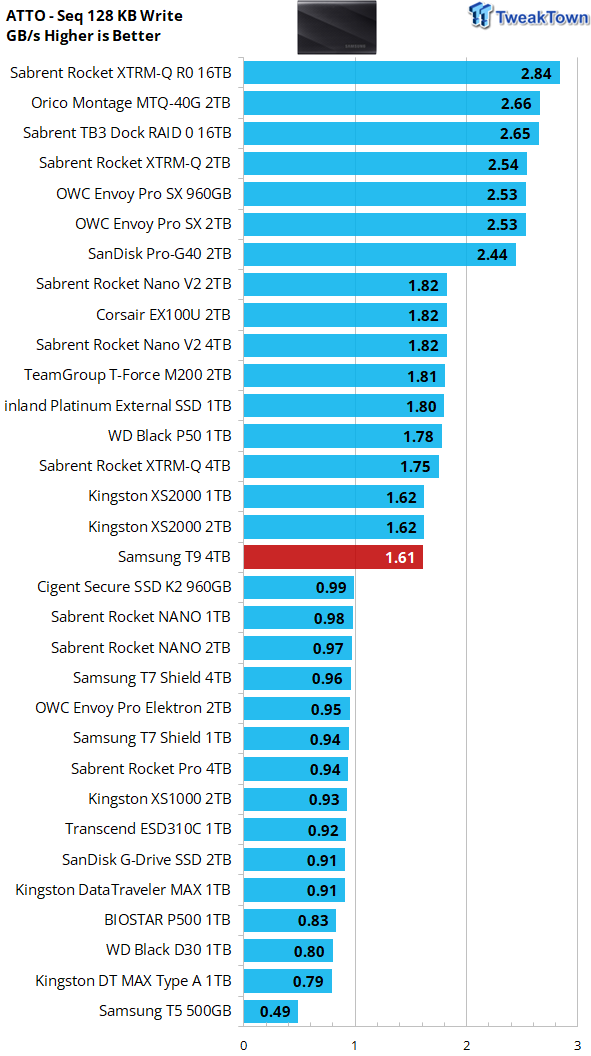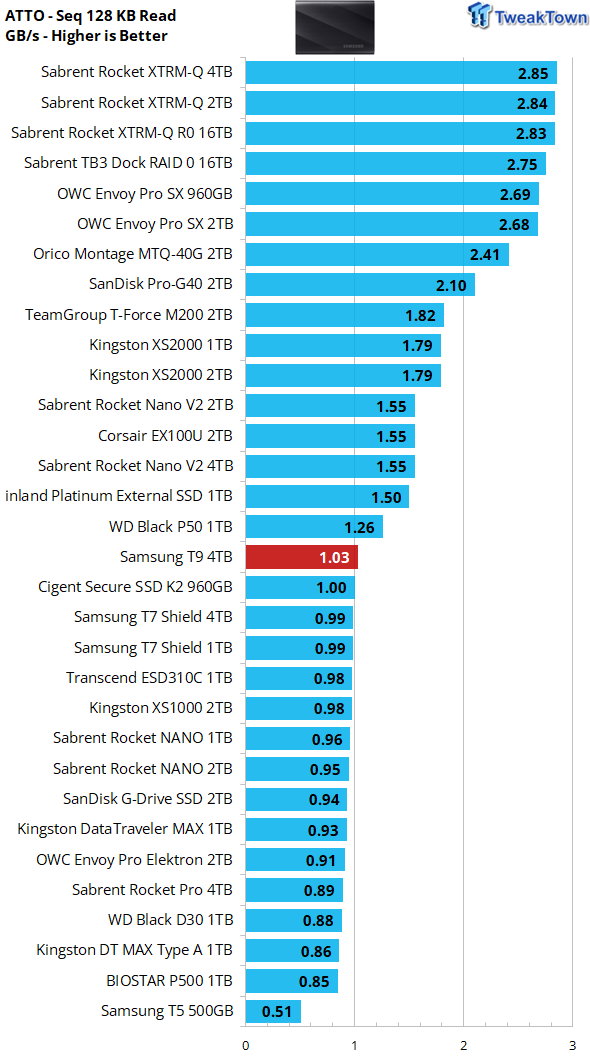 ATTO demonstrates the T9 favors file transfer sizes of 256KB or more when writing data and 512KB or more when reading to the host.
Blackmagic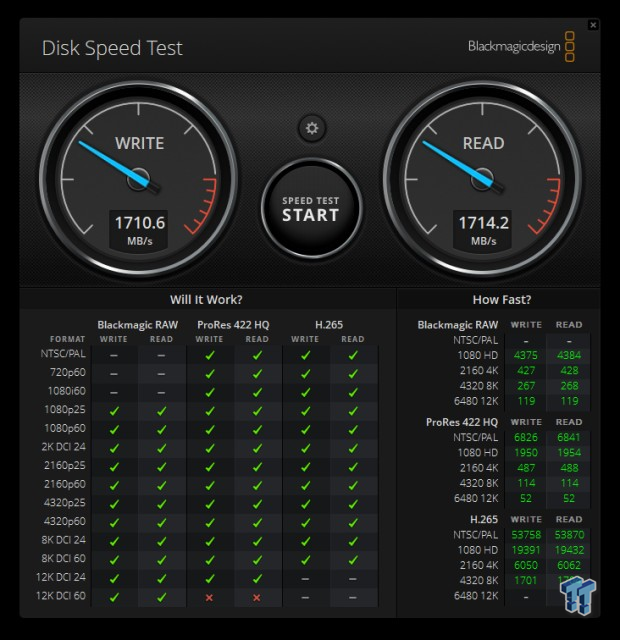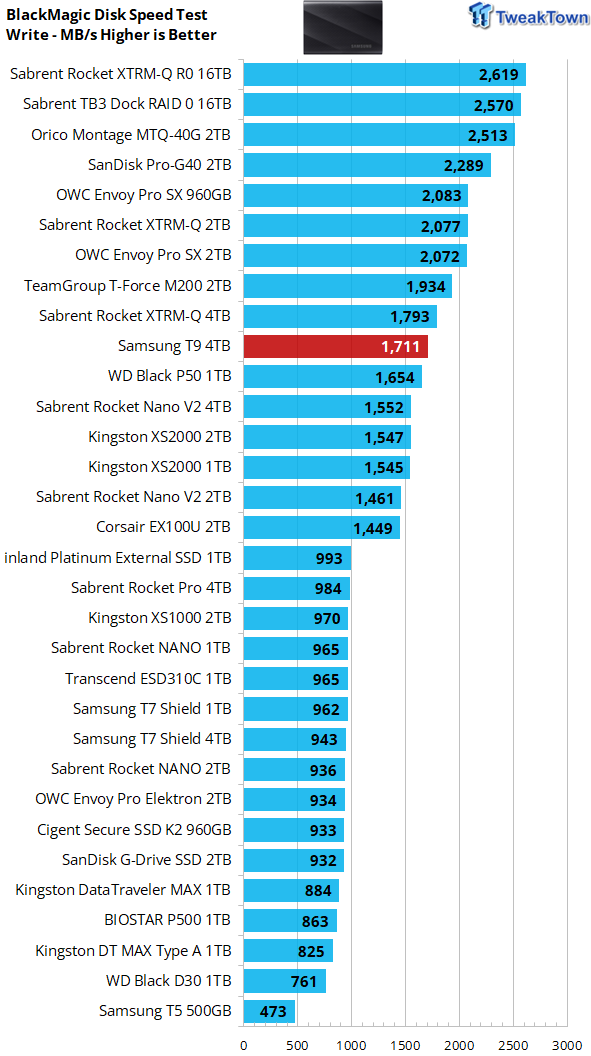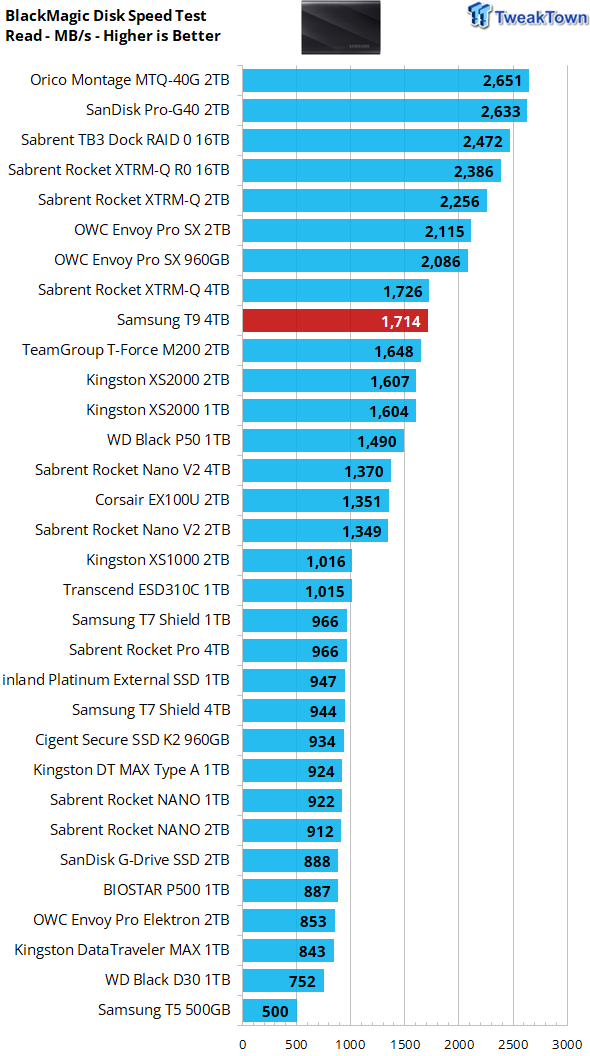 When serving data to the host (reading), we find our test subject delivering the best we've seen to date for a 20Gbps storage device. Outstanding. The T9 manages second best when programing (writing data).
Real-World Testing: PCMark 10, 3DMark SSD Gaming & Transfer Rates
PCMark 10 Data Drive Benchmark
The Data Drive Benchmark is designed to test drives that are used for storing files rather than applications. You can also use this test with NAS drives, USB sticks, memory cards, and other external storage devices.
The Data Drive Benchmark uses 3 traces, running 3 passes with each trace as follows:
Copying 339 JPEG files, 2.37 GB in total,?into?the target drive (write test).

Making a copy of the JPEG files (read-write test).

Copying the JPEG files to another drive (read test).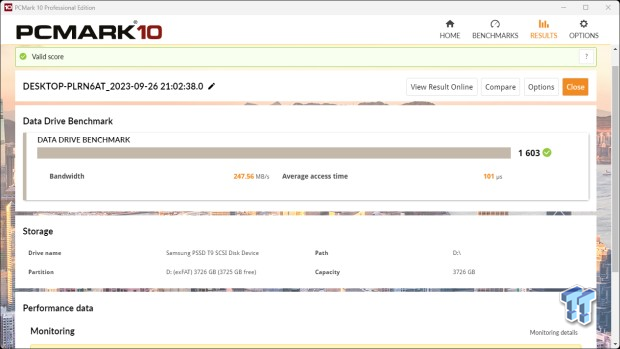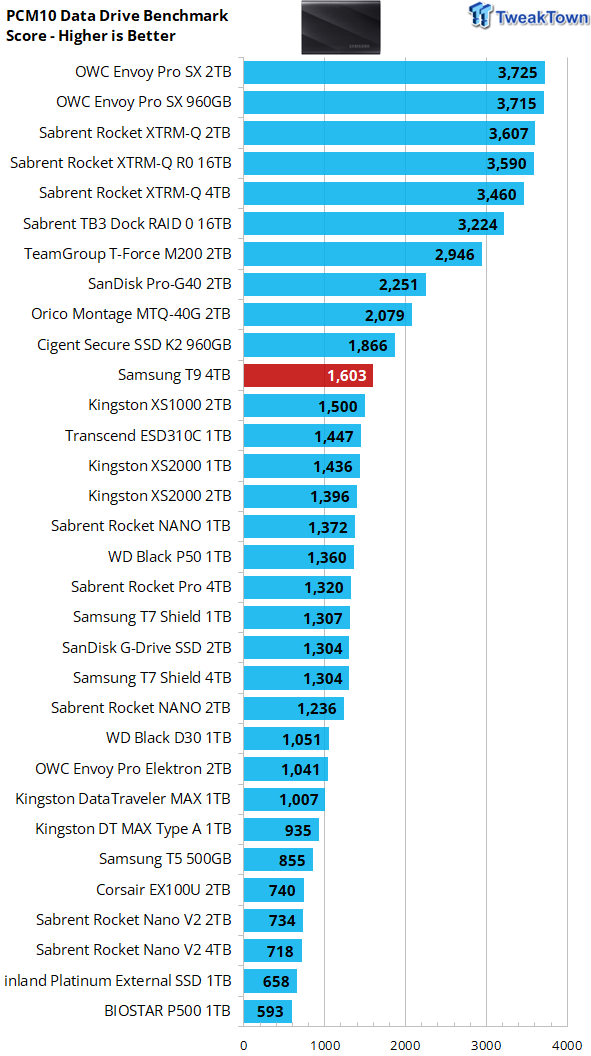 Excellent result here. Again, the second-best we've extracted from a 20Gbps device. Samsung states the T9 is well suited for on-device editing, and this result verifies that claim.
3DMark SSD Gaming Test
UL's newest 3DMark SSD Gaming Test is the most comprehensive SSD gaming test ever devised. We consider it superior to testing against games themselves because, as a trace, it is much more consistent than variations that will occur between runs on the actual game itself. This test is the same as running the actual game, just without the inconsistencies inherent to application testing. In short, we believe that this is the world's best way to test an SSD's gaming prowess and accurately compare it against competing SSDs. The 3DMark SSD Gaming Test measures and scores the following:
Loading Battlefield V from launch to the main menu.

Loading Call of Duty Black Ops 4 from launch to the main menu.

Loading Overwatch from launch to the main menu.

Recording a 1080p gameplay video at 60 FPS with OBS (Open Broadcaster Software) while playing Overwatch.

Installing The Outer Worlds from the Epic Games Launcher.

Saving game progress in The Outer Worlds.

Copying the Steam folder for Counter-Strike Global Offensive from an external SSD to the system drive.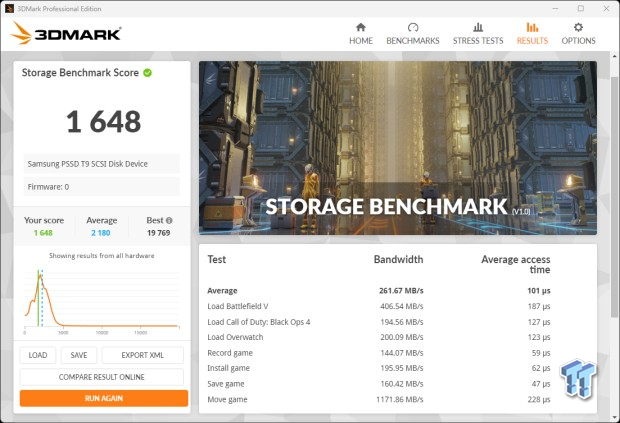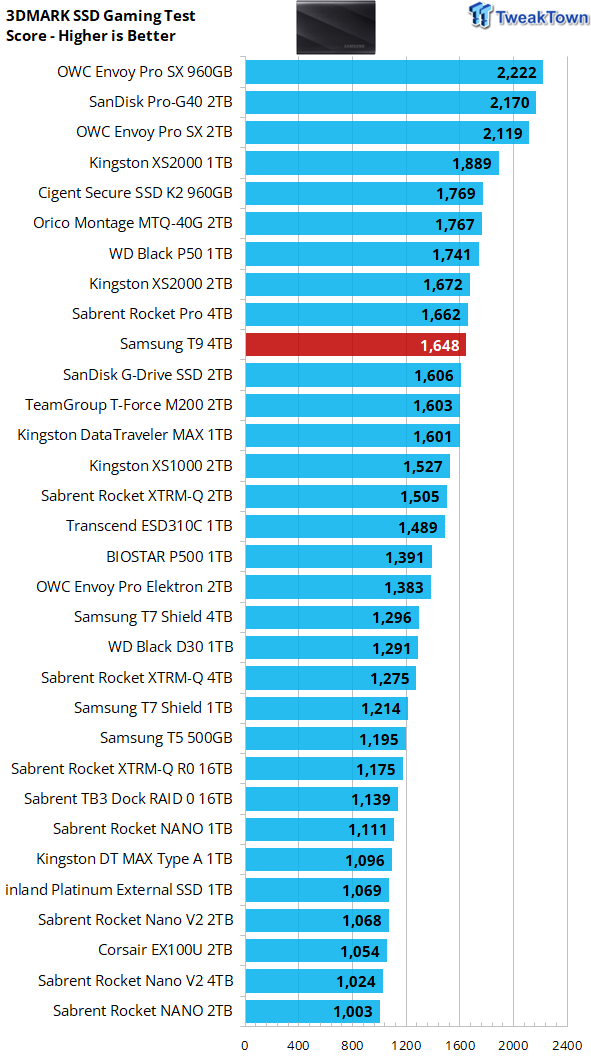 Gaming is a performance metric that matters to the majority of DIY consumers, especially to the enthusiast crowd that TweakTown caters to. We are now including gaming performance as a part of our external SSD reviews, as using portable storage for gaming duties is very popular among avid gamers.
Samsung says nothing about the T9 as powerful portable gaming storage, but as you can see here, it is one of the best around for this type of usage.
DiskBench - Transfer Rates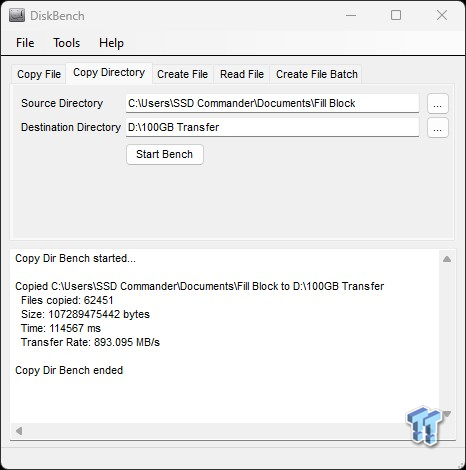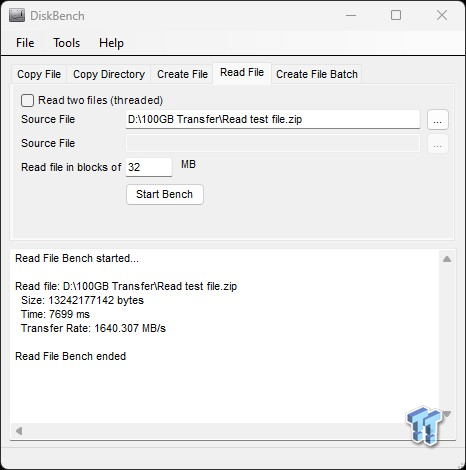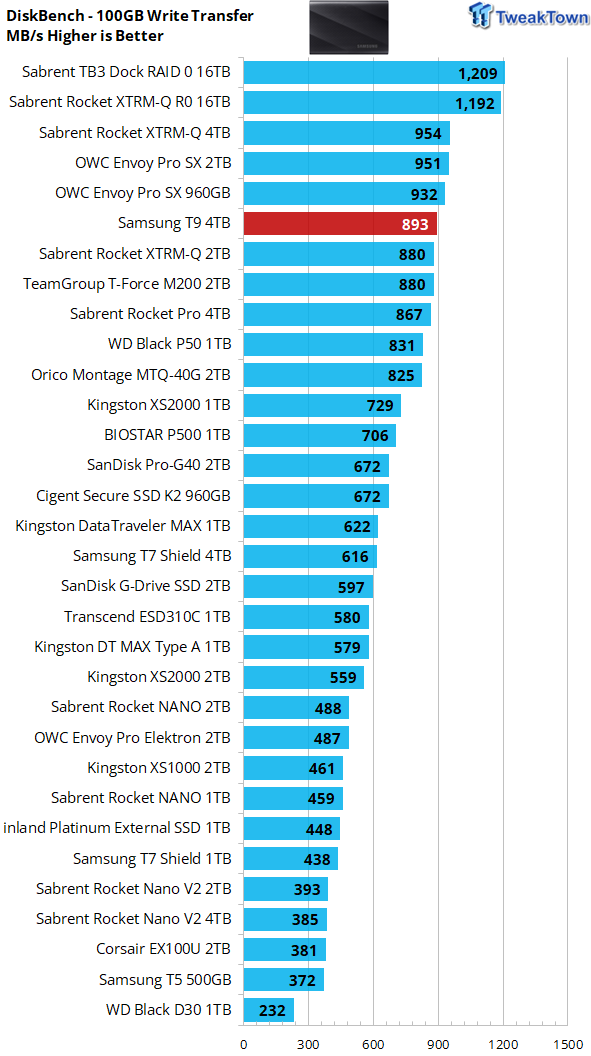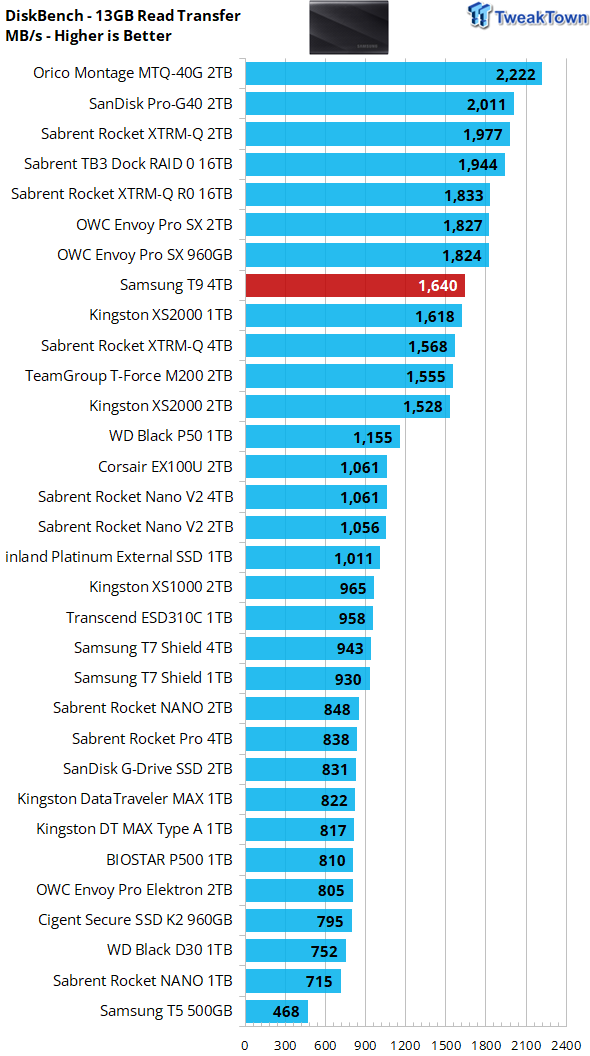 We brutalize our test subjects with our extremely hard-to-swallow 100GB data block. This data block is the same one we use for our internal SSD testing and is composed of more than 62K files. As we see it, 100GB is probably right at the upper limit for a single transfer, so again, as we see it, this is a much more realistic test than a sustained filling of the entire drive.
Transfer rates are where the rubber meets the road for a portable storage device like the T9. After all, this is exactly what it will be spending its life doing when pulling duties as a professional content storage device. Outstanding results here where it matters most. Our test subject delivers the best we've ever seen from a 20Gbps device. Impressive.
Final Thoughts
Samsung's T9 is, as expected, another elegantly crafted storage device. This portable is quality through and through, and as we see it, it is a device worthy of its comparatively steep asking price. That old saying, you get what you pay for, applies here especially well.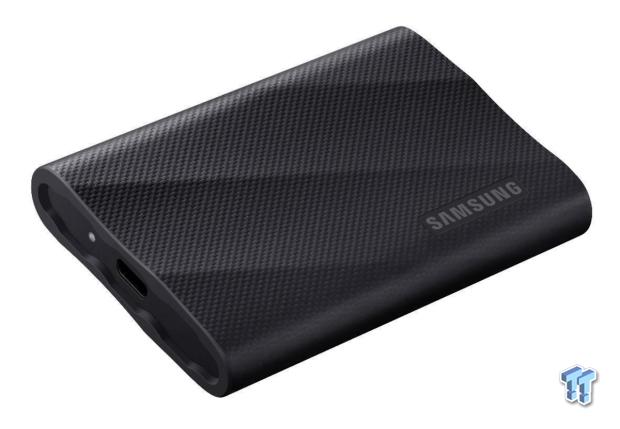 Overall, we believe that the T9 is the best performing of the 20Gbps portable SSDs we've come across to date, and as such, is worthy of one of our highest awards.