TweakTown's Rating: 97%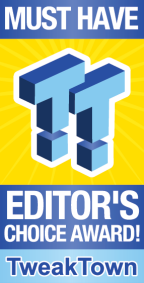 The Bottom Line
Our favorite Thunderbolt portable storage device of all time.
Pros
+

Thunderbolt or USB

+

Pocket friendly

+

Rugged

+

Performance
Cons
Should you buy it?
Avoid
Consider
Shortlist
Buy
Introduction & Drive Details
Last December, we had the pleasure of examining Sabrent's pocket-sized portable Rocket Nano V2. The drive excelled in the performance department, which we loved, but what we loved most about this compact pocket-sized speedster was its perfectly sized rugged enclosure.
Little did we know that a full-on portable Thunderbolt device could be made in a similarly compact and rugged enclosure. It turns out that Sabrent can and has done this seemingly impossible feat. There is a lot to love about Sabrent's newest portable device. First off, it can deliver more than 3,000 MB/s throughput over its Thunderbolt 3 interface. Something we've never before seen from a portable storage device this compact.
But wait, there's more. The Rocket Nano XTRM is dual interfaced, being fully compatible with USB 3 ports, and capable of delivering over 1,050 MB/s throughput via USB 3.2 Gen2. We absolutely love this. The ability to seamlessly transfer data over both Thunderbolt 3 or USB while being so compact is something that's been on our wish list for a long time. Finally, it's here!
Okay, let's get into this so we can put some numbers to what is now our all-time favorite portable Thunderbolt SSD.
Drive Details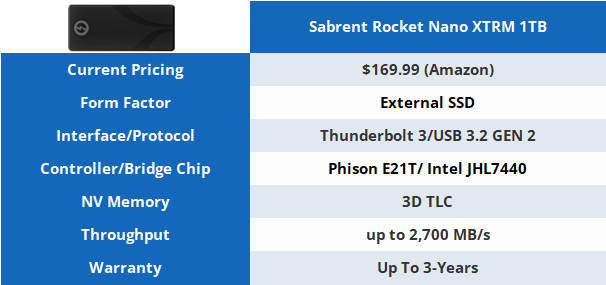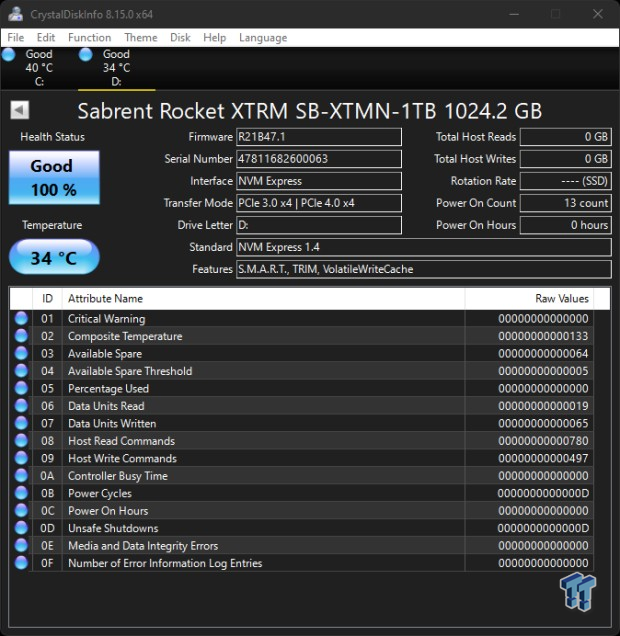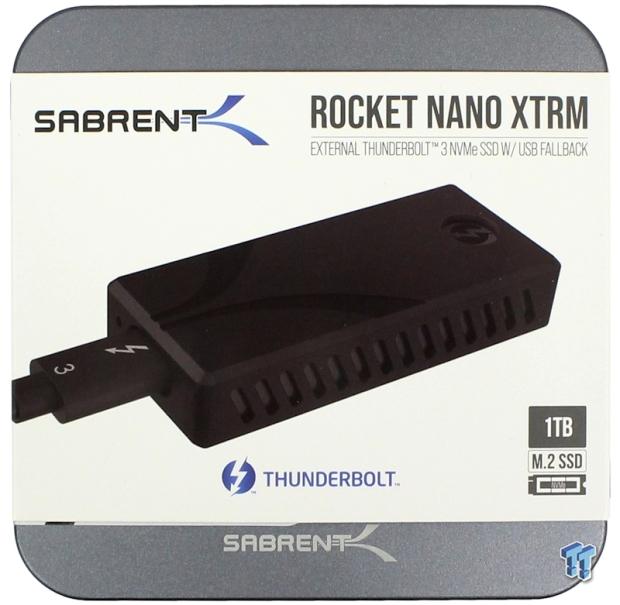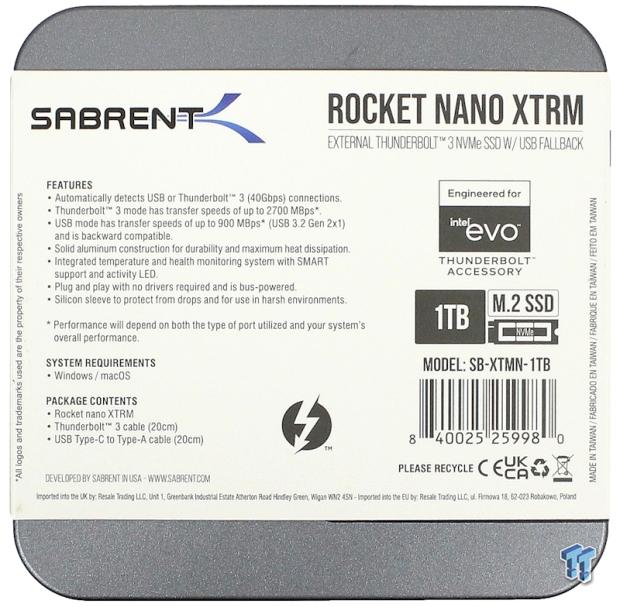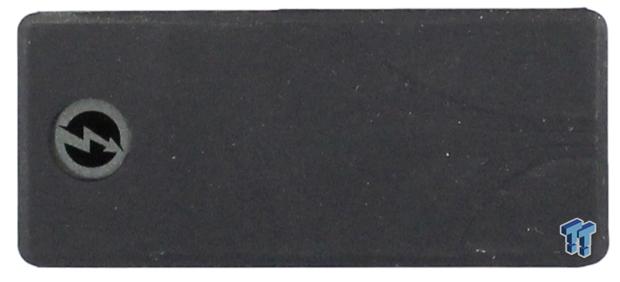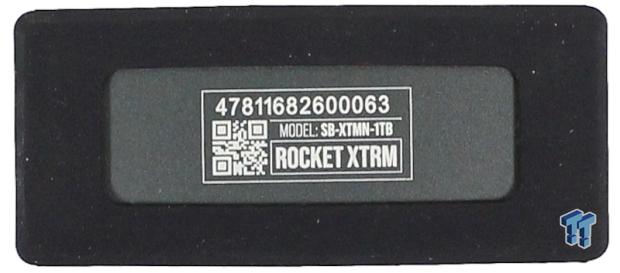 The Nano XTRM is by far the most portable 3,000 MB/s capable solid-state storage device we've ever encountered. Additionally, it is the most universally compatible being that it is a dual-interfaced device. We will also note the drive runs nice and cool for the most part.
Synthetic Benchmarks: CDM, ATTO & Blackmagic
CrystalDiskMark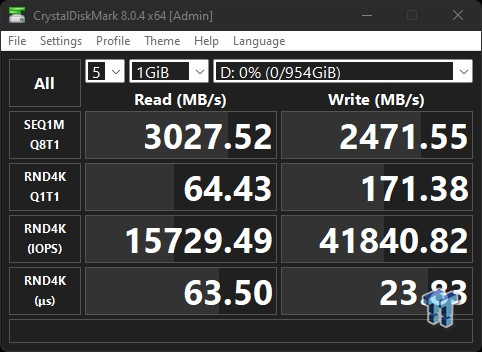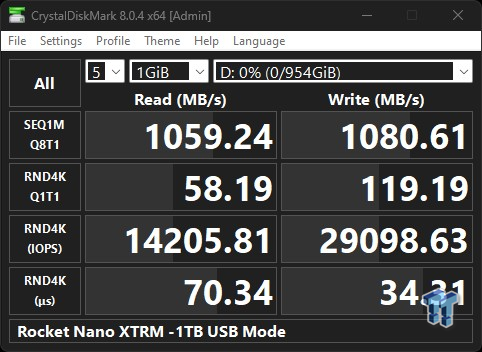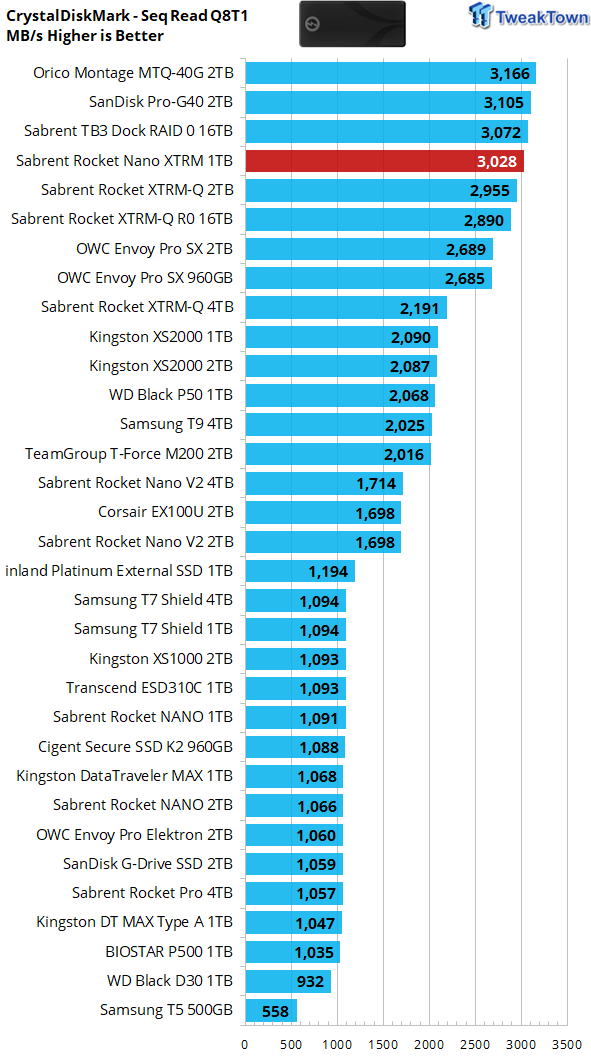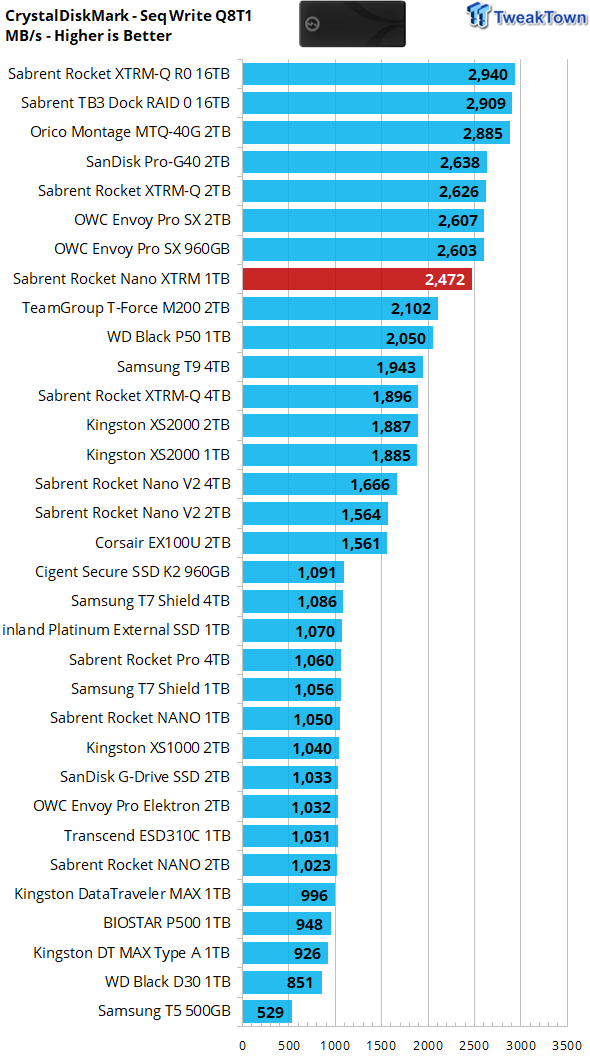 Our test subject delivers as advertised and then some. Sabrent specs its Nano XTRM as capable of up to 2,700 MB/s sequential throughput. We are getting over 3,000 MB/s. Impressive. On the USB side, we are getting about as good as can be obtained from a 10Gbps interface. Also impressive. QD1 random performance indicates that the Nano XTRM can pull double duty as excellent portable gaming storage across both interfaces.
ATTO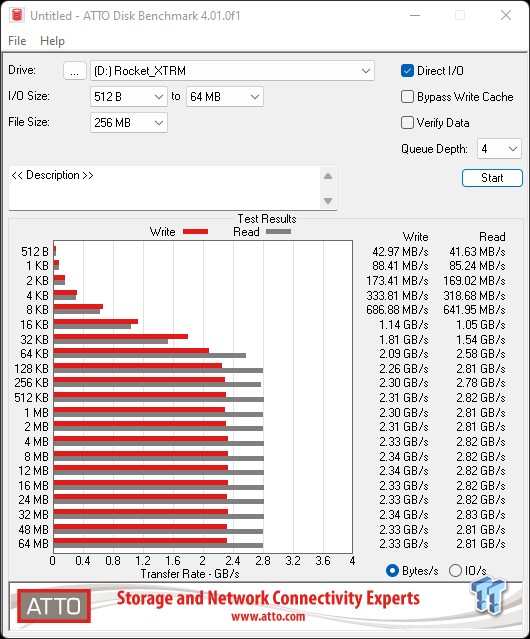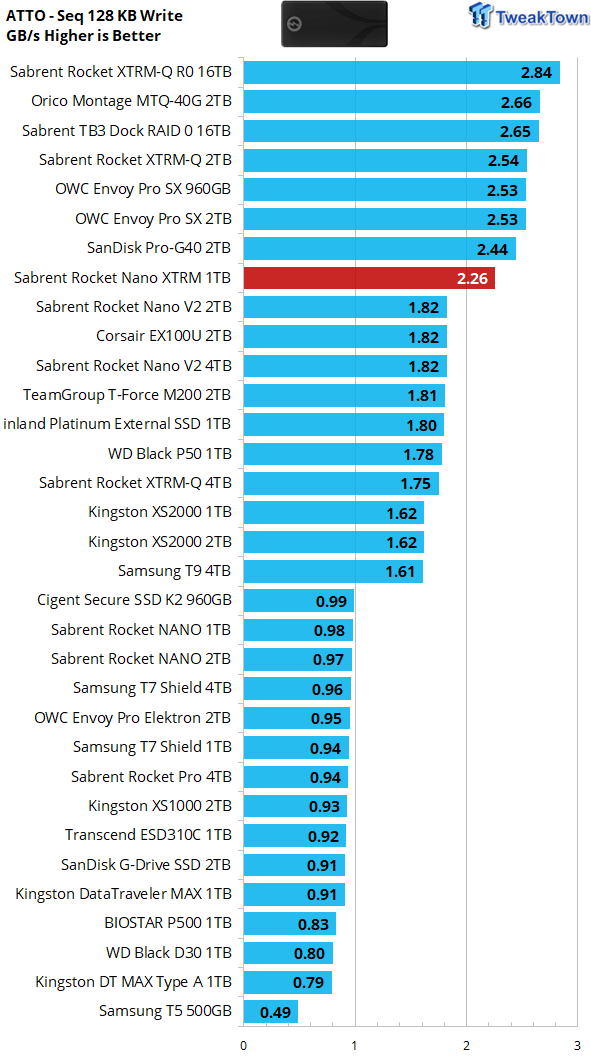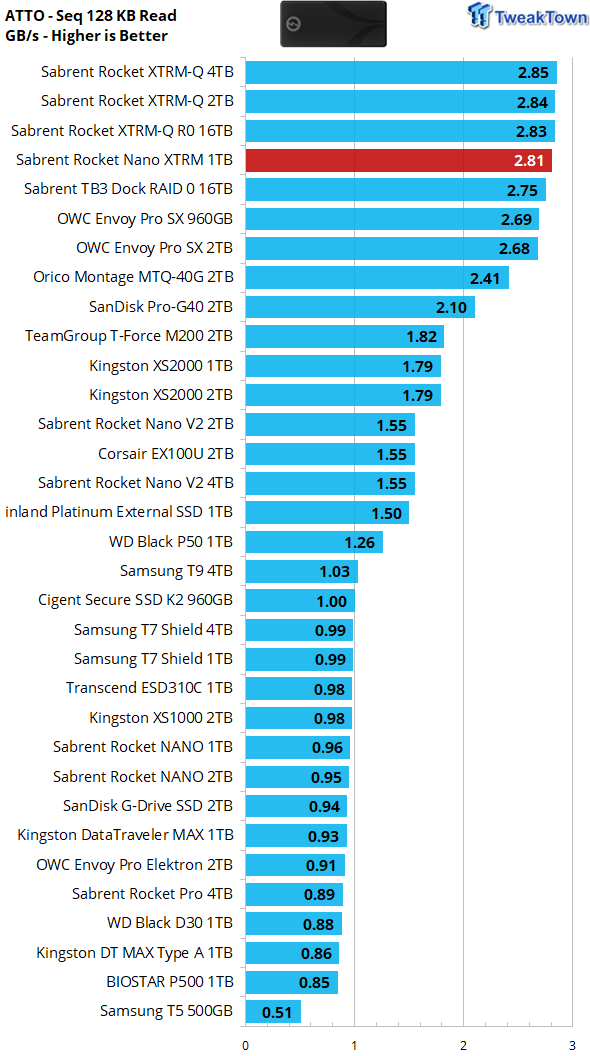 ATTO demonstrates the Nano XTRM 1TB is capable of delivering full sequential performance at 128K transfers. Exactly what we like to see from any storage device. Read throughput is especially noteworthy, as we find our test subject joining its Thunderbolt interfaced Sabrent brethren at the top of our chart. This is especially impressive because this time, there is no external power, and Sabrent's newest is just a fraction of the size of those that came before it.
Blackmagic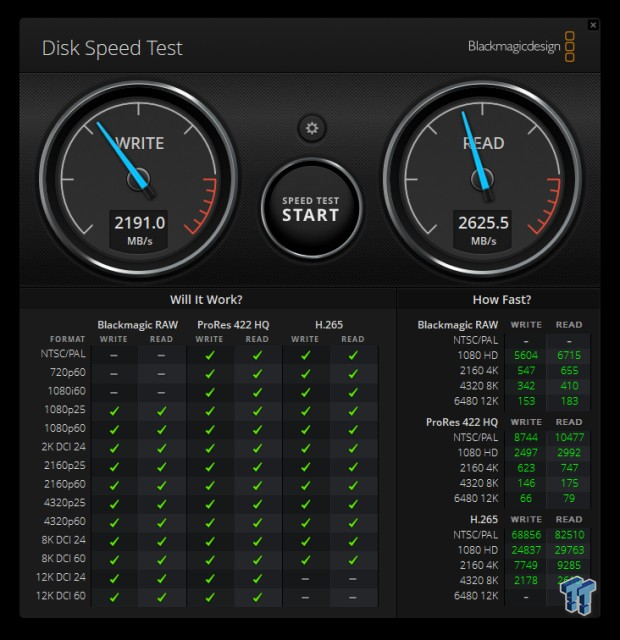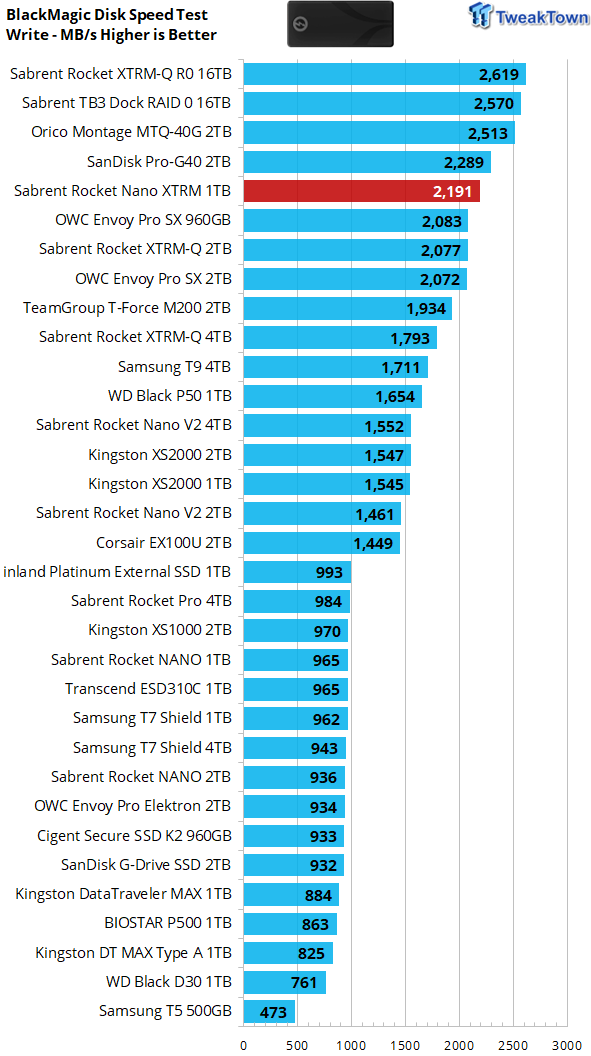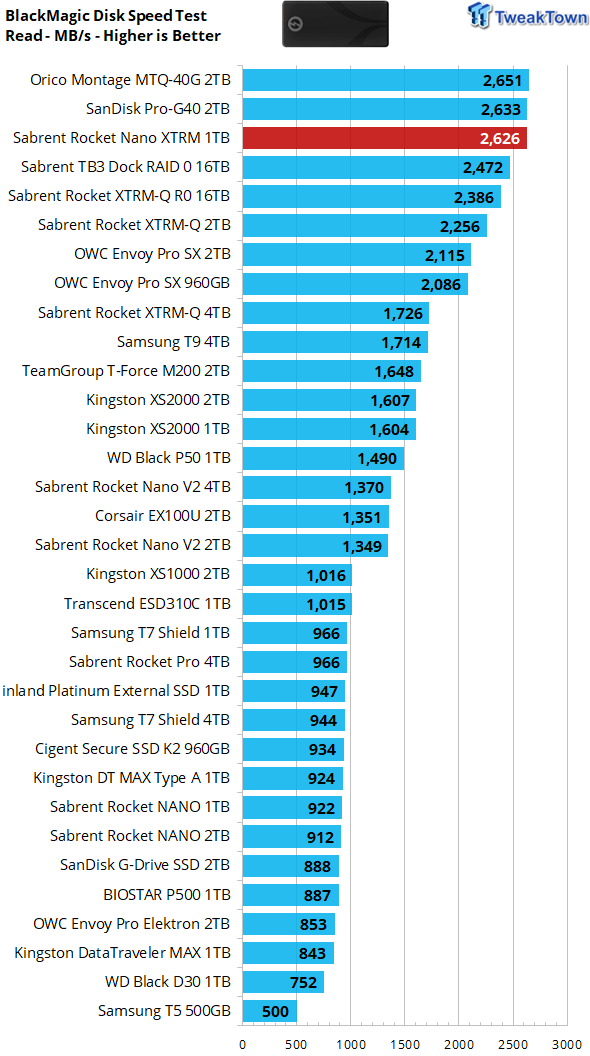 As demonstrated by where our test subject lands on our charts, the Nano XTRM is about as good as it gets for a portable SSD employed for video content duties.
Real-World Testing: PCMark 10, 3DMark SSD Gaming & Transfer Rates
PCMark 10 Data Drive Benchmark
The Data Drive Benchmark is designed to test drives that are used for storing files rather than applications. You can also use this test with NAS drives, USB sticks, memory cards, and other external storage devices.
The Data Drive Benchmark uses 3 traces, running 3 passes with each trace as follows:
Copying 339 JPEG files, 2.37 GB in total,?into?the target drive (write test).

Making a copy of the JPEG files (read-write test).

Copying the JPEG files to another drive (read test).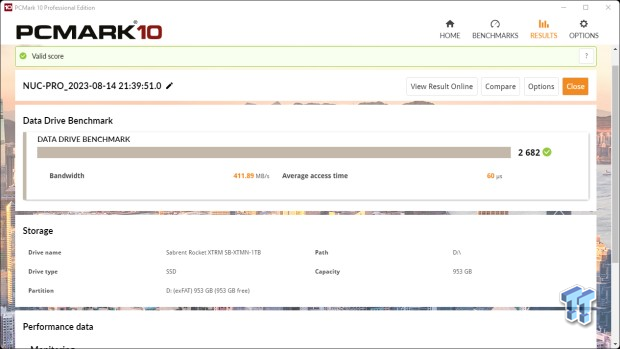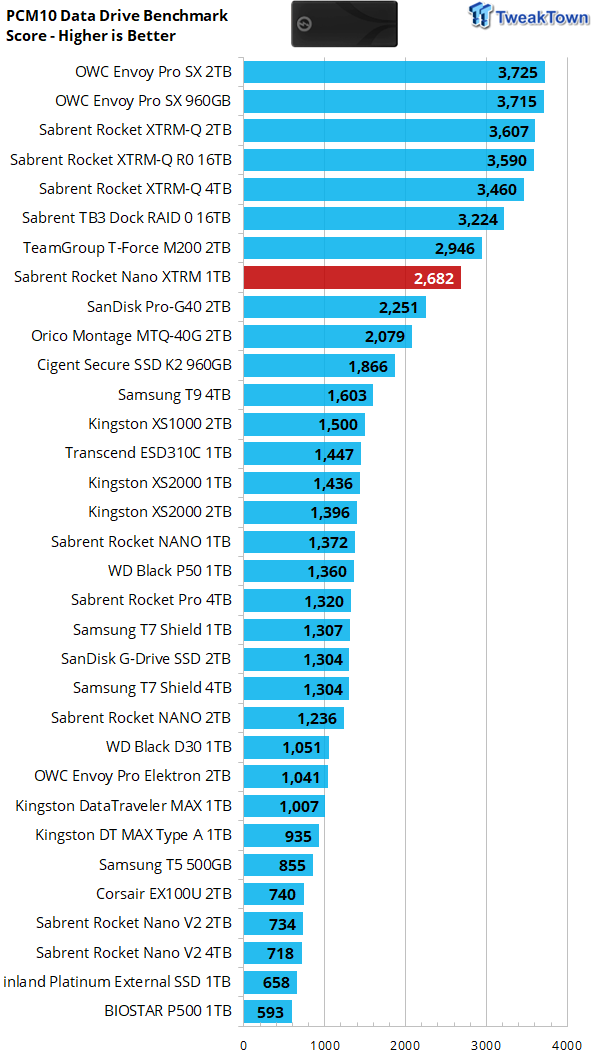 As expected, our test subject makes for an excellent extended data drive.
3DMark SSD Gaming Test
UL's newest 3DMark SSD Gaming Test is the most comprehensive SSD gaming test ever devised. We consider it superior to testing against games themselves because, as a trace, it is much more consistent than variations that will occur between runs on the actual game itself. This test is the same as running the actual game, just without the inconsistencies inherent to application testing. In short, we believe that this is the world's best way to test an SSD's gaming prowess and accurately compare it against competing SSDs. The 3DMark SSD Gaming Test measures and scores the following:
Loading Battlefield V from launch to the main menu.

Loading Call of Duty Black Ops 4 from launch to the main menu.

Loading Overwatch from launch to the main menu.

Recording a 1080p gameplay video at 60 FPS with OBS (Open Broadcaster Software) while playing Overwatch.

Installing The Outer Worlds from the Epic Games Launcher.

Saving game progress in The Outer Worlds.

Copying the Steam folder for Counter-Strike Global Offensive from an external SSD to the system drive.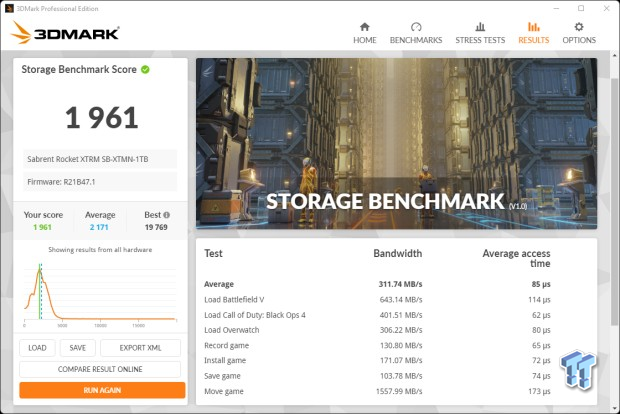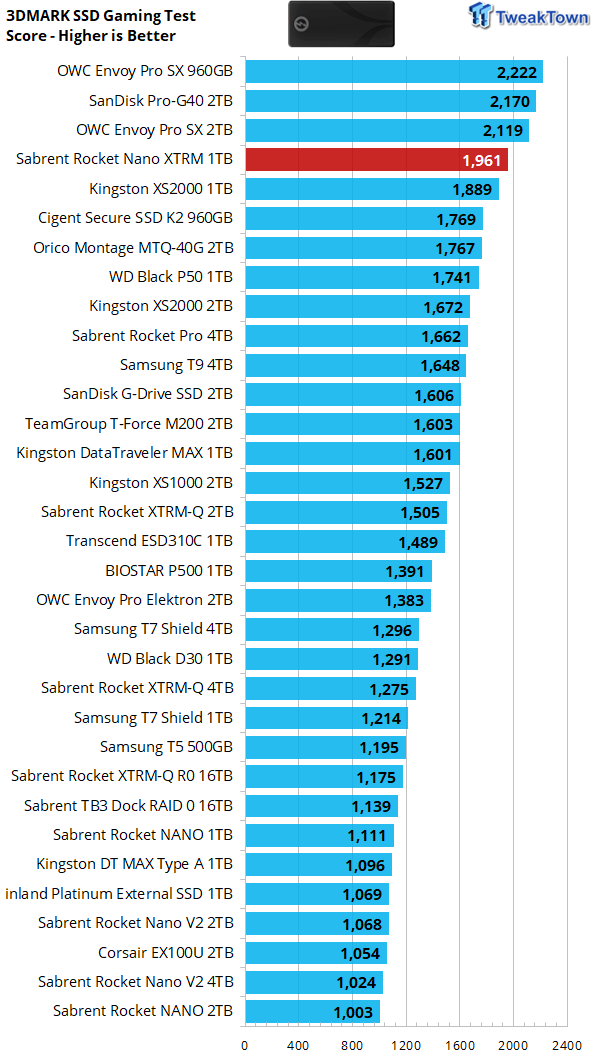 Gaming is a performance metric that matters to the majority of DIY consumers, especially to the enthusiast crowd that TweakTown caters to. We are now including gaming performance as a part of our external SSD reviews, as using portable storage for gaming duties is very popular among avid gamers.
Ultra-portable, superfast storage is a nice compliment for any console or PC gaming device. Indeed, as indicated by our CDM testing, Sabrent's newest is among the best-performing portable gaming storage devices ever made. Outstanding.
DiskBench - Transfer Rates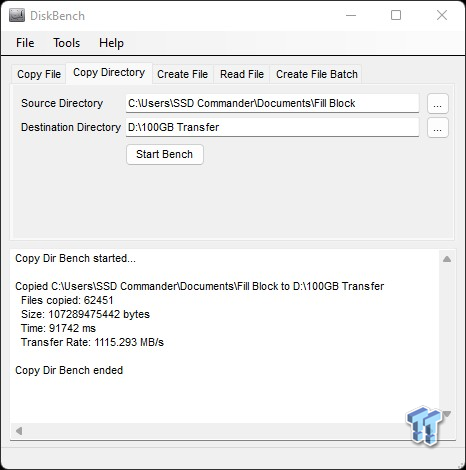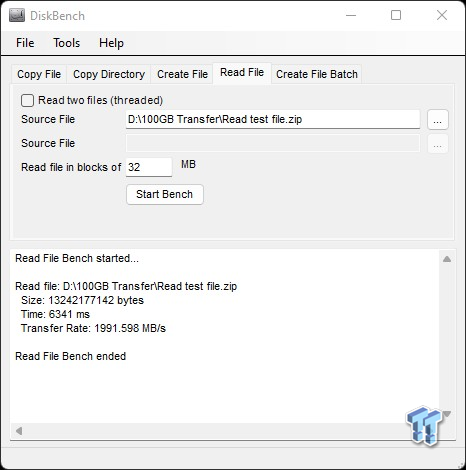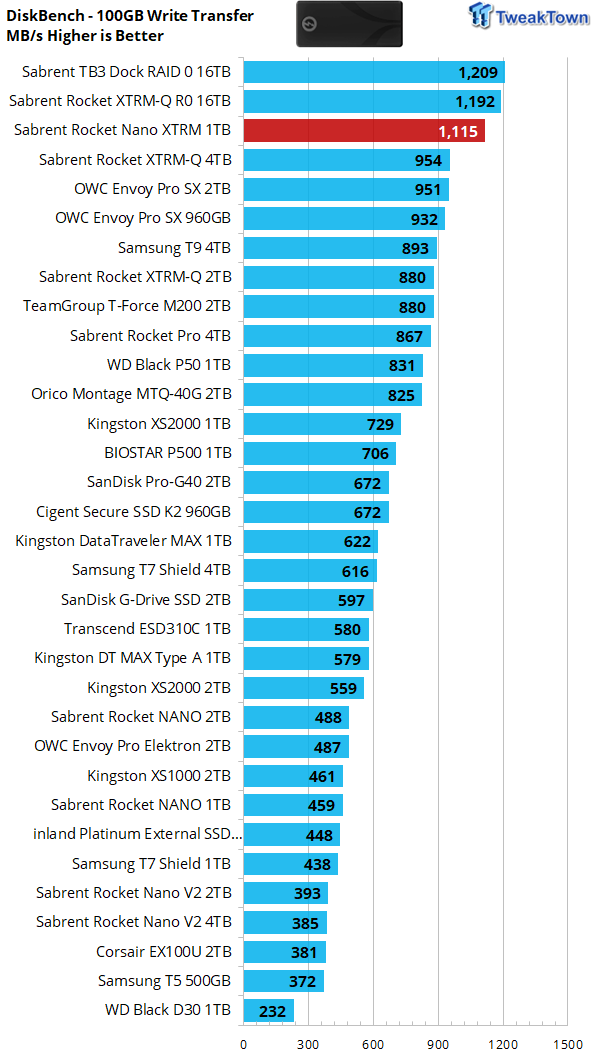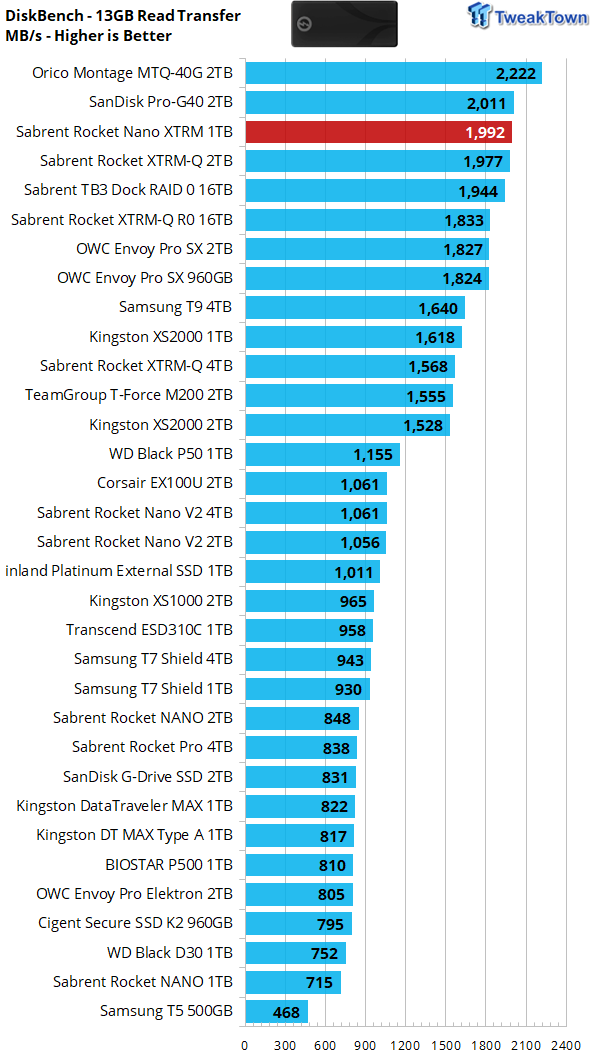 We brutalize our test subjects with our extremely hard-to-swallow 100GB data block. This data block is the same one we use for our internal SSD testing and is composed of more than 62K files. This is where the rubber meets the road for a portable SSD used for PC data storage other than video files.
Whether programming data or serving it to the host, our diminutive and nimble test subject delivers the goods at the third highest rates we've ever obtained from a portable storage device. Wow.
Final Thoughts
As we see it, Sabrent has done it yet again. The Rocket Nano XTRM is by far the most powerful ultra-compact portable storage device we've encountered to date. The drive does everything well and is supremely compatible, being dual-interfaced for both Thunderbolt and USB 3. Topping it off, the drive runs much cooler than anything of its kind before it.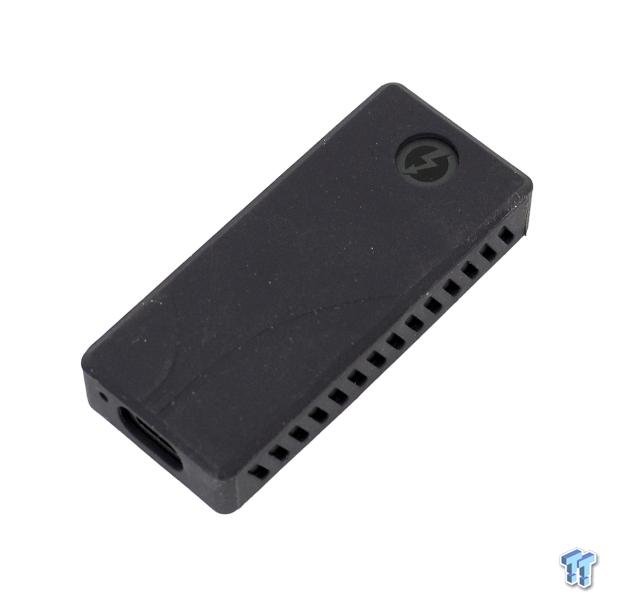 In our opinion, the Rocket Nano XTRM gives us more of what we want from a pocket-friendly drive than we've ever experienced. It's by far the most portable and compatible of its kind without skimping on performance. Editor's Choice.