TweakTown's Rating: 92%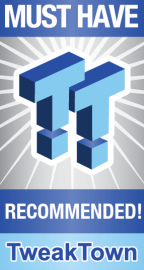 The Bottom Line
The XS1000 is simply stated one of the best of its kind ever made.
Pros
+

Compatibility

+

Compact

+

Pricing
Cons
-

No Type-C to Type-C USB cable
Should you buy it?
Avoid
Consider
Shortlist
Buy
Introduction & Drive Details
Almost two years ago, we got our first taste of Silicon Motion's SM2320 native USB controller via Kingston's XS2000. From that day to this day, external SSDs based on the SM2320 UASP controller have remained, for us anyway, preferred over all others.
As we've mentioned countless times over the years, we believe when it comes to portable storage, compatibility is king. What does it matter if you have the fastest portable storage, but it only works some of the time or most of the time, depending on the host platform? We believe it needs to work ALL of the time, as in any USB port you encounter.
Until Silicon Motion's SM2320 UASP controller arrived on the scene, the host compatibility of fast, portable solid-state storage had always been a crap shoot at best. This is because up until that point, fast, portable solid-state storage always relied on power-hungry bridge chips to translate NVMe to USB. This is why we always prefer native USB to bridge chips; one controller instead of two means ubiquitous compatibility, less power draw, and less heat.
Okay, so now let's get a feel for what Kingston's newest fast, portable solid-state storage device is all about. At just over 5 cents per gigabyte for the 2TB model we have in for testing today, Kingston's XS1000 is an affordable mid-tier performance storage device. Its sleek, compact form factor is designed to fit seamlessly into your lifestyle, allowing you to carry it anywhere with ease, giving you greater flexibility to access your data on the go.
Supreme compatibility that only comes from native USB, along with throughput of up to 1050 MB/s, sounds like a winning combination. In fact, we already know it is, so let's put the XS1000 2TB through its paces and see exactly how this pocket-sized portable compares with its contemporaries.
Drive Details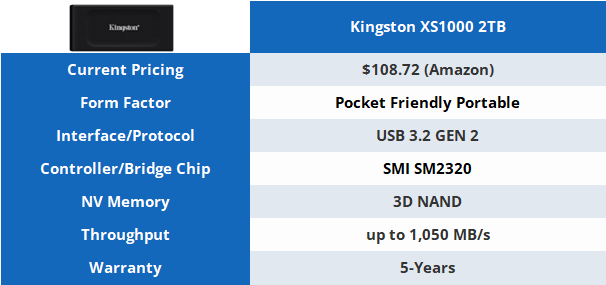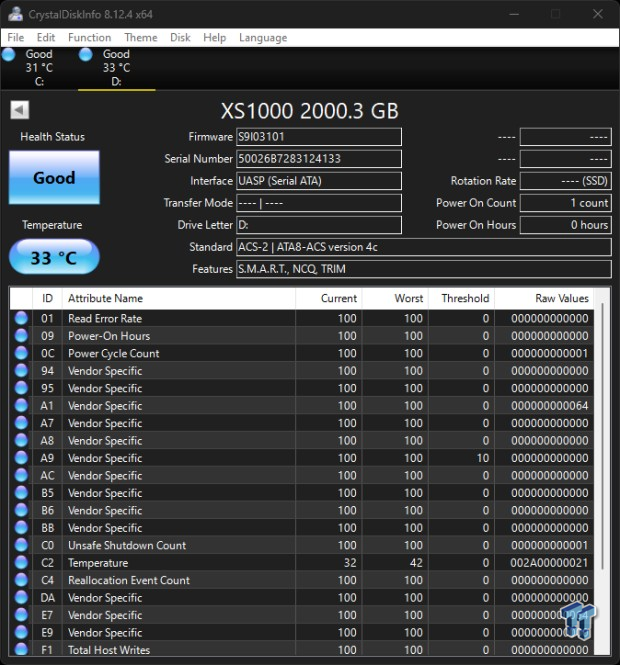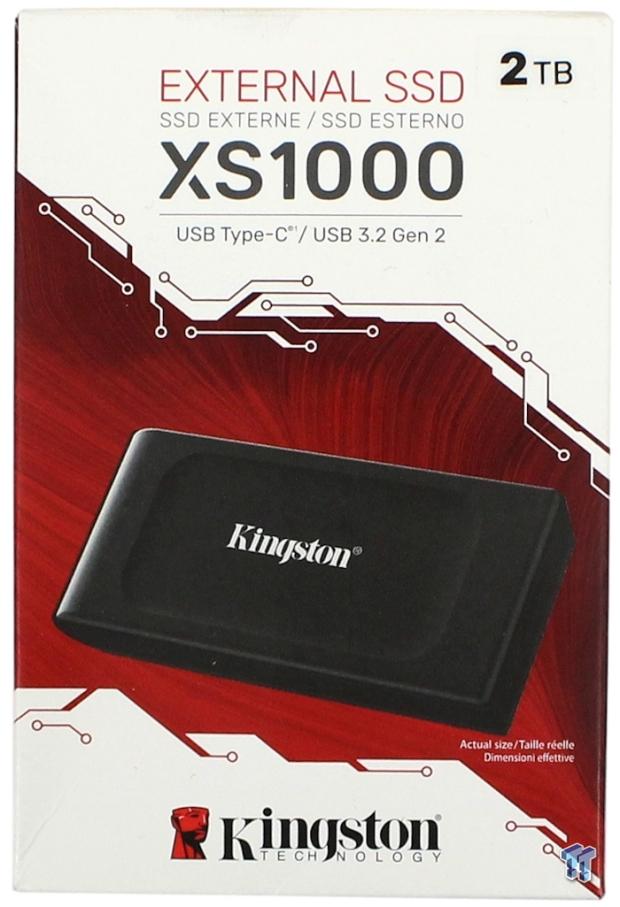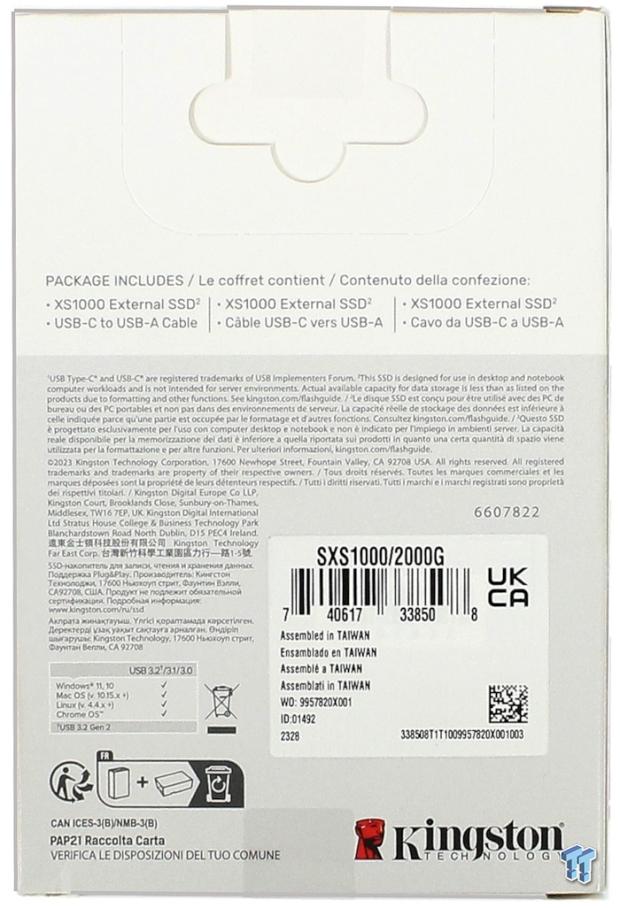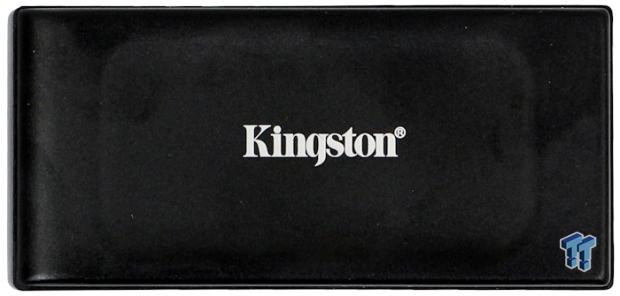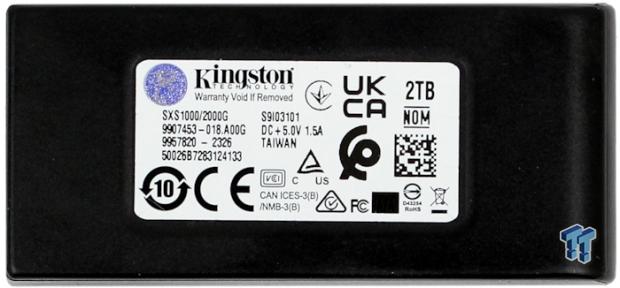 The portable drive comes with a Type-C to A cable. This is the only knock we have on the XS1000, as this may limit access to host devices that don't have Type-A ports, but then again, most consumers typically have Type-C to C cables close at hand, so it's not much of a gripe.
Synthetic Benchmarks: CDM, ATTO & Blackmagic
CrystalDiskMark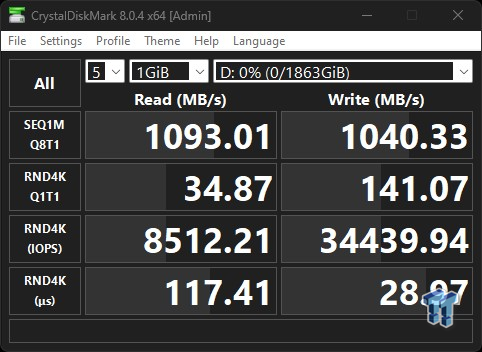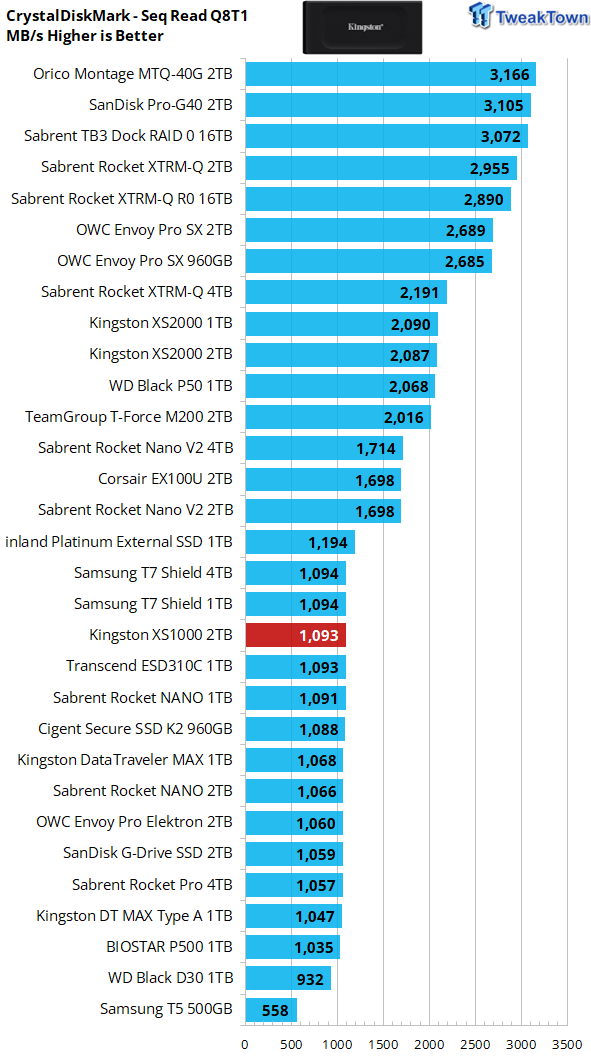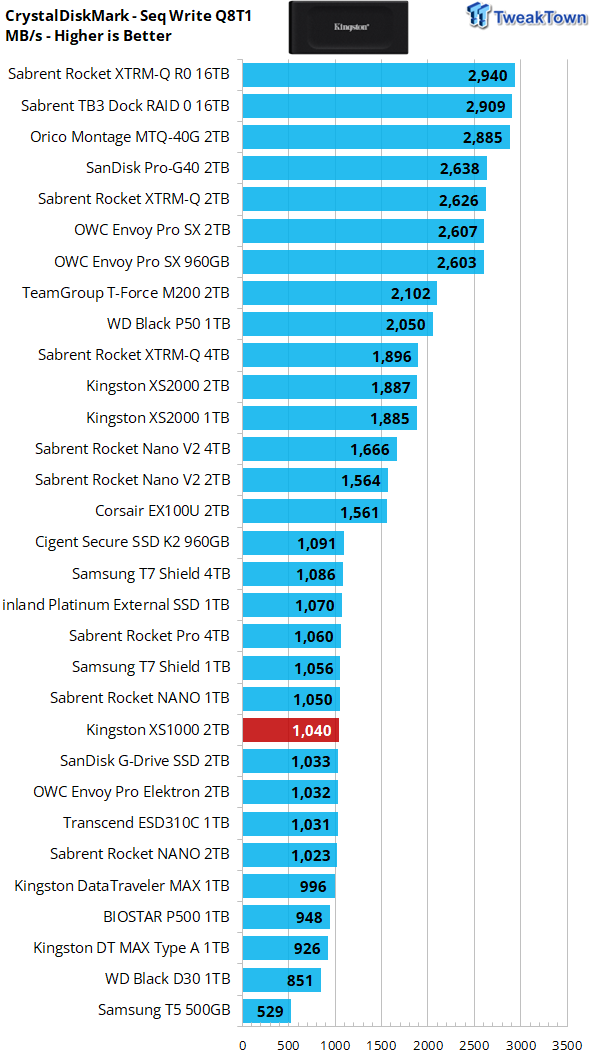 Excellent sequential throughput for a 10Gbps interfaced portable device. At 1,093 MB/s, our test subject is right up there with the best we've seen from similarly interfaced devices. Excellent. QD1 random performance indicates that the drive can even serve a competent role as portable gaming storage.
ATTO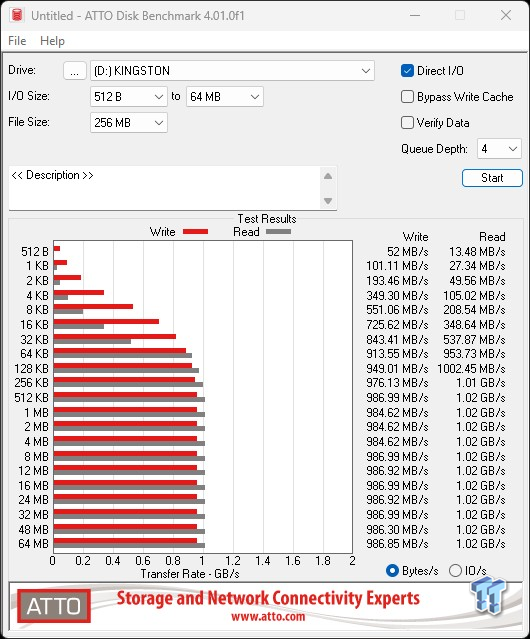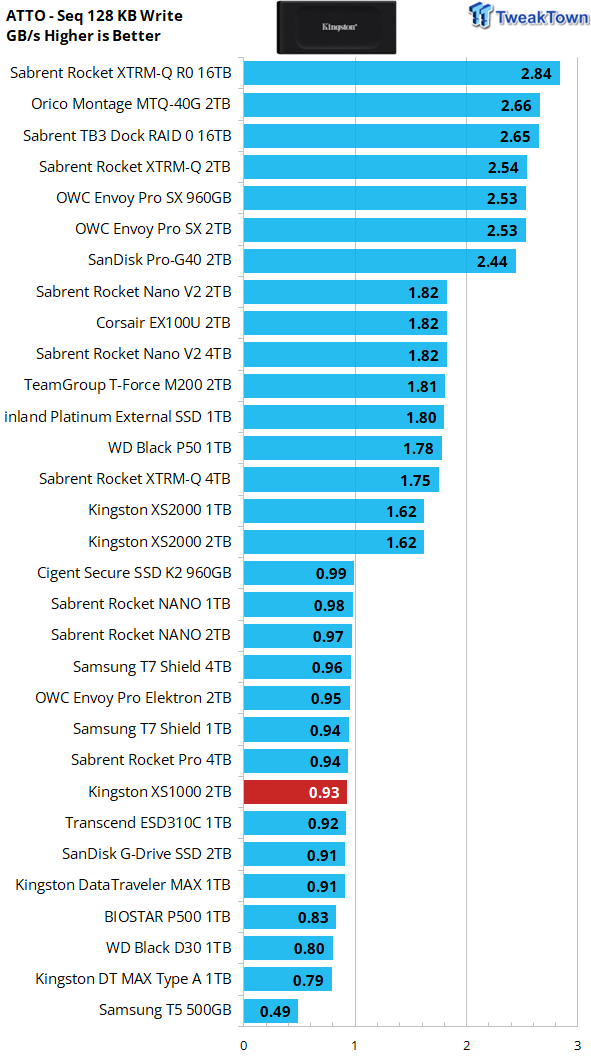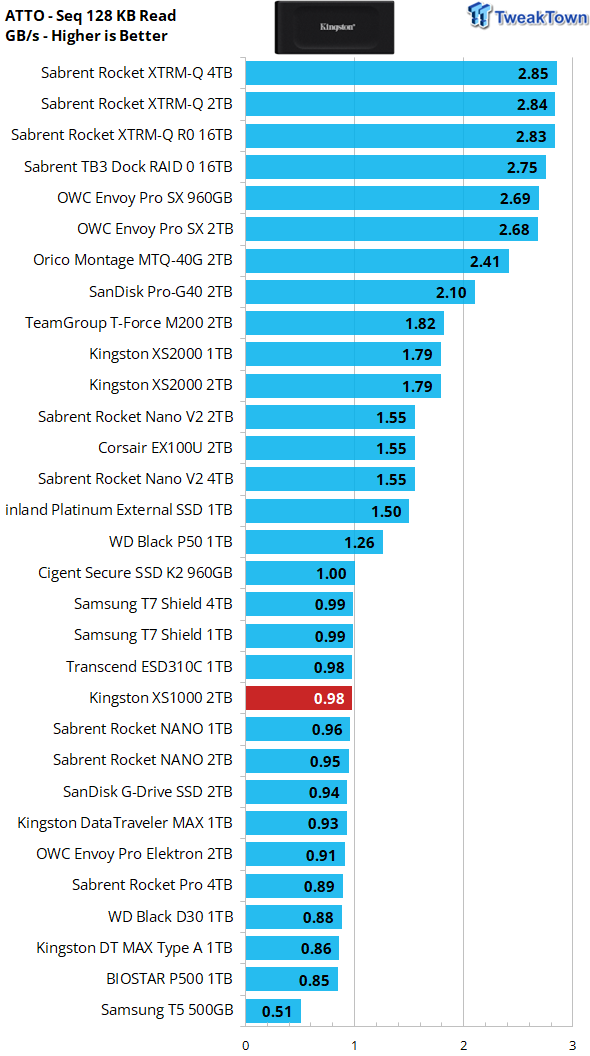 ATTO demonstrates the XS1000 capable of delivering essentially full sequential performance at 128K transfers - exactly what we like to see from any storage device.
Blackmagic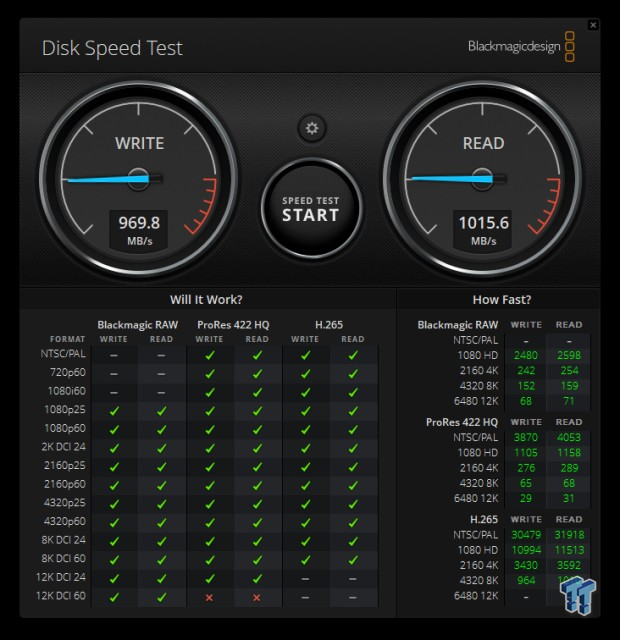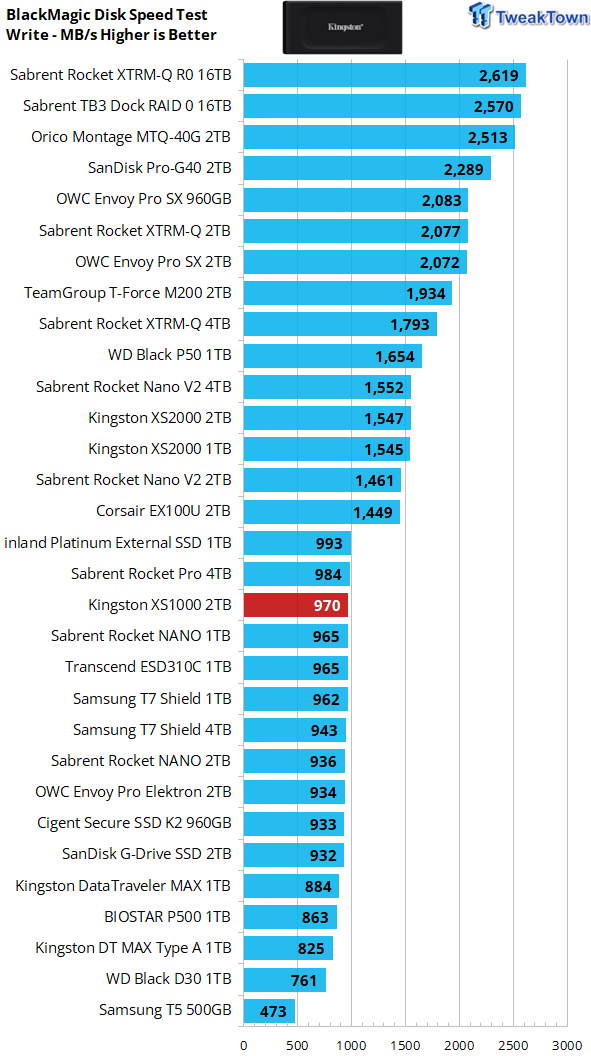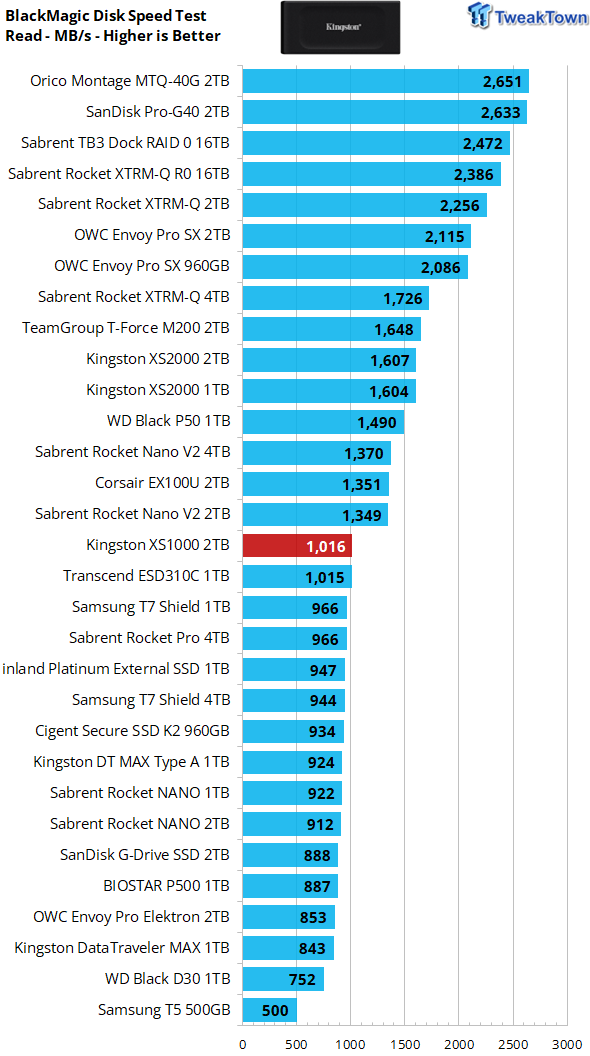 When serving data to the host, we find our test subject delivering the best we've seen to date for a 10Gbps storage device. Outstanding.
Real-World Testing: PCMark 10, 3DMark SSD Gaming & Transfer Rates
PCMark 10 Data Drive Benchmark
The Data Drive Benchmark is designed to test drives that are used for storing files rather than applications. You can also use this test with NAS drives, USB sticks, memory cards, and other external storage devices.
The Data Drive Benchmark uses 3 traces, running 3 passes with each trace as follows:
Copying 339 JPEG files, 2.37 GB in total,?into?the target drive (write test).

Making a copy of the JPEG files (read-write test).

Copying the JPEG files to another drive (read test).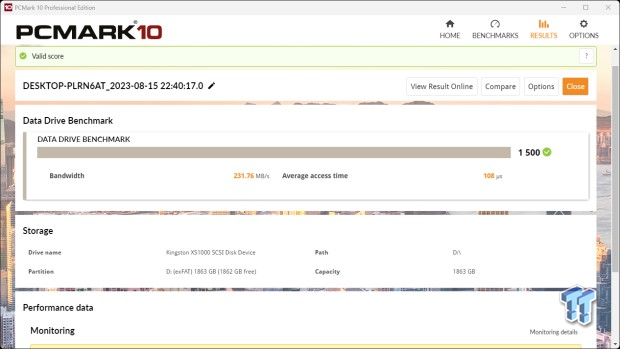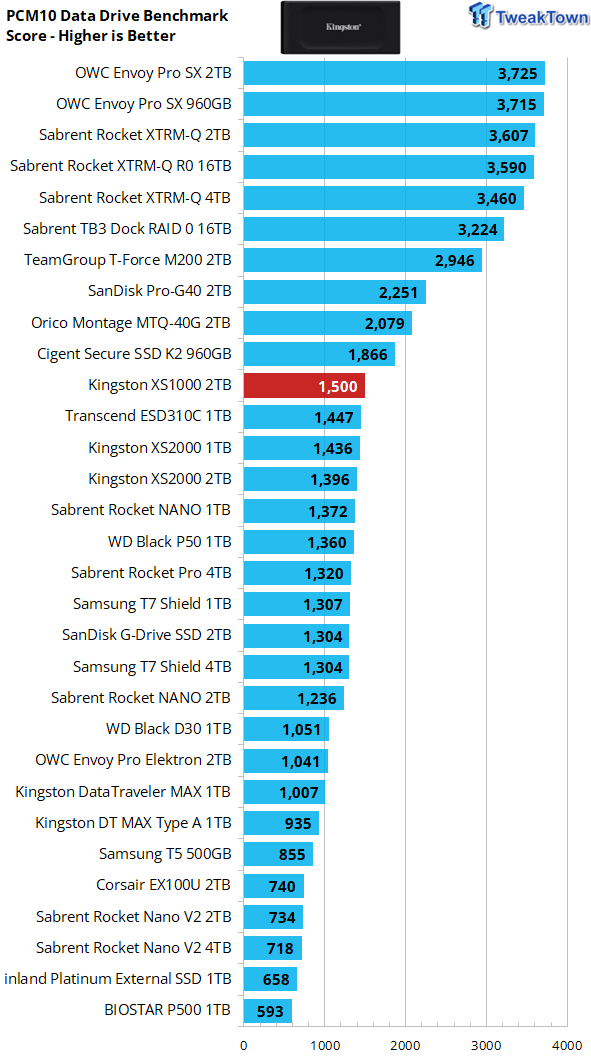 Best-in-class performance here. Want a great extended data device? The XS1000 can deliver the goods at a very high level.
3DMark SSD Gaming Test
UL's newest 3DMark SSD Gaming Test is the most comprehensive SSD gaming test ever devised. We consider it superior to testing against games themselves because, as a trace, it is much more consistent than variations that will occur between runs on the actual game itself. This test is in fact the same as running the actual game, just without the inconsistencies inherent to application testing. In short, we believe that this is the world's best way to test an SSDs gaming prowess and accurately compare it against competing SSDs. The 3DMark SSD Gaming Test measures and scores the following:
Loading Battlefield V from launch to the main menu.

Loading Call of Duty Black Ops 4 from launch to the main menu.

Loading Overwatch from launch to the main menu.

Recording a 1080p gameplay video at 60 FPS with OBS (Open Broadcaster Software) while playing Overwatch.

Installing The Outer Worlds from the Epic Games Launcher.

Saving game progress in The Outer Worlds.

Copying the Steam folder for Counter-Strike Global Offensive from an external SSD to the system drive.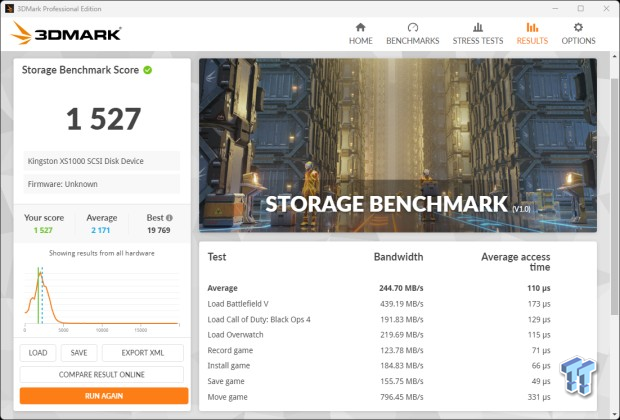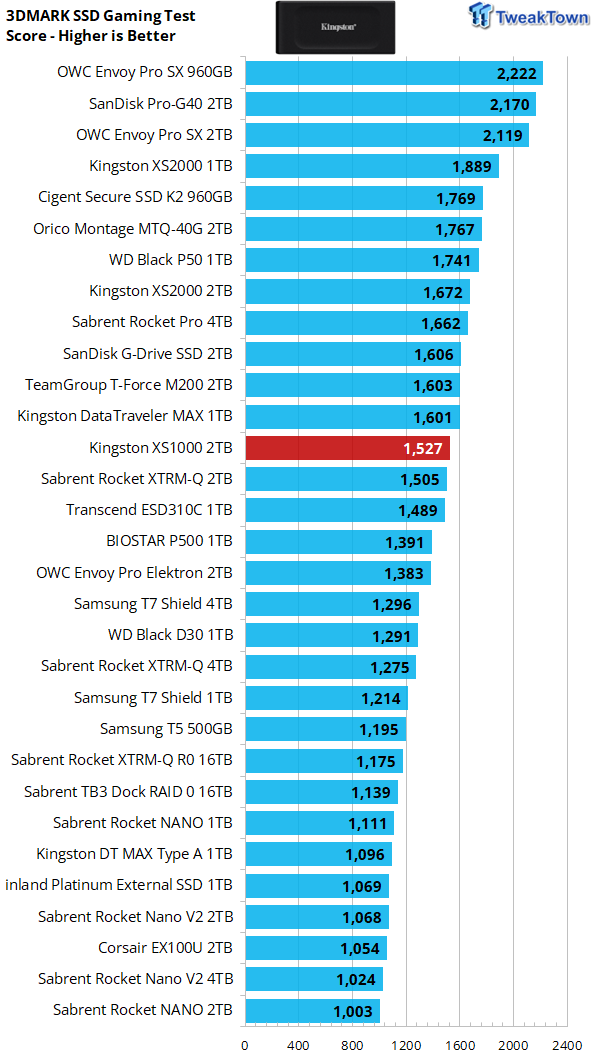 Gaming is a performance metric that matters to the majority of DIY consumers, especially to the enthusiast crowd that TweakTown caters to. We are now including gaming performance as a part of our external SSD reviews, as using portable storage for gaming duties is very popular among avid gamers.
Ultra-portable, fully compatible storage is a nice complement to any console or PC gaming device. For a 10Gbps device, the XS1000 is tough to beat. In fact, only Kingston's own DataTraveler MAX, based on the very same controller, can beat it. Impressive.
DiskBench - Transfer Rates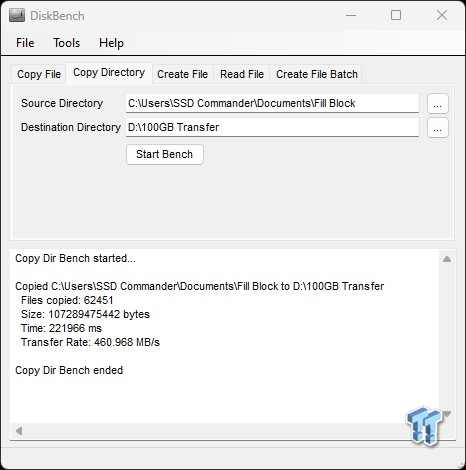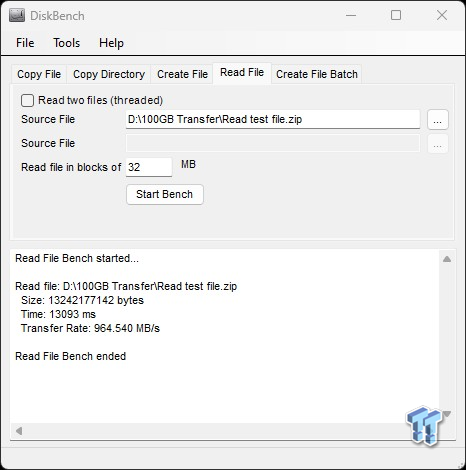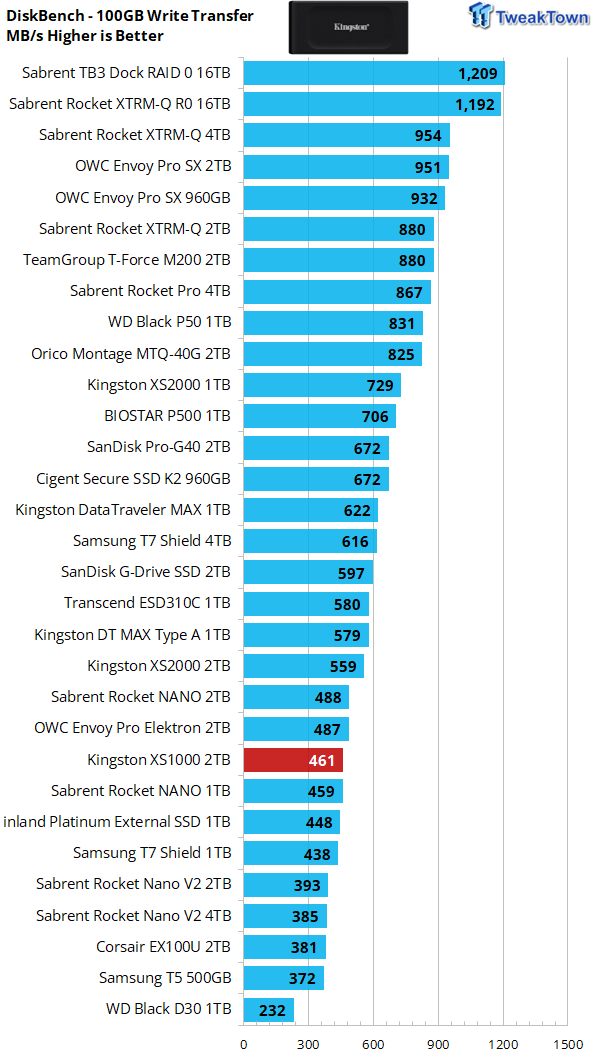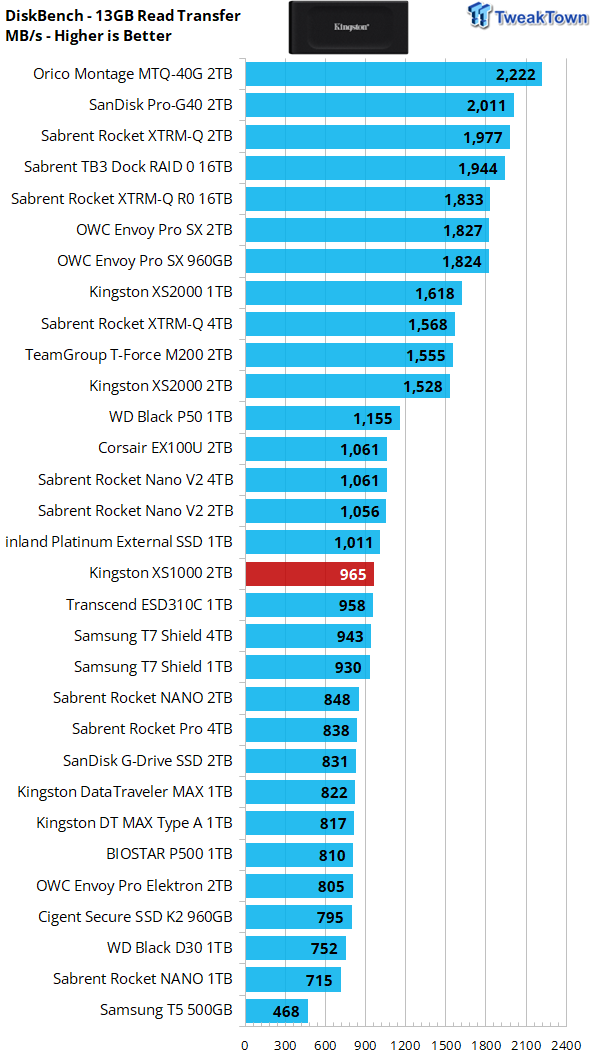 We brutalize our test subjects with our extremely hard-to-swallow 100GB data block. This data block is the same one we use for our internal SSD testing and is composed of more than 62K files. As we see it, 100GB is probably right at the upper limit for a single transfer, so again, as we see it, this is a much more realistic test than a sustained filling of the entire drive.
100GB at 461 MB/s is plenty good enough for our liking. 965 MB/s when serving data to the host is exceptional and is the second-best we've attained from any 10Gbps storage device.
Final Thoughts
Kingston's XS1000 delivers the goods exactly as we expect, coming from a Silicon Motion SM2320 controlled storage device, further solidifying our belief that SMI's native USB controller is currently the best of its type in existence.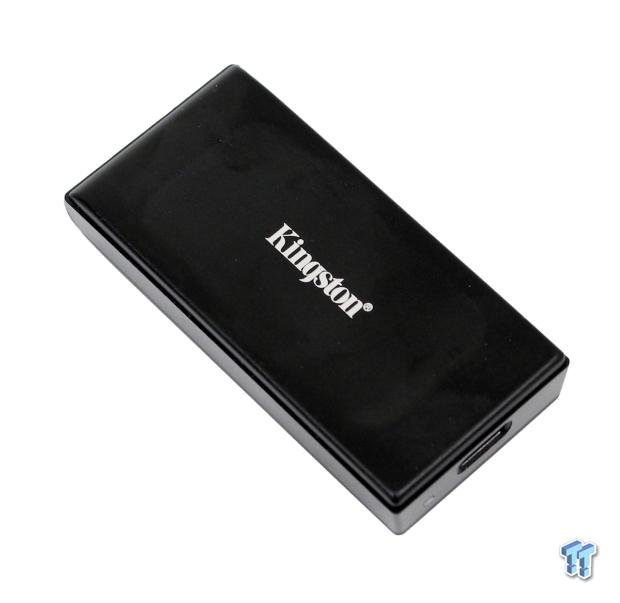 Kingston has another winner in its XS1000. We are of the opinion that it is among the best of its kind ever made, and as such, it is deserving of a must-have rating.