NVIDIA launches its Mobility 9000 GPU series
NVIDIA introduces new series of Mobility GPU's.
Published Jun 6, 2008 10:26 AM CDT
|
Updated Tue, Nov 3 2020 12:38 PM CST
1 minute & 38 seconds read time
COMPUTEX TAIPEI 2008
Attending NVIDIA's Mobility Launch was the last press event we attended.
With the agenda of bringing a more balanced GPU to the mobile sector, something that is no longer just a graphics processor but a multi processor that is capable of hardware encoding of movies and digital HD rendering as well as physics to the mobile sector.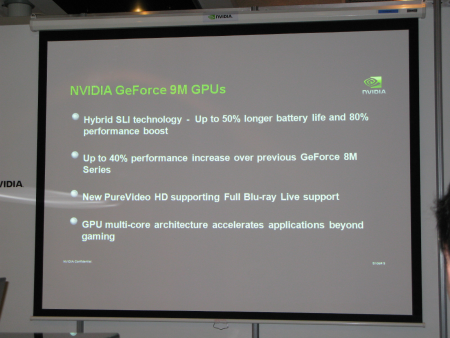 NVIDIA is aiming to bring some of the features found on the desktops to the mobile sector. With battery life of a notebook the main concern of most users, NVIDIA has put a lot of emphasis on power savings, while still offering great features, this being Hybrid SLI in notebooks. Hybrid SLI will help conserve power by disabling the discrete onboard GPU while in a low 3D state and turn it back on when more 3D power is needed. If you set a max battery life power option, the discrete GPU will not turn back on at all.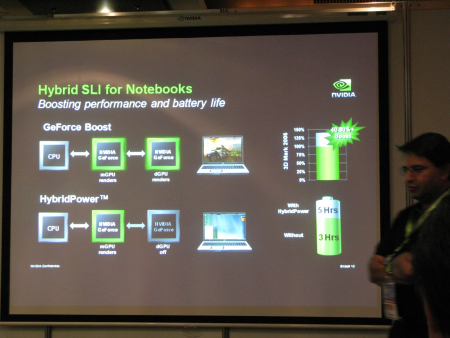 NVIDIA made some projection on how much you will save on battery life, but this depends on the overall system configuration, so take these figures at face value. Hybrid SLI is something that should be in the mobile sector. AMD has already committed to this same feature on its new Puma products, so it's good to see NVIDIA following suite, however, for it to work you can only use a NVIDIA based mobile chipset, which we have yet to see.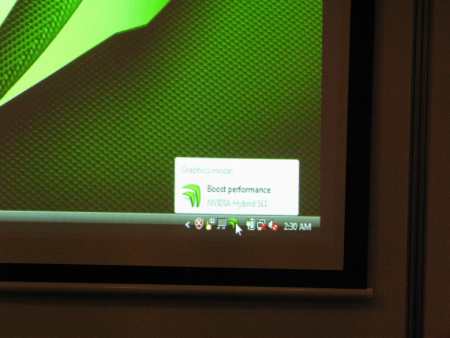 NVIDIA were kind enough to run a live demo on a new notebook, unfortunately we can't go into specifics on the notebook configuration as this was still under NDA. We were allowed to take some shots of the OS running and 3DMark scores providing no info on the configuration was shown. The first test that was run was in boost mode, which is where the discrete GPU and onboard GPU work in Hybrid SLI mode.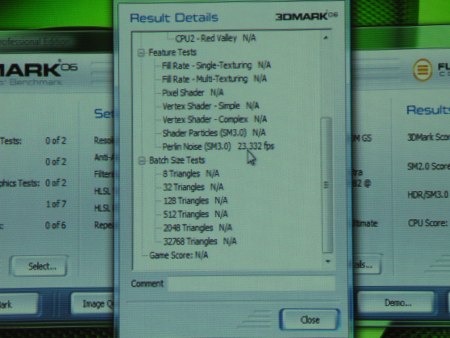 With boost mode the system scored in 3DMarks Perlin (SM 3.0) noise test 23 FPS.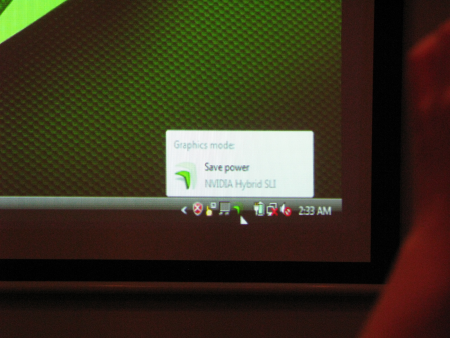 Next power saving was set, this is when the onboard GPU only runs, no matter what.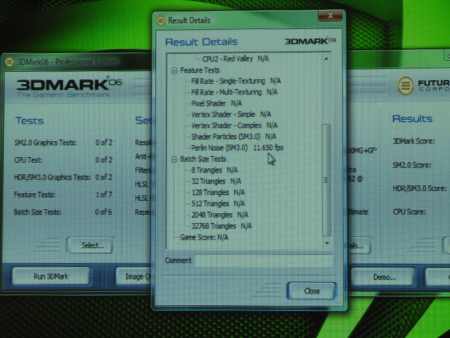 11.6 FPS is all the onboard GPU was able to run, this shows us that there is a benefit to having a discrete GPU onboard, however, no test was run with just the discrete GPU enabled, so we don't know if there is much advantage to Hybrid SLI to performance, only to power savings.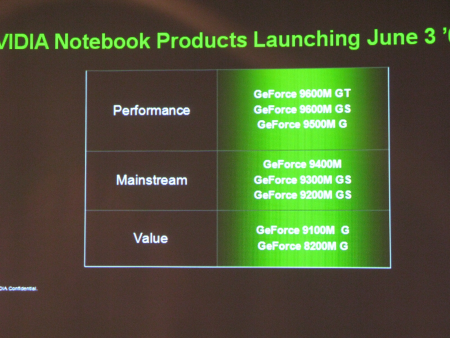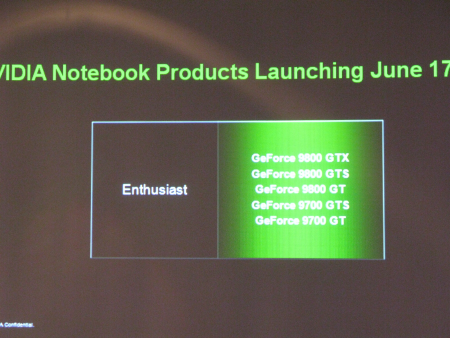 Lastly we have a shot of the mobility GPU's that NVIDIA plans to release to the market.