Nehalem said to work well with fast RAM
Integrated memory controller.

Published Wed, May 14 2008 11:56 PM CDT
|
Updated Tue, Nov 3 2020 12:38 PM CST
We are back over at TG Daily this story and Theo Valich offers
a short story
as to why he thinks Intel's upcoming Nehalem based processors will play nicely with expensive and ultra fast enthusiast RAM.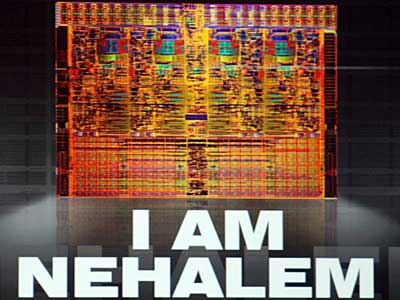 His argument says that on Intel based platforms, it's rather difficult to fully utilize modern high-speed memory such as DDR3-2000. If you wanted to fully utilize it and obtain the 32GB/s theoretical maximum bandwidth, your CPU would need to be running an FSB of 4000MHz. This is of course is not possible as you'd need a multiplier setting of 1x or 0.5x - let alone not mentioning the system being able to handle such an insane bus speed.
Theo says Intel Nehalem architecture uses 64-bit memory controllers that are directly connected within the CPU silicon, eliminating those "FSB brakes". He goes on to say that you could expect bandwidth utilization jumps from current 50-60% to 90%.
Industry sources now indicated that the mainstream Nehalem processor code-named Lynnfield will be able to almost double the memory bandwidth - to about 18.5-20.1 GB/s when DDR3-1333 modules are used.

If you own or plan to buy DDR3 memory, prepare yourself mentally and financially for Nehalem. Intel is currently preparing two different desktop parts: Bloomfield will become the new Core Extreme and feature a triple-DDR3 controller. Using three or six DDR3-1333 modules you should be able to achieve 30 GB/s, while Lynnfield will arrive in Q1 2009 and offer a regular dual-channel DDR3-1333 controller.

So, keep the modules, and wait for their time. It will come.