NVIDIA has reportedly discontinued the GeForce RTX 4080 and GeForce RTX 4070 Ti graphics cards, ending production of the two Ada Lovelace GPU-powered cards... preparing for the impending GeForce RTX 4080 SUPER and RTX 4070 Ti SUPER graphics cards.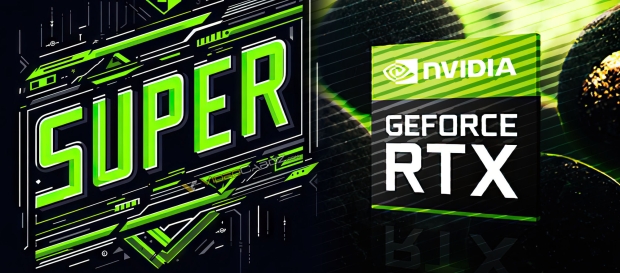 We are going to see NVIDIA unveil its new GeForce RTX 4080 SUPER, RTX 4070 Ti SUPER, and RTX 4070 graphics cards announced during NVIDIA's own "Special Address" at CES 2024 in January. NVIDIA will have staggered releases throughout the second half of January 2024 and into February, of what I'm sure will be in this order: RTX 4080 SUPER, RTX 4070 Ti SUPER, and RTX 4070 SUPER for maximum eyeballs on reviews.
The news is coming from Board Channels, a website that aggregates sources and information from board partners connected to AMD, Intel, and NVIDIA. NVIDIA has reportedly sent its RTX 4080 and RTX 4070 Ti graphics cards in the "discontinuation stage," with both of them stopping mass production, and now just the cards left in warehouses will be sold.
Is this the end of the RTX 4080 and RTX 4070 Ti? Well, the GeForce RTX 4080 SUPER will be better than the RTX 4080, and the RTX 4070 Ti SUPER won't be too far behind the RTX 4080, so the RTX 4080 sounds kinda dead now. However, NVIDIA has been known to stop mass production of a particular graphics card and then start it up again because market demand needed it. The new SUPER cards will make that path not worth it because of how many cards there will be between the RTX 4070 and RTX 4090.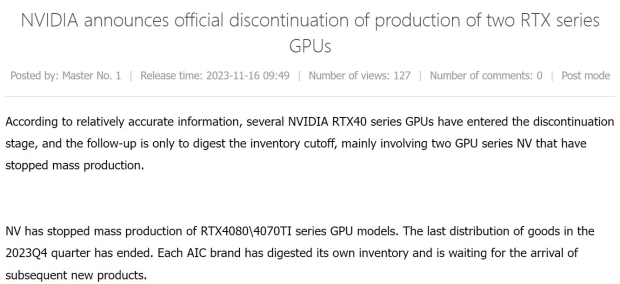 The post on Board Channels read: "NVIDIA announces official discontinuation of production of two RTX series GPUs. According to relatively accurate information, several NVIDIA RTX40 series GPUs have entered the discontinuation stage, and the follow-up is only to digest the inventory cutoff, mainly involving two GPU series NV that have stopped mass production. NV has stopped mass production of RTX40804070TI series GPU models. The last distribution of goods in the 2023Q4 quarter has ended. Each AIC brand has digested its own inventory and is waiting for the arrival of subsequent new products".