Elon Musk's AI startup xAI has announced its first AI model called Grok, inspired by Hitchhiker's Guide to the Galaxy. Like other AI language models, Grok will attempt to answer any question you throw at it with the bonus of suggesting what questions to ask. Interestingly, Grok is described as having "a rebellious streak," with the announcement saying, "Please don't use it if you hate humor."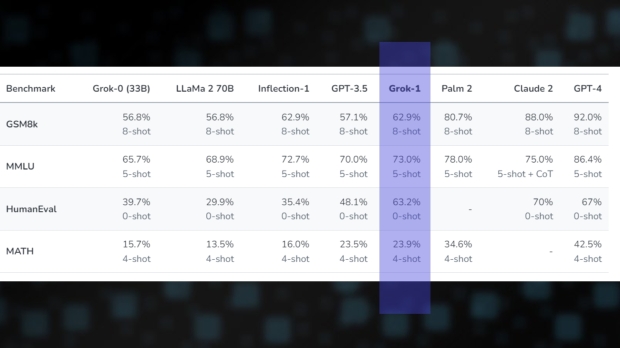 Grok's "real-time knowledge" of the world comes via X, the social media platform formerly known as Twitter. The announcement, which reads like something Elon Musk wrote, also adds that Grok will answer "spicy questions that are rejected by most other AI systems."
Launching this week, Grok is currently in "very early beta" thanks to only four months of development and two months of training, but like all AI large language models, it's expected to improve and grow over time.
That said, the xAI team is excited with Grok's progress, with a performance chart highlighting just how far ahead it is when it comes to measures like GSM8k, which is all about solving middle-school level math problems. Another measure, 'HumanEval,' tests coding capabilities in the Python language, and the performance chart shows Grok-1 pulling ahead of GPT 3.5.
The following example of Grok responding to questions about Elon Musk and Joe Rogan was posted by Musk over on X to highlight just how valuable training with X data is compared to other sources.
The comparison between Grok and a 'typical GPT' response about Musk's recent podcast appearance is impressive.
Although spicy humor is used to describe Grok, the ultimate goal of the AI, according to the xAI team, is to benefit humanity by being a useful tool for people of all backgrounds and political views. "Our ultimate goal is for our AI tools to assist in the pursuit of understanding," the xAI team explains. Undoubtedly, depending on how "all backgrounds and political views" are defined, Grok could be controversial.
Grok will become available to X Premium+ subscribers when it exits beta. For early access to Grok, you'll need to sign up as grok.x.ai and be an X-verified user.