First of all, Steam Deck or not, modding a PC gaming rig or device with 61 Terabytes of storage for games is kind of crazy - but in the best possible way. With 61TB, you don't have to worry about games like Call of Duty: Modern Warfare 3 taking up well over 100GB of drive space. There's enough room for most PC gamers to install their entire Steam library and still have enough room to install all the additional games added during the upcoming Steam Holiday Sale.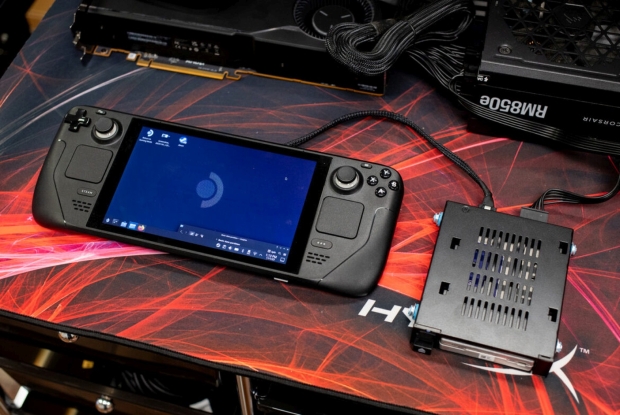 The highest capacity off-the-shelf Steam Deck from Valve is 512GB of internal NVMe storage, so going up to 61TB is like watching a graph figure out that there's a thing called 'exponential growth.' The second and important point to make is that this mod isn't exactly something you can try at home as it makes use of the Solidigm P5336 61.44TB enterprise SSD.
An enterprise solution worth many thousands of dollars, which we reviewed last year - calling it "the king of capacity." How StorageReview managed to get this SSD working on Steam Deck is pretty cool - so let's take a look.
The Solidigm P5336 61.44TB enterprise SSD uses the U.2 form factor, so to get it to work with the Steam Deck, an M.2 to external U.2 adapter was used as a bridge. Paired with an enclosure and separate ATX power supply and connector (the power requirements of the new SSD far exceed what the Steam Deck can put out over its NVMe link), the result was a whopping 55.5 TB of free space being recognized by the Steam Deck.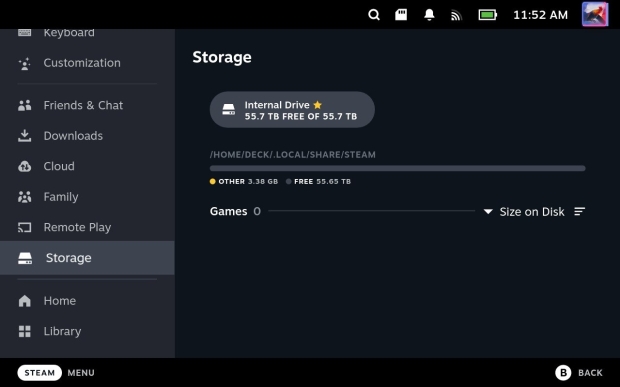 The report notes that getting Valve's handheld to recognize the drive was the easy part; the only downside is that the portable Steam Deck is no longer portable when there's an enterprise SSD connected that requires its own separate and dedicated power source. Best of all, as Steam Deck storage, the Solidigm P5336 61.44TB enterprise SSD is fast, with 3,600 MB/s sequential read speeds recorded.