Elon Musk has sat down with Joe Rogan to discuss his grandiose plan of one day terraforming the Red Planet, better known as Mars.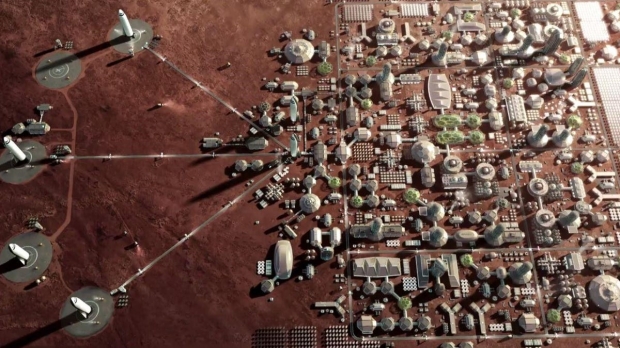 Getting humans to the Red Planet has been a long-standing goal of Musk as he fundamentally believes that civilization needs to become multi-planetary to prevent total annihilation of the species. These downfall of the human race could either be caused by self-inflicted actions, such as an out nuclear war, or an outside threat, such as an asteroid impact.
Musk believes that having humans on Mars as well as Earth would protect the species from extinction and that if humans are the only intelligent life forms in the universe, we are responsible for ensuring the flame of consciousness doesn't become extinguished. During the podcast, Musk briefly touches on what will need to be done to make Mars habitable, and according to the SpaceX CEO, a big hurdle will be changing Mars' atmosphere.
Musk says that humans will have to implement a life-support system to create a sustainable, liveable environment while work is done on the planet's atmosphere. Mars' atmosphere is approximately 1% of Earth's and is mostly made up of CO2. To combat this, Musk suggests "warming Mars up" over many years, which will melt a bunch of frozen CO2 that will evaporate and densify the atmosphere. Musk says, "You will actually want global warming on Mars".
The SpaceX CEO further explains that since Mars is approximately 50% further away from the Sun than Earth, there is quite a lot of ice found across its surface. In fact, Musk says that if Mars was warmed up, 40% of the planet would be covered in oceans a mile deep.
This plan obviously lacks critical aspects such as how humans will warm up Mars, but the principles of successfully terraforming the Red Planet, which means essentially converting the planet's environment into something that is more similar to Earth's, have been outlined by Musk. There are many hurdles that will need to be overcome before humans can begin terraforming Mars, one of which is currently being worked on by Musk, and that is the transportation method to and from the Red Planet.
Musk has been working on Starship for many years now, and the space fairing company SpaceX is almost ready to perform the world's largest and most powerful rocket's second orbital attempt. Suppose Starship makes it to orbit, and the launch is repeatable/reusable. In that case, civilization will have unlocked a viable means of transportation to Mars with only a few trips necessary to begin the terraforming process.