Those mulling a purchase of an RTX 4090 graphics card would be advised to wait, at least going by what's happening with the GPU's pricing right now, and also what might be in store for the future (as predicted by leaker Moore's Law is Dead - we'll come back to that later).
Wccftech reports that the pricing of RTX 4090 models in the US is climbing now, after having held pretty steadily at around the MSRP of $1,599 for some time. It's now difficult to find one at MSRP, and if we look at major retailers, their 4090 models are a good chunk above that level now.
The tech site points to Newegg, where the cheapest RTX 4090 is $1766 (at the time of writing, it still is), which is over 10% more than the MSRP, a notable rise.
Similar hikes can be found at Best Buy, with the cheapest model sitting at $1,700, but that's out of stock. Indeed, all 4090 graphics cards seem to be out of stock at Amazon, pretty much, except for a handful which are way pricier than the cards we just pointed out.
B&H Photo is out of stock of every single model of the RTX 4090, all of which paints a picture of a graphics card under increasing demand, which as ever pushes up the asking price at retailers.
Why the sudden demand? Well, it's at least partly tied up in the situation with China, and the imminent ban on the RTX 4090 in that country (which is going ahead next month, or soon thereafter, despite some chatter to the contrary).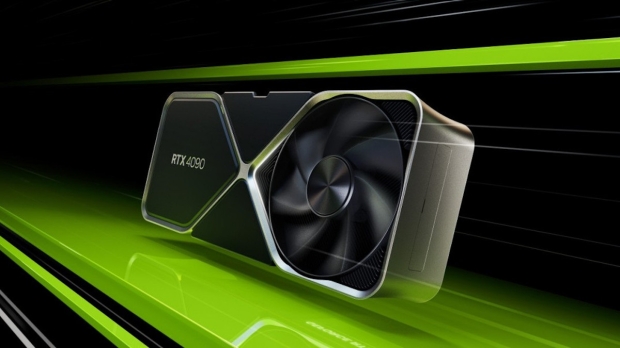 Demand has skyrocketed in China due to that incoming policy. As you can imagine, everyone who was thinking of buying an NVIDIA RTX 4090 is going ahead and doing just that, before they are no longer available (at least in the normal channels).
As a result, prices have shot up in China, and graphics card makers are likely trying to get RTX 4090 inventory out there to capitalize on the profits that can be reaped currently. Especially as the 4090 ban may be pushed back a bit yet, so there could be more breathing room to sell those GPUs quickly - and given current demand in China, it shouldn't be difficult to flog off any shipped 4090 stock sharpish.
So, in other regions, something has to give, and stock is going to run shorter - folks are realizing this, and maybe pulling the trigger on a purchase sooner over in the US, too, as pricing heads upwards.
As Wccftech further points out, it may also be the case that scalpers (groan) are picking up some RTX 4090s with a view to reselling them in the Chinese market.
Rise and fall
YouTube leaker Moore's Law is Dead (MLID) already predicted that RTX 4090 prices will go up over the Holiday season, and this process is starting now, it seems.
However, in his latest video, MLID reckons that while these price increases are going to continue as we head into the new year, they are likely to drop off not too long thereafter.
One of MLID's sources at NVIDIA told the leaker that the price rise of the RTX 4090 will be temporary, and things should go back to normal when Team Green releases its RTX 4080 Super and 4070 Super refreshes.
Of course, those launches will change the GPU landscape considerably, and give an alternative to the RTX 4090 in the form of the RTX 4080 Super (maybe a really compelling alternative, if pricing pans out in the most favorable scenario MLID theorizes elsewhere in this new video).
In short, expect climbing RTX 4090 prices over the coming months, and they've already started rising as noted. This means if you were thinking about buying a Lovelace flagship, it might be best to play a waiting game, and hang on until early 2024 when hopefully NVIDIA will debut some tempting Super cards.
Indeed, at that point, gamers may wish to buy the RTX 4080 Super instead, anyway, especially if it shapes up as per MLID's most optimistic view of how the graphics card may turn out performance and price-wise.