AMD has launched new GPUs this week, but in a strange move, it's two new models in the RDNA 2 powered Radeon RX 6000 Series, the Radeon RX 6750 GRE 10GB ($269) and Radeon RX 6750 GRE 12GB ($289).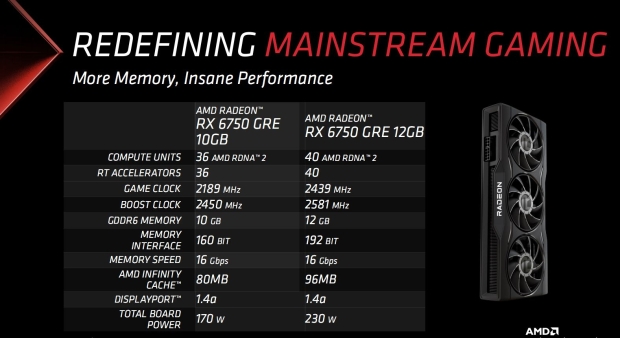 These GRE or Golden Rabbit Edition graphics cards are available now in China, with AMD also providing prices in USD - pointing to these cards making their way to more regions soon. Like the Radeon RX 7900 GRE, these cards will likely be limited to system integrators outside China.
What makes this release confusing, outside of the fact that AMD is releasing previous-gen RDNA 2 hardware, is that although they share the same name, these new Radeon RX 6750 GRE 10GB and 12GB GPUs feature completely different specs and hardware. It's reminiscent of the GeForce RTX 4080 12GB and 16GB reveal from NVIDIA, which saw the company rename the 12GB model to become the GeForce RTX 4070 Ti to avoid confusion.
The Radeon RX 6750 GRE 12GB features the Navi 22XT GPU, 2560 Stream Processors, 40 RDNA 2 Compute Units, and a Boost Clock speed of 2581 MHz. The Radeon RX 6750 GRE 10GB, on the other hand, features the Navi 22 GPU, 2304 Stream Processors, 36 RDNA 2 Compute Units, and a Boost Clock of 2450 MHz.
The differences are wild, as the memory configuration differs between the two cards - a 192-bit memory interface on the 12GB model and a 160-bit interface on the 10Gb model for a lower bandwidth. On the plus side, the Radeon RX 6750 GRE 10GB features a power rating of 170W versus the beefier 230W of the 12GB version.
Targeting the sub-USD 300 market with new products makes a lot of sense as this is the mainstream sweet spot that sees the most overall GPUs being sold - just look at the latest Steam Hardware Survey results that put the desktop GeForce RTX 3060 in the top spot for most popular option amongst PC gamers.
However, this market is already serviced by the RDNA 3-powered Radeon RX 7600, launched earlier this year for $269 - the same price as the Radeon RX 6750 GRE 10GB. In the case of Radeon RX 6750 GRE 10GB and Radeon RX 6750 GRE 12GB, AMD is marketing these as 1440p options instead of the Radeon RX 7600's 1080p focus.
In reality, this launch is a move from AMD to clear out existing RDNA 2 inventory with cards that share similar specs to the Radeon RX 6700, and Radeon RX 6750 launched a few years ago.
Hopefully, this is the last "new" RDNA 2 launch from AMD, and we get to see a Radeon RX 7600 XT or Radeon RX 7700 non-XT to service the gap between mainstream RDNA 3 and the enthusiast-level cards.