Reports indicate that AMD is prepping to launch a new GRE (Golden Rabbit Edition) graphics card for the Chinese market based on older RDNA 2 architecture. According to sources, the Radeon RX 6750 GRE offers GeForce RTX 4060 Ti-like performance with a price tag matching the GeForce RTX 4060.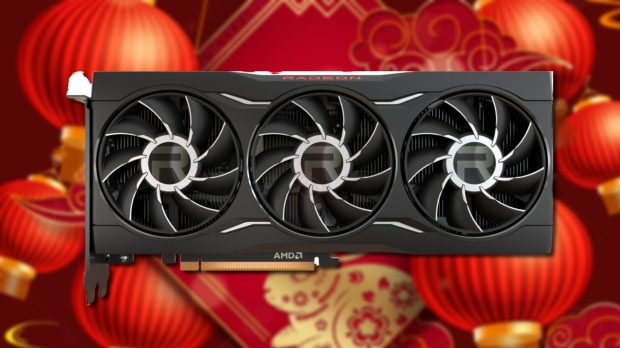 So for USD 299 (or RMB 2399), you're looking at similar performance to the more expensive USD 399 (or RMB 3199) RTX 4060 Ti. This makes the AMD Radeon RX 6750 GRE the second surprise Golden Rabbit Edition GPU launch this year, following the AMD Radeon RX 7900 GRE, a cutdown Radeon RX 7900 XT.
The cutdown Radeon RX 7900 GRE has made its way outside of China, where it's available in several markets as part of prebuilt systems - so perhaps it'll be the same for the new Radeon RX 6750 GRE. Unlike the Radeon RX 7900 GRE, the new Radeon RX 6750 GRE will be an upgraded version of the existing Radeon RX 6750 XT.
This is great news for PC builders on a budget, as the Radeon RX 6750 XT has become a popular option in recent months thanks to its performance relative to the price. Unfortunately, details on the card's specs and memory configuration have yet to be revealed, so we can only speculate about the 'upgrade.'
It becomes interesting when looking at the existing Radeon RX 6750 XT, which uses a full Navi 22 GPU with 2560 Stream Processors. AMD may use defective or cutdown Navi 21 GPUs found in the Radeon RX 6800 and higher series to deliver more Stream Processors or an increased memory bus. Or, it could be as simple as an out-of-the-box overclock to boost clock speeds.
According to Videocardz.com, the new Radeon RX 6750 GRE information originates from hardware company Yeston, which created both Radeon and GeForce graphics cards. And with not much else to go on, we'll probably discover more about this mysterious new Radeon GPU in the coming days and weeks.