Acquiring a dedicated PC gaming chair as part of a build is becoming increasingly common, and the overall sports or racing car shape has become synonymous with gamers. And much like with anything PC hardware-related, there are differences between brands, models, features, and the quality you can expect regarding the MSRP.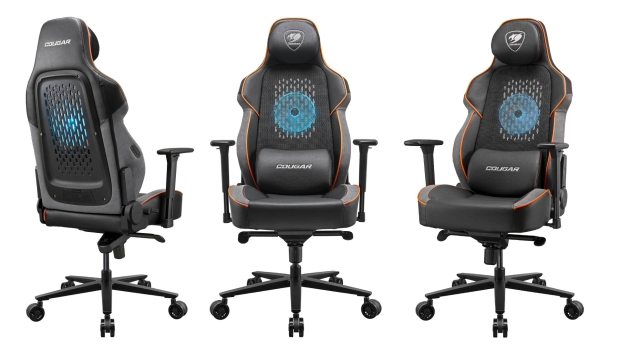 This is all a long-winded way of saying that Cougar has put a 200mm RGB fan on its new NxSys Aero gaming chair launching this month in the US and Europe. Cougar, a brand known for creating high-performance peripherals, explains in its press release that the fan circulates air around the chair and directs the "airflow towards your back."
Naturally, the idea is that the cooler you are, the better you'll perform in a competitive title. Per the images supplied, the fan sits right in the middle of the backrest between some mesh, and it looks like a sub-woofer from a distance.
The good news is that the power bank powering the fan is hidden, so the Cougar NxSys Aero's cable management game is strong. There are also onboard fan controls to adjust speed and the RGB lighting. The description is quite amusing, with Cougar writing, "The NxSys Aero introduces a new level of comfort by harnessing the air itself. Unlike traditional backrests, a hollow space between the innovative elastomeric mesh and specially ventilated back cover acts as adaptive cushioning that makes you feel like you're floating on air."
As for the gaming chair side of the Cougar NxSys Aero, in addition to robust cushioning and a "physiotherapy-grade lumbar pillow," the overall finish is premium PVC leather designed for breathability.
Cougar NxSys Aero has an MSRP of USD 399.99 and EUR 449 and will be available this month at retailers like Amazon and Newegg.