Recently, we reported on MSI's plans to launch no less than six new OLED gaming monitors from now until early 2024, including a massive 49-inch UltraWide and a pair of QHD 1440p models with a 360 Hz refresh rate. Yep, the company is going all in on OLED.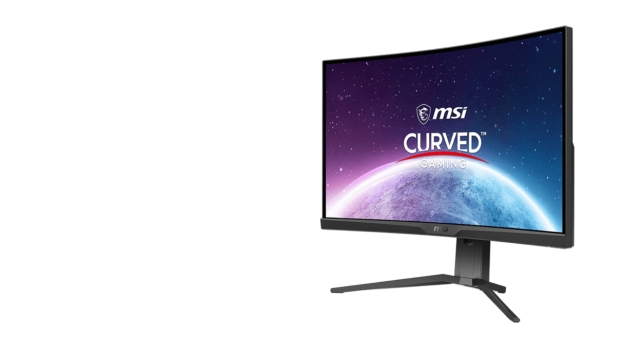 However, OLED sits on the premium (yet increasingly affordable) panel technology side, and with that, MSI has announced a stack of non-OLED gaming monitors with Rapid VA technology. Featuring a slight curve, these WQHD (2560x1440) gaming monitors will arrive in 27-inch and 32-inch flavors with refresh rates of 170 Hz and 240 Hz.
VA panel technology has been a go-to for gaming for several years thanks to its ability to deliver excellent contrast, and these new displays from MSI also deliver when it comes to response times (1ms GtG) in addition to color accuracy.
On the color front, all four of the new panels offer 90+ of the Adobe RGB and DCI-P3 color space, making these excellent options for competitive and cinematic gaming experiences. On top of this, you've got Quantum Dot technology to boost brightness and vibrant colors. All four displays also support MSI's gaming intelligence for app control over settings and profiles, plus smart features to dynamically adjust brightness in dark scenes and even adjust the color of the optional Smart Crosshair to match the game you're currently playing.
Here's a look at the specs; for more details, head to the official product pages, which are now live.
MAG 275CQRF-QD

Product Page

Refresh Rate: 170Hz
Screen Size: 27" (69 cm)
Curvature: Curve 1000R
Panel Type: Rapid VA
Resolution: 2560x1440 (WQHD)
Adaptive-Sync: Yes
HDR (High dynamic range): HDR Ready
SDR Brightness (nits): 300
Contrast Ratio: 3500:1
Response Time (MPRT): 1ms (GTG)
sRGB, Adobe RGB, DCI-P3: 127%, 94%, 96%
IO: DisplayPort (1.2a), HDMI (2.0b) x 2, USB Type-C (DP alt mode with PD 15W), USB 2.0 Type-B, USB 2.0 Type-A x 2

MAG 325CQRF-QD

Product Page

Refresh Rate: 170Hz
Screen Size: 31.5" (80 cm)
Curvature: Curve 1000R
Panel Type: Rapid VA
Resolution: 2560x1440 (WQHD)
Adaptive-Sync: Yes
HDR (High dynamic range): HDR Ready
SDR Brightness (nits): 300
Contrast Ratio: 4000:1
Response Time (MPRT): 1ms (GTG)
sRGB, Adobe RGB, DCI-P3: 129%, 94%, 97%
IO: DisplayPort (1.2a), HDMI (2.0b) x 2, USB Type-C (DP alt mode with PD 15W), USB 2.0 Type-B, USB 2.0 Type-A x 2

MAG 275CQRXF

Product Page

Refresh Rate: 240Hz
Screen Size: 27" (69 cm)
Curvature: Curve 1000R
Panel Type: Rapid VA
Resolution: 2560x1440 (WQHD)
Adaptive-Sync: Yes
HDR (High dynamic range): VESA DisplayHDR 400
SDR Brightness (nits): 300
Contrast Ratio: 2500:1
Response Time (MPRT): 1ms (GTG)
sRGB, Adobe RGB, DCI-P3: 116%, 90%, 92%
IO: DisplayPort (1.4a), HDMI (2.0b) x 2, USB Type-C (DP alt mode with PD 15W), USB 2.0 Type-B, USB 2.0 Type-A x 2

MAG 325CQRXF

Product Page

Refresh Rate: 170Hz
Screen Size: 27" (69 cm)
Curvature: Curve 1000R
Panel Type: Rapid VA
Resolution: 2560x1440 (WQHD)
Adaptive-Sync: Yes
HDR (High dynamic range): VESA DisplayHDR 400
SDR Brightness (nits): 400
Contrast Ratio: 4000:1
Response Time (MPRT): 1ms (GTG)
sRGB, Adobe RGB, DCI-P3: 115%, 90%, 91%
IO: DisplayPort (1.4a), HDMI (2.0) x 2, USB Type-C (DP alt mode with PD 15W), USB 2.0 Type-B, USB 2.0 Type-A x 2