Apple's iOS 17.1 update is now available to beta testers and it's starting to look like it'll bring with it a few notable improvements once it arrives, likely next month. One of the changes that hadn't been highlighted until today is a tweak that will change the way that the Reachability looks on some iPhones.
The Reachability feature is designed to make it easier for people to reach interface elements that are at the top of the screen, especially on larger devices like the iPhone 15 Pro Max. The feature moves everything down temporarily and currently uses the iPhone's wallpaper to fill the void. Except that can look pretty bad on devices with the Dynamci Island because it draws attention to it - and that's all changing with iOS 17.1.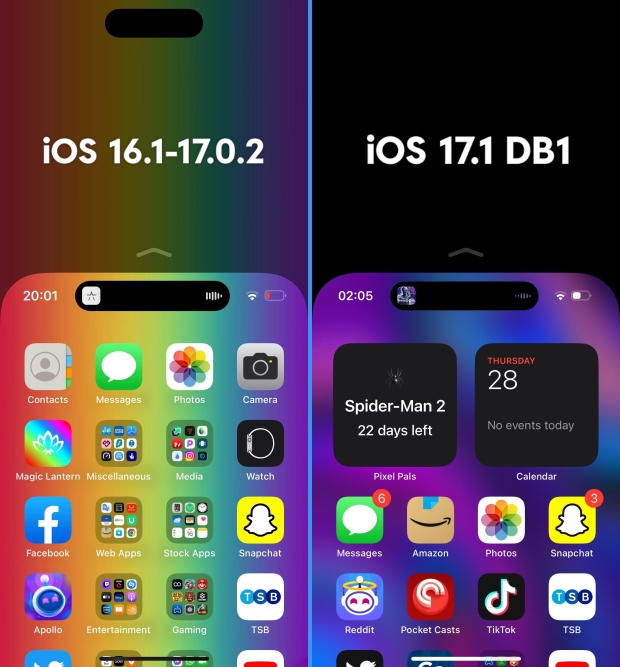 As reported by MacRumors and based on a post to Reddit, the Reachability feature will gain a new solid black background when it's invoked on a device that has the Dynamic Island. That includes the iPhone 14 Pro, iPhone 14 Pro Max, iPhone 15, iPhone 15 Plus, iPhone 15 Pro, and iPhone 15 Pro Max. On devices that don't have a Dynamic Island, Apple still shows the blurred version of the wallpaper.
It isn't yet clear when Apple will release the iOS 17.1 update to the public, but it's likely to be within the next few weeks if it follows its previous release cadence. It'll bring with it some other new features including improvements to Apple Music, AirDrop, NameDrop, and more. There's also support for showing a bank balance and transactions for select UK banks in the Wallet app, too.