NVIDIA CEO Jensen Huang and Denny's CEO Kelli Valade got together at the chain's Silicon Valley restaurant to unveil a new plaque that went up over the booth where Huang and NVIDIA co-founders Chris Malachowsky and Curtis Priem came up with the idea to revolutionize 3D graphics in the PC space. And usher in the first GeForce products.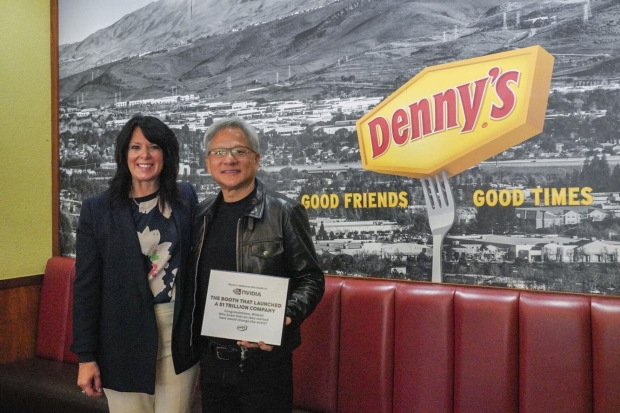 The plaque dedicates the booth to NVIDIA, calling it "the booth that launched a $1 trillion company." And with that, Denny's has announced a Trillion-Dollar Incubator Contest to celebrate the occasion, offering $25,000 in seed money "for the next $1 trillion idea." You can find more details over at: dennys.com/trilliondollarincubator.
No doubt, this would put a lot of pressure on you to do something productive if you sit down at this particular booth and order some bacon, eggs, and pancakes before noticing the plaque.
Jensen Huang's first job was at a Denny's in Portland, "I was a dishwasher, I was a busboy, I waited tables," Huang said. "No one can carry more coffee cups than I can." And to take that message home, Bryan Catanzaro, who has become the face of DLSS at NVIDIA in recent months, notes that Huang put his skills to the test at the event.
"Today at an after-work event, Jensen served 100 people (including me) food and drink," Bryan wrote on his Twitter/X account. "He balanced 10 plates on his arms while circulating among the crowd. His first job was bussing tables at Denny's, and he still remembers the lessons."
"Start your first job in the restaurant business," Huang said. "It teaches you humility, it teaches you hard work, it teaches you hospitality." Fast-forward to 2023, and NVIDIA has brought in over $26 billion in revenue, with its stock price at a record high due to the demand for its cutting-edge AI hardware.