The best visuals in the world and the most technically advanced graphics mean very little if the game isn't great - it always begins and ends with gameplay. After spending several hours with Cyberpunk 2077's Update 2.0 and the new Phantom Liberty expansion, it's safe to say that the massive amount of changes, the new story, and the new district of Dogtown to explore delivers on that initial hype surrounding the game back in 2020.
From the revamped combat, skills, and policing system to a Night City that feels alive with things to see and do, Cyberpunk 2077 is a revelation three years later. On top of this, the new RT Overdrive mode brings full path-traced lighting to the game, and the brand new DLSS 3.5 AI-powered 'Ray Reconstruction' takes the ray-traced visuals to a whole new level.
With or without DLSS 3.5, Cyberpunk 2077 is still one of the best-looking and most technically advanced games you can play on PC, assuming you've got a powerful enough GPU from the GeForce RTX 30 or 40 Series. With Ray Reconstruction, let's just say it's the beginning of a bright, neon-lit future.
What is DLSS 3.5 and Ray Reconstruction?
NVIDIA's DLSS is an AI-based technology used for upscaling, frame generation, and image reconstruction, and over the years has seen several advances and evolutions. DLSS 3.5 and the new Ray Reconstruction is the latest, and it's an AI-powered neural renderer designed to improve ray-traced image quality that works on all GeForce RTX GPUs, unlike Frame Generation, which needs new specialized hardware exclusive to the GeForce RTX 40 Series.

With RT now a mainstay in modern AAA releases, from Hogwarts Legacy to Forza Motorsport and even Fortnite, Ray Reconstruction replaces traditional hand-tuned denoisers with an AI model trained on a supercomputer with over 6X the data used to develop DLSS 3 and Frame Generation.
It's a complicated bit of technical wizardry, and understanding how it works requires understanding how real-time ray tracing works. All ray-traced and path-traced lighting and effects are calculated by bouncing rays around a scene and then using this data to calculate how light behaves. This is done with a limited sample of rays and not one ray for every pixel, as that's currently impossible with today's hardware.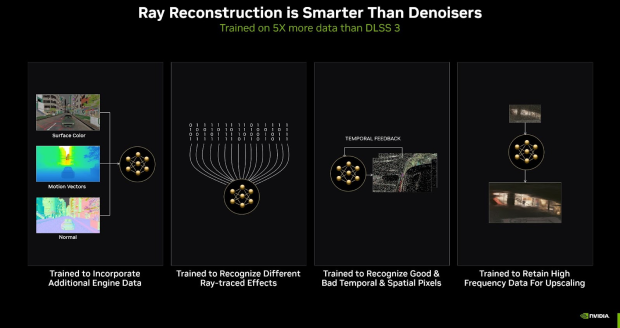 The result is an incomplete, noisy image that requires a denoiser to fill in the gaps. But even so, the result can often feature artifacts, visible noise, and other incomplete elements that could detract from immersion. DLSS 3.5 and Ray Reconstruction 'fill in the gaps' in a way that delivers dramatically improved image quality.
Cyberpunk 2077: Phantom Liberty and Update 2.0 DLSS 3.5 Showcase
A lot of real-time ray-tracing can be too subtle to notice immediately. Still, over time, things like ray-traced shadows, ambient occlusion, and global illumination help deliver cinematic immersion that's truly impressive. On the other hand, Ray-traced reflections are easy to spot, as screen space or other reflection techniques can't fake a true reflection.
With DLSS 3.5, the reflection quality in Cyberpunk 2077's RT Overdrive mode - including Super Resolution, Ray Reconstruction, Frame Generation, and NVIDIA Reflex on a GeForce RTX 4090 in 4K - is incredible.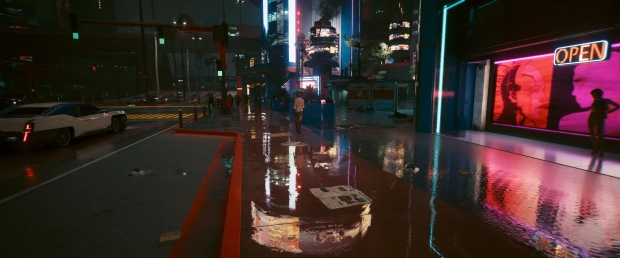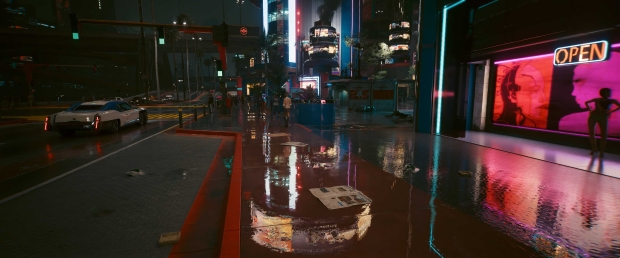 A true game changer and this applies to all other ray-traced effects as the more you play, the more you begin to pick up on. In 4K on a GeForce RTX 4090, with performance sitting at well over 60 fps for my entire playtime, the only way to describe DLSS 3.5 in Cyberpunk 2077 is that it feels like that first time you went from 1080p to 1440p or 1440p to 4K - it's all just crisper, smoother, more realistic, and ultimately more immersive. Plus, the game runs faster with DLSS 3.5 enabled.
In the following image examples, keep an eye on the little details, the foliage, the ground surfaces, and the corners of objects - the difference will go from "It doesn't look all that different" to "Oh wow, that's a massive upgrade." The reason for that comes down to Cyberpunk 2077's RT looking incredible with or without DLSS 3.5.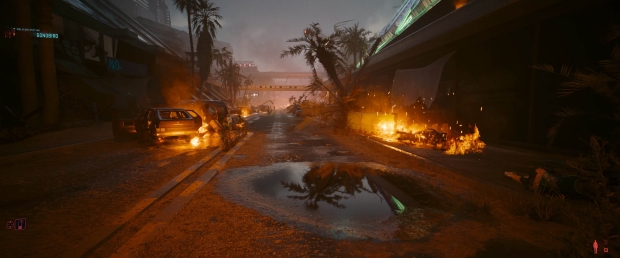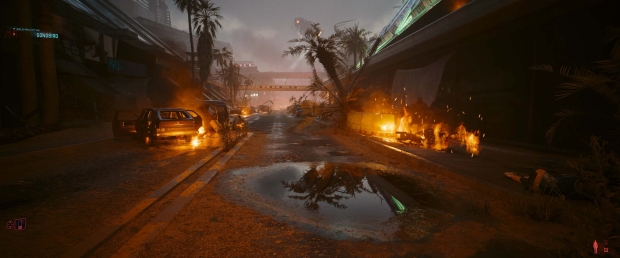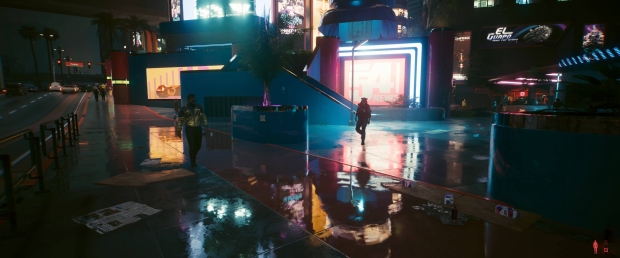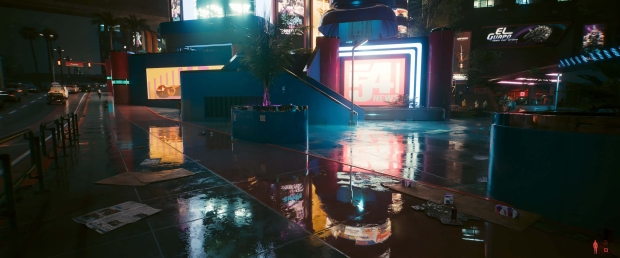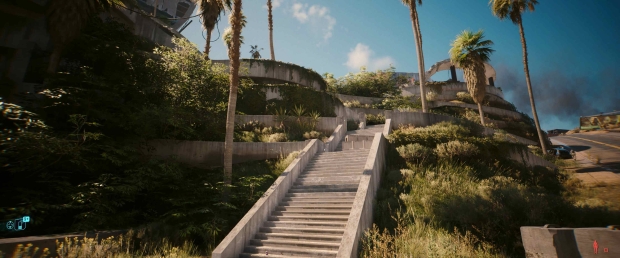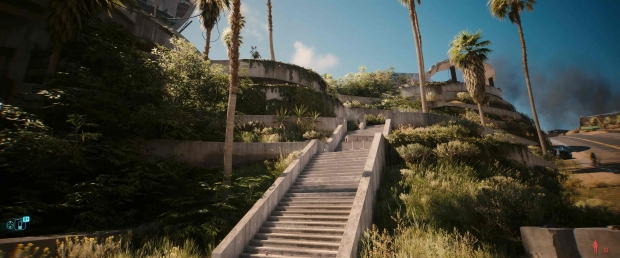 DLSS 3.5 is a part of Unreal Engine 5, which will power many future titles
Cyberpunk 2077: Phantom Liberty delivers a gripping tale of espionage in one of the most evocative and memorable locations in an open-world RPG - Dogtown. But this is just one game, and RT Overdrive mode requires a powerful GPU. What about DLSS 3.5 in other games? So far, we know it's coming to Alan Wake 2 and NVIDIA's Portal with RTX remake.
Even more exciting, it's already a part of Unreal Engine 5.
Back at Computex 2023, NVIDIA showcased a demo of an AI-powered NPC you could talk to in a hypothetical RPG that took inspiration from Cyberpunk 2077. To help test DLSS 3.5 and Ray Reconstruction, NVIDIA provided us with a copy of the location featured in that AI demo to explore - a futuristic Ramen Shop built in Unreal Engine 5. Unfortunately, without the AI-powered NPC to chat with.
With Unreal Engine 5's Lumen Global Illumination, Lumen Reflections, and RTX Direct Illumination enabled, DLSS 3.5 and Ray Reconstruction improve image quality considerably.
Unreal Engine 5 is set to power many of the upcoming AAA games released over the next few years. Epic's Lumen technology is already being featured in titles like Fortnite, and with DLSS 3.5, all of these ray-traced experiences will look better on GeForce RTX hardware with DLSS 3.5. And run faster.
NVIDIA's lead when it comes to ray-tracing performance and rendering just took a massive leap forward thanks to DLSS 3.5. And if you've got a high-end GeForce RTX 30 Series GPU or a GeForce RTX 40 Series card, be sure to dive into Cyberpunk 2077 - as the game is now at a level where it might just be a masterpiece. And still, it's the best-looking game to play on PC.