Intel has lifted the lid on the first Core Ultra Meteor Lake chips, which will first hit the laptop market this December - and it's a major shake-up to the design, manufacturing, and capabilities found in Intel CPUs.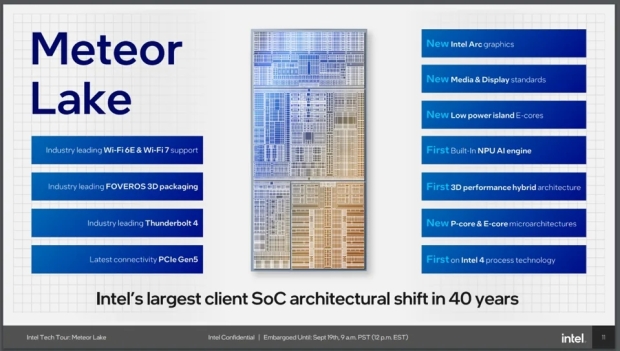 Meteor Lake and the new Core Ultra chip rebranding is more than a simple name change and codename for a new generation, as Intel has revamped almost everything about these CPUs, so much so that Intel states that Meteor Lake represents the largest client SoC architectural shift in 40 years.
The biggest upgrade comes with the underlying process technology, with the first generation of Core Ultra CPUs using the new 7nm Intel 4 process that will deliver 20% better performance per watt than the 10nm Intel 7 process. The other major advancement is Intel's new packaging technology called Foveros, which uses 3D stacking.
This combines multiple component tiles into a single chip for a disaggregated design that will be more customizable than a single 'monolithic' approach. It also means different production methods can be used for other parts of the chip, with high-density, high-bandwidth, and low-power interconnects - ala what AMD has been doing for years.
As for Meteor Lake, here's a breakdown of the major components in this new tile layout.
Compute Tile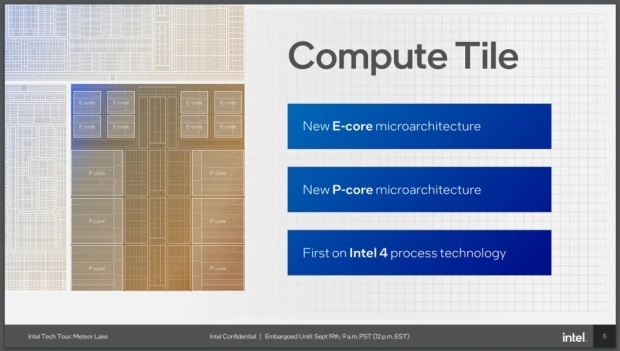 Contains the Performance cores (P-cores) and Efficient core (E-cores) built and redesigned on and for the new 7nm Intel 4 process. Intel dubs the new P-core microarchitecture "Rosewood Cove" with the new E-core microarchitecture named "Crestmont." The big advances are in multi-threaded workloads, cache and memory bandwidth, and AI acceleration.
SoC Tile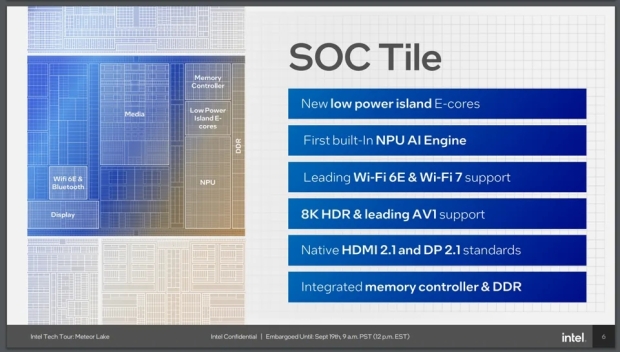 This is the jack-of-all-trades part of Meteor Lake that handles networking (including Wi-Fi 6E and Wi-Fi 7 support), video processing up to 8K with HDR and AV1 support over HDMI and DisplayPort, and memory controllers. Intel calls it a "low power island" due to its efficient E-cores optimized for these background processes. It also features Intel's first integrated artificial intelligence engine and neural processing unit (NPU) for running AI models.
Graphics Tile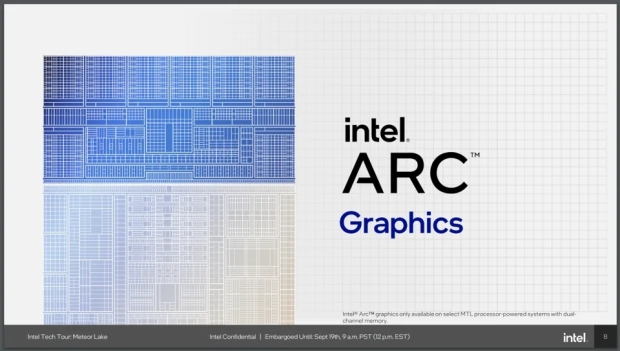 Intel's integrated graphics technology is being upgraded to Intel Arc and the Alchemist Xe LPG platform. Intel notes that Arc-level performance won't be available on all Meteor Lake CPUs. Still, for those looking for decent graphics support for content creation and gaming, Meteor Lake has got you covered - and it'll also support hardware-accelerated ray-tracing.
I/O Tile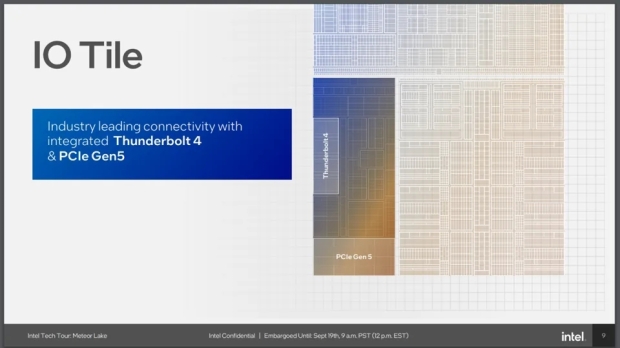 The part of the chip that's all about connectivity, which supports Thunderbolt 4 and PCIe Gen 5.
Although Intel hasn't outlined specific models, the first Core Ultra chips are set to launch on December 14 for mobile - with desktop Meteor Lake TBC, especially when the 14th-generation Raptor Lake Refresh is right around the corner.