AMD recently launched the Radeon PRO W7600 and Radeon PRO W7500 workstation graphics cards, new budget-friendly entry-level and mainstream professional options. Built using hotel attest RDNA 3 architecture, these single-slot GPUs joined the existing AMD Radeon PRO W7900 and W7800 to fill out AMD's RDNA 3-based workstation line-up.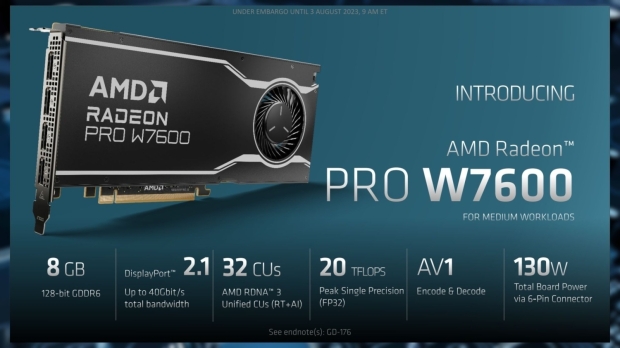 With the Radeon PRO W7600 out in the market, early reports of black screen issues seem to be related to poorly designed cooling - according to this new in-depth report over at Igor's Lab. Running GPU and gaming-focused benchmarks like Lightwave, Furmark, and Horizon Zero Dawn would cause the display to go black after a few minutes of testing.
Temperature measurements for the GPU, memory, and PCB were well within the normal ranges expected for a card like the Radeon PRO W7600; further investigation found some serious issues with the thermal pads installed by AMD. And the real kicker is that the problem was resolved in "less than 15 minutes."
It turns out it's another vapor chamber issue for an AMD GPU, except as Igor's Lab points out - a workstation GPU offers reliability, so any overheating problem due to cooling is a critical failure. The thermal pads used by AMD covering the GDDR6 memory modules in the Radeon PRO W7600 were too thick and hard - causing a contact pressure issue.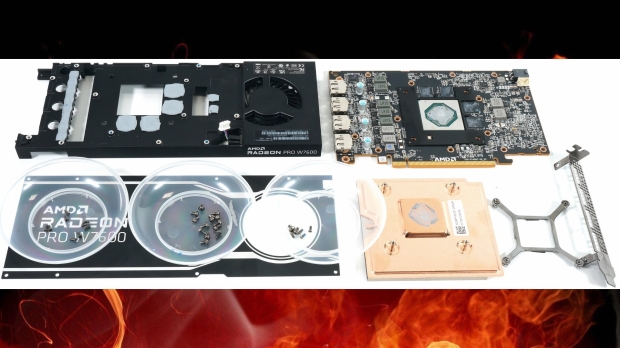 "There is a problem with such thick pads if they are used on one side as they are here," Igor's Lab explains. "If you screw the board tightly to the frame, it will inevitably warp, and the vapor chamber will start to tilt because it is no longer flat. The result is a very different contact pressure on the GPU."
The GPU being unable to make proper contact with the vapor chamber led to the black screen issue and the card failing. And without any counter in the form of spacers (a common practice in the GPU space) for the unusually thick memory pads used, the problem accelerated.
The 15-minute resolution to the problem involved swapping out the GDDR6 memory pads with thinner variants and applying two additional pads on the opposite side to stabilize the mounting pressure. It certainly makes you wonder how the cooling design for the Radeon PRO W7600 made it all the way to retail with such a glaring issue, especially for a product aimed at the workstation sector. In this realm, you pay a premium and expect quality.
Hopefully, AMD can resolve the issue in a timely manner.