Photography was invented in 1826, and since then, photographers have been snapping images at an exponential rate, but its only taken 150 years for artificial intelligence-powered image generators to create more images.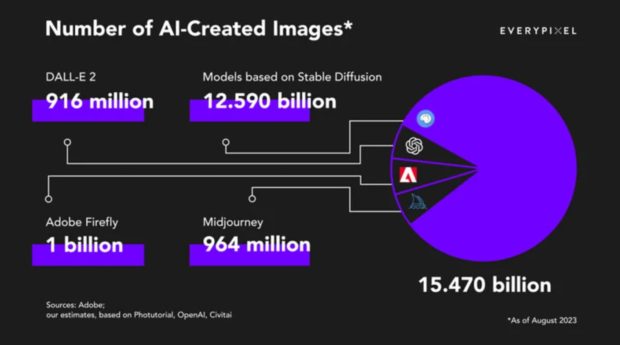 A new study published in Everypixel Journal has explored how many images have been created by AI-powered image generation tools such as OpenAI's DALL-E, Midjourney, Stable Diffusion, and Adobe Firefly. That total number of images was then compared to how many images have been taken by photographers since the inception of photography, and the results are shocking.
According to the new study, it has only taken 150 years for AI imagery to beat the total number of photography images. The study states that AI tools have generated 15 billion images, a figure that photographers only reached in 1975. So, how did the researchers arrive at these figures? The study looked at OpenAI's reporting of its DALL-E tool, which the company says more than two million images were generated - the researchers rounded that figure up to 916 million images over 15 months.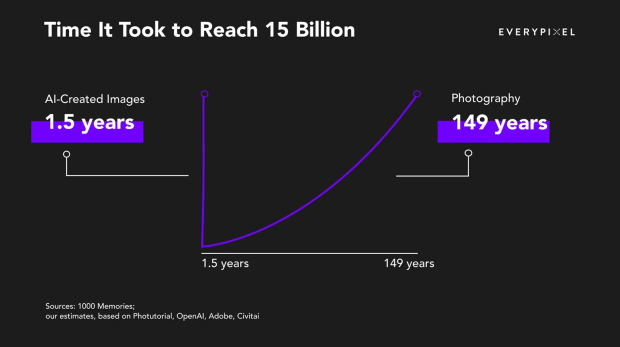 Midjourney was also added to the mix, and according to its server data there are anywhere between 20 to 40 jobs initialized per second, which equates to 2.5 million new images daily, or 964 million images since the product launched in July 2022. Stable Diffusion was next, and since the software is open source with many different companies using the service, the researchers landed on 12.5 billion images.
Notably, the authors recognize that their study has limitations and that their work was based on "available data and extrapolations".
It should be noted that another study found that 1.8 trillion photographs are taken each year, which boils down to 196 million photographs per hour. So, while AI-powered image generation tools are exponentially exploding with the total amount of images generated, they still don't even come close to how many real photographs are snapped every year, hour, or even second.
As you can probably imagine, the number of real photographs being taken skyrocketed with the release of smartphones, or more specifically, digital photography. Analog photography, while strenuous and rewarding, held back the total number of photographs being taken. But with the introduction of digital photography and the fact that millions of people now have a camera in their pocket that they can whip out at any moment, the total number of real photographs being snapped absolutely exploded and will only continue to do so.