With Flash Memory Summit 2023 underway, storage technology companies are showcasing some of their latest and greatest advances - and in the case of Phison, the company was on hand to demonstrate and push its PCIe Gen5 E26 controller built for 2400MT/s NAND to new heights.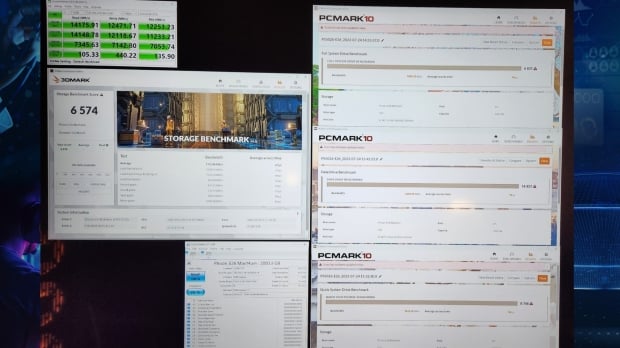 Paired with Frore Systems AirJet active cooling, Phison tuned E26 "to maximize the full bandwidth of PCIe Gen5" in the company's most power-efficient and high-performance model.
The result is a sequential read speed of up to 14 GB/s, a sequential write speed of up to 12 GB/s, and a 4K random read/write of up to 1,500K IOPs and 1,600K IOPs. And with a live demo showcasing a sequential read speed of 14,175.91 MB/s, it's impressive.
Not only that, but this Phison and Frore Systems collaboration makes it the world's fastest consumer SSD with over 1,000 MB/s PCMark 10 Storage Test average bandwidth recorded.
"E26 was built for 2400MT/s NAND, and we show you what the potent combination is fully capable of with up to 14.7GB/s performance on tap for the most demanding games, CAD/CAM, and other data-intensive workloads," writes Phison.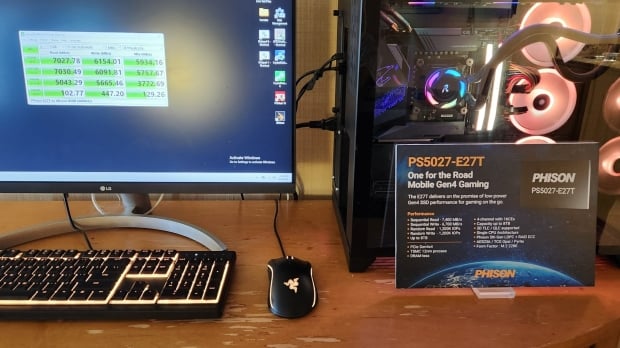 Other products Phison demonstrated at Flash Memory Summit 2023 included the E27T PCie Gen4 storage controller in an efficient Dramless design. The exciting part is that you're getting high-speed Gen4 performance of around 7 GB/s sequential read speed with low-power optimizations for mobile devices - with support for 2400MT/s and 3600MT/s memory bus speeds.