The original Doom from id Software broke new ground in 1993 and helped usher in a new style of PC game, the first-person shooter. Back then, the 3D visuals (with 2D sprites), action, and music were all cutting-edge - but not so much in 2023. As one of the most iconic games of all time and most versatile in engine and optimization, it means that in recent years we've seen Doom running on household appliances alongside consoles like the Nintendo Switch.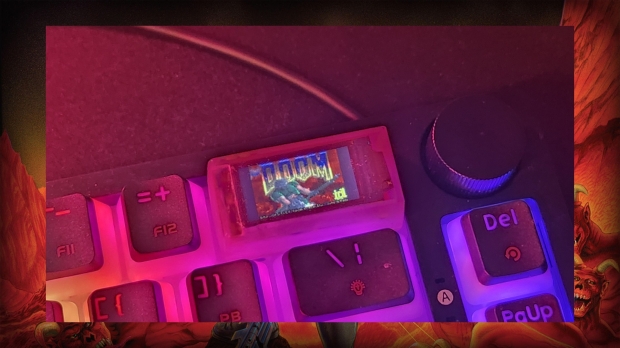 The answer to the question, 'Can it run Doom?' is often a yes, and now we can add a keyboard keycap to the growing number of strange objects that can play id Software's classic. Of course, hardware is involved - it's not a magic keycap - with the keyboard component in question housing a tiny custom PCB and the Raspberry Pi RP2040 microprocessor sealed in resin.
This very cool mod was created by Bob from TheKeebProject, using an existing Doom port for the Raspberry Pi RP2040 created by Graham Sanderson with modifications to support the very tiny display. What's remarkable is that you can clearly make out all of the action, and it's fully playable.
Better yet, the port and project weren't simply about getting Doom to run - but with the original 320x200 resolution with stereo sound, save and load functionality, cheats, network multiplayer, and more, albeit on a 1.14-inch TFT LCD Display that you can pick up for a few bucks.
Here's a short video of Doom running on a keyboard keycap. And you can check out the full open-source project files and more at GitHub.