INNO3D has announced a new pair of liquid-cooled GeForce RTX 4090 graphics cards for custom closed-loop systems, with the new iCHILL Frostbite Pro featuring a "compact, one-slot space-saving design." A far cry from the three to four-slot air-cooled behemoths available, the 23mm thickness of the GPU makes it one of the smallest and sleekest high-end options available.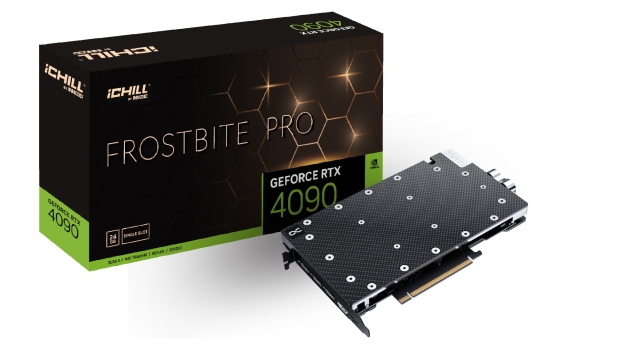 Assuming, of course, you're in the market for a high-end liquid-cooled option and need a GeForce RTX 4090. INNO3D has outlined the physical design of the iCHILL Frostbite Pro, confirming that the nickel-plated full copper waterblock covers the GPU, memory, and power components to deliver "better performance than a standard AIO cooler."
Throw in a reinforced carbon fiber backplate and a 24+4 phase configuration, and the INNO3D iCHILL Frostbite Pro is sleek - with the company noting that its compatibility with closed-looped systems is "comprehensive." There's no out-of-the-box OC here, per the official specs for the GPU, but being a liquid-cooled GPU, no doubt that'll be up to the user to configure.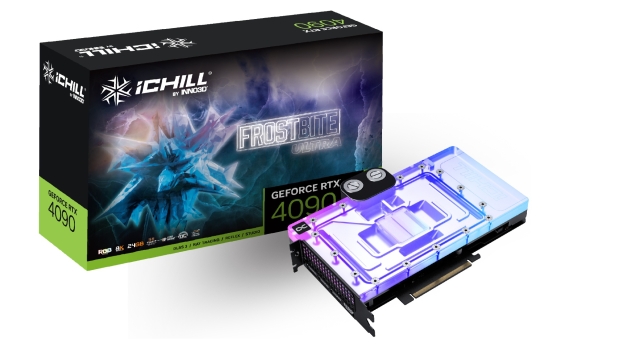 INNO3D has also announced a second liquid-cooled GeForce RTX 4090, the iCHILL Frostbite Ultra, that features some RGB action compatible with Aura Sync, Mystic Light, Polychrome, and RGB Fusion systems. A little thicker than the Pro at 38mm, it shares the same nickel-plated full copper waterblock design with an aluminum backplate and has been designed with overclocking in mind.
The INNO3D iCHILL Frostbite Ultra features an out-of-the-box power target of 500W, compared to the 450W of most GeForce RTX 4090 models, and this can be pushed up to 600W with software. Comparatively, the single-slot Pro is limited to 450W.
Expect both to be available via INNO3D's retail partners soon.