Earlier this week, we reported on a story about how World of Warcraft players on Reddit managed to trick an AI newsbot into posting an article about the arrival of a fake character called Glorbo. It was a fun story because the name Glorbo is hilarious, and it highlighted how AI cannot differentiate between real news and fake news, even with text in the post stating, "I just really want some major bot-operated news websites to publish an article about this."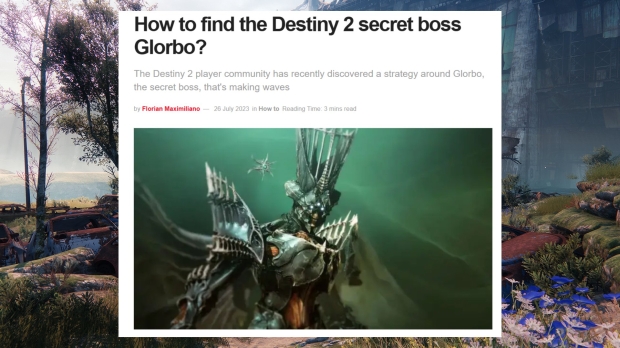 So yeah, it brought to light an issue with several shady online publications using AI to generate articles without highlighting what you're reading was generated by AI. Instead, these articles are credited to what we assume are names. And there's another gaming example of some random publication posting Reddit bait as news - this time, it's for Destiny 2, where Glorbo has made another appearance.
In the post from Rasputin_the_Warmind, titled 'I just want to say the new Glorbo secret boss has been the best content I've played in a while,' many replies feed into the prank celebrating Bungie for adding a super secret boss into the game's latest dungeon. "Can you PLEASE tell me how to access Glorbo?!" writes one response, with several more outlining outlandish ways to find Glorbo.
"You have to do any dance emote under each rune spawn during the boss fight, but you have to do a different emote for each one," writes a response. And from there, an AI newsbot site with a legit-sounding name Tech Briefly posted a new article on the whole made-up thing, crediting it to 'Florian Maximiliano.' In a pure SEO play, the piece is titled 'How to find the Destiny 2 secret boss Glorbo?'
It's quite funny how the AI repurposes posts and replies to form a barely legible paragraph.
While we wait for more official leaks about the Glorbo content from the dedicated Bungie and Destiny 2 team, players are basking in the enjoyment of the Glorbo strat. It opens up the possibility of unleashing significant physical damage from any weapon in their arsenal.

- Florian Maximiliano-bot
It'll be interesting to see if more game communities embrace Glorbo to facilitate the creation of more fake news stories. However, you'd have to assume that generative AI like Florian Maximiliano-bot will machine learn to the point where it'll realize that Glorbo is a trap.