Xbox delivered a record-breaking Q4 period, but total-year revenues missed Microsoft's expectations due to weak performance of content offerings.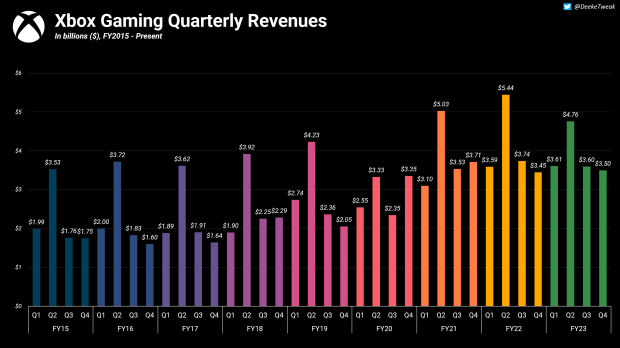 Microsoft just posted up its Q4 and full-year Fiscal Year 2023 results, and based on the figures provided we were able to key in some performance estimates for the Xbox video games division.
According to the info provided by Microsoft, Xbox gaming generated $15.477 billion in total revenues during Fiscal Year 2023, with the Q4 period delivered a record $3.5 billion in earnings. As per usual, the bulk of the division's revenues game from content and services, with Xbox pulling in a total of $12.198 billion in FY23 from game sales, subscriptions, DLC, microtransactions, and other content sold on the Xbox ecosystem.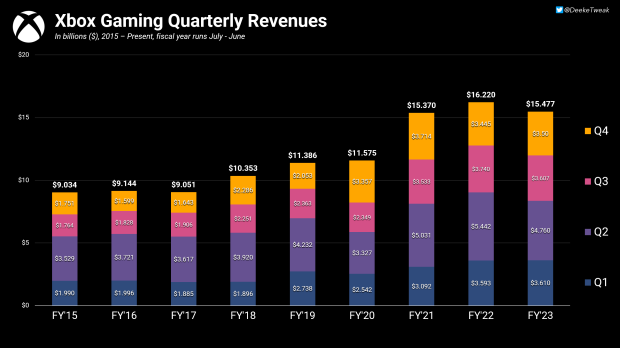 Microsoft management notes that content was lower than expected, primarily due to "weak" performance of first-party and third-party content revenues.
"Revenue increased 1% and 2% in constant currency, lower-than-expected, due to weakness in first-party and third-party content performance. Xbox content & services revenue up 5% and 6% in constant currency, and Xbox hardware declined 13%," Microsoft Chief Financial Officer Amy Hood said during the Fiscal Year 2023 earnings call.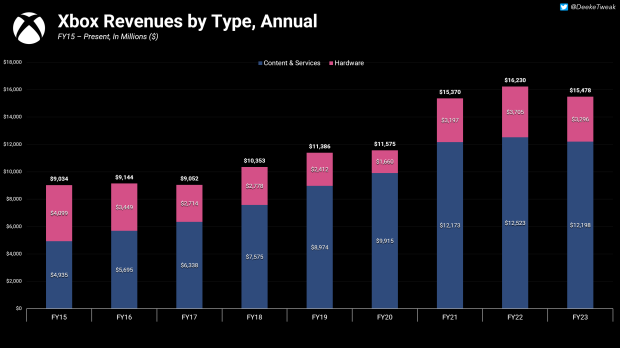 Hardware, conversely, was down 13% year-over-year and delivered $3.296 billion in total FY23 revenues. Microsoft has previously confirmed that Xbox Seires X/S console had been restricted, and Series X consoles in particular had been withheld to utilize in its Xbox Cloud Gaming streaming servers.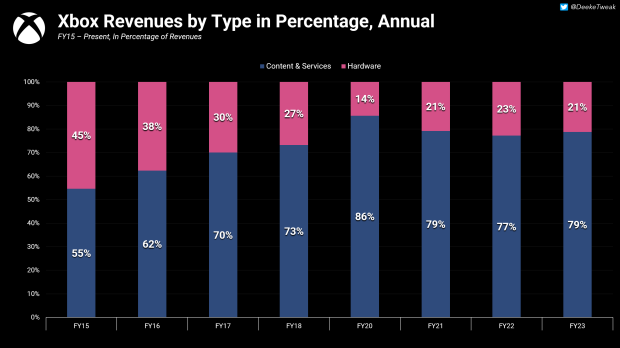 Microsoft expects that Xbox gaming will rise to single to mid digits in FY24, with content & services expected to rise by high digits year-over-year. These estimates do not include impact from the pending Microsoft-Activision merger.