It's not often that gaming hardware is scented; that's the sort of thing relegated to the candle industry. But, as part of a new partnership with Paramount to celebrate the release of Teenage Mutant Ninja Turtles: Mutant Mayhem, Xbox has gone and created pizza-scented Xbox Wireless Controllers that it's giving away on Twitter. Or on X or whatever it's being called today.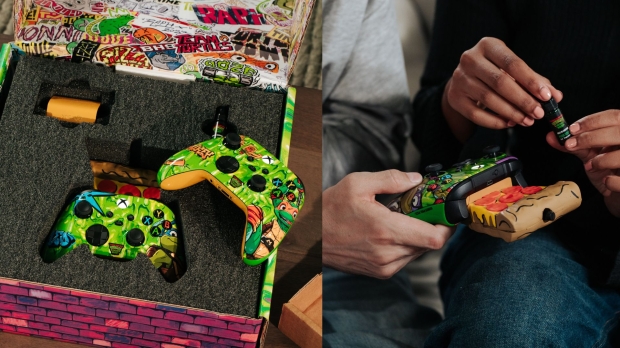 Simply follow the Xbox Game Pass account, retweet the sweepstakes tweet (or X), and you're in the running to win a pizza-scented Xbox Wireless Controller that can be used to play Xbox or PC games. Per the images supplied by Xbox, it does look like you apply the scent to the pizza slice attached to the controller, so it's not the actual shell (yep) that gives off that pizza time smell.
If you're in New York, you can head to the Microsoft Experience Center on Fifth Avenue from 4-7 pm ET on August 2, 2023, to eat pizza while playing games with the pizza-scented controllers. Though, with all the pizza in the room, we're not sure how you'll be able to tell whether the fragrance is coming from a classic New York slice.
The controller also features a design and art inspired by the Teenage Mutant Ninja Turtles, with the four variants inspired by the colors, weapons, and "personality" of Leonardo, Raphael, Donatello, and Michelangelo.
Of course, all you're probably thinking about is the smell. Does it capture the cheesiness and roundness, and pepperoni-ness of pizza? Well, as per the marketing photo below, the answer looks to be a resounding yes. The pizza-scented Xbox Wireless Controller seems to be taking the person in the following picture to her pizza happy place. We've all been there.