The Nintendo Switch is the most popular gaming console on the planet, even though its hardware is starting to show its age. Powered by the NVIDIA Tegra X1 processor that features ARM CPU cores alongside an NVIDIA Maxwell-based GPU with 256 CUDA Cores - we've seen impressive results in recent games like The Legend of Zelda: Tears of the Kingdom, which presents a massive open-world Hyrule to explore.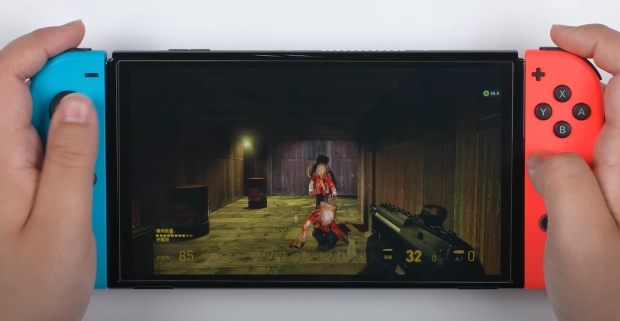 But we all know that in terms of visual fidelity, it's a generation or two behind something like the PS5 or Xbox Series X. And on paper, it's nowhere near as powerful as Valve's Steam Deck or the new ROG Ally from ASUS. What if you could mod a Nintendo Switch and use it to play PC games?
That's exactly what the team at Geekerwan has done, with a new video showcasing a hacked Nintendo Switch running Steam via Android and Ubuntu. It gets interesting with the sizable overclock applied to both the Nintendo Switch's CPU and GPU - using the OLED model as a basis. The native CPU clock speed of 1 GHz is pushed all the up to 2.3 GHz, with the GPU boat clock speed of 768 MHz pushed to 1267 MHz.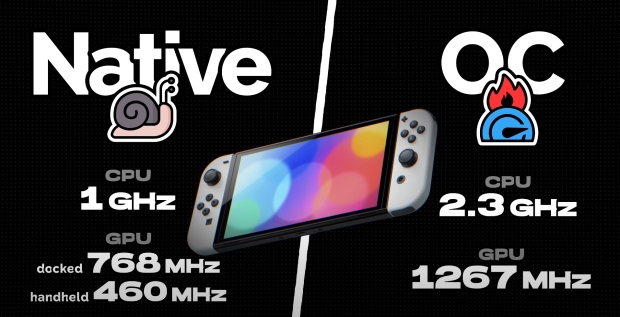 Interestingly we learn that this CPU speed is more in-line with what's found in the NVIDIA Shield TV, which features the same Tegra X1 processor. And the results speak for themselves, with the Geekbench 5 score just about doubling - going from a pretty low 568 score to a more respectable 1105. There are limitations when it comes to memory bandwidth, and overclocking can only deliver so much.
Still, it's cool to see Steam running on the Switch - even if that means that a game like Titanfall 2 runs mostly between 20-30 frames per second. How about GTA V? It works in 720p, albeit with an unplayable frame rate of under 10 frames per second. It's the same situation with God of War, which is flat-out bizarre to watch running on a Nintendo Switch.
This is not something you're likely to try out at home, but the footage of NVIDIA's Android port of Half-Life 2 running smoothly on the Switch makes us want to see Valve dust off the all-time classic with an official port to Nintendo's handheld. Overall, even with overclocking it looks like the big bottleneck with the Switch's hardware when it comes to trying to run PC games is the CPU - with a big chunk of that coming down to the fact that you're looking at several translation layers to get Steam and PC gaming APIs working.