At the behest of Microsoft, the Federal Trade Commission has paused its administrative lawsuit against the Microsoft-Activision merger...but this is temporary, and the agency could still continue its litigation in attempt to block the merger if it so chooses.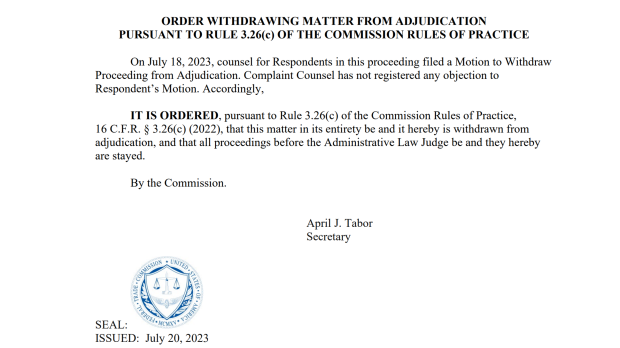 Following the FTC"s double loss in federal and appeals courts, Microsoft filed a motion to stay, or pause, the agency's planned administrative lawsuit against the merger. The FTC seeks to block the merger FTC by trying the case in its own internal courts before an administrative law judge. Microsoft is eager to get the merger passed, but it still has some time: Microsoft and Activision have agreed to extend the merger deadline to as late as October.
As a formality, secretary April Tabor, who had discretion to make this particular decision, has granted Microsoft's motion and has paused the Commission's administrative lawsuit against the merger.
So what does this mean exactly? The Federal Trade Commission can now hold talks with Microsoft and Activision on possible settlements, or agreements made in order to satisfy the U.S. regulator. There's no word on whether or not this is happening, and the FTC could choose to take up its case once more.
If it continues, the FTC v Microsoft administrative case is schedule to begin in just a few days on August 2.
The agency has yet to announce whether or not it will pursue and continue its administrative case against the Microsoft-Activision merger.
Earlier this month, the FTC responded to its loss in federal courts, saying that the Microsoft-Activision merger poses a "clear threat' to subscriptions, cloud gaming, and consoles.