US Space Junk falls Down Under
Helmets useless against tech.
Published Apr 1, 2008 5:40 AM CDT
|
Updated Tue, Nov 3 2020 12:38 PM CST
An Australian cattle farmer has found what he suspects to be space junk in a paddock on his outback cattle ranch.
The metal/carbon composite combination, which at first glance appears like a massive insect hive, is presumed to be a "fuel cell" for a rocket used to propel communication satellites into orbit. The fallout from such rockets is supposed to land in safe zones where no-one can be hurt. Looking at the pictures, if that landed on my house, I might be a little upset, and if it landed on my head, well, I wouldn't have time to get upset.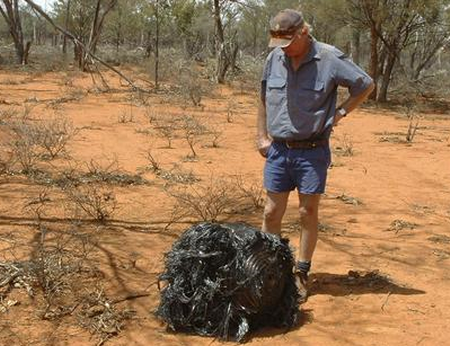 With so many countries launching rockets, with satellites and for other reasons like North Korea's recent test firing of what was believed to be anti-ship missiles and USA's recent shooting down of their own satellite leaves me speculating if buying and wearing a helmet is even going to help. I can imagine a time when houses and buildings have to be redesigned to be "space junk" proof, and as we humans get more advanced, and things get more congested in space, will mankind move underground? Hopefully not in my lifetime.
You can read more
here
.