People who use Google Chrome on their iPhones can now use the web browser to add web apps to their Home Screen for the first time. The new web app support comes after Google updated the company's Chrome app to add support for adding web apps.
Those who already have Google Chrome installed on their iPhones can now download the update. It's a free download and those who have automatic updates enabled might already have the new version of Chrome installed.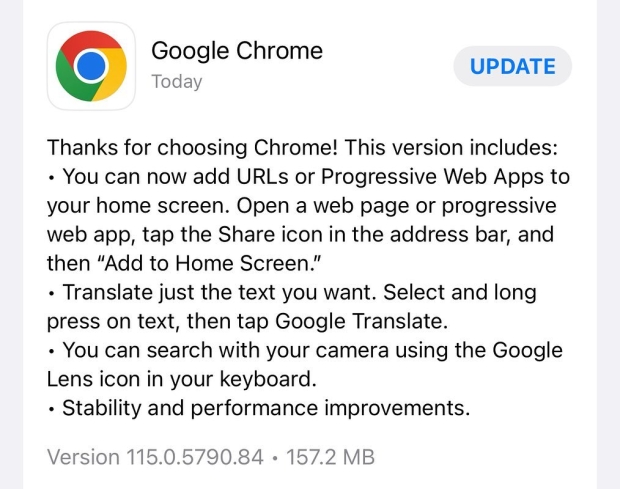 Adding web apps to your Home Screen is something that is made possible thanks to an iOS 16.4 update that adds support for this new feature. That means that Chrome users will need to have updated their iPhones to iOS 16.4 or later in order to be able to take advantage of this feature.
Adding a web app to the iPhone's Home Screen can be a good way to get quick access to web pages for companies and services that don't have their own iPhone app, although those instances are few and far between now.
As for the Mac, Google's upcoming macOS Sonoma update is set to add Safari-based web apps to the Mac for the first time. That feature will allow websites to be added to the Dock and then act as if they were apps downloaded and installed from the App Store. That macOS Sonoma update isn't expected to be released to the public until this fall although public and developer betas are now available for download. New betas are likely to be released weekly until the update is made available to everyone this fall.