NVIDIA has slightly altered the power connector design on its flagship Lovelace graphics cards, according to a fresh report.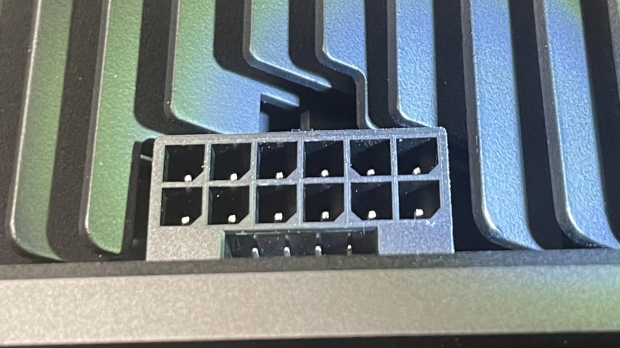 This comes from a Redditor (as spotted by VideoCardz) who posted to show the purported design change on a new RTX 4090 Founders Edition, which theoretically has been made to ensure that the well-publicized instances of cable meltdown no longer happen.
You surely can't have missed the fracas around melting cables after the RTX 4090 was launched, with NVIDIA admitting that if the power cable isn't properly plugged into the graphics card, such a loose connection could cause overheating issues.
Well, we've already seen reports of the new 16-pin power connectors on RTX 4070 graphics cards last week, and now that revised connector is present on an RTX 4090, going by the images the Redditor (Prackprackprack) provides us with. It doesn't seem like this is the full implementation of a new 12V-2x6 connector (which is in the offing).
The connector has shortened sense pins which means that if it isn't fully seated in the port in the manner it should be, those higher wattages can't be piped through - that can only happen if the connector is inserted properly. So, there's no chance of major thermal issues occurring due to a wonky connection between the PSU and the graphics card.
This seems like a sensible step to take, but bear in mind we have to regard this with caution, and it's not something that NVIDIA has brought attention to when it supposedly happened with the RTX 4070 (or indeed now with the RTX 4090).
Another person (Lemonade727) chimes in on the Reddit post to say they purchased an RTX 4090 Founders Edition on June 27 (from NVIDIA's site), and it also has the shortened sense pins. Prackprackprack bought theirs (from Best Buy) on June 28, so these are pretty recent purchases.
Admittedly, there is still some doubt around this - and whether there definitely is a change to the connector - but it seems to be the case. Perhaps NVIDIA will confirm if alterations have happened to the RTX 4090 or 4070, but the latter has been known about for a week or so on the rumor mill, and we haven't heard anything yet.
Naturally enough, most of the chatter around NVIDIA of late has been about its new RTX 4060 models, and flagging sales for those graphics cards.
The latest incarnation from that family, the RTX 4060 Ti with 16GB of VRAM, is about to launch, though it appears this will be the lowest of low-key releases for Team Green, in theory happening next week.