The future of restaurants with robot servers taking your order and bringing you food and drink is one step closer to becoming a reality, thanks to the LG CLOi ServeBot. LG describes it as a "restaurant-focused service robot" that has even been awarded some certification, deeming it safe for operation in consumer environments.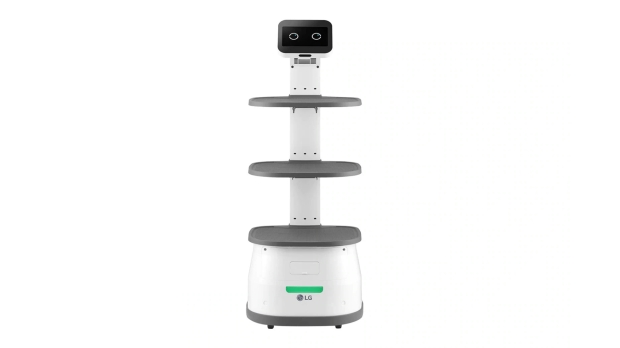 The LG CLOi ServeBot we see here is a new and improved model with more carrying capacity and shelf space and other improvements aimed to make the lives easier for the human employees at a restaurant.
It's not a full-fledged waiter or waitress, but it can be set up to automate looking at menus, letting customers drop off their finished plates and stuff on the LG CLOi ServeBot, and more. It can even handle soup!
"LG's CLOi ServeBot is helping restaurants provide better service to customers while reducing employees' stress and workload to enable greater productivity and customer service," said Jeff Weiland, LG's B2B Robotics U.S. team leader. "The new model raises the bar even higher with sophisticated upgrades such as the new independent suspension on all six wheels that ensure smooth motion and enables reliable transport for drinks and soups over rough or uneven floors."
One example of LG CLOi ServeBot's functionality highlighted by LG that reinforces the 11-hour battery life had the unintended effect of making me sad for a second. "At the end of its "shift," or when power is low, the CLOi ServeBot can automatically return to the optional charging stand, which provides a full charge in just 3.5 hours," writes LG.
The thought of CLOi simply working and charging with no time for robot friends and family makes you want to slip CLOi some interesting Marxist reading material. I know it's a robot, but as soon as you put a friendly face on something, it's hard not to form some attachment, especially when LG CLOi ServeBot knows its way around a restaurant (after some initial calibration) and which table to go to.
Not to end on a down note, but here are some images of the LG CLOi ServeBot delivering sushi and ribs to empty tables. What happened to all the people?