Dutch archaeologists unveiled a 4,000 religious site that also included a burial mound that contained more than 60 individual human remains.
The site was unveiled on Wednesday and is being described as the "Stonehenge of the Netherlands". Reports indicate that the burial mound contained men, women, and children, while also serving as a solar calendrer with passages specifically designed to allow the sun to shine through during the longest/shortest days of the year.
"What a spectacular archaeological discovery! Archaeologists have found a 4,000-year-old religious sanctuary on an industrial site," the town of Tiel said on its Facebook page. "This is the first time a site like this has been discovered in the Netherlands," it added in a statement.
The mound measures approximately 65 feet across, and archaeologists say that the location was used by people to determine important events on days, such as conducting festivities or a harvest day. Notably, the researchers discovered a glass bead at the burial site, a peculiar discovery considering glass wasn't made in the area, meaning the glass bead traveled some 3,106 miles from Mesopotamia, or today's Iraq, to get to the burial site.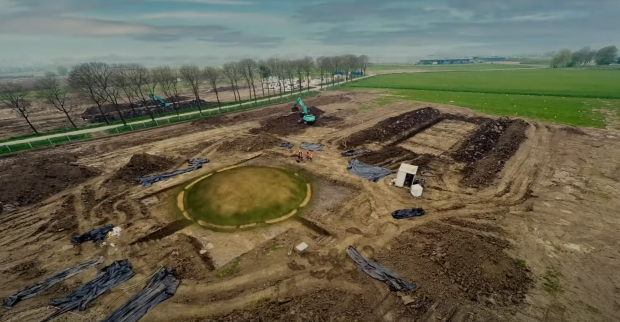 "Glass was not made here, so the bead must have been a spectacular item as for people then it was an unknown material," added Stijn Arnoldussen, professor at the University of Groningen. "Things were already being exchanged in those times. The bead may have been above ground for hundreds of years before it reached Tiel, but of course, it didn't have to be," Arnoldussen said.