Xbox's management downplays the importance and significance of cloud gaming as regulators use the nascent tech as a lynchpin to their anti-merger arguments.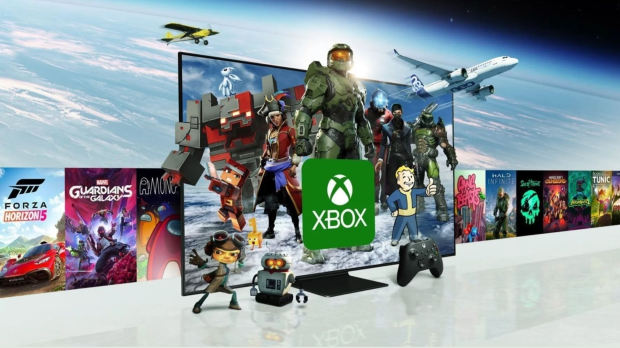 In a recent interview with The Hollywood Reporter, Xbox Game Studios boss Matt Booty shared an interesting perspective on cloud gaming. According to Booty, the tech isn't a big part of Xbox and is more of an experimental and additive part of Microsoft's gaming focus. Despite entering private testing in 2019 as Project xCloud, and moving to public beta in 2020 as Xbox Cloud Gaming included as part of an Xbox Game Pass Ultimate subscription, Microsoft apparently considers its streaming service to be highly experimental.
"For us, to be clear, it is a very, very small market. I'm not even sure you would call it a market yet, in fact. It's very small usage and very small audience," the Xbox Game Studios boss said.
Somewhat contrary to this remark, Microsoft CEO Satya Nadella proudly boasted that Xbox cloud streaming has seen 20 million players as of October 2022. This is likely driven largely by Fortnite, which can be accessed via Xbox cloud gaming without a Game Pass subscription. Even still, those are some impressive numbers but we have to remember that gamers may typically use cloud for a myriad of use cases including trying games before they download or buy rather than all of those 20 million people playing games on-the-go.
The cloud segment is indeed very small when compared to the rest of the industry.
European Commission Vice President Margrethe Vestager has said that cloud gaming represents around 1-3% of the total global video games industry. Analyst firm PwC estimates that the games industry made around $214 billion in 2021, which is the year that the EU agency likely looked at, and given a 1-3% ratio, cloud gaming would have made $2.1 - $6.4 billion in 2021. That's not exactly a lot, but it's not insignificant, either; for reference, Activision-Blizzard made $8.8 billion in 2021.
Elsewhere in the interview, Matt Booty goes on to say that cloud streaming is almost experimental for Microsoft. This indeed seems to be true for all companies who are trying it, except of course for NVIDIA, who has built an powerful infrastructure of native high-end dedicated desktop-grade graphics cards to propel its service. NVIDIA's GeForce Now seems like the de-facto example that cloud game streaming can indeed work well.
"So for us, it's something that we consider almost more experimental that we're trying out to see how it works. We just announced it. We've signed some great partnerships with NVIDIA and announced some other partnerships. So for us, it comes back to the content, which is really my focus."
Although cloud is experimental, and that it represents just 1-3% of global games revenues, cloud is apparently important enough for Microsoft to create streaming-specific hardware in order to tap the emerging segment.
Reports indicate that Microsoft has been developing a low-cost, streaming-only Xbox mini-console that would act as a conduit for its cloud game service. The device was originally concepted in 2016 as Project Hobart, and has since been re-worked into Project Keystone. Xbox gaming CEO Phil Spencer even had a Keystone device prototype on his shelf in a recent stream.
Microsoft has also made strong efforts to expand Xbox Cloud Gaming to practically every consumer device where games can be played. This includes partnerships with Samsung to offer an Xbox app on televisions, allowing console-free gaming experiences that can be beamed remotely directly to smart TVs.
Another example is the company's partnership with Logitech for its new G Cloud streaming-only handheld device. Furthermore, we've seen Microsoft partner with Razer to help promote the Razer Edge Android-powered handheld, which can run Xbox Cloud Gaming.
Regulators like the FTC in the United States and the CMA in the United Kingdom are trying to use cloud gaming as a relevant market to define possible anti-competitive effects that could result from the Microsoft-Activision merger. Whether or not these arguments will stand up in court remain to be seen; with its request for a court injunction, the FTC will bring its case before a federal judge, whereas the CMA will have to face Microsoft and Activision lawyers in appeals court.