HPE Discover 2023 is taking place at the Venetian Conference and Expo Center in Las Vegas from June 20 to 22, and with Hewlett Packard Enterprise (HPE) solutions all about data, the inventors of NAND flash memory, KIOXIA, will be on hand to showcase its latest solutions.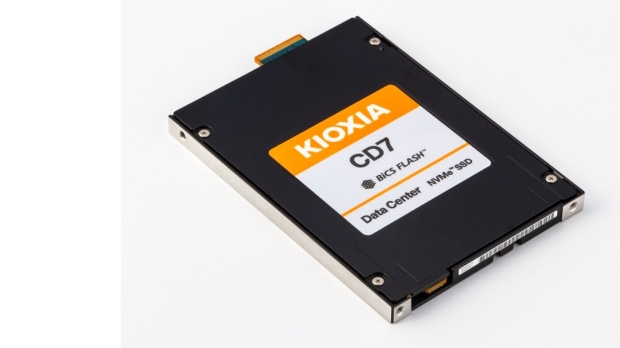 Recently we reported on KIOXIA's new line of data center NVMe SSDs, the first EDSFF drives (Enterprise and Datacenter Standard Form Factor), using PCIe Gen5 technology for improved speed and performance. The good news is that the KIOXIA CD7 Series EDSFF E3.S Data Center SSDs will be at HPE Discover 2023, and KIOXIA will demonstrate them running "running real-world applications" on the HPE Alletra 4110 Gen 11.
EDSFF E3.S NVMe SSDs are the next evolution of the standard 2.5-inch form factor, providing more densely layered deployment (1.5 to 2X) in the same rack unit compared to more conventional 2.5-inch drives. KIOXIA notes that the smaller size also improves the cooling and thermal characteristics of the storage setup.
At HPE Discover 2023, KIOXIA will demonstrate its PM7 Series 24G SAS SSDs and CM6 Series PCIe 4.0 NVMeTM SSDs running various workloads on different hardware configurations. KIOXIA will also be participating in a number of panels and discussions, including one covering its work on the HPE Spaceborne Computer initiative with NASA and the International Space Station. SSDs in space - very cool.
KIOXIA has been a key partner with HPE for years. HPE Discover 2023 is all about highlighting products, solutions, and strategies for data-first businesses covering everything from mobile to data centers to enterprise.
"As a leader in flash storage and SSD solutions, KIOXIA is ideally suited to collaborate with HPE on their mission to unlock trapped legacy data, then process, analyze, and capture its value - from the edge all the way to the cloud," said Neville Ichhaporia, senior vice president and general manager, SSD Business Unit, for KIOXIA America, Inc.