KIOXIA has launched a new line of data center NVMe SSDs, the first EDSFF drives (Enterprise and Datacenter Standard Form Factor), using PCIe Gen5 technology for improved speed and performance. The new KIOXIA CD7 E3.S SSDs are shipping on select Hewlett Packard Enterprise (HPE) Systems.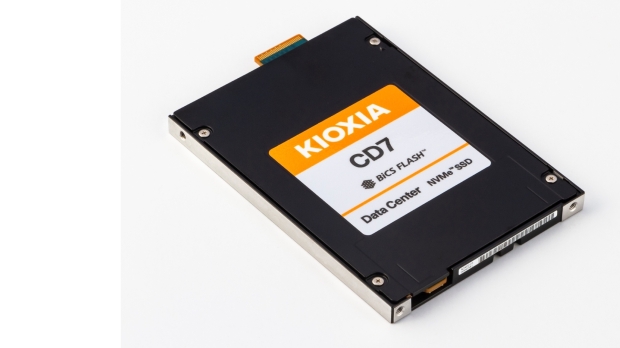 The new CD7 SSDs present cutting-edge flash storage optimized for server and rack configuration and power efficiency.
The EDSFF E3.S NVMe SSDs are the next evolution of the standard 2.5-inch form factor, providing more densely layered deployment (1.5 to 2X) in the same rack unit compared to more conventional 2.5-inch drives. KIOXIA notes that the smaller size also improves the cooling and thermal characteristics of the storage setup.
The KIOXIA CD7 Series SSDs are available in capacities of 1,920GB up to 7,680GB and conform to the EDSFF E3.S specification with one DWPD (Drive Write(s) Per Day) endurance.
Using PCIe Gen5 technology, these new SSDs can deliver up to twice the performance of PCIe Gen4 solutions. And in terms of compatible HPE Systems, the list includes HPE ProLiant Gen11 servers, HPE Alletra 4000 data storage servers, and the HPE Synergy 480 Gen11 Compute Module.
"HPE is pleased to work with KIOXIA to offer new CD7 Series EDSFF E3 SSDs to our customers, bringing high performance to our latest generation server and storage product lines," said Jim Jackson, executive vice president, and chief marketing officer, Hewlett Packard Enterprise. "Together, the two companies are focused on continuing to innovate and deliver solutions that improve application performance and efficiency benefits while lowering TCO."
For the full range of KIOXIA SSDs for HPE Servers, head here.