PCI-SIG has published specifications for PCI Express (PCIe) 7.0, and you're looking at some impressive speed increases when it's set to be released and finalized in 2025. But with that, we probably won't see PCIe Gen7 hardware until 2027, and PCIe Gen6 is right around the corner.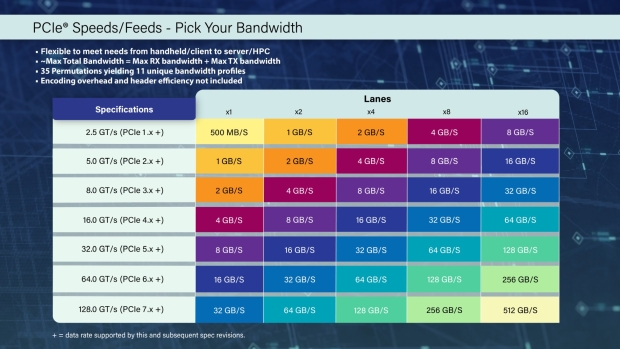 From the specifications released this week, PCIe 7.0 will be able to deliver 128 GT/s raw bit rate and up to 512 GB/s bi-directionally via an x16 configuration. This effectively doubles the speed with each new version as PCIe 5.0 tops out at 128 GB/s and PCIe 6.0 at 256 GB/s.
The specifications also mean that members have agreed to key features for the new PCIe 7.0 technology alongside the architecture - which will also support backward compatibility like existing PCIe specifications. Getting all technical, the impressive data transfer rate and bandwidth in PCIe Gen7 will use pulse amplitude modulation with four levels (PAM4) of signaling, 1b/1b flit mode encoding, and forward error correction (FEC).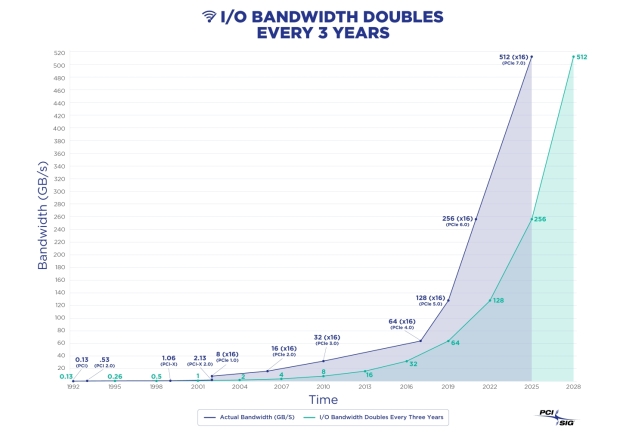 PCIe Gen7 hasn't been finalized, and the full details have yet to be made public, but the bandwidth target point to a doubling of speed compared to PCIe Gen6, which also doubles the speed of PCIe Gen5. Of course, new tech means increased costs, so we don't know how this will impact things like PCB design and what additional materials or other considerations will need to occur.
On that front, PCI-SIG notes that it's designing PCIe Gen7 for things like 800 Gig Ethernet, Artificial Intelligence and Machine Learning (AI/ML), High-Performance Computing (HPC), Quantum Computing, Hyperscale Data Centers, and Cloud.
"With the forthcoming PCIe 7.0 specification, PCI-SIG continues our 30-year commitment to delivering industry-leading specifications that push the boundaries of innovation," said Al Yanes, PCI-SIG President and Chairperson. "As PCIe technology continues to evolve to meet the high bandwidth demands, our workgroups will focus on channel parameters and reach and improving power efficiency."