Microsoft is giving the Xbox Series S a much-needed storage upgrade with a new higher-priced model.
Today at the Xbox showcase, Microsoft announced a new Xbox Series S model that effectively doubles the onboard SSD capacity and sports a new paint job that matches its much more powerful older sibling. The updated Xbox Series S Carbon Black SKU retails for $349, meaning gamers are spending about $50 extra on 500GB or so of PCIe 4.0 SSD tech. Also remember that 1TB isn't the full capacity and the SSD will typically drop to around 931GB after formatting.
The new edition is exactly the same in terms of specifications, though, with the limited 4TFLOPs of GPU power on the 7nm+ SoC and a much more limited 20 CUs of RDNA Navi 2.0 power, coupled with 10GB of GDDR6 RAM that runs at a slower rate. These lower-end chips see the Series S targeting a range of 1080p - 1440p resolution at 60-120FPS with variable dynamic performance.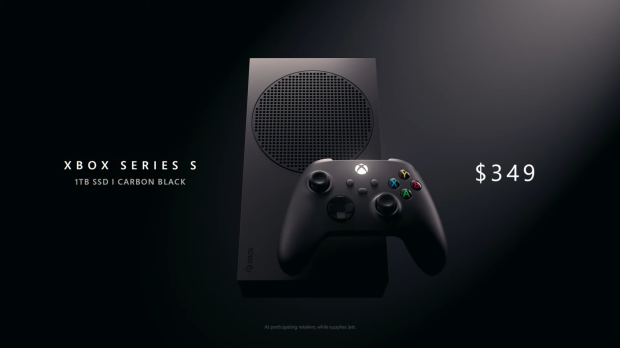 If you happen to need even more space--and you probably will given how big the games are nowadays--be sure to check out the new WD_Black Xbox SSDs that retail for a pretty affordable price given the CFexpress form factor and SSD performance involved.
And if you're in the market for a new Series X, Microsoft's Phil Spencer reminds gamers that the company has increased production of new Series X models so there should be more units available soon.
The Xbox Series S 1TB Carbon Black model is currently available for pre-order for $349.99, and will start shipping on September 1. That's right in time for Starfield's release, Microsoft has reminded us.