Western Digital enters the next-gen Xbox storage market with its own affordably-priced SSDs.
Western Digital today launched two new Xbox Series X/S expansion SSDs with straightforward pricing: a 500GB SSD for $79.99, and a 1TB SSD for $149.99.
WD's new SSDs actually helped stabilize the expansion storage market for Microsoft's new console. For over 2 years, Seagate was the only company to offer expansion cards for the Series X/S duo, which led to aggressive pricing. Seagate significantly slashed the price of its Xbox SSDs about a month before Western Digital launched its new models, leading to a hefty reduction in MSRP.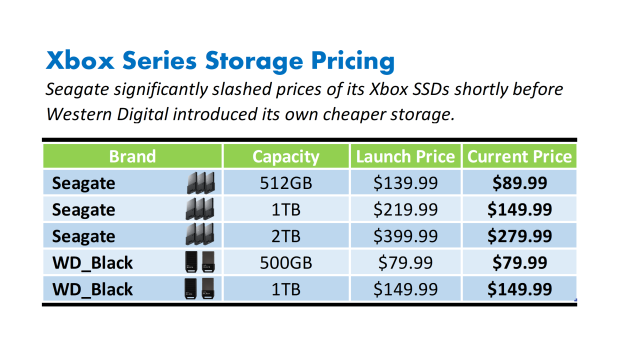 The new WD_Black C50 expansion cards are the smaller M.2230 SSDs housed in a CFexpress form factor and deliver speeds/performance similar to the built-in Xbox Series X/S SSD's 2.4GB/sec uncompressed speeds. The cards are capable of natively storage and launching upgraded versions of Xbox games and fully support the Velocity Architecture framework that allows transformative features like Quick Resume (Quick note: Xbox Series X/S versions of games can be stored on external HDDs, but they can't be launched from HDDs).
Although the Xbox SSDs are more expensive than the myriad of PC-grade M.2 SSDs available for PlayStation 5, these cards have the advantage of being fully external and typically more durable and portable then those offered on PS5. Gamers don't need to unscrew anything to expand storage on the Series X/S; these cards are simply plug-and-play and consumers can just slot in the card and start playing.
Check below for more details on the new WD_Black C50 expansion cards:
Say hello to more for your Xbox

As game files get larger, the WD_BLACK C50 Expansion Card for Xbox is the fast and easy way to give your Xbox Series X|S a big capacity boost and keep more titles installed. Just plug this officially licensed card directly into the console for similar performance as the Xbox internal storage. Included with your purchase is a 1-month membership of Xbox Game Pass Ultimate, with access to 100+ games on consoles and PC, plus online console multiplayer1.

Xbox Performance

The WD_BLACK C50 Expansion Card for Xbox leverages the Xbox Velocity Architecture™ and delivers similar performance as your Xbox Series X|S internal storage for a seamless experience with all your favorite games.

Store More Huge Titles

Games are getting bigger, eating up more storage. Capacities from 512GB to 1TB2 let you keep more of those titles installed and ready to fire up at a moment's notice.

Easy to Install

This officially licensed Xbox expansion card is plug-and-play with your Xbox Series X|S, so you don't have to worry about compatibility or opening your console to install.

Design by WD_BLACK

The expansion card's slick, industrial aesthetics deliver the cool factor that WD_BLACK is known for and fit in perfectly with your Xbox console.

Store More, Play More on Xbox

Non-expansion card solutions require you to transfer games back and forth to your console. The WD_BLACK C50 Expansion Card for Xbox lets you get into the action faster so you can game when you want to.

Quick Resume-Compatible

Suspend your current game, play a different game, then come back to the first game as if you never left. Only the Xbox console's internal SSD and expansion cards can support this time-saving feature.