Activision-Blizzard's investor relations VP Chris Hickey updates shareholders on its current negotiations with unions formed by company employees.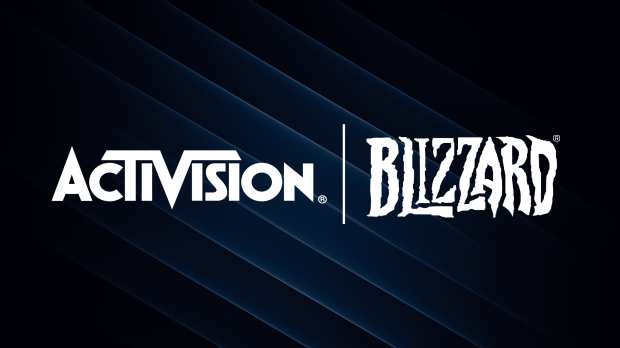 In a recent SEC filing, Activision management outlines how bargaining talks are going with the unions inside of its games business. The billion-dollar publisher has recognized two unionized groups: a team of quality assurance testers at Raven Software, and developers at Blizzard Albany, formerly Vicarious Visions, a team that worked on Diablo II Resurrected and Tony Hawk games. Collectively these groups form the Game Workers Alliance.
In the filing, Activision is advising shareholders to vote against a specific proposal that would require it to create a pro-union policy and continually update shareholders on its progress.
Glass Lewis, a proxy advisory company, has created proposal 6 on behalf of AFL-CIO Equity Index Funds. Proposal 6 reads as follows: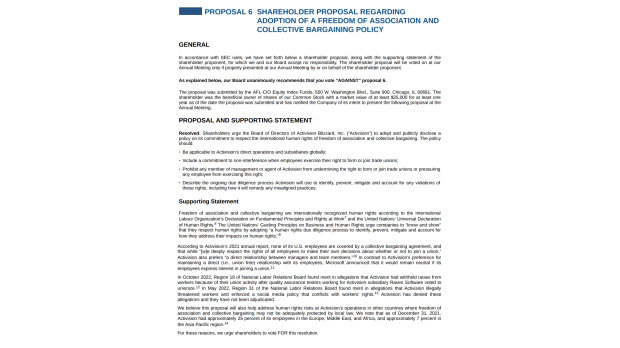 Activision senior investor relations VP Chris Hickey responds to proposal 6 with key info on the bargaining process with the Game Workers Alliance, as well as other info about the publisher's stance on unions:
We are deeply committed to a fair and good faith approach to labor relations and respect the rights of all employees to decide for themselves whether union representation is right for them, with the freedom to make that decision in private and confidentially.

But the Glass Lewis analysis of this proposal is inconsistent with its aims. It neglects key facts and contains assertions that are factually inaccurate, statements that could confuse or mislead shareholders. In order to make a more informed vote, shareholders should know the following:

We recently published the Principles Under the National Labor Relations Act to our company-wide intranet and promoted this posting in a message to employees - reminding employees that federal law gives them the right to:

Organize and collectively bargain over working conditions;

Form, join, or assist a union;

Choose a representative to bargain with us on their behalf;

Act together with other employees for their benefit and protection;

Choose not to engage in any of these protected activities.

We also state in the post to all employees that we will not interfere with protected concerted activity nor implement or enforce any rules that interfere with or restrict employees from exercising their rights under the National Labor Relations Act.

As further evidence of our fair and good faith approach to labor relations, we'd note that the Company is in active collective bargaining negotiations with two Communications Workers of America ("CWA") local unions over two different agreements, which together would cover 39 of our Quality Assurance employees who are responsible for game testing.

In an April 12, 2023 bargaining session at Raven Software, the parties reached a tentative agreement for a proposal regarding post-game credits.

Bargaining began at Blizzard Albany on May 30, 2023 and early conversations were amiable and productive, with two tentative agreements being made. We also shared our approach to these negotiations on a public website (https://blizzardnegotiations.com/our-approach/) to reinforce our principles.

Throughout these negotiations, we share a consistent Company perspective: We strive to do what's right for employees, respect the bargaining process, and always operate in a candid and factual manner.
Hickey also mentions that some of the previously ULP (Unfair Labor Practice) charges had been removed by the Communication Workers of America (CWA) alliance:
"...several of these unfair labor practice charges were recently withdrawn by the union, and that the NLRB approved such withdrawal on May 30, 2023. Specifically, unfair labor practice charges 31-CA-301321, 31-CA-295091, and 31-CA-285511 were all withdrawn by the CWA..."