OCZ also out with super fast 790i RAM
SLI-Ready with EPP 2.0.

Published Wed, Mar 19 2008 3:50 AM CDT
|
Updated Tue, Nov 3 2020 12:38 PM CST
Corsair were not the only company to announce new super l33t fast RAM specifically for the Nvidia nForce 790 platform today - OCZ also got in on the action!
OCZ's PC3-16000 NVIDA SLI-Ready Edition memory also includes EPP 2.0 for optimal performance and carries rated timings of 9-9-9-28 when clocked at 2000MHz DDR at 1.9 volts. It also comes in a 2GB dual channel pack and will probably cost you one leg and half an arm.
We did a quick check online for pricing but could not see anything as yet but it will be interesting to see which is cheaper - OCZ or Corsair. We will endeavor to get both kits in for testing on a 790i motherboard and see which one does best.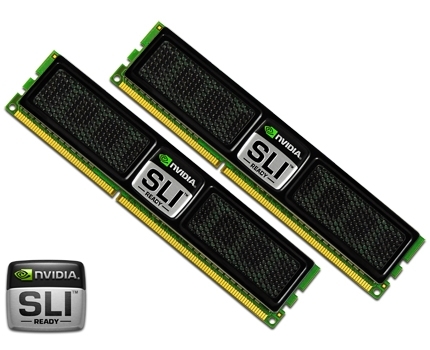 Sunnyvale, CA-March 18, 2008-OCZ Technology Group, a worldwide leader in innovative, ultra-high performance and high reliability memory, today unveiled blistering fast PC3-16000 DDR3 modules that are also NVIDIA SLI-certified to run at an extreme 2GHz on the next generation NVIDIA nForce 790i Ultra SLI motherboards also released today. Designed to offer enthusiasts the rock-solid stability and speed they've been demanding since the mainstreaming of DDR3 platforms, the OCZ PC3-16000 SLI-Ready series makes use of the unbeatable overclocking capabilities of the nForce 790i Ultra SLI platform and takes DDR3 to new heights.

"OCZ is excited to partner with NVIDIA on the launch of the new nForce 790i Ultra SLI platform which is a DDR3 overclocking dream come true for enthusiasts," commented Alex Mei, Executive Vice President and CMO, OCZ Technology Group. "By releasing a range of EPP 2.0 DDR3 kits as well as our ESA Certified PC Power & Cooling Turbo-Cool 1200 PSU alongside the nForce 790i Ultra SLI launch, we are able to provide a robust total solution to consumers looking for a unique combination of unbeatable overclocking and easy monitoring in real time."